Air Fryer Lemon Pepper Chicken Wings are so delicious with a lemony-peppery flavor. They are crispy on the outside, and tender and juicy on the inside. These are our favorite wings and are a healthier option to deep frying in oil. Crispy Lemon Pepper Chicken Wings are easy to prep and end up perfectly cooked in the air fryer. I show you how to make chicken wings in the air fryer.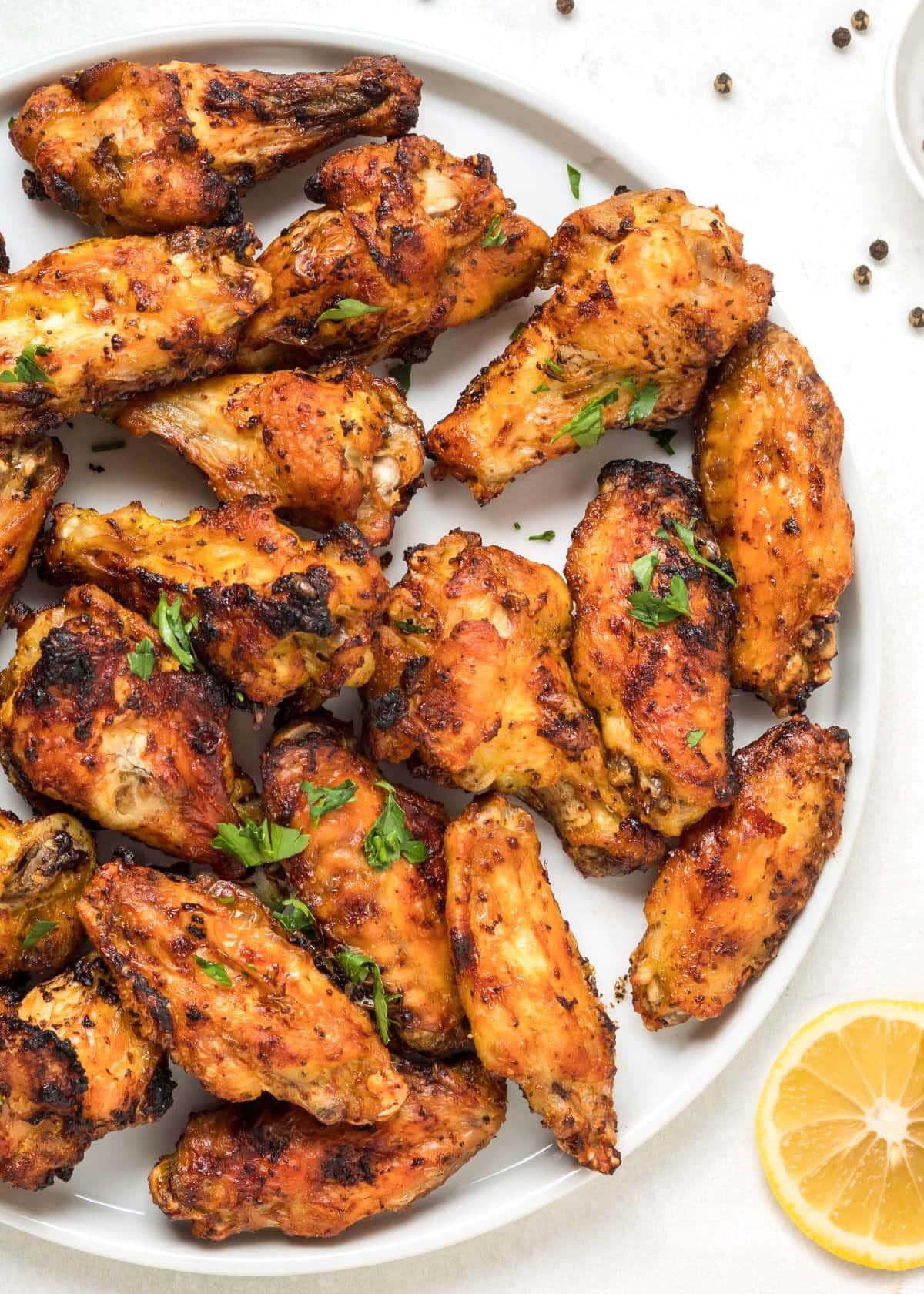 Chicken Wings in the Air Fryer
If you are a wing fan, you will enjoy these crispy Air Fryer Lemon Pepper Wings. This delicious recipe makes for an easy appetizer, or a light dinner.
Game Day Snack: Air fryer chicken wings are one of the best Game Day appetizers. Since this is such a simple recipe you can make a few batches throughout the day to keep the fans fed!
This crispy air fryer chicken wings recipe is easy to make. When you air fry wings they cook up juicy and tender. Flavor them with garlic and lemon pepper seasoning and serve them with your favorite dipping sauce.
Benefits of Using an Air Fryer for Chicken Wings
Using an air fryer for chicken wings offers several advantages. Air fryers simplify cooking while delivering delicious, crispy chicken wings, making them a fantastic addition to any kitchen.
• Healthier Choice: Crispy results with less oil. Air fryer wings have fewer calories compared to deep frying in oil.
• Quicker Cooking: Cooking process is faster than traditional oven baking.
• Even Results: Air frying provides even cooking on all sides.
• Less Mess: Easy cleanup. Most air fryers have a nonstick surface.
• Energy Efficient: Uses less energy than ovens and won't heat up your kitchen.
Flats vs Drumettes
When air frying chicken wings, choosing between whole chicken wings, flats (also called wingettes), and drumettes depends on your preference:
Flats (wingettes):
• More skin surface for crispy texture.
• Cook faster due to smaller size.
• Easier to eat.
Drumettes:
• More meat, juicier, slightly longer cooking time.
• Balanced texture with tender meat and crispy skin.
We like a mixture of both. If you buy whole wings at the grocery store, you will need to cut the wing tips off (they burn easily and have no useful meat). Then cut the drumettes and flats apart.
How to Choose a good Lemon Pepper Seasoning
When shopping for a seasoning with good lemon pepper flavor, read the ingredients. Look for one that is made with actual lemon zest, not citric acid. Lemon peel (zest) provides real lemon flavor. Citric acid is sour and doesn't really taste like lemon.
Tips for Air Frying Chicken Wings
Dry the Wings - To get crisp chicken wings, pat the chicken dry using paper towels before seasoning. This way the skin will crisp up better.
Leave Space - For the best results, keep a little space between the chicken wings, and put them in a single layer in the basket of your air fryer. Crowding them will give less crisp results and uneven cooking. The number of wings that will fit depends on the size of your air fryer and the model.
Don't Overcook - Using a meat thermometer is the best way to make sure the wings have reached 165°F internal temperature (try not to go much over that or they will be dry).
Air Fryer Chicken Wing Recipe Ingredients

Just a few simple ingredients make this easy recipe. See the recipe card at the bottom of this blog article for full ingredient amounts.
Chicken Wings: Fresh chicken wings, (use wingettes or drumettes, or both).
Lemon Pepper Seasoning: A good lemon pepper seasoning containing actual lemon peel is the key to the flavor of this recipe.
Garlic Powder: The garlic flavor compliments the lemon pepper.
Onion Powder: Adding a little onion powder is optional, but gives even more flavor to these wings.
Baking Powder or Corn Starch: Adding baking powder or corn starch to the wings helps them have extra crispy skin.
How to Make These Delicious Wings in the Air Fryer
Here is an overview of how to make Air Fryer Lemon Pepper Chicken Wings in the air fryer:
1. Preheat the air fryer at 400°F for 5 minutes.
2. Meanwhile, add the seasonings to a small bowl. Mix together well. The lemon pepper, garlic powder, onion powder, and baking powder will make a dry rub.


3. Add the chicken wings to a large bowl and add half of the dry rub. Toss together to coat all of the wings well. Add the remaining half of the spice mixture and use your hands to rub it in.
4. Place the seasoned wings into the preheated air fryer basket in a single layer, not touching.
6. Air fry the wings, turning them over halfway through the cook time.
7. Check the temperature with a digital meat thermometer. You want 165 degrees F or just slightly higher so they don't dry out. They will be a nice golden brown.
Wings Dipping Sauces
Here are a few tasty sauce suggestions you can try with this air fryer wings recipe. A few favorites that go well with the lemon pepper flavor.
Honey Mustard: The perfect balance between tangy and sweet with a honey mustard dip. Mix equal parts Dijon mustard and honey, and a dash of apple cider vinegar for a nice zing.
Spicy Sriracha Mayo: For a bit of heat, mix up a sriracha mayo dip by blending mayonnaise and sriracha sauce to your preferred spiciness level. The creamy heat of this dip adds a dynamic twist to your wings.
Blue Cheese Dip: Mix blue cheese dressing into Greek yogurt or sour cream, and add a splash of white wine vinegar. The tangy richness of blue cheese pairs well with the lemon pepper.
Creamy Ranch: A classic for a reason, ranch dressing is a cool and creamy companion to the zestiness of these wings. Whether store-bought or homemade, this versatile dip is so good.
Lemon Pepper Butter Sauce: A lemon pepper butter sauce with garlic. A rich dipping sauce that multiplies the lemon pepper experience! This lemon pepper sauce has garlic, butter, lemon zest, fresh lemon juice, black pepper, and salt (see Notes in recipe card).
What to Serve With Chicken Wings
• Celery sticks on the side are traditional.
• Extra lemon wedges to squirt on the wings for even more lemon flavor.
• French Fries or other Potatoes.
• Pasta Salad
• Slow Cooker Mac and Cheese
Frequently Asked Questions
Are these wings spicy? Not really. They have a little bite from the pepper, but not heat like from cayenne, etc.
Does this wing recipe require oil? Oil is optional. You don't need it, but you can use some on the wings before coating in the seasoning.
How long do chicken wings take to air fry? These wings will need about 20 minutes cook time in the air fryer.
Can Frozen Wings be Used? You will need to thaw them first. I prefer to use fresh chicken wings for this recipe, but have used thawed before.
Can These Wings be Made in the Oven? Yes they can. Cooking wings in an oven is an alternative to using the air fryer. You will still get crispy wings, see the method below:

How to Make Wings in the Oven

1. Preheat oven to 425°F. Spray a wire rack and place on a parchment paper or foil lined baking sheet with a lip.
2. Add 3-4 pounds of chicken wings to a bowl, with 1-2 Tablespoons of olive oil or avocado oil. Toss to coat.
3. Mix together 2 Tablespoons of lemon pepper seasoning, 1 ½ teaspoons garlic powder, ½ teaspoon onion powder, and 1 Tablespoon of baking powder or corn starch. Add to the bowl and rub into the chicken.
4. Place wings on the rack in a single layer and put into preheated oven. Bake for 30-45 minutes (depending on the size of the wings). No need to flip wings if using a wire rack. Cook to 165°F.
Storage Instructions for Leftover Wings
• Refrigerate wings Let them cool and put in an airtight container. They should last about 3-4 days in the fridge.
• How do you reheat wings? Pre-heat the air fryer to 350° F. Cook for 3-4 minutes. Keep a close eye on it so that they don't burn. Continue to heat until heated through.
• Can leftover wings be frozen? After cooking wings they can be frozen. Let them cool completely, then place on a baking sheet and place in the freezer for 2-3 hours. Then put frozen wings in a freezer safe ziplock bag or air tight container. Can be frozen for 2-3 months. Thaw in the fridge before heating to eat.
More Chicken Wing Recipes
Air Fryer Buffalo Wings
Air Fryer Chicken Wings
Instant Pot Chicken Wings 3 Ways
If You Like Easy Air Fryer Chicken Recipes, Try These:
Air Fryer Chicken Taquitos
Air Fryer Chicken Breasts
Air Fryer Chicken Parmesan
Air Fryer Chicken Thighs
Air Fryer Chicken Nuggets
Air Fryer Popcorn Chicken

If you make this air fryer lemon pepper wings recipe, let me know how you liked it. Please leave a comment below with a star rating.
Air Fryer Lemon Pepper Chicken Wings
Air Fryer Lemon Pepper Chicken Wings
Course:
Appetizer, Dinner
Keyword:
air fried chicken, Air Fryer Chicken
Ingredients
2

pounds

Chicken Wings

(separated into wings & flats)

1

Tablespoon

Lemon Pepper Seasoning

1

teaspoon

Garlic Powder

½

teaspoon

Onion Powder

1

Tablespoon

Baking Powder

(or corn starch)
Optional
1 ½

Tablespoons

Avocado Oil

(or canola)
Instructions
Preheat the air fryer for 5 minutes at 400°F while prepping the wings.

Pat wings dry with a paper towel.

Add the wings to a large bowl and drizzle with the canola oil (if using).

In a small bowl mix together the lemon pepper, garlic powder, onion powder and baking powder. Sprinkle over the wings. Toss the wings to evenly coat with seasonings.

Add wings to a preheated air fryer basket in single layer (don't overcrowd) and cook at 400°F for 22 minutes turning once halfway through.
Recipe Notes
If you are using a salt-free lemon pepper seasoning add 1 teaspoon of flakey sea salt or kosher salt when adding seasonings.
Cook Time
Cook time may vary depending on the thickness of your wings. If using all flats reduce cook time by 4 minutes.
Lemon Butter Dipping Sauce
½

cup (1 stick) unsalted butter
Zest of 1 lemon
2 Tablespoons freshly squeezed lemon juice
1 teaspoon minced garlic (optional)
Salt and freshly ground black pepper, to taste
In a saucepan over medium heat, melt the butter.

Once the butter is melted, add the lemon zest and lemon juice. Stir to combine.

Add garlic to the sauce. Sauté for about 1 minute until fragrant.

Season the sauce with a pinch of salt and freshly ground black pepper.

Allow the sauce to gently simmer for a few minutes, stirring occasionally to help the flavors meld together.

Taste and adjust the flavors to your preference.

Drizzle the lemon butter sauce over your air-fried chicken wings right before serving.