Air Fryer Popcorn Chicken recipe is a fun and tasty appetizer. You can make this delicious air fried popcorn chicken recipe in under an hour.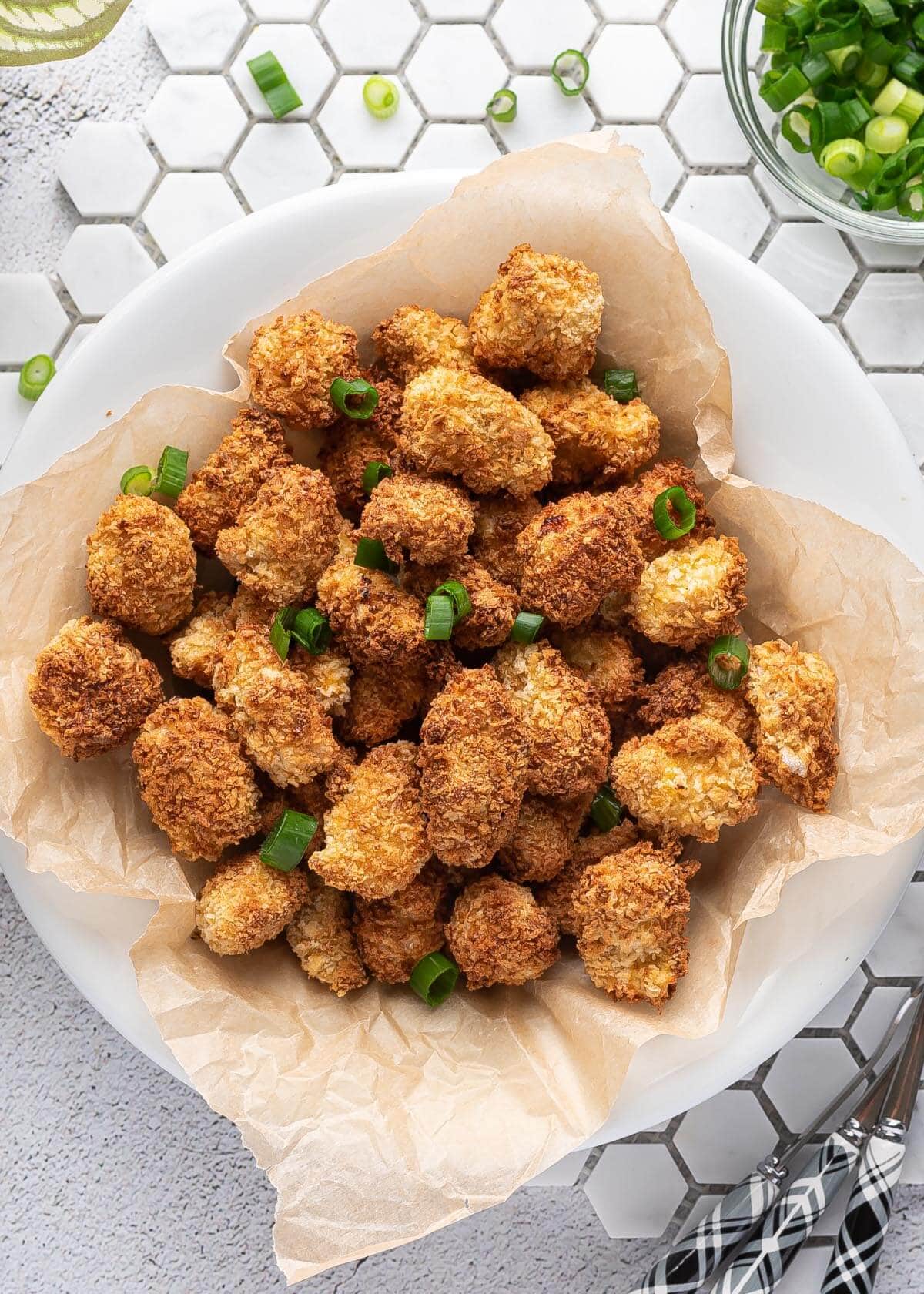 Easy Popcorn Chicken
If you like to snack, this air fryer chicken recipe just might be one you will like!
Small bite-sized pieces of perfectly breaded chicken, air fried to a crisp crust, with tender white meat chicken on the inside.
A terrific easy appetizer recipe. Both kids and adults love them!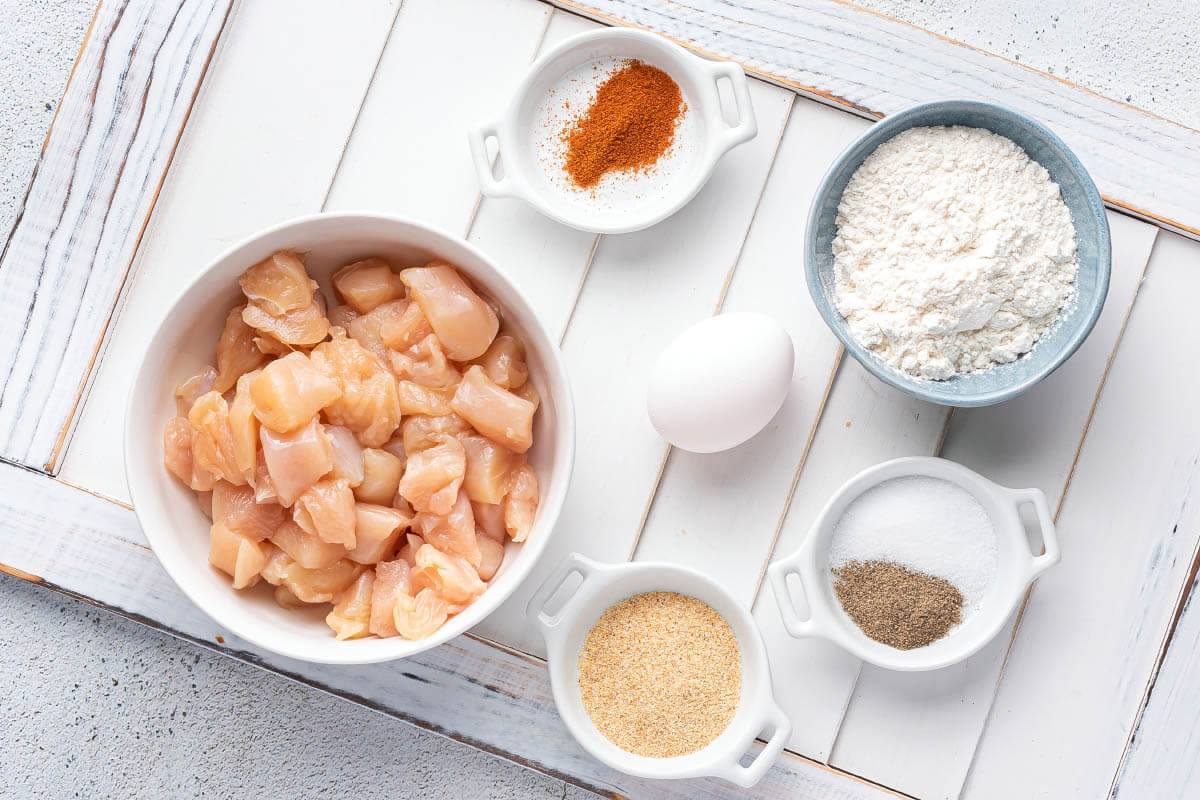 Tips For Great Popcorn Chicken
• Cutting Up the Chicken:
Cut the bite sized pieces of chicken uniformly in size. This way the pieces will all cook in the same timeframe.
• Use a Marinade:
If time allows, I suggest marinating the chicken in pickle juice or buttermilk for 1-2 hours before the breading process. This will add flavor and tenderness.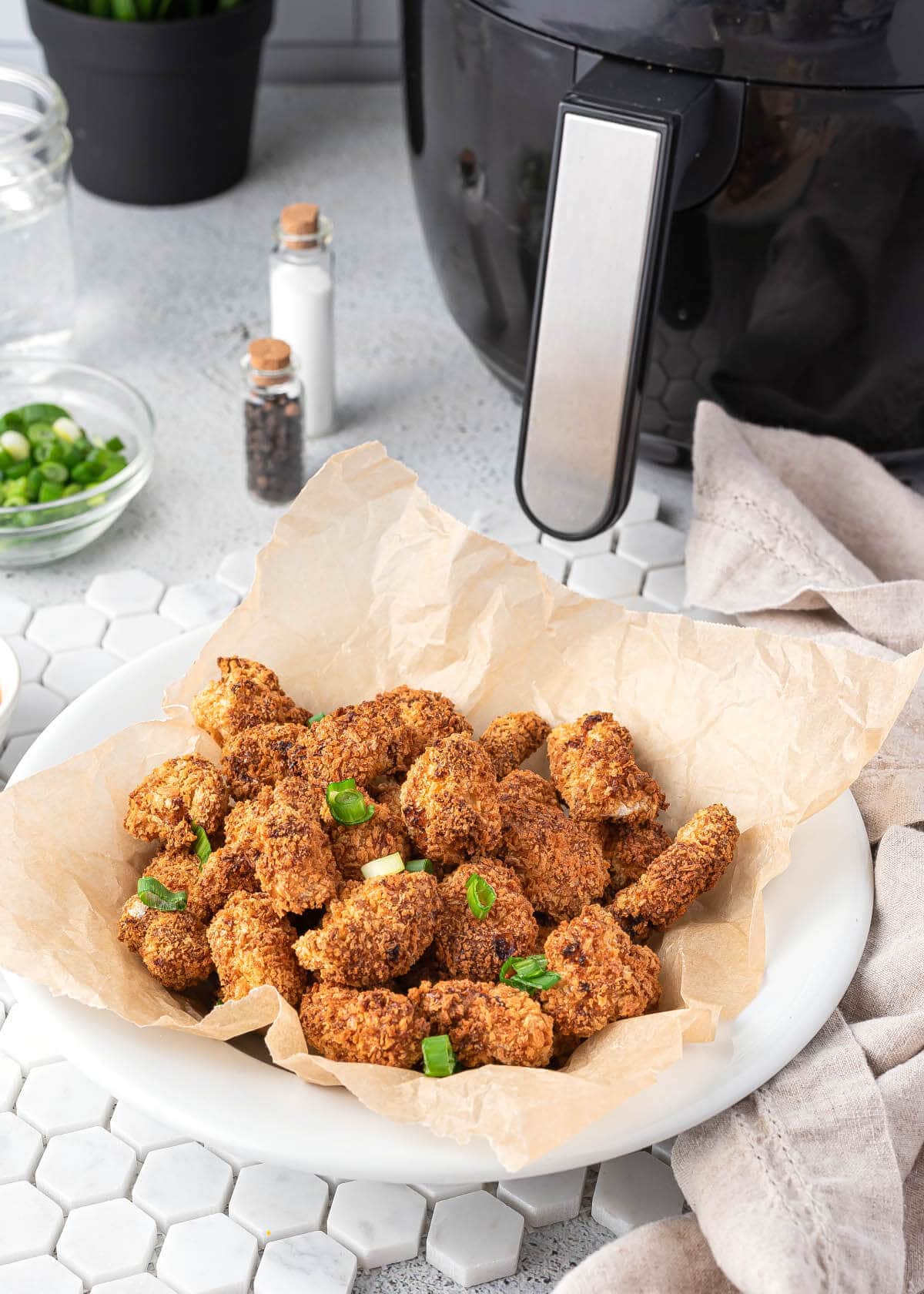 • Spices:
If you want to add a bit of heat to your popcorn chicken, try adding some extra spice. Mix some cayenne pepper in with the flour or the panko breadcrumbs.
• Don't Have Panko?
Try crushed potato chips or cornflakes for a nice crispy crust!
• Dipping Sauce:
You can use just about any dipping sauce with this popcorn chicken. My favorites are Ranch, Spicy Mayo, Honey-Mustard, Ketchup, and Tartar Sauce.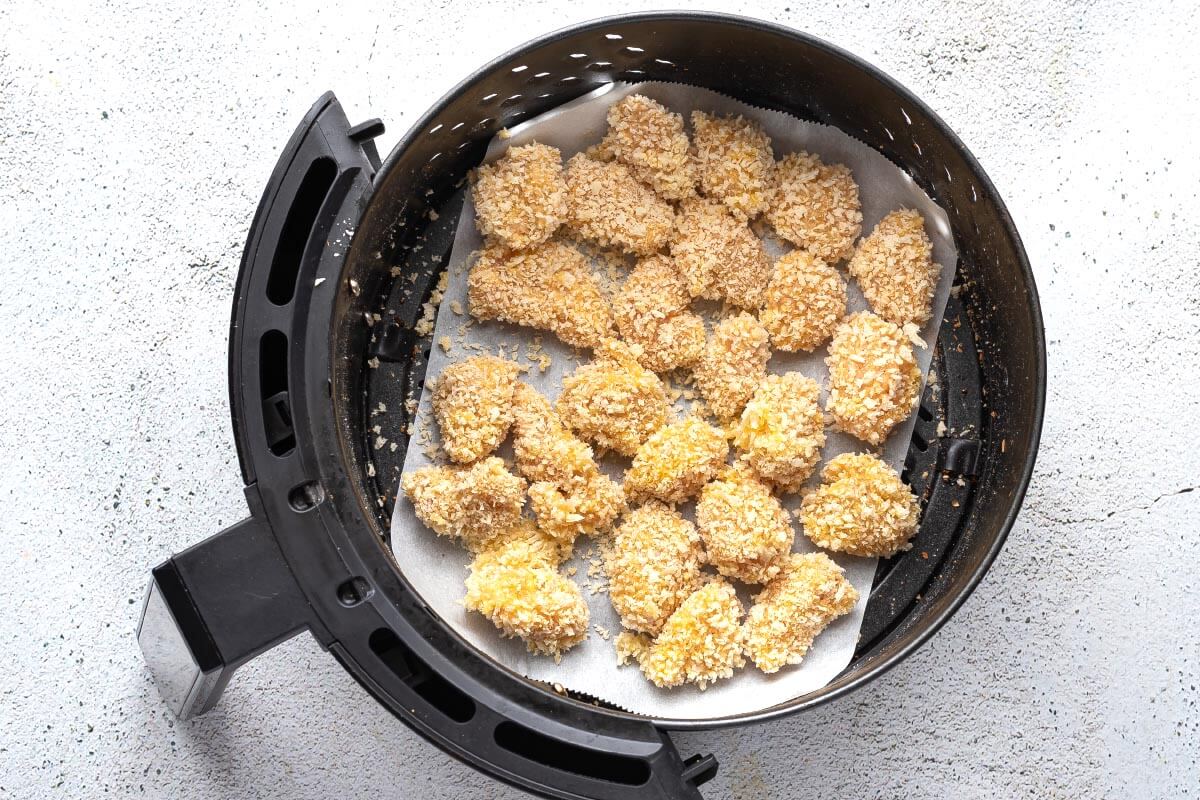 Different air fryer models may cook food at different times. It will decide on the size and style of air fryer.
I suggest keeping a close eye on the popcorn chicken as it cooks to make sure it doesn't burn.
Be sure to shake the basket, or flip the pieces over halfway through the cook time and spray with oil.
Oven Baked
You can bake these popcorn chicken in the oven. Preheat the oven to 400°F. Arrange the chicken on a parchment lined baking sheet in a single layer.
Bake for 8-10 minutes, then flip and bake for an additional 8-10 minutes. Crisp them under the broiler if you like them extra crispy!


Air Fryer Fried Chicken
Air Fryer Chicken Wings
Air Fryer Chicken Breasts
Air Fryer Turkey Burgers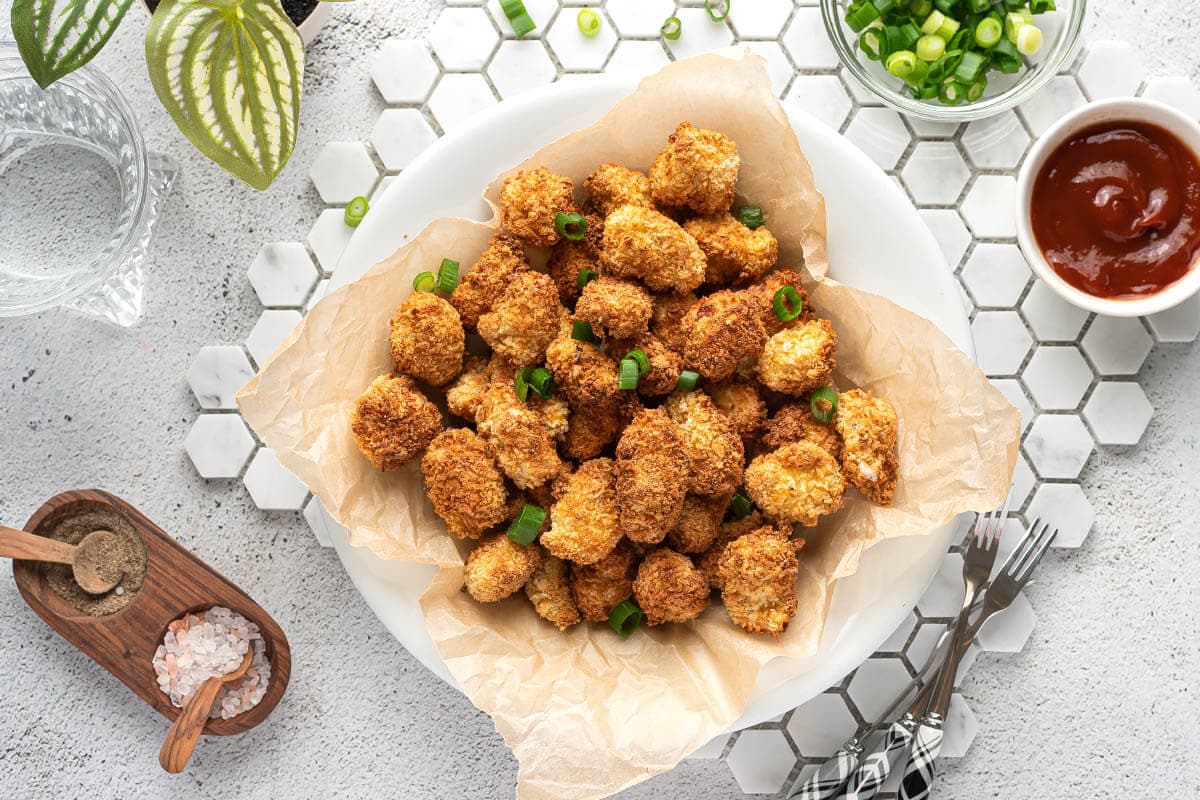 If you make this delicious air fried popcorn chicken recipe, please let me know! Just leave a comment with a star rating in the comments section below. I'd love to know how you liked it!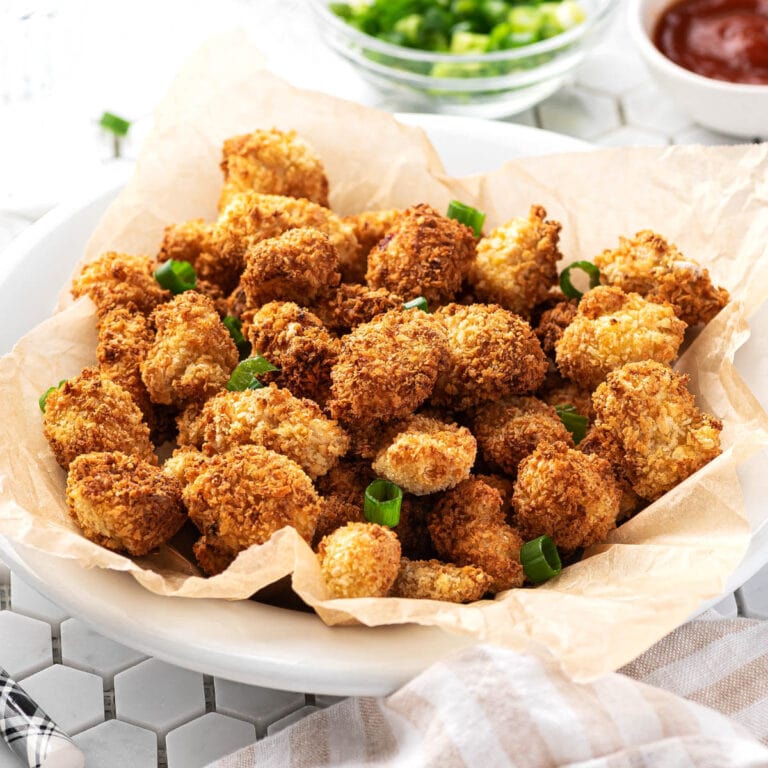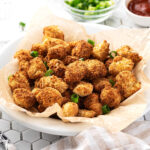 Air Fryer Popcorn Chicken
Air Fryer Popcorn Chicken
Course:
Appetizer, snacks
Keyword:
Air Fryer Chicken
Ingredients
1

pound

Chicken Breast

½

cup

All Purpose Flour

1

teaspoon

Garlic Powder

½

teaspoon

Paprika

1

teaspoon

Salt

½

teaspoon

Pepper

2

lg

Eggs

1

cup

Panko Breadcrumbs
Instructions
Cut the chicken breast into bite size pieces. Set aside.

In a medium sized bowl, mix all purpose flour, garlic powder, paprika, salt and pepper. Set aside.

In another bowl, crack eggs, whisk roughly and set aside.

In the third bowl, add the panko breadcrumbs for final coating.

Coat the chicken pieces with flour mixture, followed by dipping/coating in the eggs, and then coat in the panko breadcrumbs.

Place the prepared chicken pieces in the parchment lined air fryer basket in a single layer. Spray with cooking oil spray.

Air fry at 400°F for 10 minutes, shaking the basket halfway through, until chicken turns golden brown. If using a tray style air fryer, use tongs to flip the chicken pieces over. Then spray the tops of the chicken with cooking spray, and resume air frying for the remaining 5 minutes. Make the popcorn chicken in 2 or 3 batches.

Serve hot with your favorite sauce/dip.