Air Fryer Chicken Nuggets are a tasty appetizer, or main dish, that is crispy on the outside with tender, juicy chicken meat inside. This is a homemade chicken nuggets from scratch recipe. You can make these easy homemade air fryer chicken nuggets in minutes!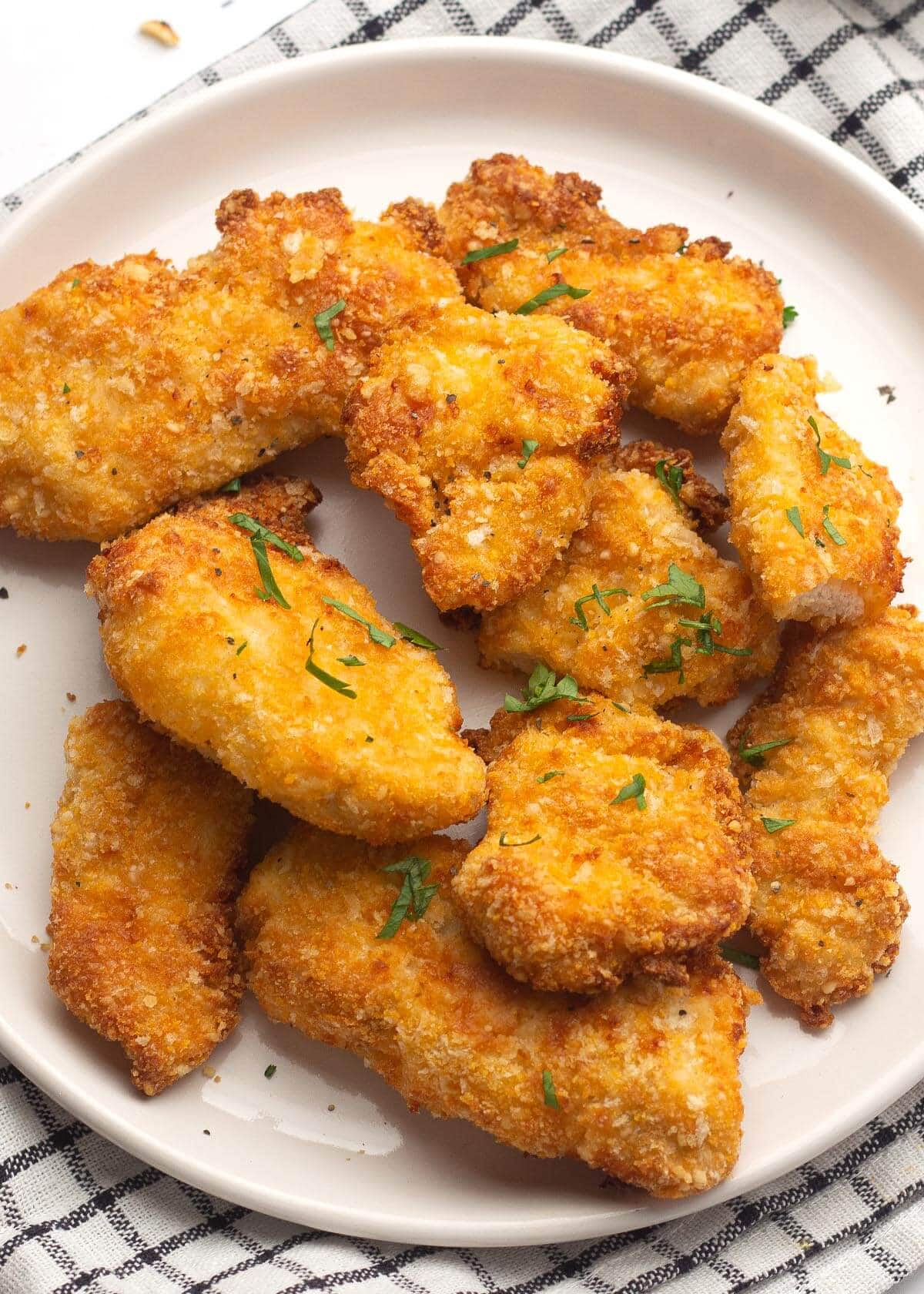 Kids love them. Grown-ups love them. Chicken Nuggets are super tasty and fun to eat!
This post contains Affiliate links. As an Amazon Associate I earn from qualifying purchases.
Air Fryer Chicken Nuggets
Chicken Nuggets have become a staple in many American homes. You can get them at fast-food joints, and you can find bags of them in the frozen food aisle of your local grocery store.
But what if you want to make your own chicken nuggets from scratch? Is it hard? Are they good?
My answer is yes to all of the above. Making chicken nuggets from scratch is easy, and they are very tasty! Plus you get the added benefit of knowing which ingredients are in them.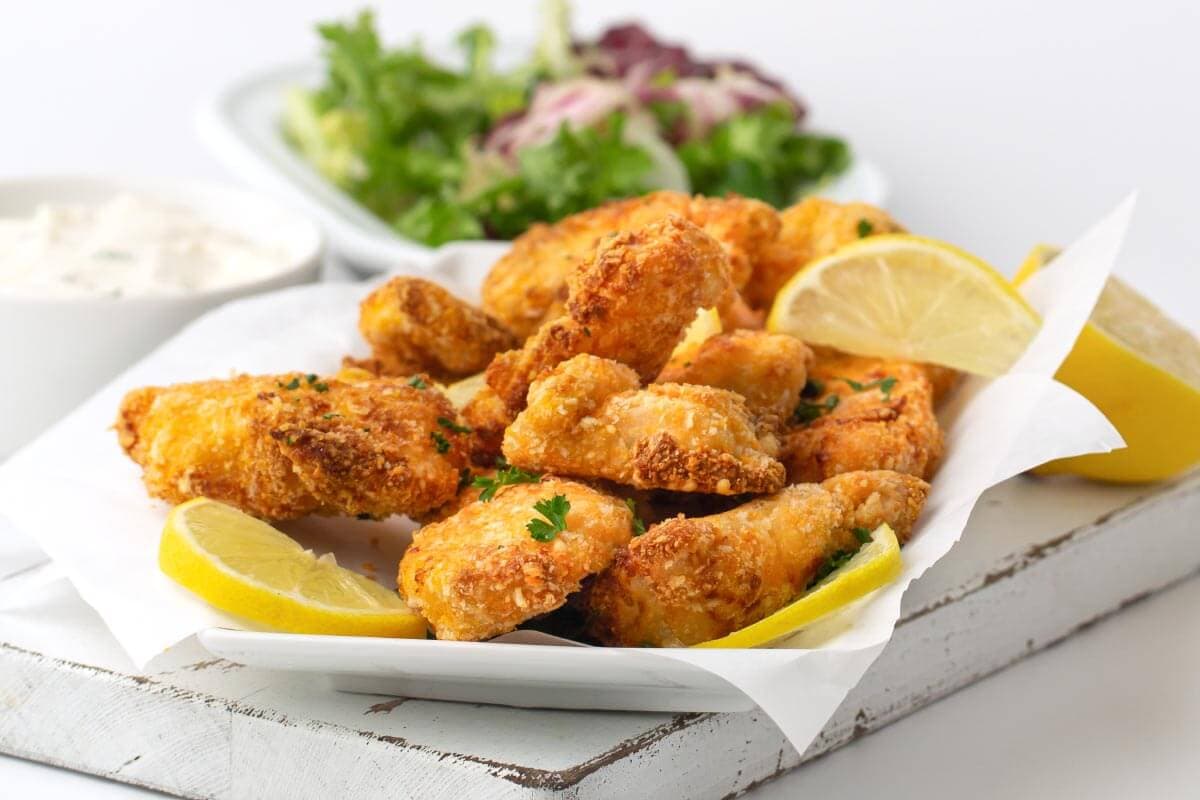 There are many ways to flavor them. A simple lemon wedge spritzed over the nuggets adds a lot of flavor, as does dipping them into yummy sauces!
Homemade Air Fryer Chicken Nuggets FAQs
Frequently asked questions I get about Chicken Nuggets:
• Can I Make Chicken Nuggets Ahead of Time & Freeze?
Yes you can. Chicken nuggets freeze well, but you do need to cook them first. Once the nuggets have cooled completely, arrange them on a baking sheet and put in the freezer for 1 hour to flash-freeze them.
Then just transfer them to a zip-closure freezer baggie or air-tight container. Keep in the freezer for 1 to 3 months.
• How Do I Store Leftover Chicken Nuggets?
You can store the leftover chicken nuggets in an air-tight container (or zip-closure baggie) in the fridge up to 3 days.
• How to Reheat Chicken Nuggets?
To reheat nuggets, preheat air fryer at 350°F and add the nuggets and cook for 3-5 minutes, or until heated through.
Here are the steps to make homemade Air Fryer Chicken Nuggets from scratch:



Gather the ingredients. Cut chicken into pieces. Put the eggs in one bowl, and whisk them. Add the breadcrumbs to second bowl, and flour, salt, garlic powder and onion powder in a third.


Dip each piece of chicken in flour mixture, then into the eggs.


Then dip into the breadcrumbs. Set aside until all of the chicken pieces are coated.


Spray the basket with oil and add the chicken pieces to the basket. Don't crowd them. Spray the tops of the nuggets with oil.


Cook, flipping the nuggets over halfway through cooking.

Air Fryer Tips
If you are new to air frying, these tips might be useful to you.
Preheat the Air Fryer - Most recipes for air frying will instruct you to preheat your air fryer for 5 minutes or so before actually cooking the food.
Don't Overlap - In general, you don't want to overlap things like meat or other items. Sometimes you can't help it, so move them around halfway through.
Spray Oil - Invest in a refillable oil spray bottle. This Oil Spray Bottle is great. You will use it a lot!
Flip or Shake - Most recipes will instruct you to take the tray out of the air fryer halfway through cooking and shake it and flip the nuggets. Since the heating element is on top, both sides get browned.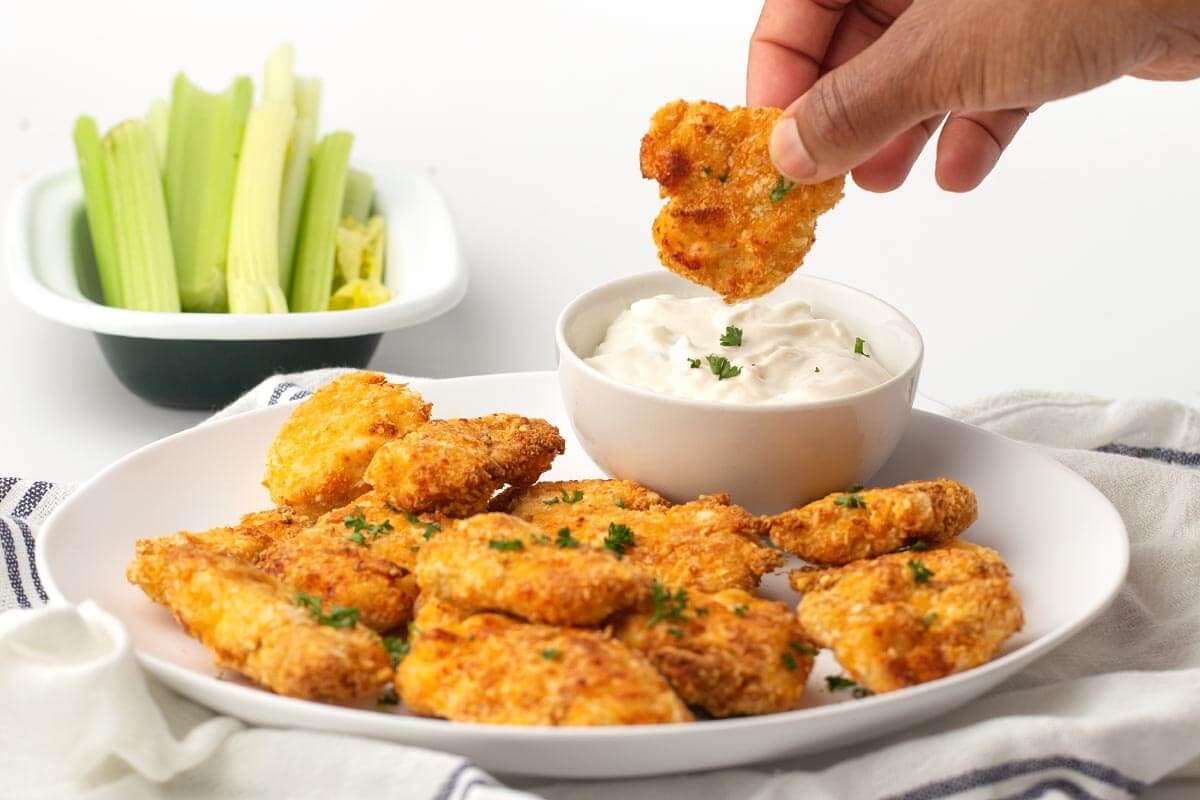 What Are Good Dips for Chicken Nuggets?
These are some of the most popular and typical chicken nugget dips:
• Ketchup
• Ranch
• Mayo
• Tartar Sauce
• Barbecue Sauce
• Fry Sauce
• Honey Mustard
• Sweet and Sour


Air Fryer Fried Chicken
Air Fryer Popcorn Chicken
Air Fryer Pickles
Air Fryer Mozzarella Balls
Air Fryer Chicken Wings
If you make these tasty Air Fryer Chicken Nuggets recipe, please let me know. Just leave a comment with a star rating below. I'd like to know how you liked them.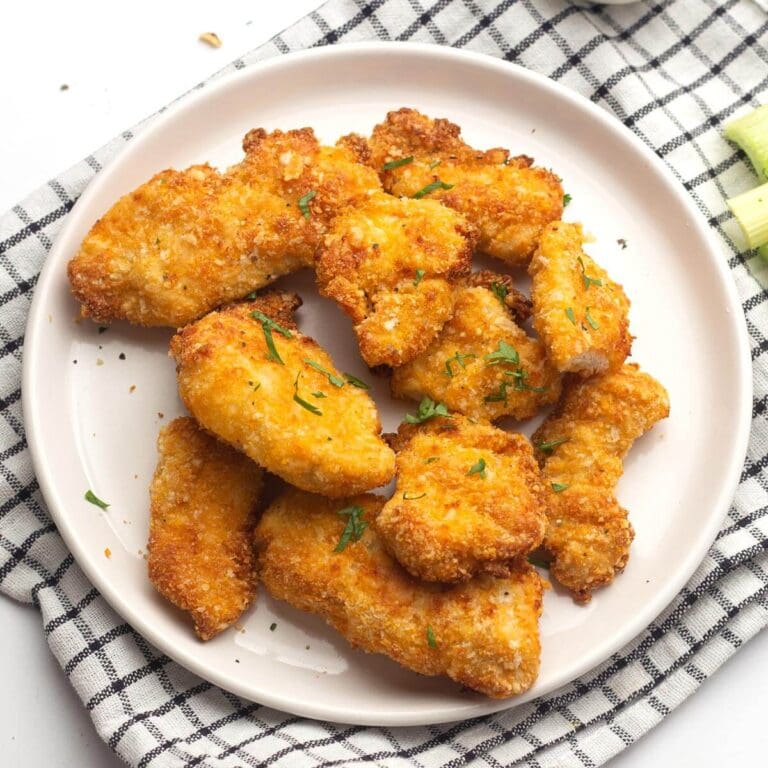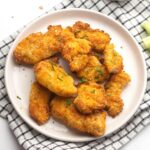 Air Fryer Chicken Nuggets
Air Fryer Chicken Nuggets are a homemade chicken dipper appetizer or meal. You can make these easy air fryer chicken nuggets in minutes!
Course:
Appetizer, Dinner
Keyword:
air fryer appetizer, Air Fryer Chicken
Ingredients
10.5

ounces

Chicken Breasts

(2 medium size breasts or 1 large)

2

Eggs

¼

cup

Panko Breadcrumbs

¼

cup

Shredded Parmesan Cheese

¼

cup

Golden Breadcrumbs

(or crushed butter crackers)

3

Tablespoons

All-Purpose Flour

½

teaspoon

Salt

¼

teaspoon

Garlic Powder

¼

teaspoon

Onion Powder

Spray Cooking Oil
Instructions
Slice the chicken breasts into chicken nugget shapes, this will yield roughly 10 to 12 chicken nuggets.

Get three separate small mixing bowls; into the first one place eggs and whisk them. Into the second bowl place the panko breadcrumbs, shredded parmesan cheese and golden breadcrumbs. Into the third mixing bowl place all purpose flour, table salt, garlic powder and onion powder.

Using tongs, place one chicken piece in the all-purpose flour mixture, then in the egg mixture, then lastly in the breadcrumb mixture. Place onto a plate. Repeat the process until all chicken pieces are coated.

Place the chicken dippers in the air fryer tray and spray generously with spray oil.

Preheat the air fryer for 5 minutes at 400°F. Then cook at 400°F for 13-14 minutes turning over at 7 minutes. Ensure the chicken nuggets reach an internal temperature of 165°F.

Once they are ready, take out of the air fryer and serve immediately with the dipping sauces of choice.
Recipe Notes
*Calories are approximate and will vary by the size of the chicken pieces, and the ingredients and amount of oil you use.
Resources to Make this Recipe and More
This post contains Affiliate links. As an Amazon Associate I earn from qualifying purchases.