Top 5 Air Fryers in 2023 is a review of our favorite air fryers of the year so far. If you have been thinking about buying an air fryer, this article will hopefully help you out. Air fryers are very popular, and because of that there are many on the market. How to choose?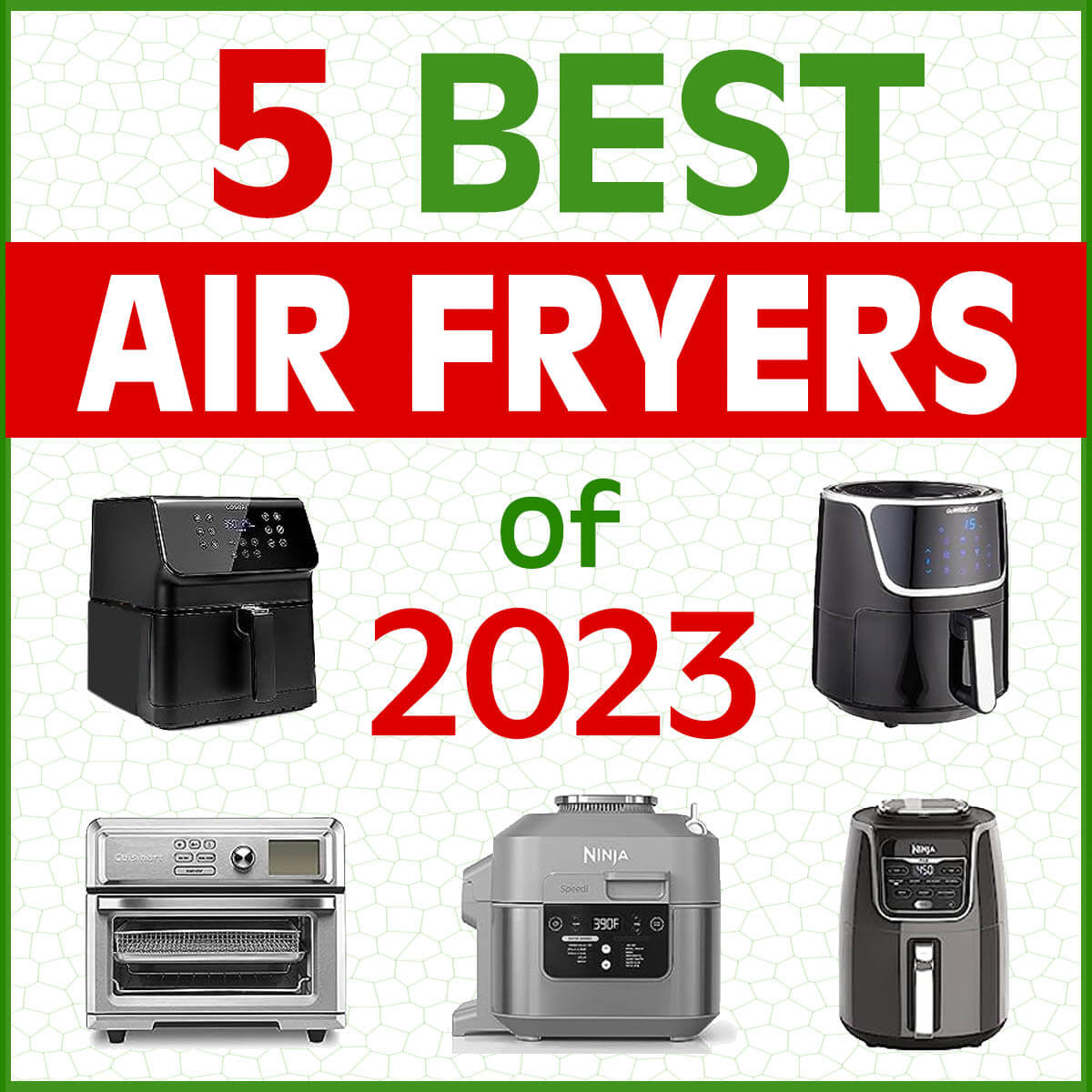 5 Best Air Fryers of 2023
We did some research and testing, and chose five models that we really liked. Not just how well they cooked the food, but also ease of use and value.
This post contains Affiliate links. As an Amazon Associate I earn from qualifying purchases.
BEST AIR FRYER - OVERALL
COSORI Pro II 5.8 Quart Air Fryer


NOTE: This is not one of the the models recalled in Feb. 2023. More info on that here.
PROS
• After initial preheating, "new" smell goes away fairly fast
• Fan is not too loud
• Square basket accommodates more variety of foods
CONS
• Control panel buttons need to be pressed a little harder
Type of Air Fryer: Basket-style (Dishwasher-Safe and Nonstick Basket
Square and Detachable Drawer-style)
Item Dimensions: 11.78 x 13.87 x 12 inches
Capacity: 5.8 quarts
Functions: Roast, Broil, Bake, Defrost, Reheat, Air Fry
Special Features: Custom Shake Reminders, Customizable Presets
Product Dimensions: 11.78"D x 13.87"W x 12"H
Color: Black
Capacity: 5.8 Quarts
Performance: Fries, wings, salmon all came out crisp and juicy. Chicken breasts do best when thicker.
$104.07 on Amazon (at date of this article) (List Price: $129.99)
BEST AIR FRYER - VALUE
Ninja Air Fryer Max XL


PROS
• Cooks foods quickly
• Temperature goes up to 450°F "Max Crisp" (currently only air fryer to do so)
• Easy to clean, ceramic basket is both nonstick & dishwasher safe
CONS
• The basket diameter is small and rounded shape limits some foods
• Buttons a little hard to push
• Fan is a little loud
Type of Air Fryer: Basket-style, rounded shape
Item Dimensions: 14 x 11 x 14.25 inches
Capacity: Two options - 5.5 quarts or 2 quarts
Functions: Air Fry, Air Broil, Cooks, Crisps, Roasts, Bakes, Reheats and Dehydrates
Performance: Cooks quickly. Wings, chicken tenders, salmon all cooked very quickly and was crisp and juicy.
$119.99 on Amazon (at date of this article) (List Price: $169.99)
BEST AIR FRYER - LARGE SIZE
GoWISE 7-Quart Electric Air Fryer & Dehydrator


PROS
• Cooks fast
• Easy to clean
• Includes dehydrating racks
• Comes in 3 sizes - 2 quart, 5 quart, 7 quart
CONS
• Bulky
Type of Air Fryer: Basket style
Item Dimensions: 13.75 x 13 x 14 inches
Capacity: 7 quarts
Functions: Roast, Broil, Bake, Reheat, Dehydrate
Performance: Cooks quickly. Great French fries, crispy/juicy wings, nicely cooked salmon.
$120 on Amazon (at date of this article) (List Price: $143.99)
MOST VERSATILE AIR FRYER
Ninja Speedi Rapid Cooker & Air Fryer


PROS
• Can air fry and cook with steam
• Has 1 lid (instead of 2 like the Foodi)
• Fast and powerful
CONS
• Heavy
Type of Air Fryer: Basket-style plus
Item Dimensions: LxWxH 14.1 x 13.8 x 12.4 inches
Capacity: 6 quarts
Functions: Speedi Meals, Steam & Crisp, Steam & Bake, Steam or Proof in Rapid Cooker mode and unlock Air Fry, Bake/Roast, Air Broil, Dehydrate, Sear & Sauté, Slow Cook and Sous Vide functions in Air Fry mode
Performance: Cooks quickly. Our favorite feature is the steamer function, and then crisping. Salmon and chicken breasts were great
$129.99 on Amazon (at date of this article) (List Price: $199.99)
BEST AIR FRYER TOASTER OVEN
Cuisinart Digital Air Fryer Toaster Oven


PROS
• Cooks low and slow or fast
• Cooks very quickly
• Large cooking surface
CONS
• Controls not intuitive. Knob is a bit tricky to get used to
• A little harder to clean, but not bad
Type of Air Fryer: Air Fryer Toaster Oven
Item Dimensions: LxWxH 17 x 21.73 x 15.75 inches
Capacity: 0.6 cubic feet
Functions: Equipped with a low temperature setting to slow cook, braise and more. Air Fry, Bake, Broil, Toast, Roast, Dehydrate, Proof, Low, Dual Cook, Reheat and Warm with a wide temperature range (Warm-450°F)
Performance: Cooks quickly. The toast function is really good. Cooks hot. Pizza was good, French fries did very well, as did chicken breasts.
$244.70 on Amazon (at date of this article) (List Price: $299.95)
How We Evaluate Air Fryers
We've tried several air fryers: the basket-style air fryers, air fryer ovens, air fryer toaster ovens, and multi-cookers with an air fry function or lid. We cook with them often, and have developed many recipes for them.
We evaluate their quality of construction, how easy they are to operate, and how well they air fry the most popular foods such as chicken wings (fresh and frozen), French fries (fresh and frozen), and delicate foods such as fish.
We judge the results of the food based on cook time, evenness of cooked item, crispness of exterior, and juiciness of interior.
We take a look at the user manual to see if it is useful.
We also take into consideration the noise level, temperature range, and if the accessories are dishwasher-safe, the controls on the panel, such as buttons, dials, and placement are considered.

In the end, the top choices are our opinion, and we try to consider most points, but may have missed something. Please read customer reviews, research, and ask questions before making a purchase.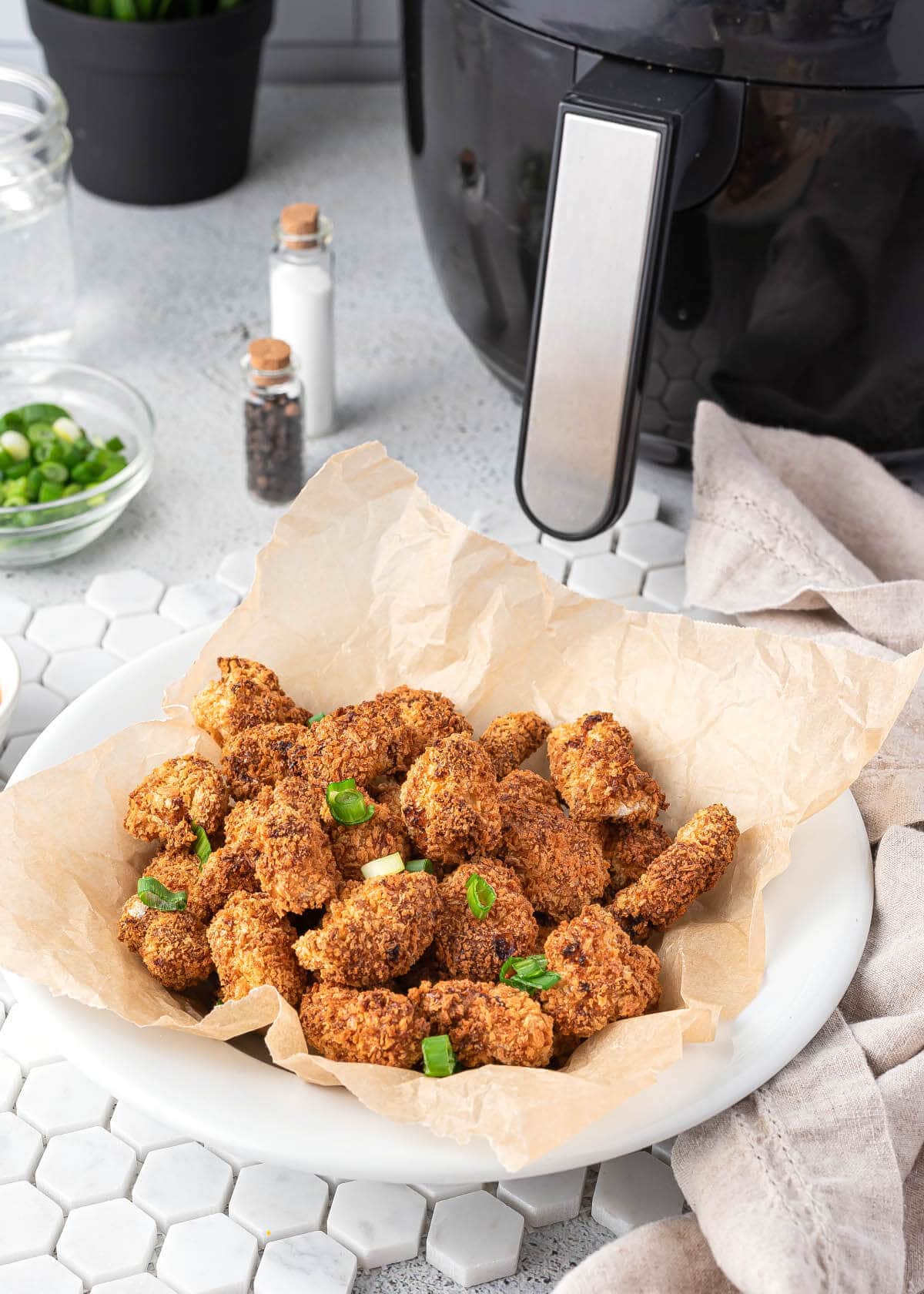 Buying Guide: Things to Consider When Shopping for the Best Air Fryer
Size: Look at the capacity first. You can find smaller, compact models good for 1-2 people, up to large capacity units for a family.
Style: Basket-style air fryers are the most common that we have seen. They are a nice size for the countertop and are good for smaller amounts, and foods that need to be shaken, such as French fries, pizza rolls, and some vegetables. Air fryer ovens are bigger and can air fry larger foods than a basket-style, like small pizzas, small trays of cookies, fish filets, etc. on multiple racks/shelves. Some foods might have to be rotated during cooking. Air fryer toaster ovens can do multiple cooking functions — toasting, baking, roasting and broiling, and air frying. Foods can take longer to cook in them, especially frozen foods.
Price: Size, construction materials, and accessories included will determine the price, so look over these things and compare before buying.
Functions/Multifunctions: Many units do more than air fry. Some have a bake function, roast, etc. Think about what you will be making before deciding. For this article, I am mostly considering the air fry function.
Cleanup: Most air fryers have nonstick interiors, however many of the oven style units have stainless interiors. Some have detachable baskets, added trays, and racks. Keep this in mind as you will need to clean your air fryer after each use. This can be as easy as simply wiping it down, or removing and soaking the basket, or racks, etc.
Customer Reviews: We want to emphasize the importance of reading customer reviews and asking questions before making a purchase.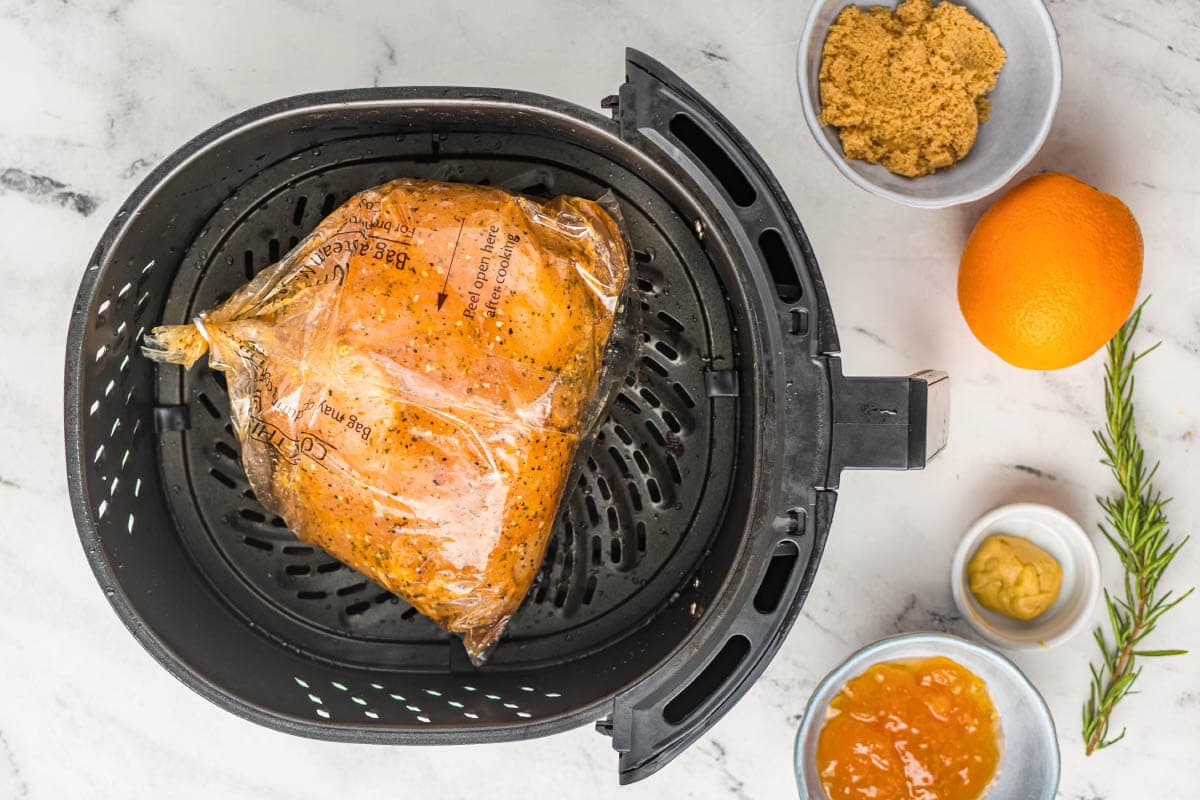 Are Air Fryers Worth It?
We think air fryers are worth it! They are especially handy if you want to cook foods quickly with easy cleanup.
Air fryers are so nice to cook prepackaged frozen foods and for heating up leftovers, especially foods you want to be crisp, like french fries.
If you want to cook small amounts of meats such as chicken, steak, pork chops, and salmon. These cook up fast and get golden brown, retaining much of their juices.
Air frying vegetables is really nice to crisp the outside and have the inside tender. Carrots, Brussels sprouts, asparagus, and potatoes are some of our favorites.
There are just so many air fryer recipes to try. Even bacon slices!
How Do Air Fryers Work?
Air fryers don't actually fry, in the conventional sense. They are more like small convection ovens, cooking with hot air that circulates around the food.
Most air fryers use a heating element at the top of the appliance and a very strong fan that circulates the hot air. The hot air cooks the food quickly.
With the help of elevated racks or trays that have holes in them, the air flows around the food, resulting in more evenly cooked food.
Since the units are relatively small, the heat can get higher/hotter, and all of this combined helps cook the food faster.
Also, some air fryers operate digitally, and some mechanically, using a dial.
How to Convert a Normal Recipe to an Air Fryer Recipe?
Reduce the suggested temperature of the regular recipe (for conventional oven) by 25°F and then cut the cook time by about 20%.
To begin converting, a good rule of thumb is to start checking your food within a fourth of the cook time you would usually check it in a conventional oven.
Foods air fried at 390°F-400ºF usually turn out best, unless they are very thick (such as thicker chicken breasts, which should be cooked at a lower temperature so they don't dry out.). This means you will usually only be adjusting the cook time.
Air fryers do cook fast, so refer to your user guide for cooking time charts.
Are Air Fryers a Healthy Way to Cook?
Air frying uses less oil than deep frying or frying in a pan of oil, so less oil is potentially consumed. Some believe a lower fat diet is healthier. It really depends more on what you are choosing to cook in them. I'm no dietitian, so I can't really give advice on this.
Some Delicious Air Fryer Recipes to Try
Air Fryer Lemon Pepper Chicken Wings
Air Fryer Chicken Breasts
Air Fryer Rib Eye Steak
Air Fryer Bacon
Air Fryer Chicken Taquitos
Air Fryer Sweet Potato Fries
More Air Fryer Recipes Here

This post contains Affiliate links. As an Amazon Associate I earn from qualifying purchases.
About Simply Happy Foodie
We have worked with many kitchen appliances to develop our recipes, including air fryer recipes, for several years. We also own several models of many types of small appliances. For the 5 Best Air Fryers in 2023, we were gifted no air fryers.