Air fryer carrots are a deliciously simple side dish recipe. Carrots cooked in the air fryer get wonderfully caramelized. This air fryer carrots recipe has all the delicious flavor of oven roasted carrots, but cooks faster. Cooking carrots in the air fryer is a great way to use up extra carrots in your fridge. This simple recipe is a great option for a healthy side dish. These air fryer carrot fries are an easy way to get healthy veggies on your table.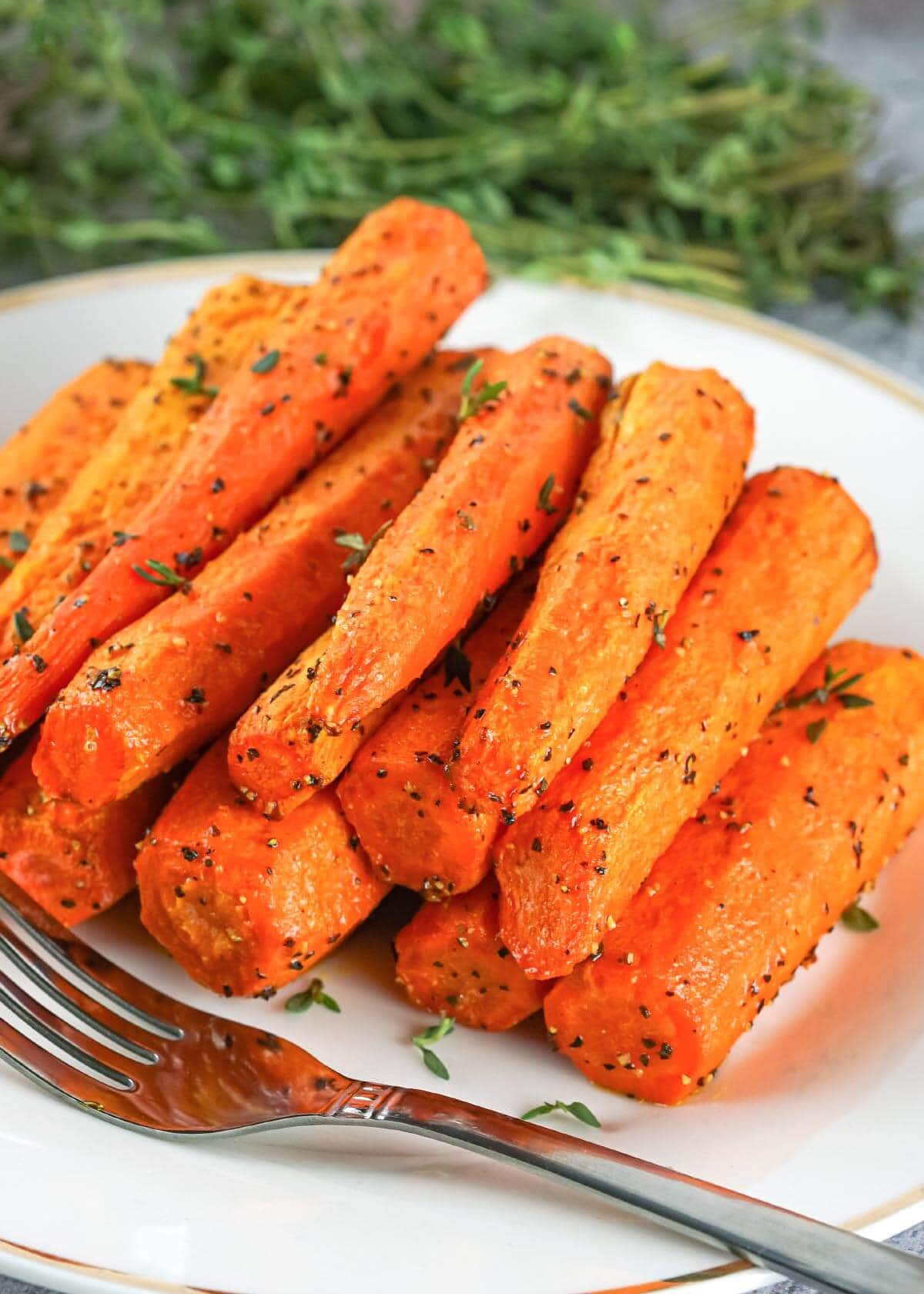 Roasted Air Fryer Carrots
Air fryer carrots make a delicious side dish. Air frying fresh vegetables is a favorite way to prepare them because it creates a crispy outside and tender inside. It takes less time than most other methods.
Try my Air Fryer Parmesan Potatoes, or Air Fryer Asparagus.
When it comes to carrots, air frying brings out their natural sweetness while adding a delightful crunch that even picky eaters can't resist. Plus, the quick cooking time means you can enjoy your perfectly cooked carrots in just a matter of minutes.
Which Air Fryer is Best?
You can use any type of air fryer to make yummy air fryer vegetables. Air fryers have become so popular to make delicious recipes, but it can be overwhelming to know which one to choose from because there are many models available.
To help you choose, I wrote an article with my picks for the 5 best air fryers of 2023, read it here.
Why You'll Like This Recipe
• Air fried carrots have crispy edges on the outside and are tender on the inside.
• The flavor when you roast carrots is sweet and caramelly. Air frying carrots gives you that flavor.
• This air fryer carrots recipe Only takes a few simple ingredients.
• Carrots in the air fryer are easy to make (minimal prep).
• Air fryer roasted carrots cook faster than oven roasted carrots.
Ingredients and Substitutions
These are the ingredients for this recipe, and some substitution options.
Carrots - Use medium or large carrots so that you can cut them into halves. You can also use baby carrots, (cook time may be shorter or longer, depending on size).
Olive Oil - The carrots need some oil to help them become crisp on the outside. Olive oil adds more flavor as well. Use1-2 Tablespoons of oil. You could use avocado oil, if preferred.
Salt and Back Pepper - Use Kosher salt or sea salt and black pepper for the base seasonings. You can use other spices, like garlic powder, onion powder, cinnamon, ginger, etc. to add even more flavor.
Honey - You can add honey or real maple syrup. This is an optional ingredient, but the salty-sweet combo makes the carrots very delicious!
Fresh Rosemary - Minced fresh rosemary goes well with the flavor of the carrots. This is an optional ingredient. You can also use other fresh herbs, like fresh thyme, fresh parsley, or dill.
How to Cook Carrots in the Air Fryer
For detailed instructions, including amounts and temperatures, see the recipe card below.


Prepare the Carrots - Wash, pat dry, peel with a vegetable peeler, and cut off the carrot ends (peeling the carrots is optional, it enhances appearance and seasoning absorption.) Cut carrots to your desired size using a sharp knife. Add to a large bowl.

Mix Seasonings - Whisk together the honey (if using), olive oil, rosemary (if using), salt, and pepper.
Season - Pour the oil mixture over the carrots and toss carrots to coat. You can marinate them for a few minutes or cook them right away.

Load Basket - Place carrots in the air fryer basket in a single layer (you may need to cook in batches if they don't all fit).
Air Fry - Roast carrots in the air fryer, shaking the basket halfway through cook time, until the carrots are a little golden brown and crispy on the outside, and are fork tender. Air fry additional batches as needed.
How Long to Air Fry Carrots?
With air frying, size it usually the determining factor in how long the carrots will cook at the temperature you are using. Small carrots take less time than large carrots.
Air fryer carrots usually take 12-15 minutes, or until they are crisp on the outside and fork tender. Baby carrots will take less time and thicker whole carrots can take longer.
For a more tender carrot, prolong the cooking time slightly.
Best Carrots to Use
When it comes to choosing the best carrots for your air fryer recipe, you have a few options depending on your preferences and availability:
Fresh Whole Carrots: These are the classic choice and allow you to control the size and thickness of the carrot pieces. They offer a more authentic carrot flavor and texture.
Baby Carrots: Baby carrots are pre-peeled and conveniently bite-sized. They cook relatively quickly due to their smaller size. Keep in mind that they might cook faster than whole carrots, so adjust the cooking time accordingly.
Carrot Sticks: You can cut whole carrots into sticks for a snack-friendly option. These might also be great for dipping into sauces or hummus.
Rainbow Carrots: If you want to add a pop of color to your dish, consider using a mix of different colored carrots like orange, purple, and yellow. They'll not only provide visual appeal but also a variety of flavors.
Tasty Variations
Air fryer carrots are naturally flavorful, but if you want to try some different flavors these are great options:
Garlic - Add minced garlic or garlic powder to the seasoning mix for a savory flavor.
Balsamic - Toss the carrots with 1-2 Tablespoons of balsamic vinegar (added to the other ingredients).
Pesto - Toss the carrots with a spoonful of pesto before air frying for a burst of herbaceous flavor.
Garlic Parmesan - After tossing the carrots with oil, seasonings, and herbs, add garlic powder and a sprinkle of grated Parmesan cheese before air frying. This creates a crispy, cheesy crust.
Herbs - Prepare the carrots and toss them with olive oil, salt, and black pepper. Then add herbs such as fresh rosemary, or use a mixture of fresh or dried herbs like dill, thyme, oregano, basil, and parsley, or use Italian seasoning.
Add Root Vegetables - Replace half of the carrots with other varieties of root veggies, like parsnips, turnips, rutabaga, or beets.
Sweet & Spicy - For a sweet and spicy twist, mix honey or maple syrup with a dash of cayenne pepper or red pepper flakes before tossing the carrots. The contrast between sweet and heat is delicious!
What to Serve with Air Fried Carrots
Air fryer carrots make a perfect side dish that compliment many main courses. Here are some delicious recipes to pair with them:
Chicken – These carrots make a perfect side to Baked Chicken Breasts, Instant Pot Chicken Thighs, Air Fryer Chicken Thighs Slow Cooker Honey Garlic Chicken.
Beef – Air fryer carrots are good with beef recipes like Instant Pot Beef Tips, Instant Pot Ribs, or Air Fryer Meatloaf.
Pork – Carrot fries are a healthy side dish that goes with Pork Chops, Pork Tenderloin, or Instant Pot Bone-In Ham.
Leftover Carrots Storage
Refrigerate: Cool carrots completely. Place in an airtight container with a paper towel at the bottom to absorb excess moisture, which can soften the carrots. Store in the fridge for up to 3 days.
Reheat: Reheat in a preheated air fryer at 375 degrees F for 3-5 minutes.
Freeze: You can freeze cooked carrots for up to 3 months. Let them cool completely, then place in a zip-lock freezer bag and put into the freezer.
More Air Fryer Vegetable Recipes
We enjoy cooking vegetables in the air fryer. Next time try one of these other air fryer recipes:
Air Fryer Brussels Sprouts with Lemon Garlic Aioli
Air Fryer Sweet Potato Fries
Air Fryer Pickles


Air Fryer Cornbread Muffins
Air Fryer Pigs in a Blanket
Instant Pot Red Lentil Curry Soup
Italian Pasta Salad

If you make this yummy air fryer carrots recipe, let me know! You can leave a comment below with a star rating. I'd love to know how you liked it.
Air Fryer Carrots
Air fryer carrots are an easy and delicious side that pairs well with countless dishes. This recipe calls for peeled carrots, tossed in oil, and lightly seasoned, before being cooked to perfection. Fork tender and great as even a standalone snack!
Keyword:
air fryer vegetables, vegetable side dish
Ingredients
8-12

Carrots,

peeled

2

Tablespoons

Olive Oil

1

teaspoon

Black Pepper

½

teaspoon

Salt
Optional
2

Tablespoons

Honey

(or real maple syrup)

Fresh Rosemary,

minced, to taste
Instructions
Wash and cut off the ends of the carrots. Peel the carrots. Cut the carrots in half. Pat dry with a paper towel.

In a mixing bowl, combine the carrots, salt, pepper, and oil and toss gently.

Place the carrots in the air fryer, spacing them out evenly.

Cook at 380°F for 12-15 minutes, tossing them half way through, until crisp on the outside and fork tender.

Serve and enjoy!
Recipe Notes
The smaller the carrots are cut, the faster they will cook. So cut them how you want to serve them and change time accordingly.
For a more tender carrot, cook for an additional 3-5 minutes. As-is, they will have just a touch of crunch left to them, which is my preference, but might not be yours.
I peel my carrots, but it's not a must. I just prefer it because they look better and absorb the seasonings better. You'll want to at least wash them really well.
You can add any seasonings you like to this recipe. This recipe is a good base, but you can add more seasonings to better match the main course you're serving. These taste amazing as-is also.
You can use baby carrots for this recipe as well. Again, be aware of size and thickness of carrots. This will adjust your timing as far as cooking goes.