Slow Cooker Mac and Cheese is creamy and delicious. This is a three cheese macaroni recipe. With just a few ingredients, this crock pot mac and cheese recipe is easy to make and very cheesy.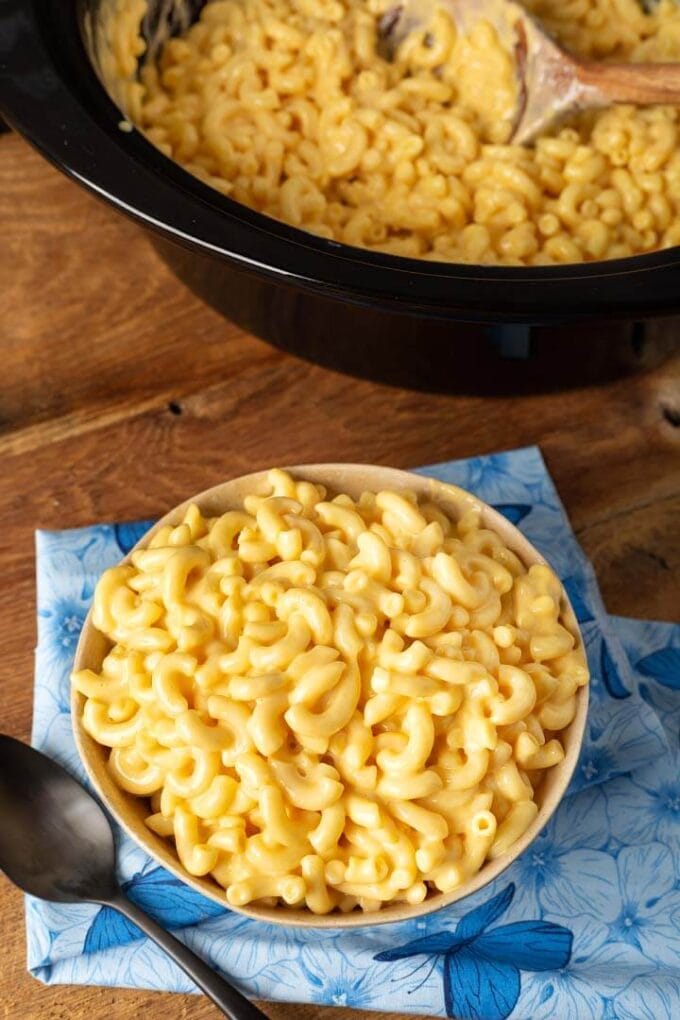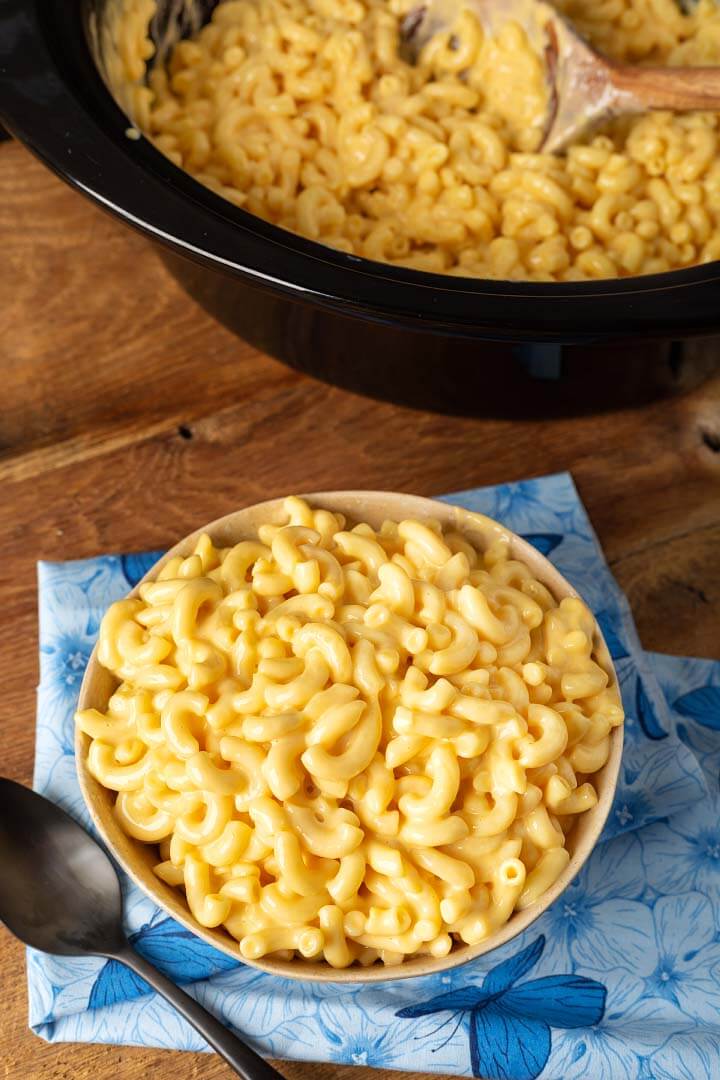 Slow Cooker Mac and Cheese
What do you like your mac and cheese to be? Creamy? Cheesy? Tasty? Easy? How about all four? Okay, this one's for you!
I get asked about recipes that cook faster than the typical 4 or 8 hours in the slow cooker. Many of those recipes will be side dish recipes or pastas.
This yummy crock pot macaroni and cheese recipe takes about two hours plus a little prep time to make. That's not bad!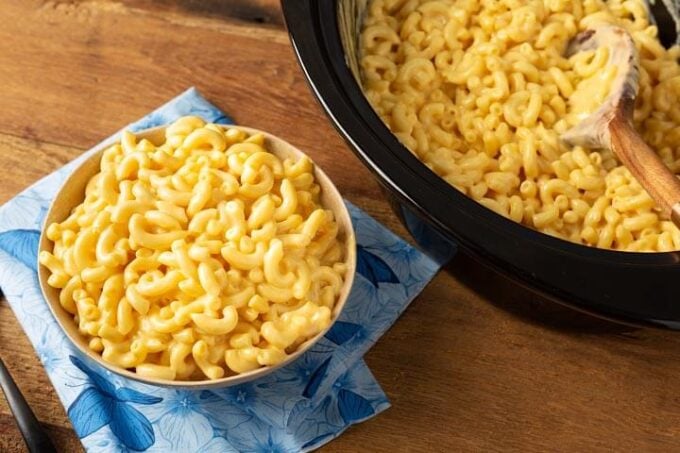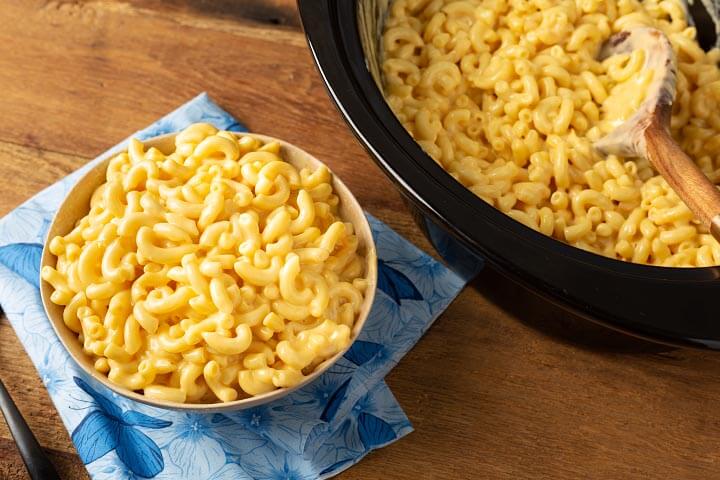 Mac and Cheese in the Crock Pot – Some Tips
• Only cook the noodles to about 80%-85% done before adding to the crock. Otherwise it will be mushy.
• Grate your own cheese. If you use the stuff from the bag it will have a chalky or gritty texture.
• Don't stir it until the 1 hour mark.
• Be sure to check on it after 1 hour of cooking. Eat a noodle and see if it is soft enough. Cook longer if needed.
• Cook on Low. The cheese will separate and be oily and gross if you cook on High.
The steps to make this creamy macaroni and cheese are easy. Here they are: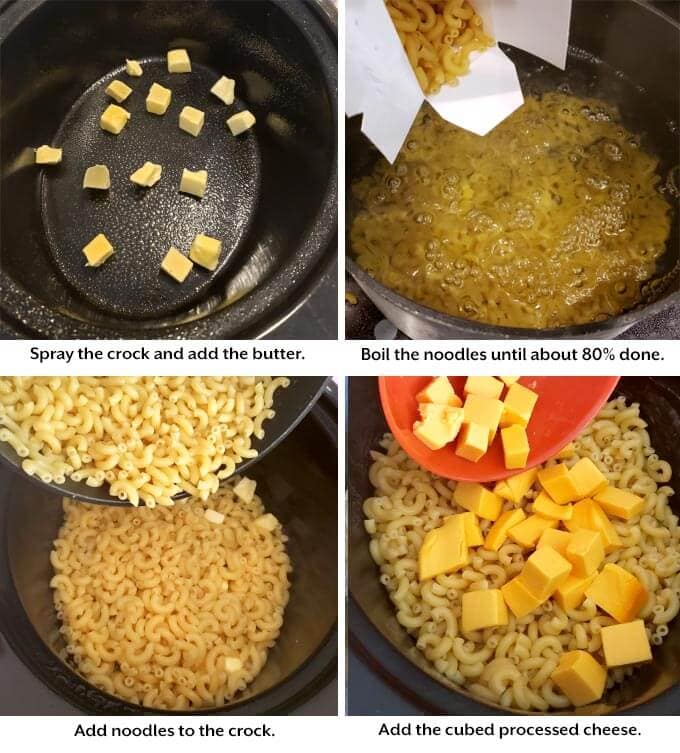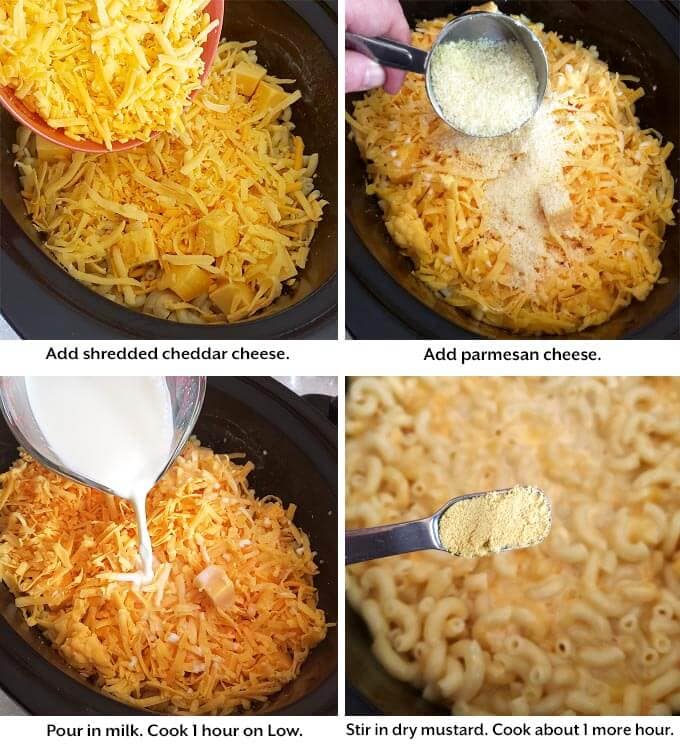 Remember that some slow cookers cook hotter than others. You probably know your crock pot pretty well.
Just follow the tips and you should get a nice creamy and cheesy macaroni and cheese in the slow cooker!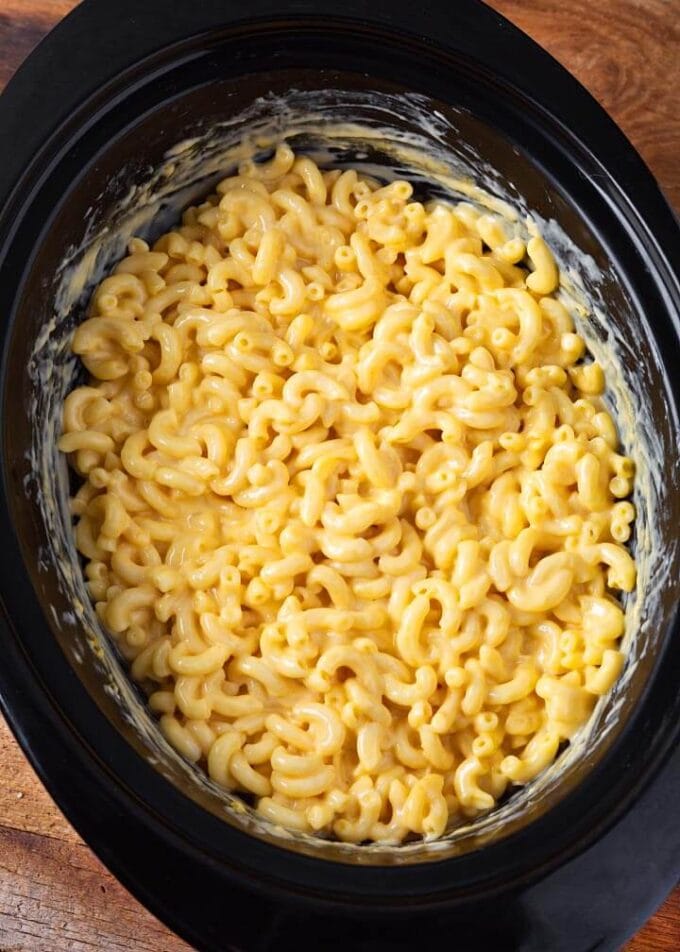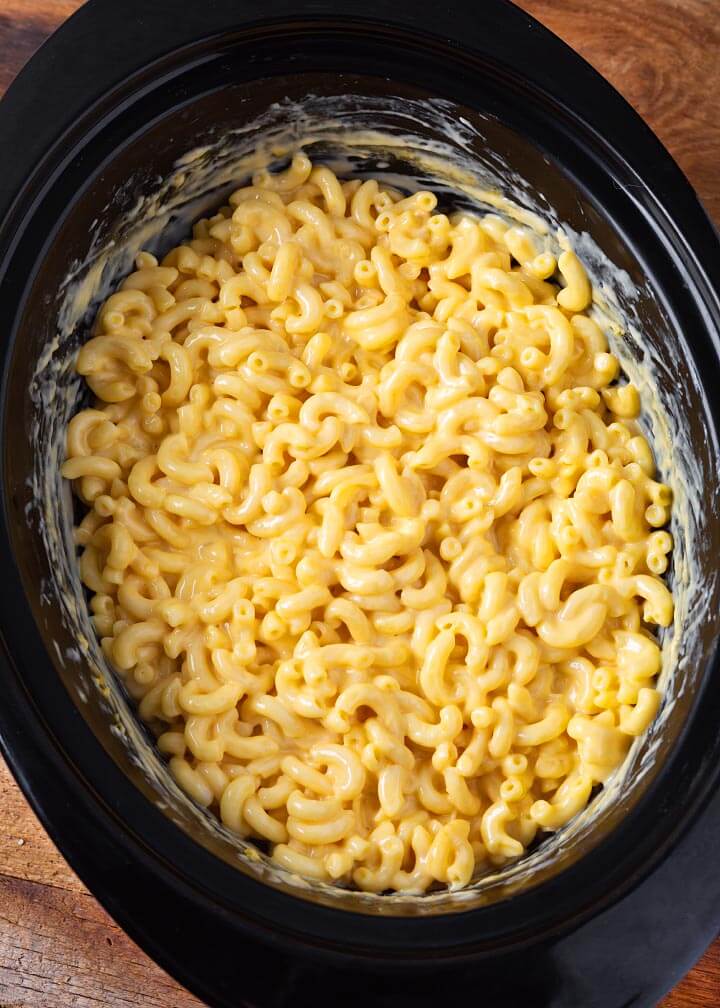 Mac and cheese Add-Ins
If you like stuff in your slow cooker macaroni and cheese, there are several tasty add-ins you can try:
• Bacon. Of course bacon is at the top of my list!
• Chili. You can have a chili mac just by combining the two.
• Stewed tomatoes. I have done this for years. So good!
• Hot sauce for a kick.
• Smoked paprika. For a smoky hint of flavor – 1/2 teaspoon stirred in.
• Smoked sausage cut in 1/2″ rounds, added in the last hour of cooking is excellent!
Use your imagination and come up with something you will enjoy. Or just enjoy your slow cooker mac and cheese as is!


Slow Cooker Chicken Cacciatore
Slow Cooker Salisbury Steak with Gravy
Slow Cooker Sauerkraut and Kielbasa
Slow Cooker Country Style Ribs
Pin This Recipe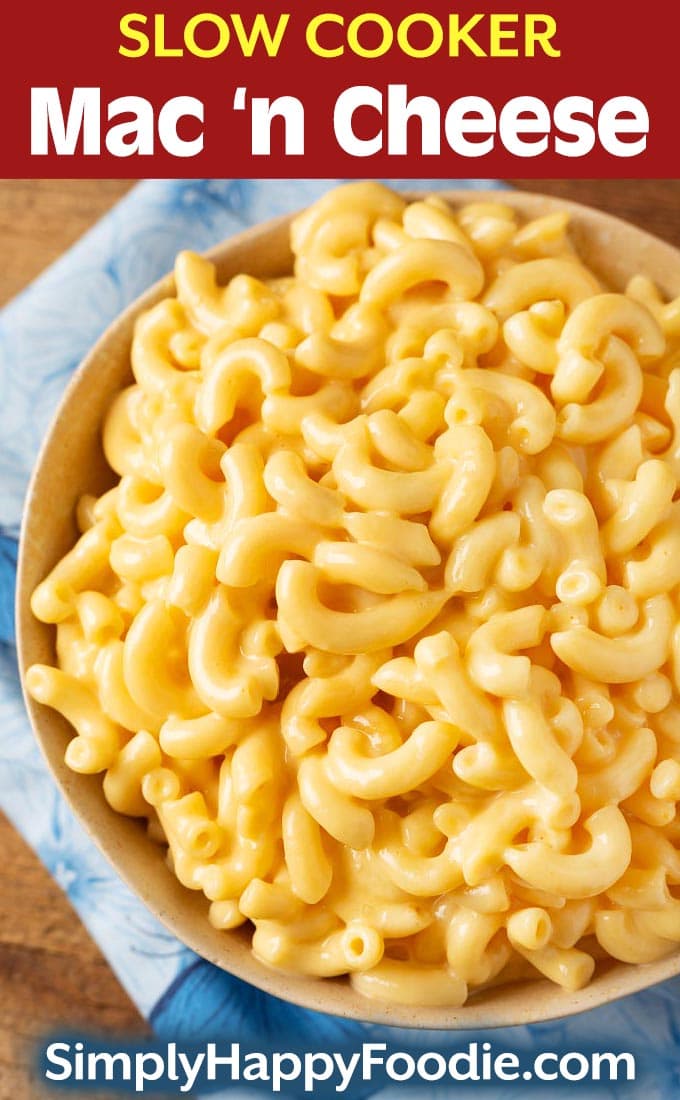 If you made this yummy crock pot mac and cheese recipe, please leave a comment with a star rating below. I would like to know how you liked it!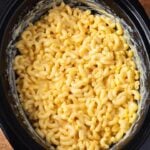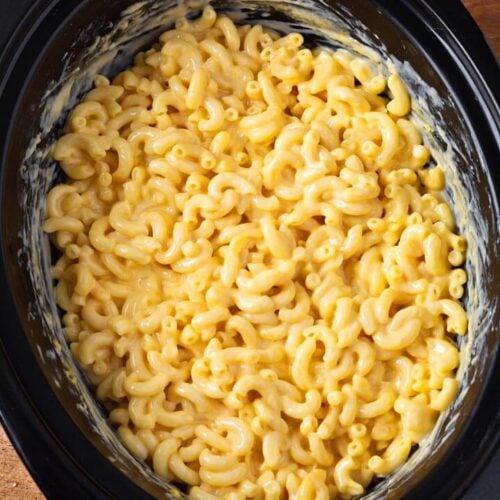 Slow Cooker Mac and Cheese
Slow Cooker Mac and Cheese is creamy and delicious. This is a three cheese macaroni recipe. Easy to make and very cheesy.
Keyword:
crock pot mac and cheese recipe, macaroni and cheese recipe
Ingredients
16

oz

Macaroni Noodles

4

Tbsp

Unsalted Butter,

cut into cubes

8

oz

Processed Cheese

(such as Velveeta®), cut in 1 inch cubes

3

cups

Freshly Shredded Cheddar Cheese

(I use sharp), Not from a bag

1/2

cup

Grated Parmesan Cheese

3

cups

Whole Milk

1/2

tsp

Ground Mustard,

optional

Salt & Pepper to taste
Instructions
Spray the crock of a 5 qt or 6 qt slow cooker with cooking spray. Add the cubes of butter.

Bring a pot of water to boil and add the macaroni. Cook for about half the time the package directions say. You want the pasta cooked to about 85% done, but not all the way or it will get overcooked and mushy in the slow cooker. Drain well.

Turn on the slow cooker to Low. Add the pasta to the crock.

Add the cheese cubes, but don't stir.

Sprinkle on the shredded cheese and the parmesan, but don't stir.

Pour in the milk. Do not stir. Put the lid on and cook for 1 hour on Low. Do not cook on High.

After 1 hour, add the ground mustard, if using, and stir the mac and cheese. Taste a noodle or two to test doneness. If not done, put the lid back on, turn the heat down to Warm, and cook another 45 minutes to 1 hour, or until it reaches desired doneness.

Stir again, and test for doneness. Mine usually cooks in just under 2 hours (1 hour on Low, and 1 hour on Warm). This is how I avoid overcooking it. Of course, every slow cooker is a little different.

When done, turn off the slow cooker. Stir in a little warmed milk if you like it creamier. Taste and add a little salt and pepper, if needed.
Resources to Make this Slow Cooker Mac and Cheese Recipe and More
This post contains Affiliate links. As an Amazon Associate I earn from qualifying purchases.