Air Fryer Pork Chops are a quick and easy way to cook up pork chops juicy and tender. This pork chop recipe has a tasty spice rub to give them lots of flavor while they are cooking. Air frying pork chops are a weeknight easy dinner recipe.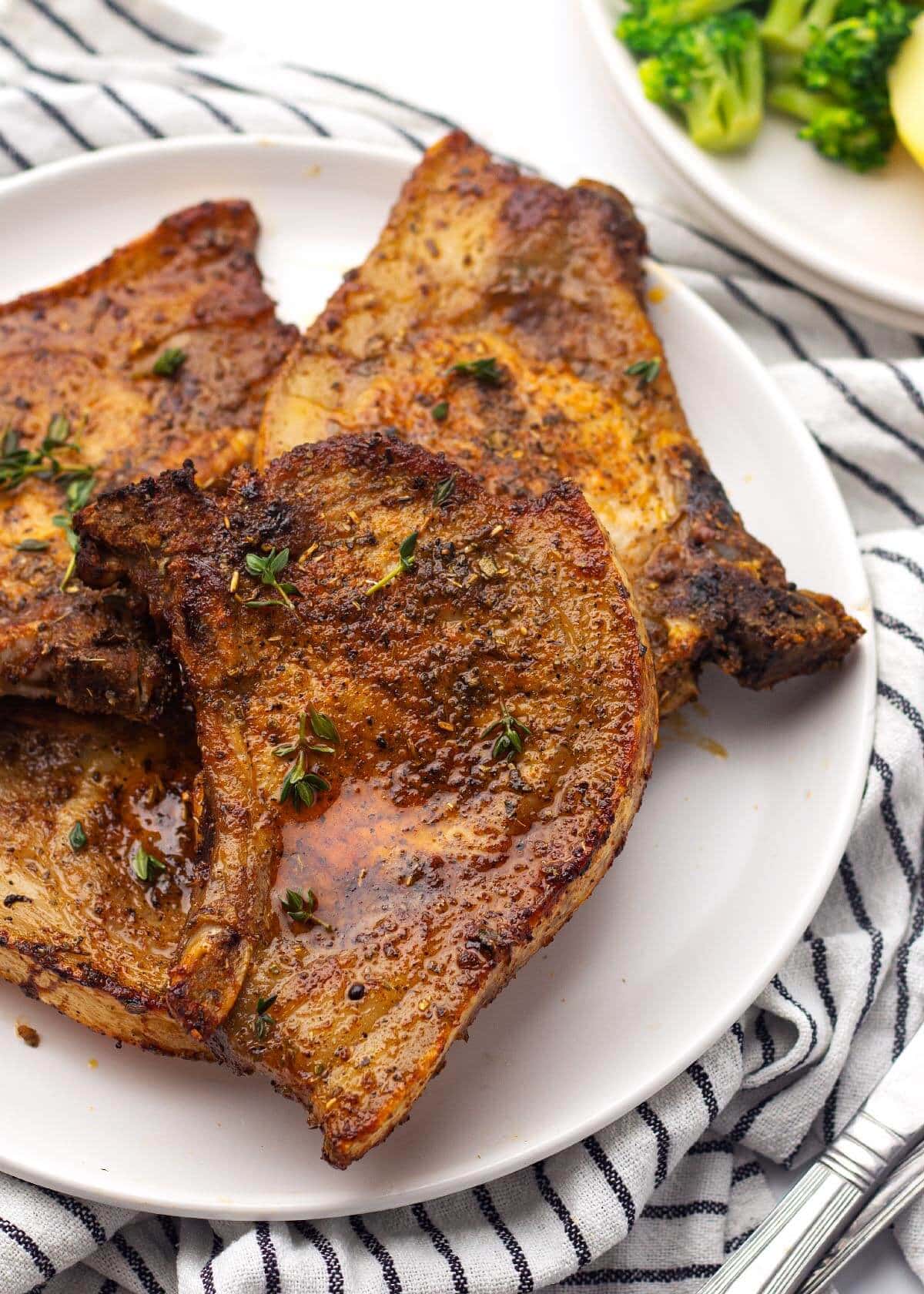 There is nothing like a pork chop that has a flavorful crust and a juicy, tender inside. That's why I like Air Frying Pork Chops!
Air Fryer Pork Chops
The air fryer is a champ at cooking meat! Some of my best results when cooking meat comes from the air fryer, such as these Air Fryer Chicken Breasts.
Pork chops are notorious for coming out dry and tough. That's because they are a lean cut of pork (who remembers the tagline "Pork; The Other White Meat"? Lol!).
How to Cook Pork Chops
Really the secret to a juicy, tender pork chop is to not overcook it. You can brine, tenderize, and all that jazz, but it means nothing if the chop is overcooked.
The main thing that determines the cook time, using any method, is the thickness of the chop. I like cooking a thicker pork chop (at least 1 ½-inches thick) for a better tasting and juicier result.
The best method to determine doneness is to use a digital meat thermometer. It should read 140°F (then let the chop rest).
How to Make Air Fryer Pork Chops:
The steps to air fry pork chops are very simple:



Assemble your ingredients. Lay out the pork chops in a pan. Coat the chops in oil.


Add the spices to a small bowl. Whisk the spices together.


Coat both sides of the chops in the spice mixture. Add as many chops as will fit in the air fryer basket in one layer.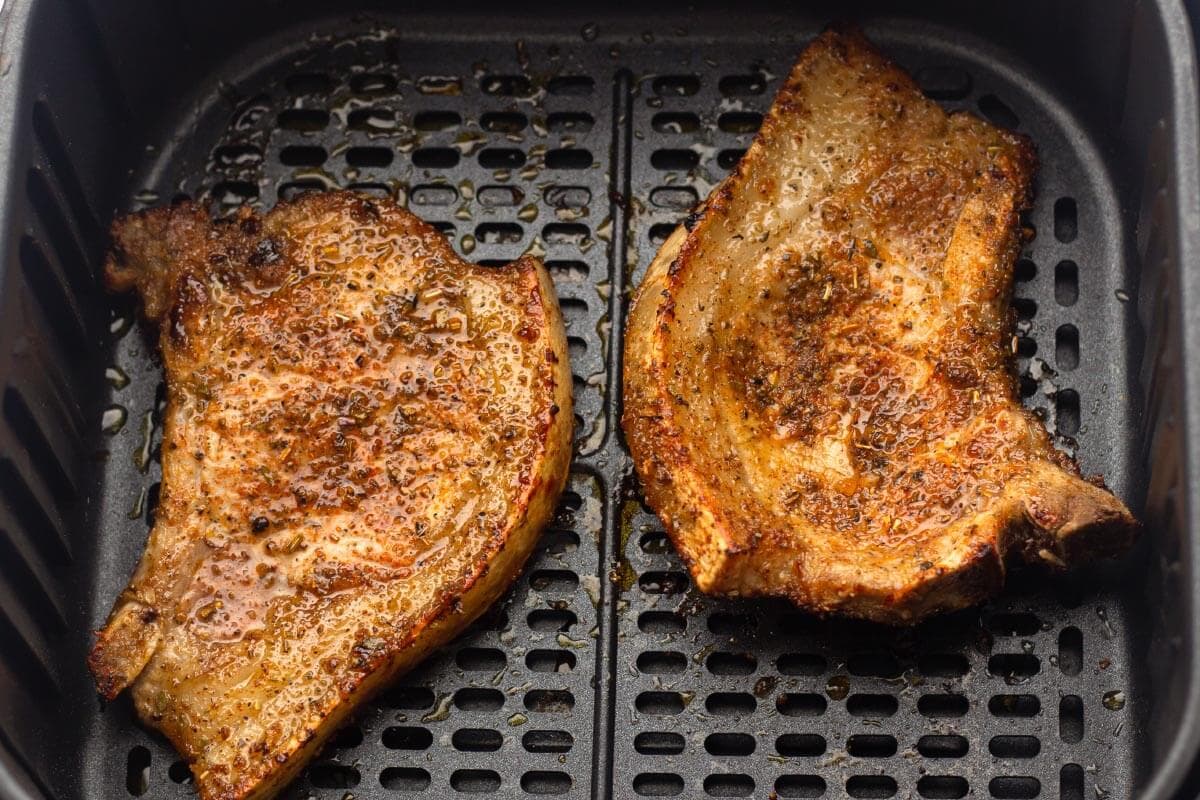 Flip the pork chops over at the halfway point. Check the internal temperature with a meat thermometer to determine doneness.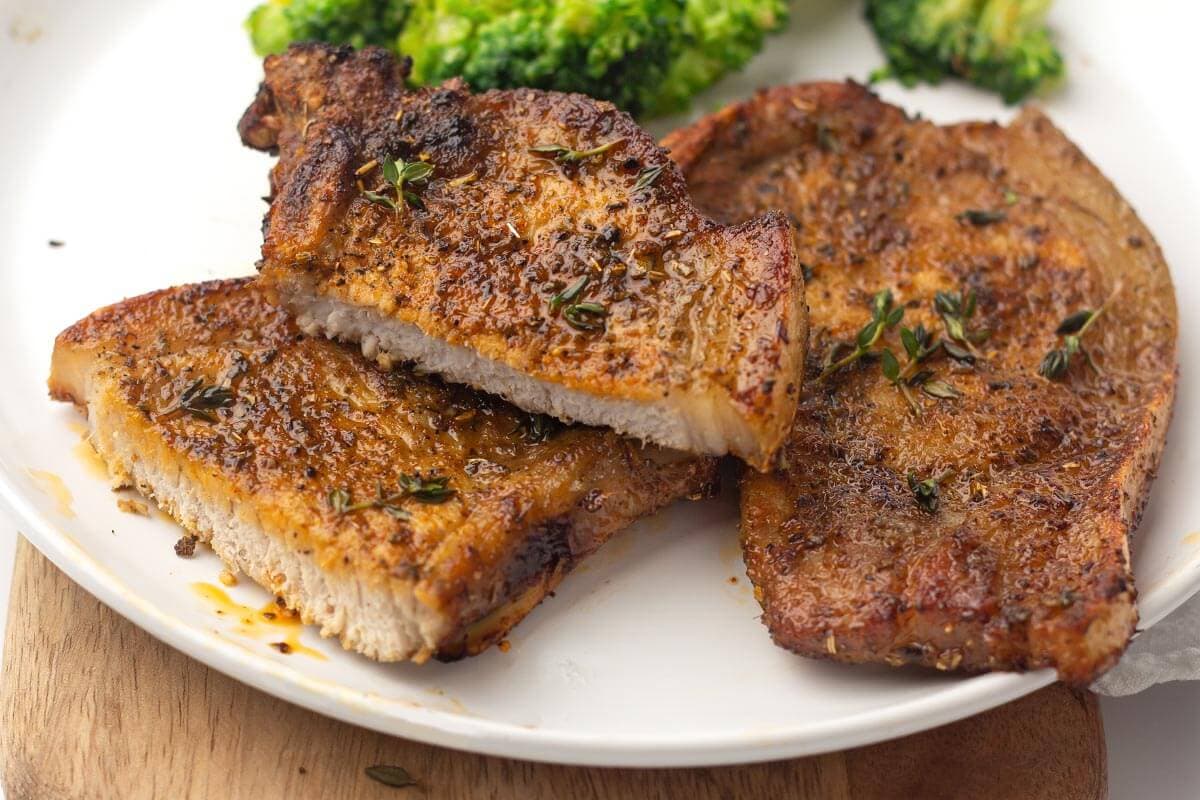 What to Serve With Pork Chops
There are so many side dishes that are delicious with pork. Here are a few of my favorites:
• Mashed Potatoes
• Creamed Corn
• Macaroni and Cheese
• Steamed Broccoli
Will This Work with Boneless Pork Chops?
• Yes it will (though I think bone-in taste better). Again, the thickness is the main thing to consider.
• I find boneless pork chops to be thicker where I shop, which is what I want.
• Try not to get the ones that are too thin! If they are, cut down the air fry time.


Air Fryer Chicken Nuggets
Air Fryer Bacon
Air Fryer Turkey Breast with Orange Glaze
Air Fryer Kung Pao Chicken
Air Fryer Rib Eye Steak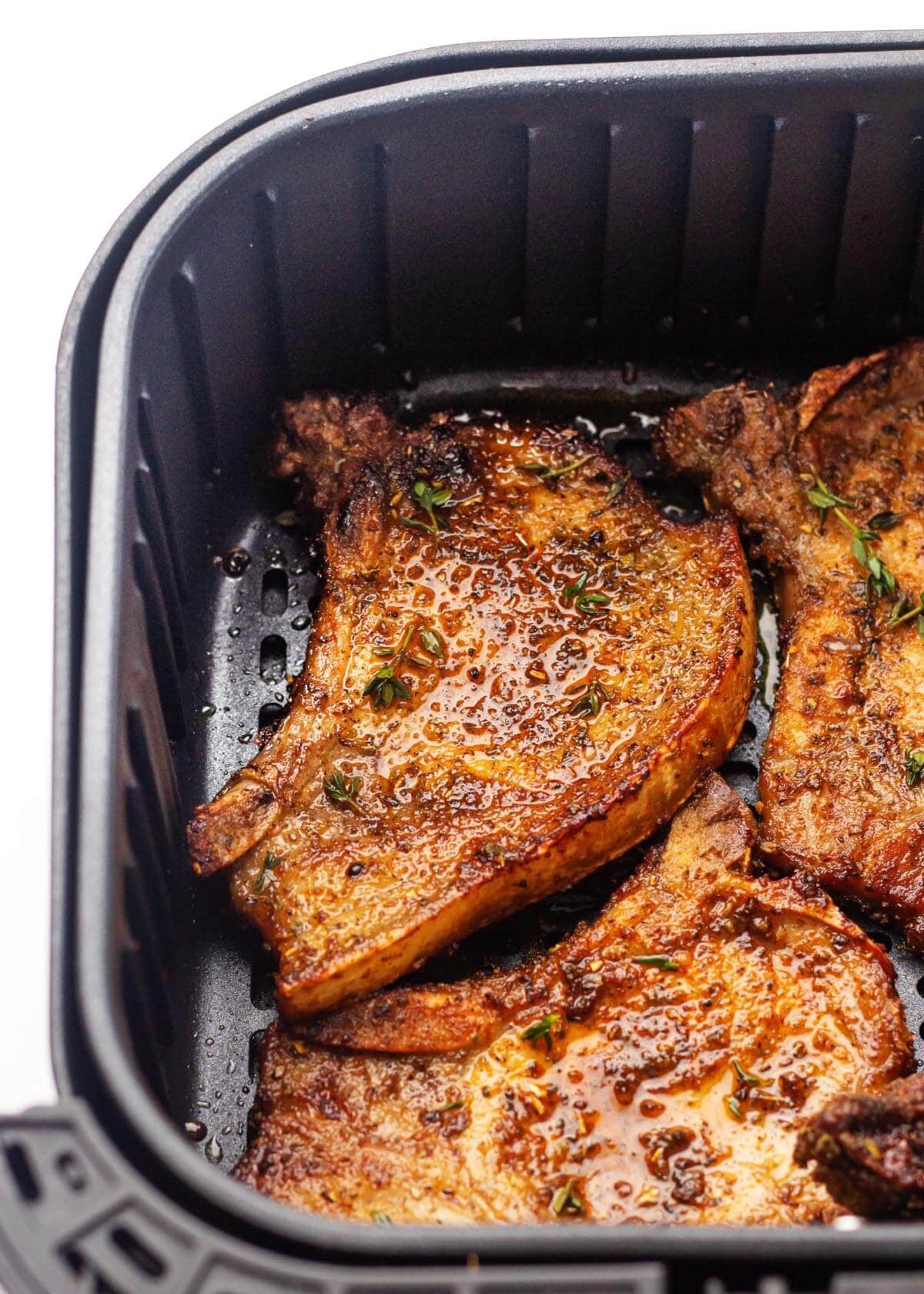 If you make these air fried pork chops, please let me kow. Just leave a comment below with a star rating. I'd love to know how you liked them!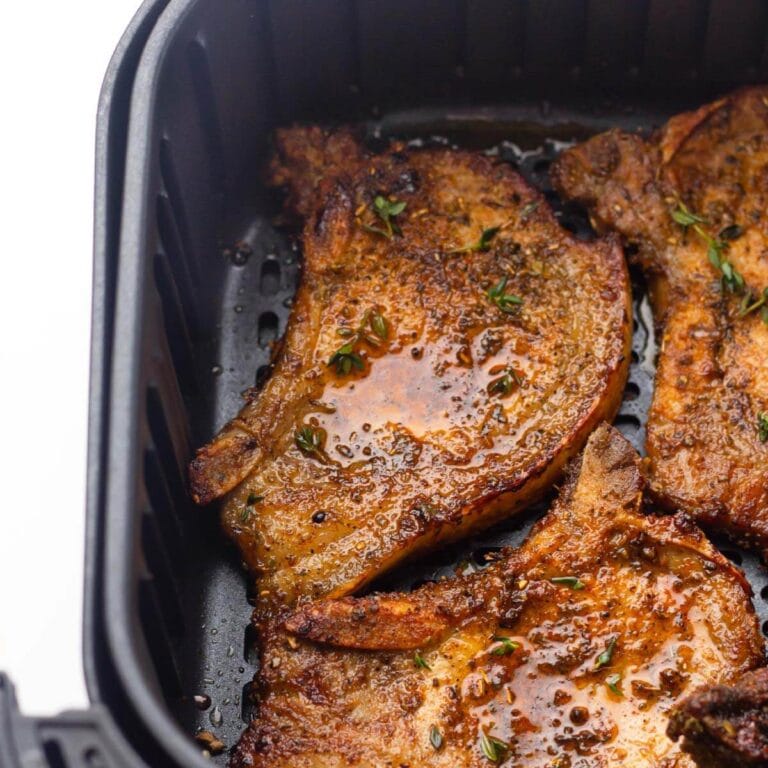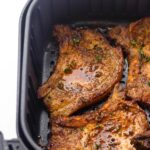 Air Fryer Pork Chops
Air Fryer Pork Chops are flavorful, juicy, and tender. A quick weeknight meal.
Keyword:
pork chop in the air fryer
Ingredients
4

Pork Chops*

(about 1 ½ -2 inches thick)

2

Tablespoons

Canola Oil

(or other neutral oil)
Spice Mix
2

teaspoons

Sea Salt Flakes

(or 1 teaspoon coarse salt, ½ teaspoon table salt) or to taste

½

teaspoon

Black Pepper

1

teaspoon

Dried Sage

(I use rubbed sage)

1

Tablespoon

Brown Sugar

1

teaspoon

Paprika

½

teaspoon

Onion Powder

½

teaspoon

Garlic Powder
Instructions
Place the pork chops onto a large tray. Coat the pork chops with the oil.

In a small bowl, add the sea salt flakes, black pepper, dried sage, brown sugar, paprika, onion powder and garlic powder. Mix well.

Sprinkle the spice mix onto both sides of the pork chops until evenly coated.

Preheat the air fryer by heating it to 400°F for 5 minutes.

After the air fryer has heated, Put the pork chops in the air fryer, fitting them in but not overlapping (cook in batches if you have more than your basket can hold at one time) and cook at 400°F for 12 minutes*, flipping them at 6 minutes. If your air fryer is too small, air fry them in two batches.

When cook time is finished, check the internal temperature with a meat thermometer. You want the temp to read 140°F.

Take the pork chops out of the air fryer and place on a serving dish. Let rest a couple minutes before serving.
Recipe Notes
*Thicker or thinner pork chops will take longer or a shorter amount of time to cook. I think it is good to cook one, then make sure it comes out how you like.
Resources to Make this Recipe and More
This post contains Affiliate links. As an Amazon Associate I earn from qualifying purchases.