Instant Pot Bone-in Ham turns out juicy and flavorful in a fraction of the time it takes to cook it in the oven! Making a ham in the Instant Pot is my favorite way to cook this Holiday staple. Adding some delicious seasonings and flavorings to this pressure cooker ham recipe makes it really special! Once you make an Instant Pot Ham, you will love it!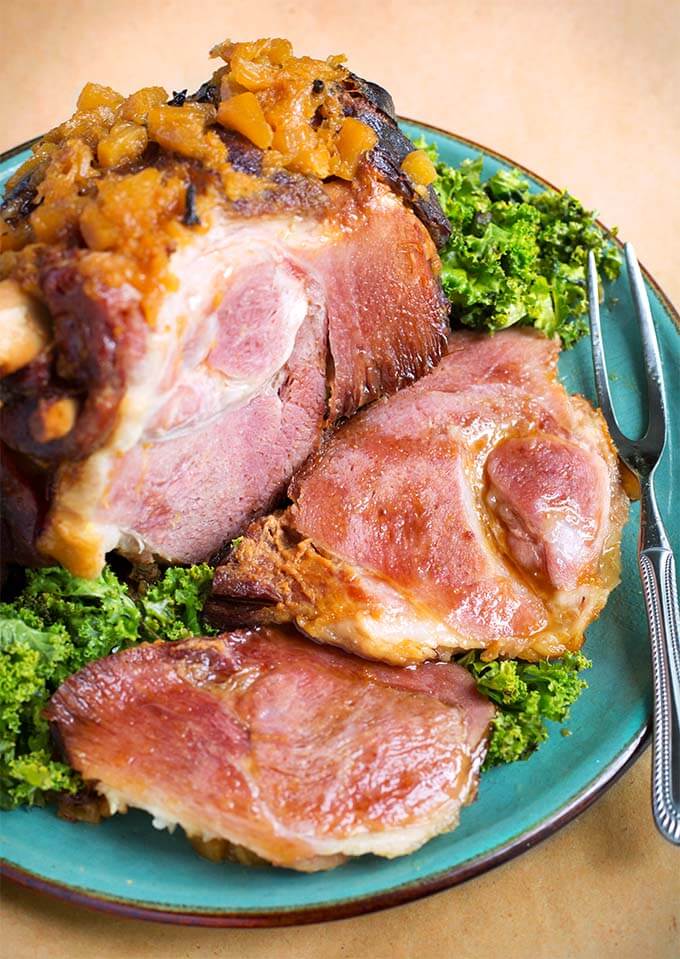 Originally published 10/25/17 [updated 11/2019]
Instant Pot Bone-In Ham
I think it's funny how ham and turkey became once or twice a year foods for most of us in America. We might have lunch meats and ground versions, but to make a ham or turkey is not a frequent happening in most of our kitchens!
Every year I cook 2 hams, one for Easter, and one for Christmas. Always in the oven, and it always takes up the oven space so I can't make the sides conveniently.
After I got my Instant Pot I decided to give it a try. It turned out really moist and delicious! Now I only make ham in the Instant Pot, and have my oven freed up for everything else! The Instant Pot ham actually cooks faster than some of the casseroles!
What I have noticed is that using my Instant Pot has allowed me to cook those time intensive meats and dishes more often because it just doesn't take as long! I'm crazy about the variety we eat since the IP came to live with us!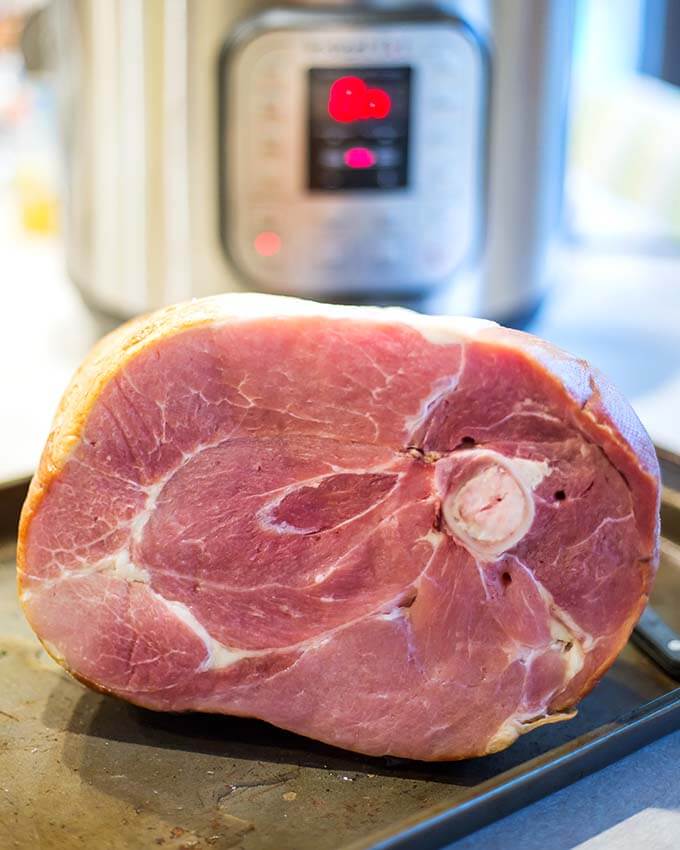 This Instant Pot Bone-in Ham is done in about an hour. It takes about 13 minutes to heat up the pot and get it to pressure, 15 to 25 minutes of cook time, depending on how thick/large the ham is, and 25 minutes of natural pressure release!
Allow yourself some extra time in case you need to add a few minutes to the cook time. It's good to have the ham done first, then the rest of the meal shortly after.
I prefer to use a bone-in, UNCUT ham. I find that these retain more moisture. If you use a spiral cut ham, drastically reduce the cook time (see recipe card).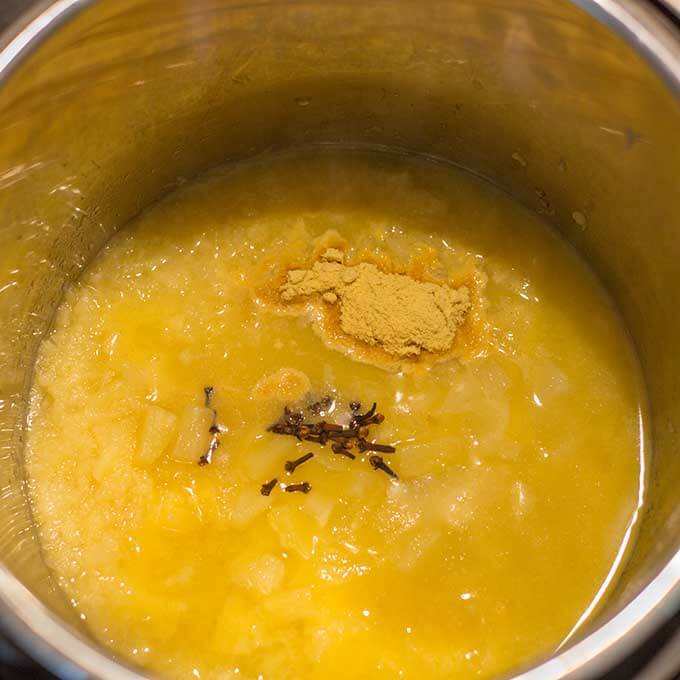 Cooked in pineapple juice, along with a little spice gives the pressure cooker ham that Holiday flavor, and the drippings make an excellent glaze and gravy!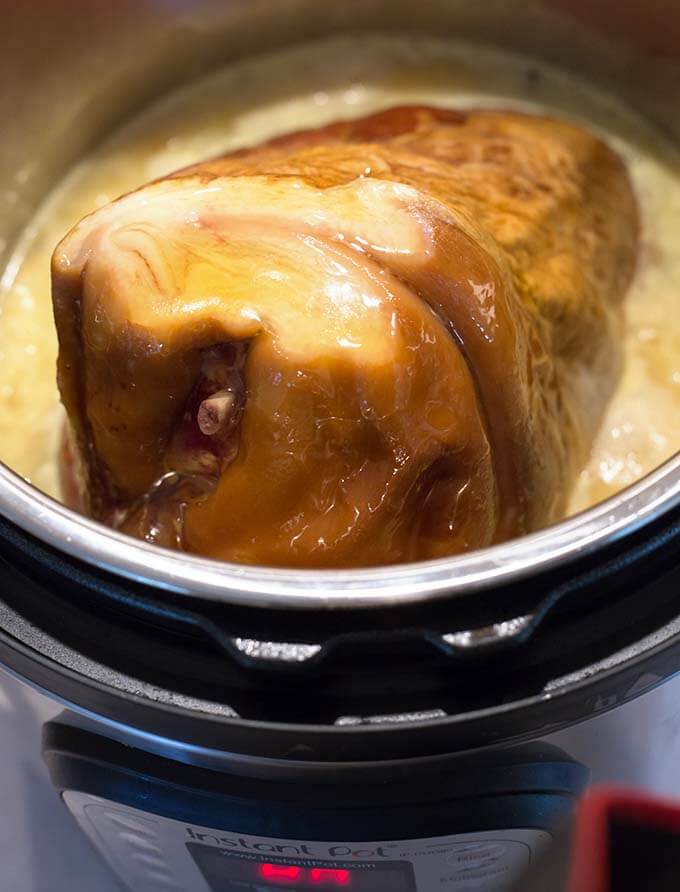 I pour some honey over the Instant Pot ham right before I close the lid.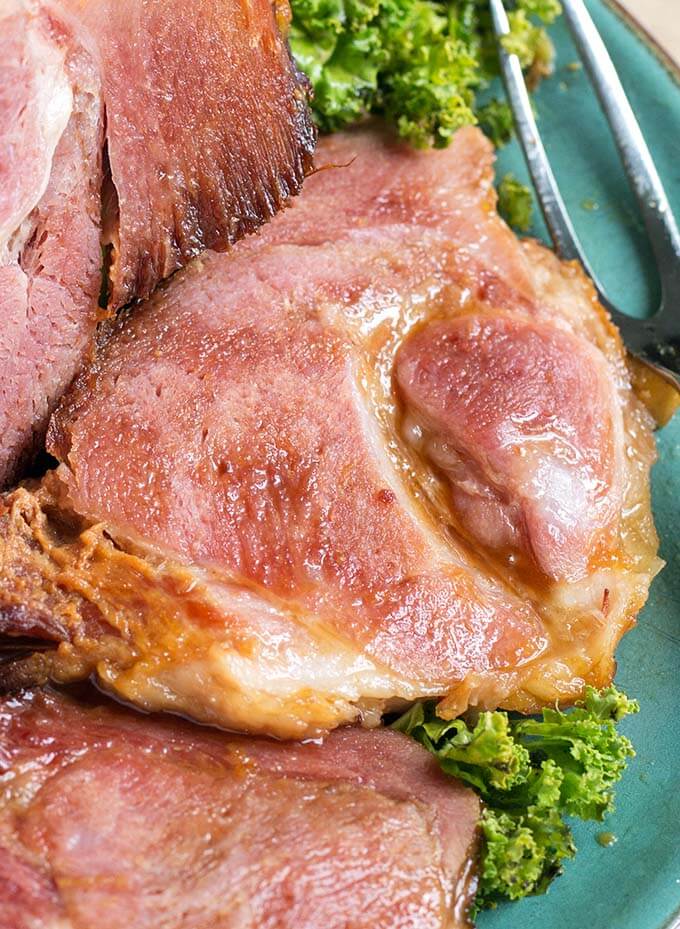 The meat is juicy and delicious. Ready for carving. Enjoy your pressure cooker ham!


Instant Pot Turkey Breast Potato Dinner
Instant Pot Pumpkin Cheesecake
Instant Pot Creamy Mashed Potatoes
Instant Pot Stuffing
Instant Pot Creamy Bacon Brussels Sprouts
Pin This Recipe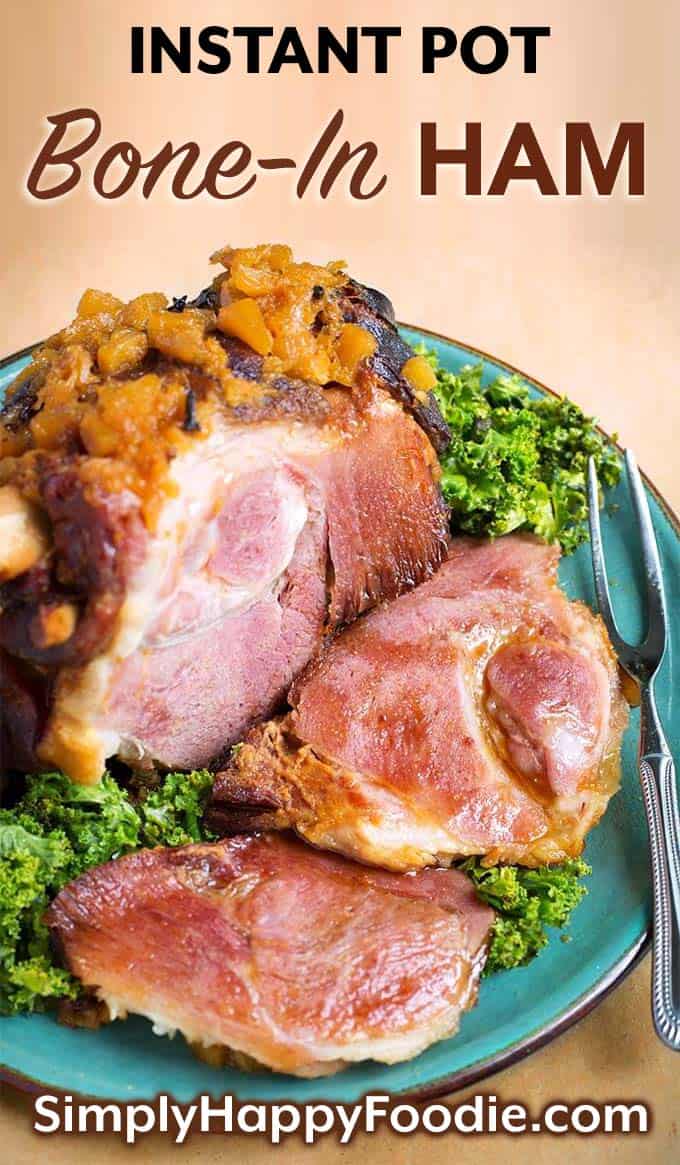 If you make this tasty pressure cooker ham recipe, please leave a comment with a star rating below. I'd love to know how it turned out!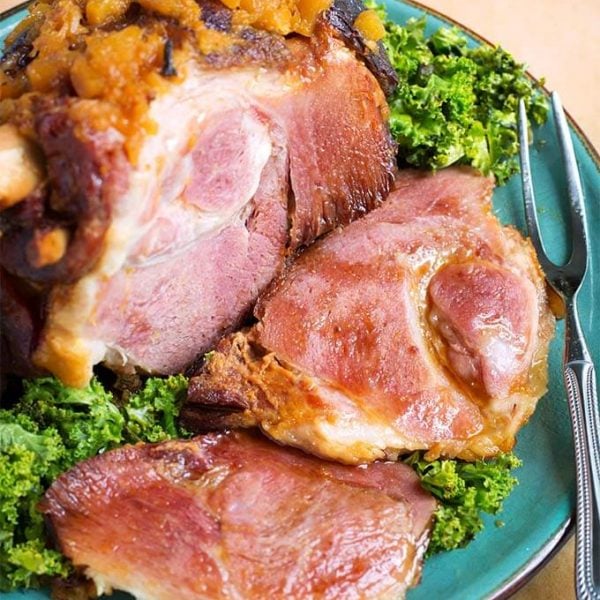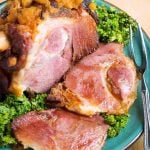 Instant Pot Bone-in Ham
Instant Pot Bone-in Ham cooks in about an hour and is juicy and delicious! This recipe is for an uncut, precooked ham.
Course:
Dinner, Main Course
Cuisine:
American, Holiday
Keyword:
pressure cooker ham recipe
Ingredients
1

(3-8 lb)

Bone-in Ham*

(Uncut, Cooked shank or butt "portion")

2

(20 oz) cans

Pineapple Chunks

(with juice. Reserve ¼ cup for sauce)

½

tsp

Ground Cloves,

or 1 tsp whole (optional)

2

Tbsp

Ground Dry Mustard

(or 1 Tbsp prepared Dijon)

½

cup

Honey
To Thicken
4

Tbsp

Corn Starch

¼

cup

Reserved Pineapple Juice
To Finish
¼-1/3

cup

Brown Sugar,

divided
Instructions
Pour the cans of pineapple and their juice into the pot.

Add the cloves and mustard. Stir well.

Place the ham on a trivet (I like to use a silicone steamer with handles) in the pot with the fat side up. If it doesn't fit well, cut off a piece and fit it into the pot along side the larger piece (you may need to reduce the cook time from the original weight as the ham will be smaller after cutting off a piece.).

Make sure the ham is below the level of the pot so the lid goes on without obstruction. I can fit a 8-9 lb ham in my 8 quart Instant Pot, and a 6-7 lb ham in my 6 qt.

Pour the honey over the ham.

Place the lid on the Instant Pot and set the steam release knob to the Sealing position.

Press the Pressure Cook button (or Manual) and then the + or - button to choose the cook time in minutes.

Your ham's cook time will depend on the weight/thickness. Use High pressure. This is for a bone-in UNCUT ham.

4-5 pounds - 12 minutes plus 25 minutes Natural Release

6-7 pounds - 17 minutes plus 25 minutes Natural Release

8-9 pounds - 22 minutes plus 25 minutes Natural Release

(For a spiral cut ham, only cook 3 minutes with a 15 minute NPR).

When cooking cycle has ended, let the pot naturally release pressure for 25 minutes. Then manually release the remaining pressure by turning the steam release knob to Venting.

When the pin in the lid drops, open the lid and take the temperature of the ham. It should read 100°-115° F which is fine for a fully cooked ham. Remember, you are just reheating it.

If the ham is below 85° F, place the lid back on and pressure cook it for another 3 minutes and 10 minutes Natural Release.

Carefully remove the ham to a baking sheet.

Ladle the liquid from the pot to a fat separator (straining out the pineapple chunks) and discard the extra fat. Then add the defatted liquid and pineapple chunks back into the pot.

Turn on the Sauté setting (Low or Less temperature).

Mix in half of the brown sugar. Taste and adjust sugar, mustard, or cloves, if desired.

Mix the corn starch and reserved pineapple juice together to make a slurry. Add the slurry to the simmering liquid and stir until it is thickened. Then turn off the pot.
If You Want To Glaze/Caramelize the Outside of the Ham
Turn on the broiler to 425°.

Pour some of the glaze over the ham and place the ham under the broiler to caramelize for a few minutes. Check it often to make sure it doesn't burn!

Remove ham from oven to a serving platter and serve. Serve the remaining glaze as a gravy.
Recipe Notes
*The thickness of the ham will affect cook time, as will higher altitudes (3000 feet or higher add more time).
**Allow yourself some extra time in case you need to add a few minutes to the cook time. It's good to have the ham done first, then the rest of the meal shortly after.
RESOURCES TO MAKE Instant Pot Ham
We are a participant in the Amazon Services LLC Associates Program, an affiliate advertising program designed to provide a means for us to earn fees by linking to Amazon.com and affiliated sites.