Instant Pot Bone-in Ham turns out juicy and flavorful in a fraction of the time it takes to cook it in the oven! Making a ham in the Instant Pot is my favorite way to cook this Holiday staple. Adding some delicious seasonings and flavors to this pressure cooker ham recipe makes it really special!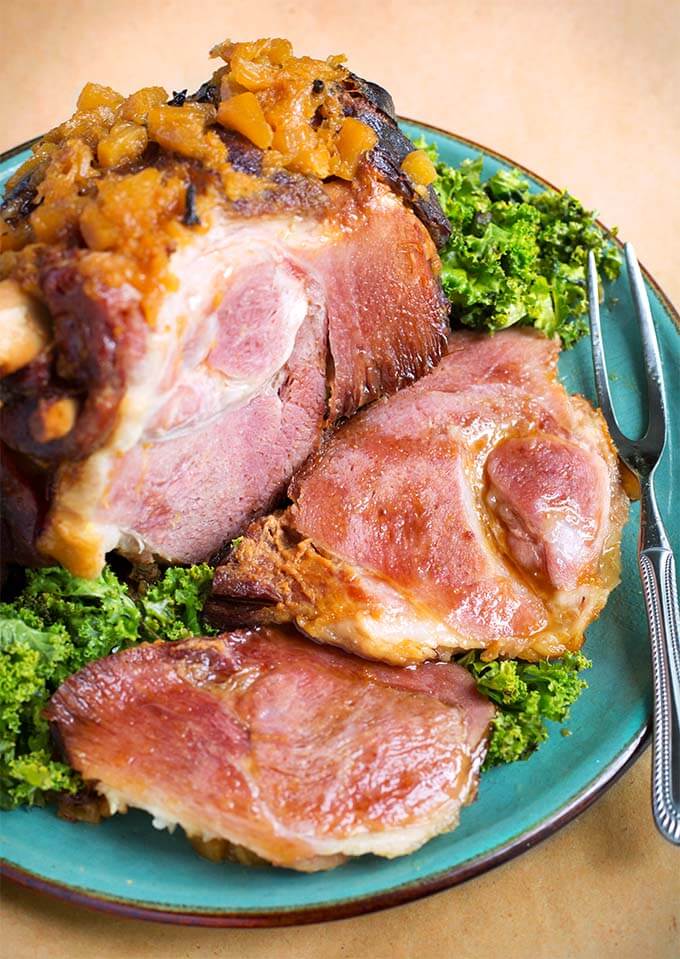 Instant Pot Bone-In Ham
I think it's funny how ham and turkey became once or twice a year foods for most of us in America. We might have lunch meats and ground versions, but to make a ham or turkey is not a frequent happening in most of our kitchens!
Every year I cook 2 hams, one for Easter, and one for Christmas. Always in the oven, and it always takes up the oven space so I can't make the sides conveniently.
After I got my Instant Pot I decided to give it a try. It turned out really moist and delicious! Now I only make Instant Pot Bone-In Ham, and have my oven freed up for everything else! The ham actually cooks faster than some of the casseroles!
What I have noticed is that using my Instant Pot has allowed me to cook those time intensive meats and dishes more often because it just doesn't take as long! I'm crazy about the variety we eat since the IP came to live with us!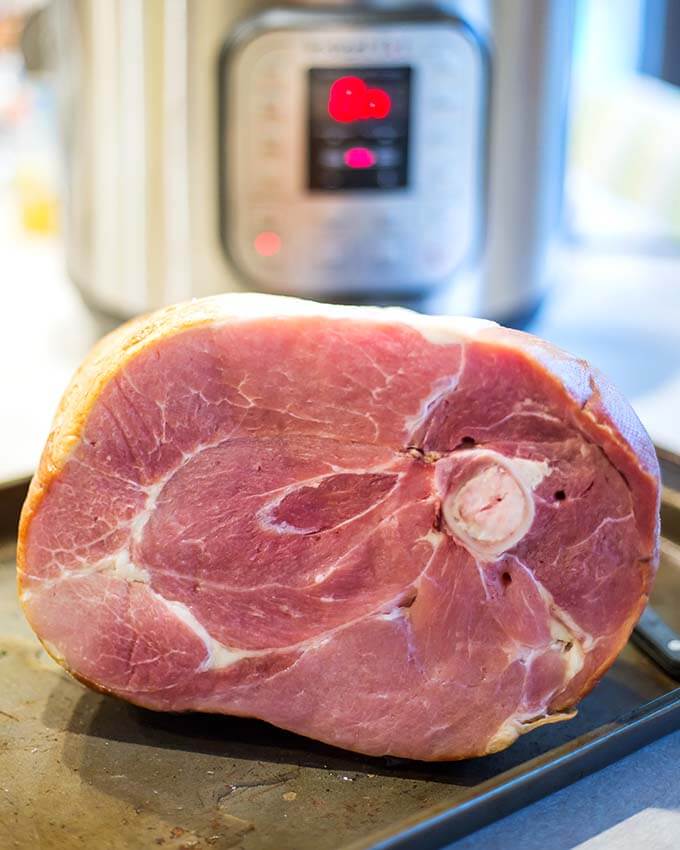 This Instant Pot Bone-in Ham is done in about an hour. It takes about 10 minutes to heat up the pot and get it to pressure, 30 minutes of cook time, and 10 minutes of natural pressure release!
I prefer to use a bone-in, UNCUT ham. I find that these retain more moisture. If you use a spiral cut ham, reduce the cook time.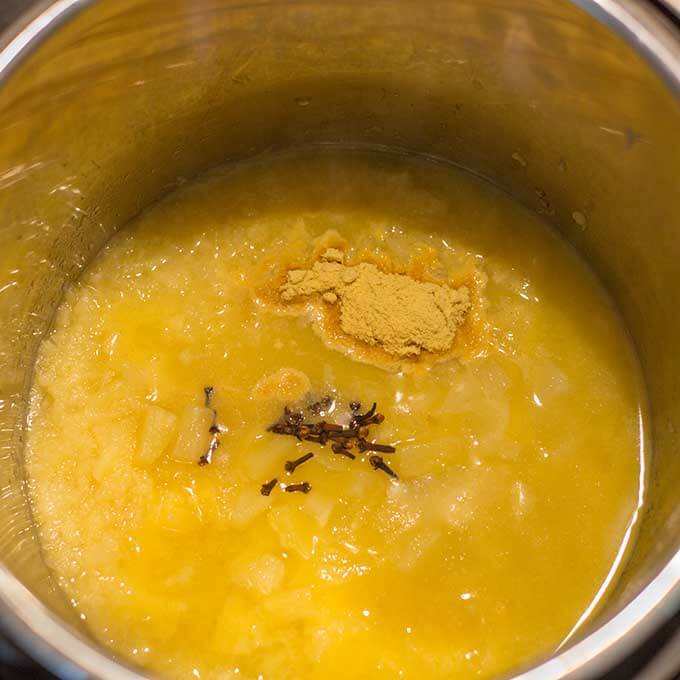 Cooked in pineapple and orange juice, along with a little spice gives the ham that Holiday flavor, and the drippings make an excellent glaze and gravy!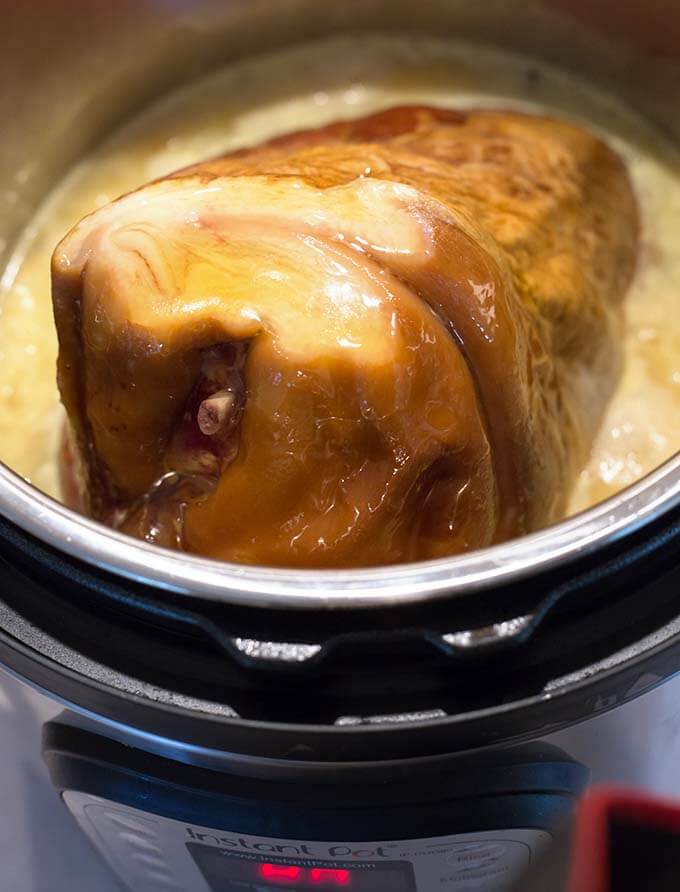 I pour some honey over the ham right before I close the lid.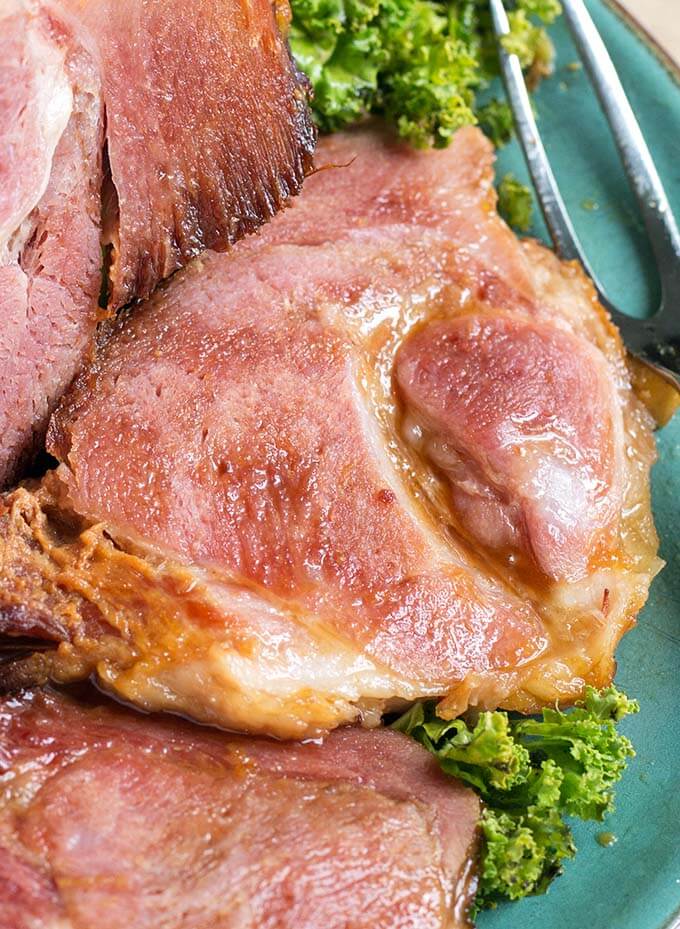 The meat is juicy ad delicious. Ready for carving! Enjoy!


Instant Pot Turkey Breast Potato Dinner
Instant Pot Pumpkin Cheesecake
Instant Pot Creamy Mashed Potatoes
Instant Pot Stuffing
Instant Pot Creamy Bacon Brussels Sprouts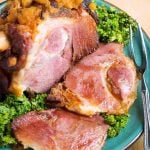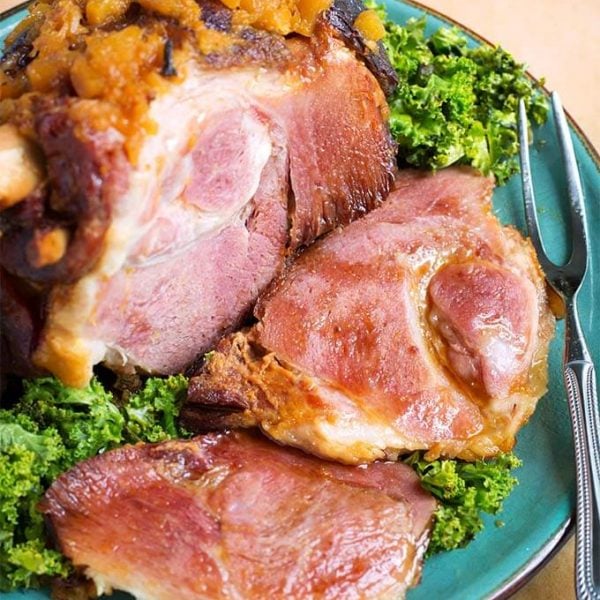 Instant Pot Bone-in Ham
Instant Pot Bone-in Ham cooks in about an hour and is juicy and delicious! This recipe is for an uncut, precooked ham.
Course:
Dinner, Main Course
Cuisine:
American, Holiday
Ingredients
1

6-8 lb

Bone-in Ham*

precooked "portion")

1

14 oz

Can of Crushed Pineapple

(with juice)

1

14 oz

Can of Pineapple Tidbits

(with juice)

1/4

cup

Orange Juice

1/4

cup

Ground Dry Mustard

2

tsp

Whole Cloves

1/2

cup

Honey
Instructions
Press the Sauté button to start warming up the pot.

Pour the cans of pineapple and their juice, and the orange juice into the pot.

Add the cloves and ground mustard. Stir well.

Place the ham in the pot with the fat side up. If it doesn't fit well, cut off a piece and fit it into the pot along side the larger piece. Make sure the ham is below the level of the pot so the lid goes on without obstruction. I can fit an 8lb ham in my 8 quart Instant Pot.

Pour the honey over the ham.

Place the lid on the Instant Pot and set the steam release knob to the Sealing position.

Your ham's cook time will depend on the wight/thickness. Use High pressure.

Press the Pressure Cook button (or Manual) and then the + or - button to choose 30 minutes. If you have a smaller ham, reduce the time to 20 minutes. I usually cook a 6 pound ham for 30 minutes, 7-8 pounds for 40 minutes, 9-10 pounds for 45 minutes This is for an UNCUT ham. For a spiral cut ham, cook 13 minutes).

When cooking cycle has ended, let the pot naturally release pressure for 10 minutes. Then manually release the remaining pressure by turning the steam release knob to Venting.

When the pin in the lid drops, open the lid and take the temperature of the ham. It should read 140 degrees (F) or just under (If it reads just under, you don't have to cook it longer, just put the lid on the pot and let it rest a few more minutes. Then take the temperature again). If the temp is not close to 140, put the lid on and set it for about 5-10 minutes longer (Every situation may vary slightly).

Set Broiler to 425 degrees (F).

Carefully remove the ham to a baking sheet.

Ladle some of the liquid from the pot to a fat separator and measure out 1/2 cup. Mix it with the brown sugar and pour over the ham. Place the ham under the broiler to caramelize the glaze for a few minutes. Check it often to make sure it doesn't burn!

Meanwhile, if you want to cook the remaining liquid/drippings down, turn on the Sauté mode again and let the liquid simmer for a few minutes. At this point you may want to thicken it, or keep reducing it (I like to add a little brown sugar to it, cook it down a bit, then thicken with a cornstarch slurry).

Remove ham from oven to a serving platter and serve. Serve the reduced drippings as a gravy.
Recipe Notes
*If your ham is a spiral cut, reduce the cook time to 13 minutes, with a 10 minute natural release.

RESOURCES TO MAKE Instant Pot Bone-in Ham
We are a participant in the Amazon Services LLC Associates Program, an affiliate advertising program designed to provide a means for us to earn fees by linking to Amazon.com and affiliated sites.