This is the EASIEST recipe for delicious Instant Pot Baby Back Ribs. Who cares what the weather is doing out there, you can make ribs indoors, in about an hour! I don't even know how to tell you how good these are, so you need to make them and see, and taste these Instant Pot Ribs for yourself!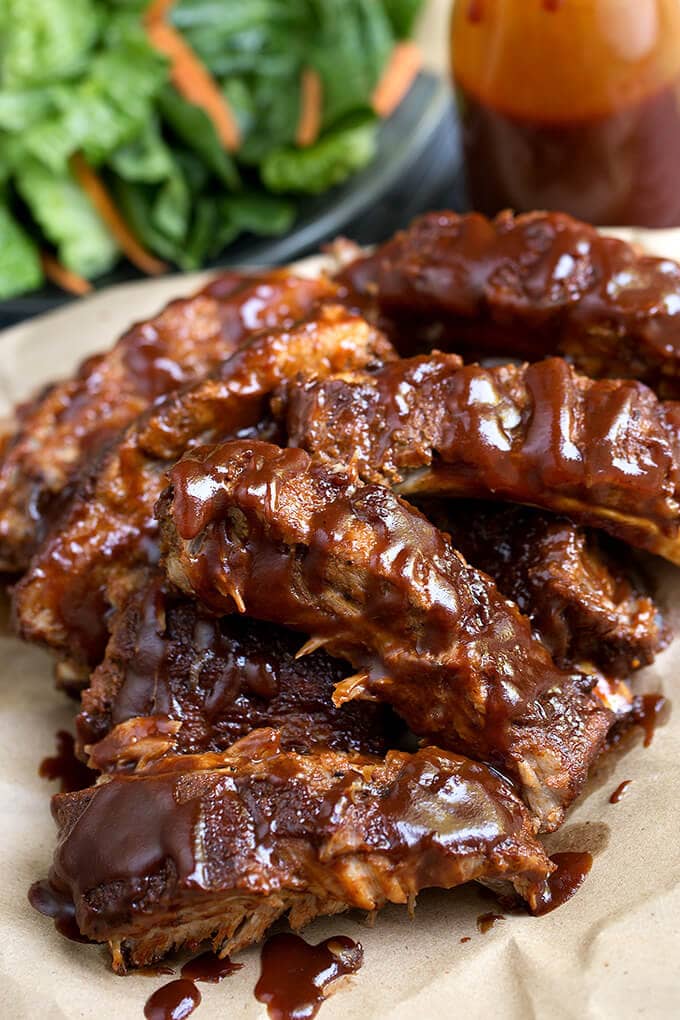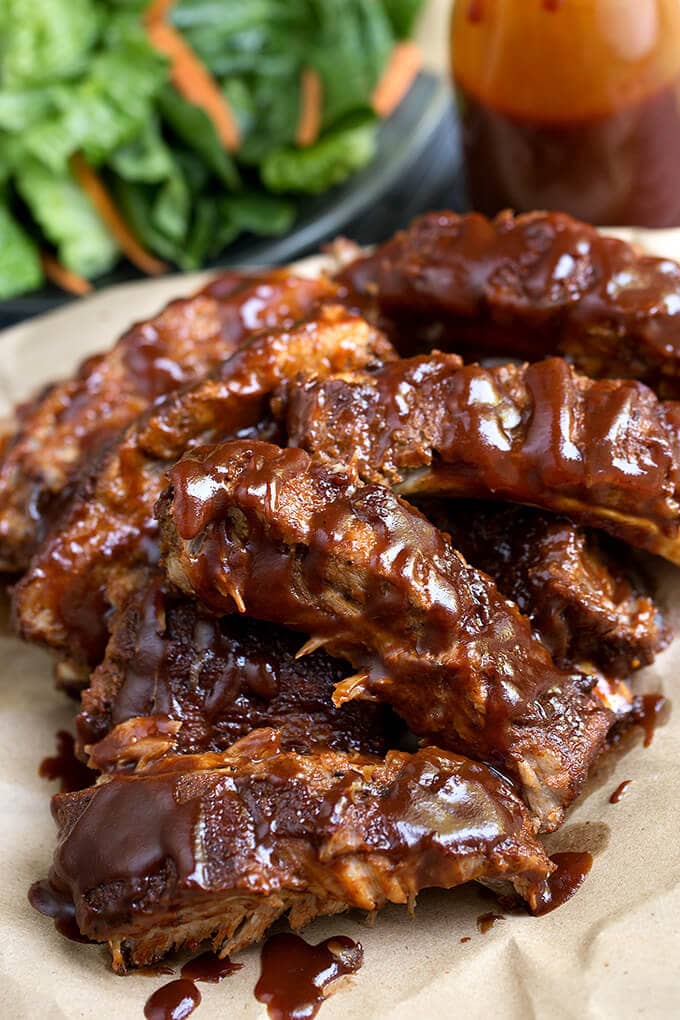 Instant Pot Baby Back Ribs
We love to grill here at Foodie Central. That being said, we also live in Western Washington, where rain is the name of the game something like 9 months out of the year. Sometimes it feels like more! But I'm used to it, being born and raised here. It's all about workarounds. So what do I do when I want some smokey, tender, juicy, meaty Baby Back Ribs and it's raining out? No worries, I just cook them in my Instant Pot! Okay, even if it's not raining, because it is so easy, and the ribs turn out awesome!
Electric pressure cooking makes the meat tender, but even in the Instant Pot, you can overcook. Don't confuse falling apart dry meat with falling apart juicy meat. The trick is to cook for the amount of time the recipe calls for, and when the cooking cycle ends, let the meat sit in the pressure cooker for at least 10 minutes before you release the remaining pressure and open the lid. It's much like letting the meat rest so it retains the juices. I usually rest my Instant Pot Baby Back Ribs for 15 minutes.
I can fit 2 racks of baby back ribs in my 6 qt Instant Pot, but find myself cooking only 1 most of the time. Bryen just learned to drive so I hardly ever see him these days! He can pretty much eat a whole rack of Instant Pot Baby Back Ribs by himself! I shudder to think what he's eating out there in the wild. Is it just me, or are all moms a little nervous when their kids are finally able to drive?
So, now that you know my secret, that you can make Instant Pot Baby Back Ribs any time, any weather, and in about an hour, have you jumped in the car and headed to the grocery store to buy your ribs yet? If you see Bryen, tell him to call his mother!
P.S., Here is the recipe for my Ribs Spice Rub!
Watch the Video
Watch the video of me making ribs in the Instant Pot! I'm not the best videographer, but it might help the newer IP users out there!
You Might Also Like
Instant Pot Turkey Meatloaf
Instant Pot Chicken and Noodles
Instant Pot Beef Barley Vegetable Soup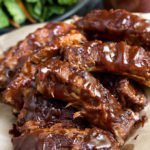 Instant Pot Baby Back Ribs
Who cares what the weather is doing out there. You can make smokey, tender, juicy, meaty Baby Back Ribs in your Instant Pot indoors, in any weather, in about an hour!
Ingredients
For the Instant Pot
1 1/2

Cups

Water or Apple Juice/Cider

2-3

Tbsp.

Liquid Smoke

goes right in the water

1/3

Cup

Apple Cider Vinegar

adds a nice hint of apple and tanginess. Add to the water.
For the Ribs
1-2

Racks

Baby Back Ribs

You can use other pork ribs, I get what's on sale.

1/2-1

Cup

Dry Spice Rub

Use your favorite, or make a batch of my Rib Spice Rub

1

Cup

BBQ Sauce

I like to use one with a smoky flavor.
Instructions
Prepare the Instant Pot
Put a trivet in the inner pot of your IP. Add the water or juice, liquid smoke, and ACV to the inner pot of your IP. Press the Sauté button to start warming up the water.
Prepare the Ribs
Lay out the rack of ribs, meaty side down, on a baking sheet. Remove the thin membrane (if it's still on there) by grasping it with your bare hands, or a paper towel and pulling down the length of the rack. It should come off pretty easily.

Sprinkle dry spice rub liberally over the ribs and gently rub it in. Flip the rack over and do the same to the other side.

Carefully roll the rack into a "C" shape and put it in the pot sideways (the meaty side will face the outside of the pot.

Put the lid on the IP and close it, turning the venting knob to the sealing position.

Press the Keep Warm/Cancel button to cancel the sauté mode. Press the Manual button and then the + or - button to choose 22 minutes.

The IP will take a few minutes to come to pressure, and will begin the cook time when pressure is reached. After cook time ends, and the unit beeps, just leave it alone as it will enter the NPR, or Natural Pressure Release phase. The display time will begin counting up.

Let it NPR for 10 minutes. Then use a wood spoon or something to carefully turn the knob to venting and release the rest of the pressure until the pin drops, indicating it is safe to open the lid.

Remove the rack of ribs using tongs, and place on a baking sheet.

OPTIONAL: Turn your oven to BROIL at 400 degrees and set the rack to about 8-10 inches from element. If it is hot in the kitchen I don't do this step, but on a cool day I don't mind the oven being on for a few minutes.

Pour your BBQ sauce on the hot ribs and use a brush or a spatula to cover them completely and generously.

Put the pan under the broiler for a few minutes, until the sauce gets bubbly. Be careful not to leave them in there too long as they might dry out. No one wants dry ribs! Enjoy!
Resources to Make This Recipe and More
We are a participant in the Amazon Services LLC Associates Program, an affiliate advertising program designed to provide a means for us to earn fees by linking to Amazon.com and affiliated sites.
My New Favorite 6 quart Instant Pot:
Instant Pot Ultra 6 Qt 10-in-1 Multi-Use Programmable Pressure Cooker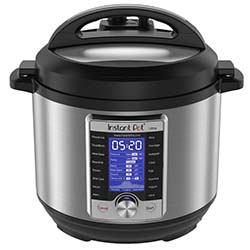 This is the 8 Quart Instant Pot Electric Pressure Cooker.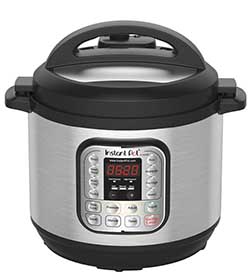 This is the Duo Plus 6 Quart Instant Pot pressure cooker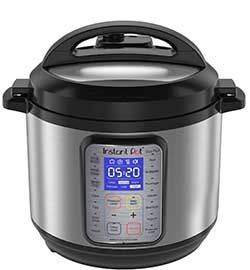 Instant Pot DUO60 6 Qt 7-in-1 Multi-Use Programmable Pressure Cooker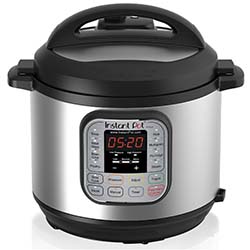 I'm having a blast cooking in this little cutie!
Check out my "Mini Series" of 3 quart recipes!
Instant Pot Mini 3 quart electric pressure cooker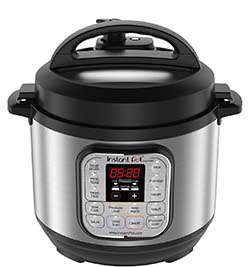 These ekovana Stackable Stainless Steamer Insert Pans allow you to cook more than one type of food in one pot! I use them together, stacked, to make more than one thing at a time. I also use them separately for making rice, fish, cornbread, scalloped potatoes, stuffing, and so much more! One of my favorite Instant Pot accessories!
ekovana Stackable Stainless Steamer Insert Pans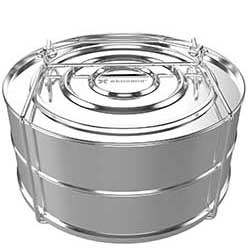 I cannot tell you how happy I am with these measuring spoons! They FIT IN MY SPICE JARS! And, they are high quality stainless. I was pleasantly surprised at how heavy duty they are. The set even has a 3/4 teaspoon size! They are flat on the bottom (the rectangle shape, not sure about the oval), so if I need to set one on the counter, the contents won't spill out. Did I mention they have a lifetime warranty?! I was not paid or anything to say this, I really love these!
Spring Chef Heavy Duty Stainless Steel Metal Measuring Spoons for Dry or Liquid, Fits in Spice Jar, Set of 6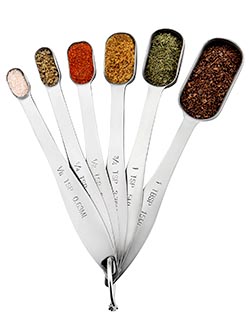 I use a food scale several times a week. Granted, I cook a lot, but this scale is so nice to have. If you follow my recipes, you will know that I give some ingredients in weight. I weigh all kinds of stuff with it!
Ozeri ZK14-L Pronto Digital Multifunction Kitchen and Food Scale