Instant Pot Red Lentil Curry Soup is a very flavorful Indian inspired vegan soup recipe. Using red lentils (Masoor Dal) makes for delicious flavor, quick cook time, and a nice texture. Pressure cooker red lentil curry soup is warm, slightly spicy, and very comforting. A great Instant Pot dinner idea!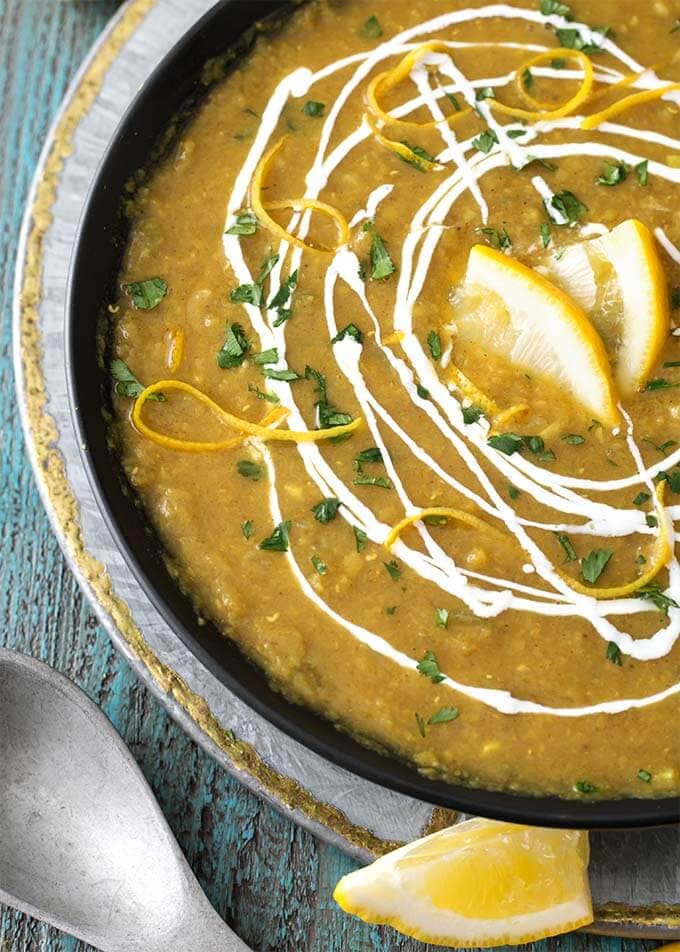 Originally Published on 3/25/2019
Instant Pot Red Lentil Curry Soup
The warm spices of a curry dish can be among the most comforting to eat. This recipe is for a delicious Red Lentil Curry Soup made in the Instant Pot® pressure cooker.
Fall in love with the rich flavor of the warm spices in this soup. There are no big chunks of vegetables, and no meat, but it is so satisfying.
What Are Red Lentils?
Red lentils (Masoor Dal, in Indian cuisine) are a type of lentil that is small, round, and reddish in color. They cook quickly and become soft when cooked.
They are often used in soups, curries, and stews because of their mild flavor and ability to thicken dishes.
Red lentils contain protein, fiber, and nutrients such as iron and vitamin B6.
Is Pressure Cooking Soup Better?
Using a pressure cooker for making soup has several advantages:
• Faster Cooking: Pressure cookers reduce cooking time, ideal for tough ingredients like meat and beans.
• Energy Efficiency: They use less energy due to shorter cooking times.
• Enhanced Flavor: Sealed environment retains flavors and aromas.
• Tenderizes Ingredients: Tough meats and beans become tender more quickly.
• Nutrient Preservation: Shorter cooking helps retain more nutrients.
• Convenience: One-pot cooking, including sautéing and simmering.
• Consistency: Maintains constant pressure and temperature for reliable results.
Pressure cooking soups is nice because the flavors of the aromatics and spices get infused into the broth. The liquid doesn't evaporate, so the nutrients stay in the soup. Added bonus!
How Long Does This Cook?
• In the pressure cooker it is only 8 minutes under pressure. This is after the sautéing of the vegetables and spices.
• The cook time for this lentil curry soup is about 45 minutes on the stove top.
How to Serve This Lentil Soup Recipe
Serve with Grains: Serve the soup over cooked basmati rice, quinoa, farro, barley, spelt, or bulgar.
Serve with a side of naan or crusty bread for a complete meal.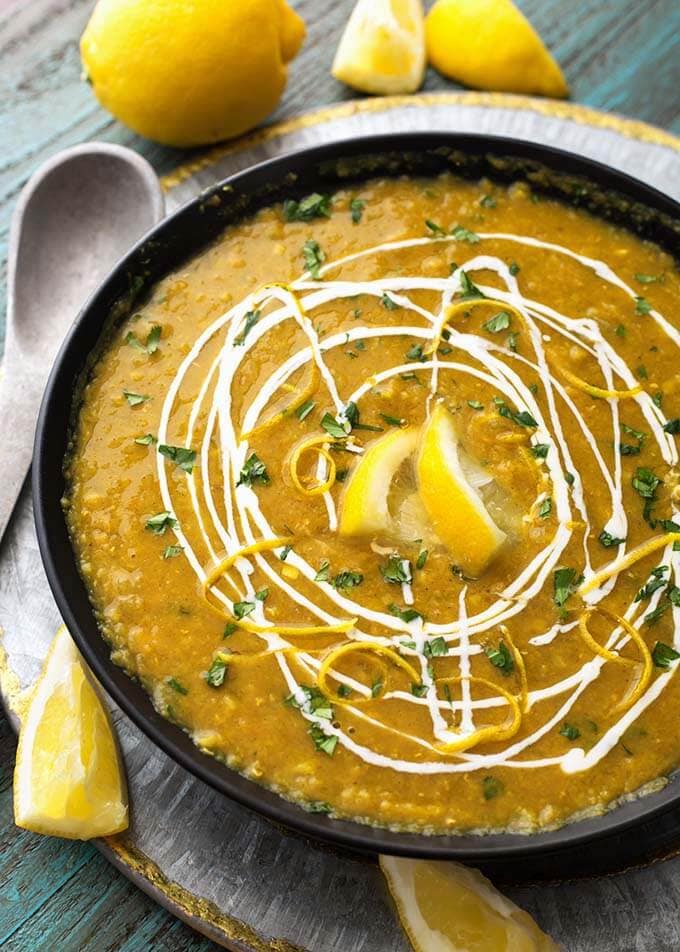 Tips and Variations
Customize Spice Level - For a spicy version you can adjust the amount of jalapeño, or add some red pepper flakes. You can also add some red curry paste to up the spiciness of the soup. Start with a smaller amount if you prefer a milder flavor and gradually add more to achieve your desired level of heat.
Texture Variation - If you prefer a chunkier soup, you can reserve some of the cooked red lentils before blending the soup, and then add them back in after blending to provide a mix of textures.
Additional Vegetables - Add other vegetables like spinach, kale, or thinly sliced zucchini to enhance the texture, flavor, and nutritional content of the soup. Just add them after the pressure cooking process so they don't overcook.
Garnish Options - Apart from cilantro, try green onions or avocado chunks. You can also garnish the soup with a dollop of coconut cream for added creaminess.
Store and Reheat
• Store leftover lentil curry soup in airtight containers in the refrigerator for up to 3-4 days.
• Reheat gently on the stovetop or in the microwave, adding a splash of water or broth to adjust the consistency if needed.


Instant Pot Mulligatawny Soup
Instant Pot Split Pea Soup
Instant Pot Taco Soup
Instant Pot Lentil Soup
Instant Pot Minestrone Soup

If you make this tasty curry lentil soup in the Instant Pot, let me know. Just leave a comment below with a star rating. I'd love to know how you liked it.
Instant Pot Red Lentil Curry Soup
Instant Pot Red Lentil Curry Soup is a very flavorful Indian inspired recipe. Using red lentils, it is warm, slightly spicy, and a very comforting vegan soup.
Keyword:
pressure cooker red lentil curry soup recipe
Ingredients
2

Tablespoons

Olive Oil

(or coconut oil)

1

large

Onion,

diced

2

Bay Leaves

2

Tablespoons

Ginger,

finely minced

4

cloves

Garlic,

finely minced

1

Jalapeño,

seeded and minced

1 ½

Tablespoons

Curry Powder

(I prefer Madras)

1

teaspoon

Cumin

1 ½

teaspoons

Cinnamon

¼

teaspoon

Kosher Salt

6

cups

Vegetable Broth

(or Chicken Broth)

1 ½

cups

Red Lentils

(Masoor Dal)
Add After Cooking
3

Tablespoons

Cilantro,

chopped

2

Tablespoons

Fresh Lemon Juice

2

Tablespoons

Mango Chutney
Garnish
Plain Coconut Yogurt Drizzle
Instructions
Turn on the pot's Sauté setting. When it is hot, add the olive oil, onion, and bay leaves. Cook, stirring occasionally, until the onions just start to turn translucent.

Add the ginger and cook, stirring occasionally, for about 4 minutes.

Add the garlic and jalapeño, and cook, stirring constantly, for about 1 minute.

Add the curry powder, cumin, cinnamon, and salt. Stir constantly for about 20-30 seconds.

Add the broth and the red lentils. Stir and scrape the bottom of the pot to be sure nothing is stuck or scorched on the bottom.

Cancel the Sauté setting.

Close the lid and set the steam release knob to the Sealing position.

Press the Pressure Cook/Manual button or dial, then the +/- button or dial to select 8 minutes. Pot will take several minutes to come to pressure.

When the cook time is finished, let the pot sit undisturbed for 10-15 minutes (natural release), then turn the steam release knob to the Venting position to release the remaining steam/pressure from the pot.

When the pin in the lid drops back down, open the lid and gently stir the soup.

Stir in the cilantro, lemon juice, and chutney. Taste and adjust salt, if needed.

Optional Step:

Use an immersion blender to make soup extra smooth.

Serve hot with a drizzle of coconut yogurt and more cilantro, if desired.
Recipe Notes
This recipe is vegan as written, but you can use chicken broth, if desired, and regular Greek yogurt.