This is your Instant Pot Gift Guide! I'm sharing with you some of the most useful Instant Pot accessories that you can give as gifts to the foodies on your list.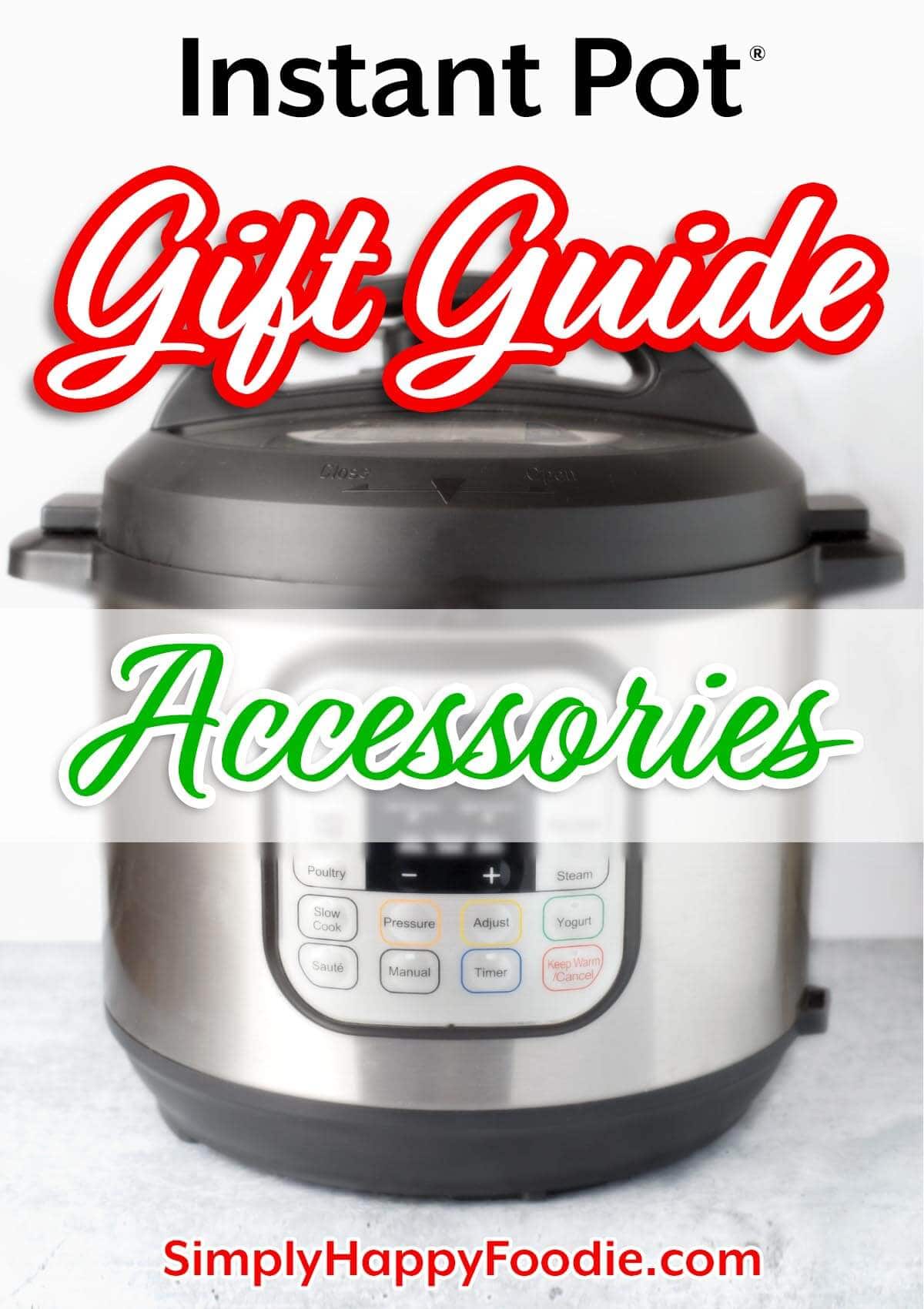 This post contains Affiliate links. As an Amazon Associate I earn from qualifying purchases.
Instant Pot Accessories
If you or someone you know loves their Instant Pot® electric pressure cooker, they are sure to love receiving something from this Instant Pot Gift Guide list! Then they can InstaPot away!
Instant Pot Cookbook - Simply Happy Electric Pressure Cooking
by Sandy Clifton

This is my cookbook! It has over 175 recipes, including dinner, soups, desserts, side dishes, and even some of my favorite spice blend recipes. This makes a great gift!
Stackable Egg Steamer Rack Trivet

This is a very useful two piece rack / trivet set. You can place eggs on it to make perfect hard-cooked eggs, and stack other foods on it that you don't want to be cooked in the water at the bottom of the pot.
What I really like is that one of the racks has taller legs and works with my recipes that you cook rice in a separate pan at the same time as meat, etc.
Those are called Pot-in-Pot recipes and are a big part of cooking in the InstaPot.
Cheesecake Pan with Removable Bottom

Cheesecake is a super popular food to cook in the Instant Pot. The steamy environment inside the pot is perfect for this delicious dessert!
A cheesecake pan with a removable bottom makes it easy to get the finished cheesecake out of the pan. Use it with a rack/trivet as it can't sit on the bottom of the pot.
Steamer Basket for the Instant Pot©

This steamer basket is great for steaming all kinds of vegetables like potatoes (for potato salad), carrots, beets, and many more.
Egg Bites Mold for the Pressure Cooker

Egg Bites have become very popular, and they are easy to cook in the Instant Pot with the help of these molds. Use with a long handled rack / trivet to easily get it in and out of the pot. You can also make brownie bites and Banana Bread Bites, and other fun mini foods!
Use a glass lid when making yogurt, keeping food warm, or to aid in warming up liquids, etc. It is made of tempered glass, and is great quality.
This trivet / rack has nice long handles. It can hold various pans on it, and helps you get them in and out of the pot easily.
Having extra sealing rings for your Instant Pot is a must, in my opinion. Silicone is known to sometimes hold onto odors. Though it's not that bad, you could get a transference of flavor when making sweet foods like applesauce, jams, and other desserts, or neutral foods like rice.
I like to have one ring for sweet/neutral foods, and one ring for savory/spicy foods. These sealing rings are colored, so use the blue for sweet and the red for savory/spicy. Trust me, this is needed!
Long Handled Stainless Rack / Trivet

If your Instant Pot didn't come with a long-handles rack/trivet, I highly recommend getting one. They are so useful for getting foods in and out of the pot, and keeps them out of the liquid on the bottom..
Wooden spoons are something I use almost exclusively when I cook in the Instant Pot. Mainly when I am sautéing something.
The biggest reason for using a wood spoon in the Instant Pot is to help deglaze the pot. That means scraping up all of the browned bits from the bottom of the pot before pressure cooking.
If you don't do this the pot may fail to come to pressure, and you can get a burn message.
If you can't decide, an accessory set such as this one is a nice option. It includes most of the things you will need to cook up most IP recipes. I would get this plus a couple other items such as wood spoons and sealing rings.
Instant Pot DUO 6-quart Pressure Cooker

This is the OG Instant Pot model. By far the most popular. I have 3 of them, and have gifted several.
The 6-quart Instant Pot is the most common size. Even if you only cook for a couple of people, the 6-quart size is very useful.
Instant Pot Recipe Collections You Might Like
The First 10 Recipes to Make in Your Instant Pot
Instant Pot Pasta Recipes
Instant Pot Soup Recipes
Instant Pot Chicken Recipes
Instant Pot Ground Beef Recipes