Instant Pot Strawberry Jam has only 3 ingredients, and is so delicious! This homemade strawberry jam recipe is fresh tasting and not overly sweet. This recipe for Strawberry Jam in the Instant Pot has no pectin, but it is an option. Making pressure cooker strawberry jam is easy and very fast! The best thing to happen to toast!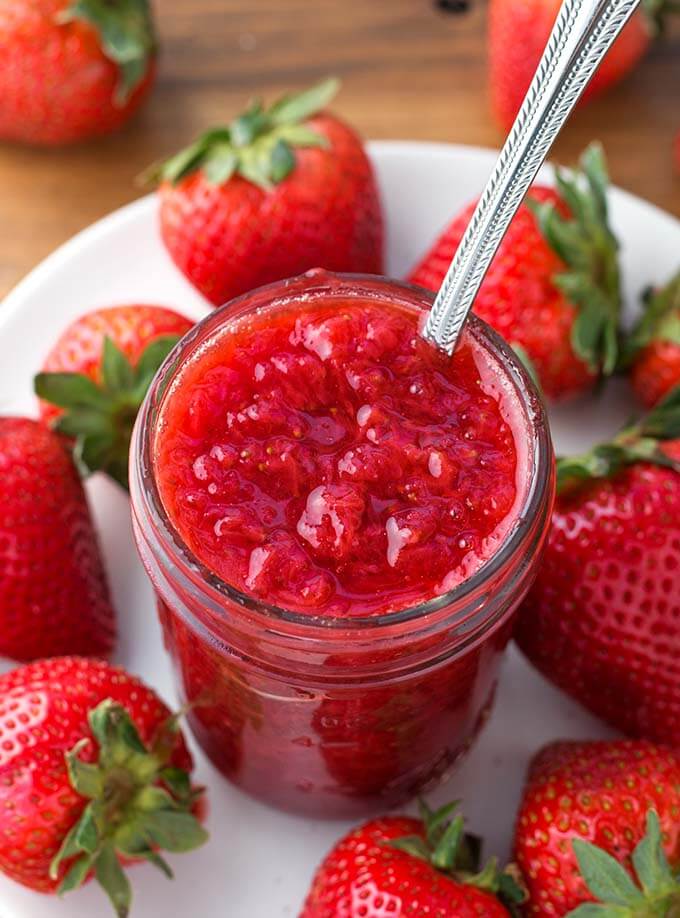 This post contains Affiliate links. As an Amazon Associate I earn from qualifying purchases.
InstaPot Strawberry Jam
There is nothing like homemade strawberry jam made from fresh strawberries! One of the highlights of early summer!
Why Use an Instant Pot to Make Strawberry Jam?
The Instant Pot simplifies and speeds up the jam-making process, giving you a convenient homemade strawberry jam experience. Using an Instant Pot to make strawberry jam offers the following advantages:
Time-saving: The Instant Pot cooks food faster than traditional methods, reducing the overall cooking time.
Convenience: It combines multiple functions in one pot, mainly pressure cooking and sautéing.
Even heat distribution: The Instant Pot ensures consistent cooking and proper gel formation.
Controlled environment: The sealed nature of the Instant Pot intensifies flavors and provides a reliable cooking environment.
Hands-off cooking: Once set, the Instant Pot requires minimal monitoring, allowing you to attend to other things (except for when you are cooking down the liquid, but all you need to do is stir a few times).
Can I Can This Jam?
Yes you can. Just refer to a reliable canning source such as the Ball Mason Jar® website (or other trusted canning websites) for the proper safe canning instructions). Note that the Instant Pot® is not for canning.
This is a recipe that I have used to make freezer jam (which is just jam that I keep in the freezer instead of canning). I really love the fresh taste of a strawberry freezer jam.
Important Pro Tip About Sealing Rings
Before we go much further, I want to give you a Pro Tip:
Use a fresh sealing ring, or one designated to sweet/neutral flavored foods in your pressure cooker when you make this Strawberry Jam in the Instant Pot.
I always have 2 sealing rings, one for sweet and one for savory recipes. Get them here (affiliate) and be sure to choose the correct size for your IP.
I once had a batch taste funky (like stew) from the sealing ring I used for spicy/savory foods (I forgot to switch it). Some people don't have this problem, but it is worth mentioning!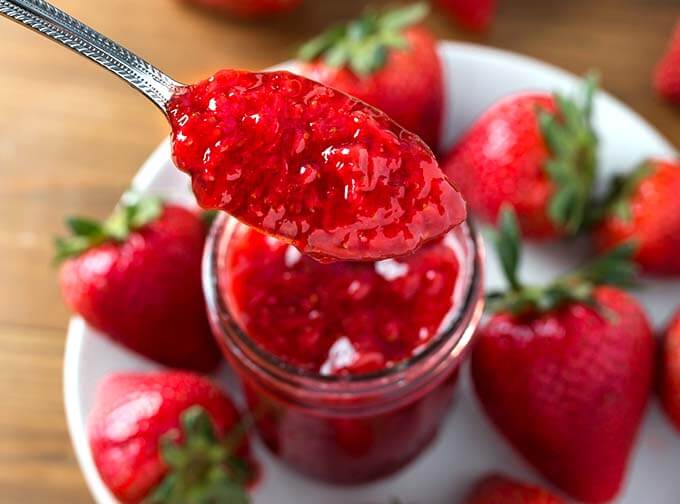 What Does Pectin Do?
This recipe doesn't require pectin, but here is what pectin does in jam:
Pectin is a natural carbohydrate found in fruits that acts as a thickening agent when combined with sugar and acid.
When heated, pectin forms a gel-like structure, which helps jams and jellies achieve a thicker and more spreadable consistency.
It essentially helps the fruit mixture set and gives it a desirable texture.
Can This Strawberry Jam Recipe Be Doubled?
Yes it can. Keep the cook time the same, though you may need to simmer it longer after pressure cooking if you are doing that step to cook out some of the liquid.
Can I use Frozen Strawberries for Jam?
Yes. Be sure to get the unsweetened sliced kind. There may be a little more water in them, but you can cook it out or thicken with the corn starch slurry.
Can I Add Other Fruit to This Jam Recipe?
Yes you can. Blueberries, raspberries, and apples are my favorites. You can get creative and make your favorite combo!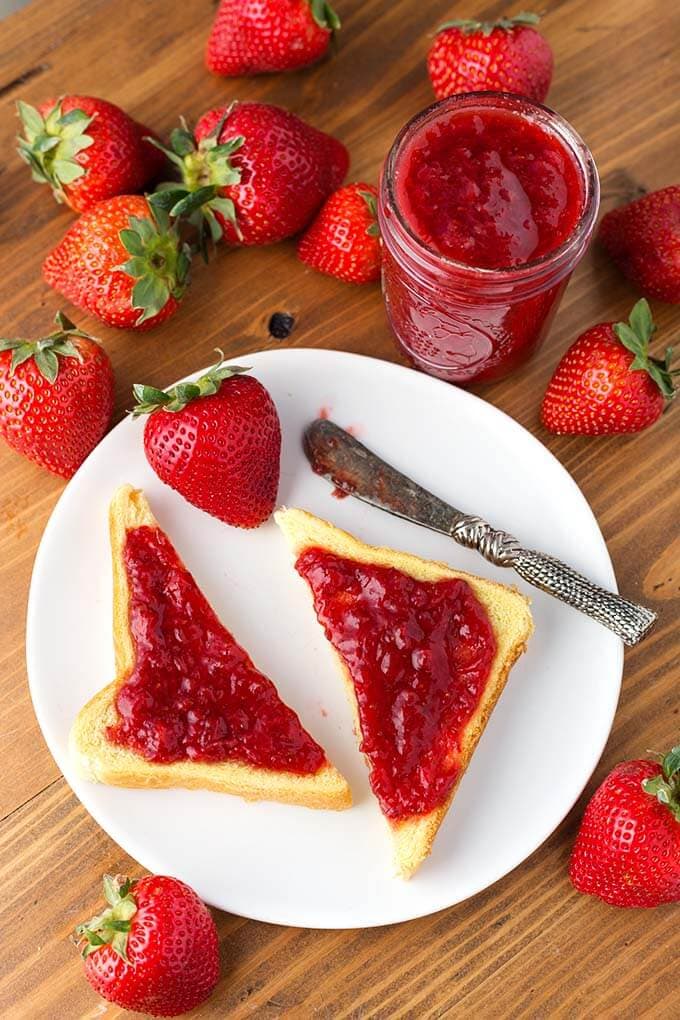 Can I Use an Alternative Sweetener in Jam?
Yes you can. I have used honey, and it was really delicious.
I have not tried it, but some folks have used sugar substitutes. I would look at the kind you want to use and see if it can be cooked or not.

If it can't be cooked, just add it in after pressure cooking (and after thickening, if you are doing that step.).


Instant Pot Blueberry Jam
Instant Pot Lemon Curd
Instant Pot Apple Butter
Instant Pot Strawberry Sauce
I hope you enjoy this pressure cooker Strawberry Jam recipe!

Originally published on 5/20/2019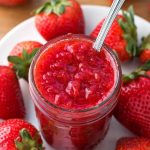 Instant Pot Strawberry Jam
Instant Pot Strawberry Jam has only 3 ingredients and is so delicious! This jam is fresh tasting and not overly sweet. Using pectin is optional.
Course:
Breakfast, condiments
Keyword:
pressure cooker strawberry jam recipe
Ingredients
4

cups

Fresh Ripe Strawberries*

chopped (about 1 ½ lbs)

½

cup

Sugar

(or more for sweeter)
After Cooking
2

Tablespoons

Lemon Juice,

fresh
Optional - for Thicker Jam
Fruit Pectin*

(see Notes)
Optional - Slurry to Thicken (mix together)
2

teaspoons

Corn Starch

3

teaspoons

Cold Water
Instructions
If you will be using pectin, refer to the instructions on the package before beginning this recipe.

Wash the strawberries and pat dry with a paper towel. Then remove the stems/leaves.

Add the strawberries to the pot. You will not need to add any liquid as the berries will release plenty.

Add the sugar. Do not stir!

Close the lid and set the steam release knob to the Sealing position.

Press the Pressure Cook/Manual button or dial, then the +/- button or dial to select 1 minute. High Pressure. The pot will take several minutes to come to pressure.

When the cook cycle has finished, turn off the pot and let it sit undisturbed for 15 minutes (15 minute natural release), or until the pin in the lid drops back down by itself.

When the pin in the lid drops down, open the lid.

Turn on the Sauté setting. Choose the Less/Low heat setting.

Let the mixture simmer for about 5 minutes, stirring frequently, until the jam thickens.

Optional: You can mix together the corn starch and water and stir it into the simmering jam to thicken it. This yields a thicker jam.

Transfer the jam to clean canning style jars with lids and keep in the refrigerator for up to 2 weeks. Yields about 1 pint.

If you want to can this jam, please refer to the canning jar manufacturer's guidelines for safe canning. The Instant Pot does not can.
Recipe Notes
*You can also use frozen berries. Be sure to get the unsweetened kind. There may be more water in them, so either cook the water out at the end or use the corn starch slurry to thicken.
If Using Pectin
Commercial pectin is available in powdered or liquid form, and different brands may have slightly different instructions and proportions for usage.
Follow the instructions provided with the specific pectin product you're using to achieve the desired consistency for your jam.
RESOURCES TO MAKE Instant Pot Strawberry Jam recipe and more
This post contains Affiliate links. As an Amazon Associate I earn from qualifying purchases.