Instant Pot Hamburgers are juicy and delicious. You can get juicy, tasty hamburgers with a pressure cooker. Instant Pot Burgers are very easy to make.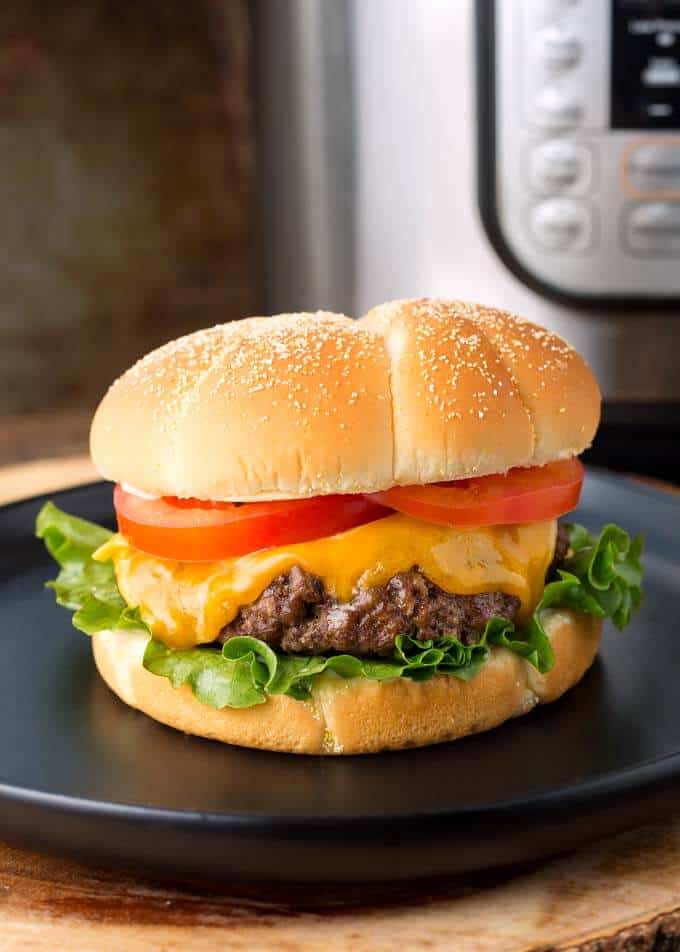 Originally published 4/18/2018
Instant Pot Hamburgers
So, what in the world made me think to steam a hamburger in my Instant Pot? I was craving my husband's famous potato packets (recipe coming soon), and I was sad because it's still too cold to break out the grill. Then I thought hey, I can make those in my Instant Pot!
If you are from Connecticut, this may not seem the least bit strange. But to many people, a steamed burger sounds just plain weird.
In some parts of the country, anywhere with a "White Castle" restaurant, steaming is just another way to make a juicy hamburger or cheeseburger.
We usually have the potatoes with burgers. Hmmm, I wonder what burgers made in packets like the potatoes would taste like?
I could fry up a burger in my cast iron pan, and I do sometimes, but I needed to try this idea. I'm into trying new things. So, that's what I did!
It took a few tests as my first burgers were not as juicy as I wanted. You have to use a higher fat content to get that really juicy Instant Pot Hamburger (or any burger).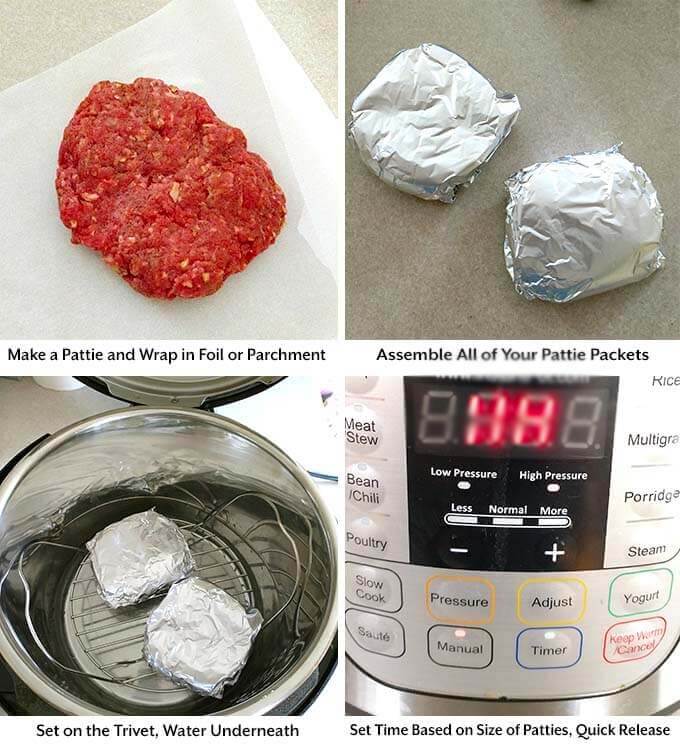 Instant Pot Hamburgers are pretty simple to make. Once you make your meat mixture, make the patties, wrap them up, and steam them in the pressure cooker.
When making Instant Pot Hamburgers, you can add any spices and flavorings you like, including onion, garlic, Worcestershire, etc. Just make them your own!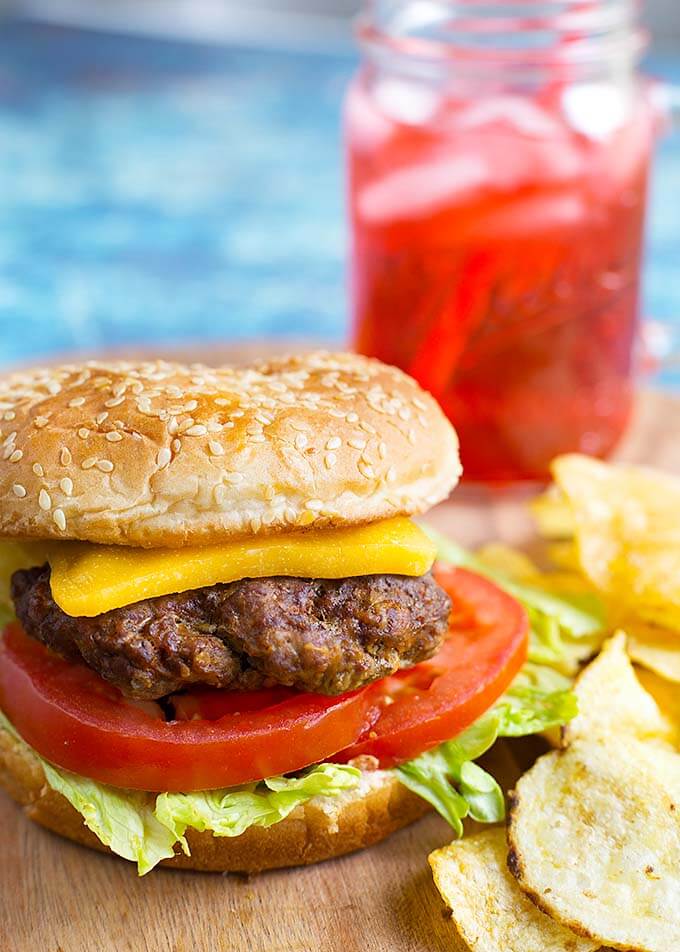 Some Tips for making hamburgers in the Instant Pot
When making the burger patties, the thicker the patty, the longer the cook time. So if you like a very round patty, it will need to cook a couple minutes longer than a thinner patty.
Likewise, if you like a very thin patty, you may need to reduce the cook time a little.
Making a thumb sized indent in the center of one side of the burger patty helps reduce puffing up as well as shrinkage.
You can make a "Juice Lucy" style of patty by making the patty into 2 thin patties and placing a thick slice of cheese in between them. Yum!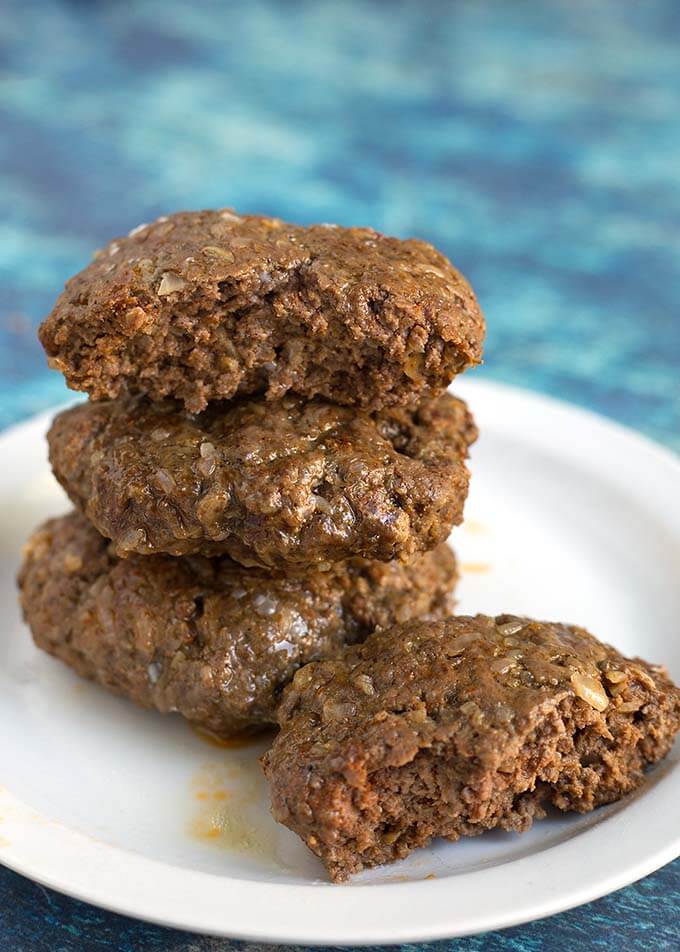 I like to make up a big batch of Instant Pot hamburger patties when the kids come to visit. I love how easy it is, and since the recipe can be doubled or tripled, I can feed the whole gang!
Stay tuned for Paul's famous potato packets, they are simple, and so tasty!


Instant Pot Meatloaf and Mashed Potatoes
Instant Pot Barbecue Beef
Instant Pot Lasagna
Instant Pot Scalloped Potatoes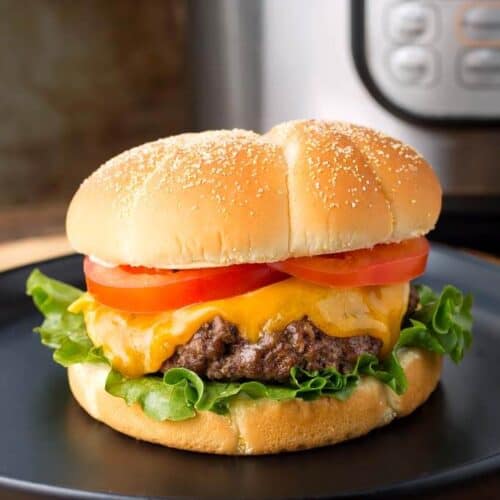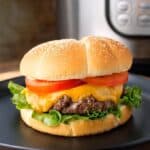 Instant Pot Hamburgers
Instant Pot Hamburgers are so easy to make, and reminiscent of those famous burger chains that make steamed burger patties. These pressure cooker burger patties are simple and fast to make, and you can make a big batch at one time.
Keyword:
pressure cooker hamburgers
Ingredients
Hamburger Meat Mixture #1
1

lb

Ground Beef

(I use 80% - 85% lean)

1

teaspoon

Salt

½

teaspoon

Pepper

1

teaspoon

Garlic Powder

¼

cup

Onion, finely chopped or grated

(or 1 Tbsp dehydrated onion or ½ tsp onion Powder)

1

teaspoon

Smoked Paprika

(optional)

2

teaspoons

Worcestershire Sauce
Hamburger Meat Mixture #2
1

lb

Ground Beef

(I use 80% - 85% lean)

1

1 oz

Packet of Onion Soup Mix

(mix with the meat)
Fixings (use whatever you like!)
4

Hamburger Buns

Cheese Slices

Tomato Slices

Lettuce

Mayo

Ketchup

Mustard
Tools You'll Need
4

pieces

Aluminum Foil or Parchment Squares

6 qt or 8 qt Pressure Cooker

Trivet (metal rack for bottom of pot)
Instructions
Add 1 ½ cups of water to the inner stainless liner of the 6 qt pressure cooker (Use 2 ½ cups for the 8 qt).

Place the trivet in the pot also.

Mix all of the hamburger meat mixture ingredients together in a bowl with the meat.

If making Version #2, mix the soup packet with the ground meat.

Divide the meat mixture into 4 equal (4 oz) patties, 3 (5 oz) patties, or 2 (8 oz patties). press your thumb into the center of each patty to make an indentation.

Wrap patties in foil or parchment. The wrapping and cooking under pressure is what steams them.

Stack the wrapped patties on the trivet in a staggered pattern. Then place the lid on the pot and set the steam release knob to the Sealing position.

Press the Pressure Cook/Manual button, or dial and then the +/- button or dial to select:

12 minutes for 4 oz patties (7 minutes for a touch rare*)

14 minutes for 5 oz patties (9 minutes for a touch rare*)

16 minutes for 8 oz patties (11 minutes for a touch rare*)

Cook times may vary based on the thickness of the patties and how many are cooked at one time.

High pressure.

When the cook cycle is finished, do a Quick Release of the pressure/steam (that means turn the steam release knob to the Venting position right after cooking is finished).

Carefully remove the patties from the pot using tongs. Then let them rest for 5 minutes. Then unwrap them on a plate to catch the drippings, and make up your hamburger with all of your favorite fixin's!
Recipe Notes
*It is safest to cook ground beef to an internal temperature of 160°F throughout. Ground beef can be pink inside after it is safely cooked, so a meat thermometer is a good tool to use. (I can't recommend eating ground beef rare, but some people do like it that way, which is why I give suggested times. See FDA guidelines on consuming ground beef.).
This recipe can easily be doubled or tripled.
Pin This pressure cooker hamburgers Recipe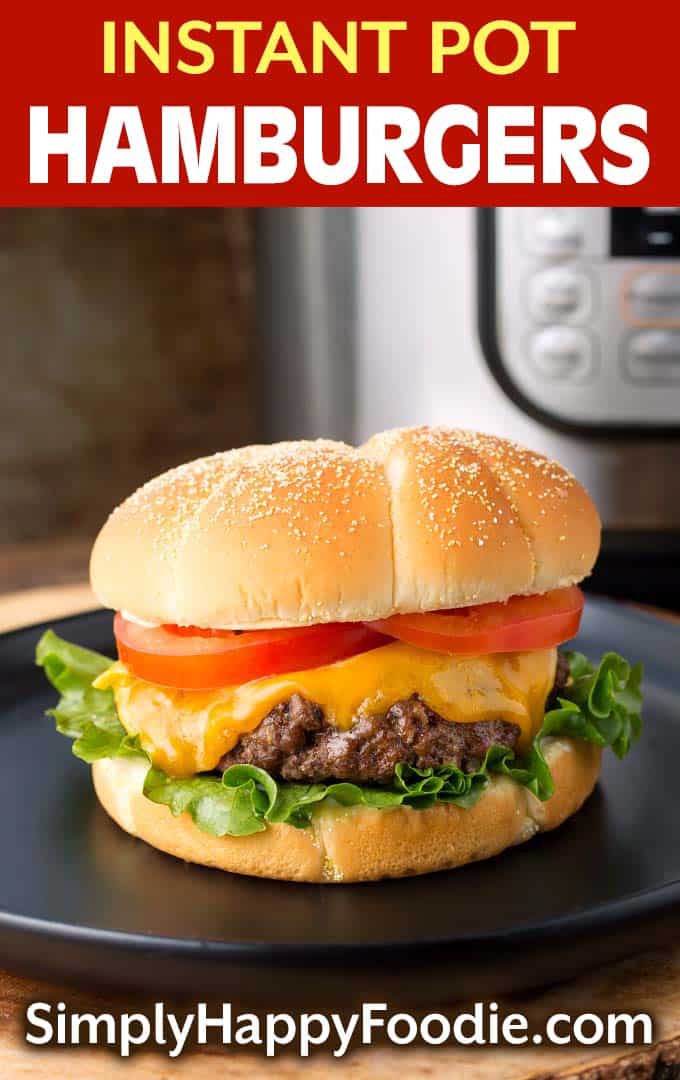 Resources to Make Instant Pot Hamburgers Recipe and More
We are a participant in the Amazon Services LLC Associates Program, an affiliate advertising program designed to provide a means for us to earn fees by linking to Amazon.com and affiliated sites.