Instant Pot Applesauce is so much better than the store bought kind, in my opinion. A perfect Instant Pot beginner recipe. This homemade pressure cooker applesauce recipe is so easy and quick to make, and you control the ingredients.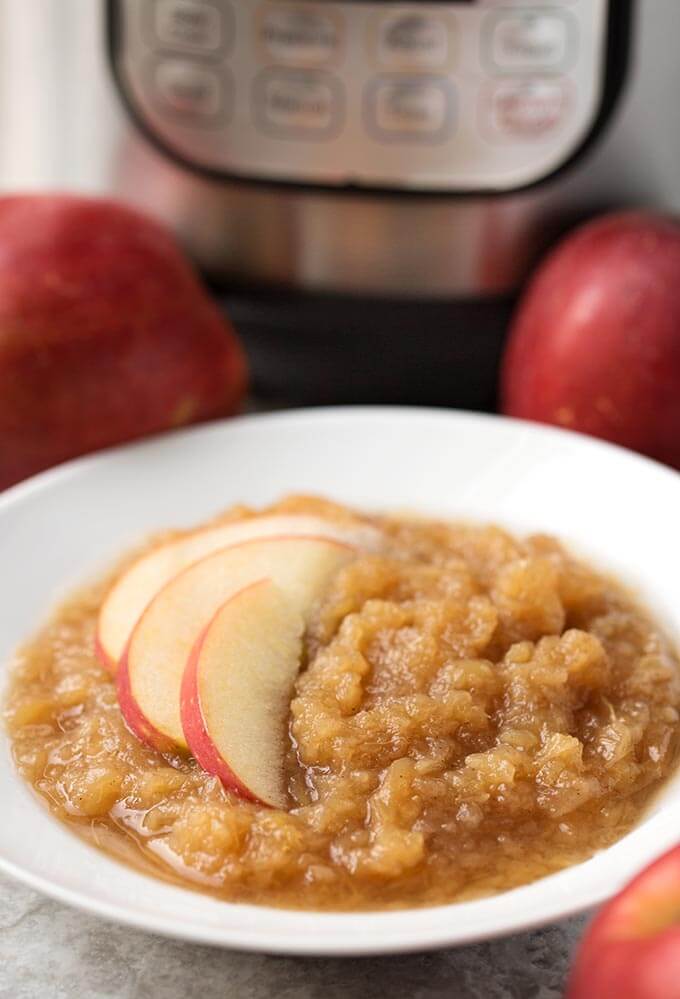 Originally published 9/16/17
Instant Pot Applesauce
I live in Washington. We are the apple growing state. If Florida is known for oranges, and Georgia (and South Carolina) for peaches, then we are known for our apples. So lots of applesauce in this house!
It probably comes as no surprise that we made a lot of applesauce growing up. Kids seem to love applesauce, and it feels good to give them a healthy, homemade treat!
The perfect beginner instant pot recipe!
Making Instant Pot Applesauce it a great recipe for those of you who just got your Instant Pot. Or if your IP has been in the box for ages! 😉
This is a Dump and Start recipe. Add the ingredients and start the pot!
You don't have to peel the apples if you don't want to. I sometimes do, but not usually. The peels get soft enough for our liking.
You can make your Instant Pot Applesauce from any kind of apple you want. I usually just get what's on sale.
You control the ingredients. Add as much or as little sugar, cinnamon, etc. as you like.
Make as much as you want. You can fill the pot ¾ full of chopped apples, or just make a small batch.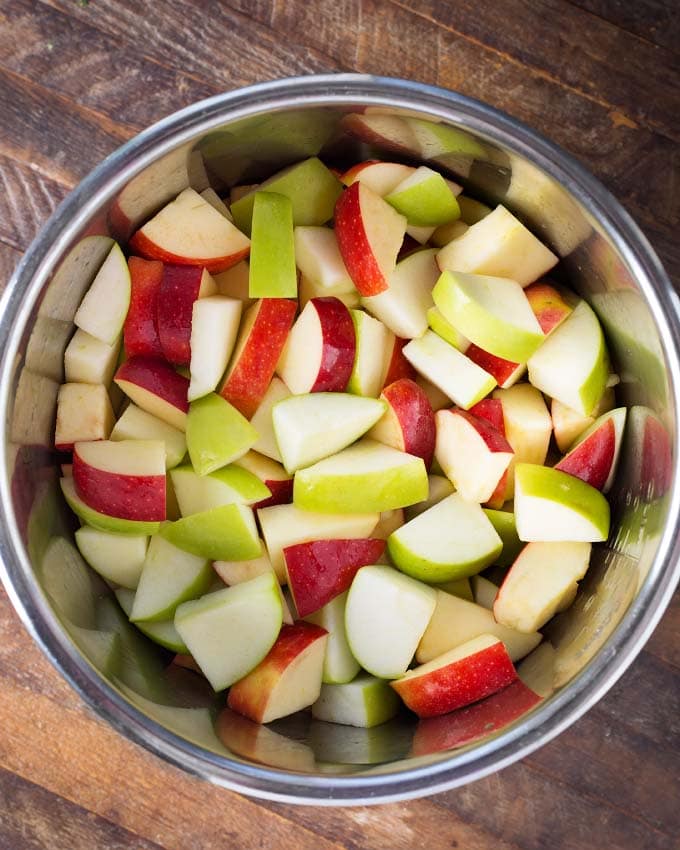 When you make applesauce in the Instant Pot, don't add too much water! In fact, you only need a few Tablespoons. The apples release plenty of water as they cook, and it will come out perfect.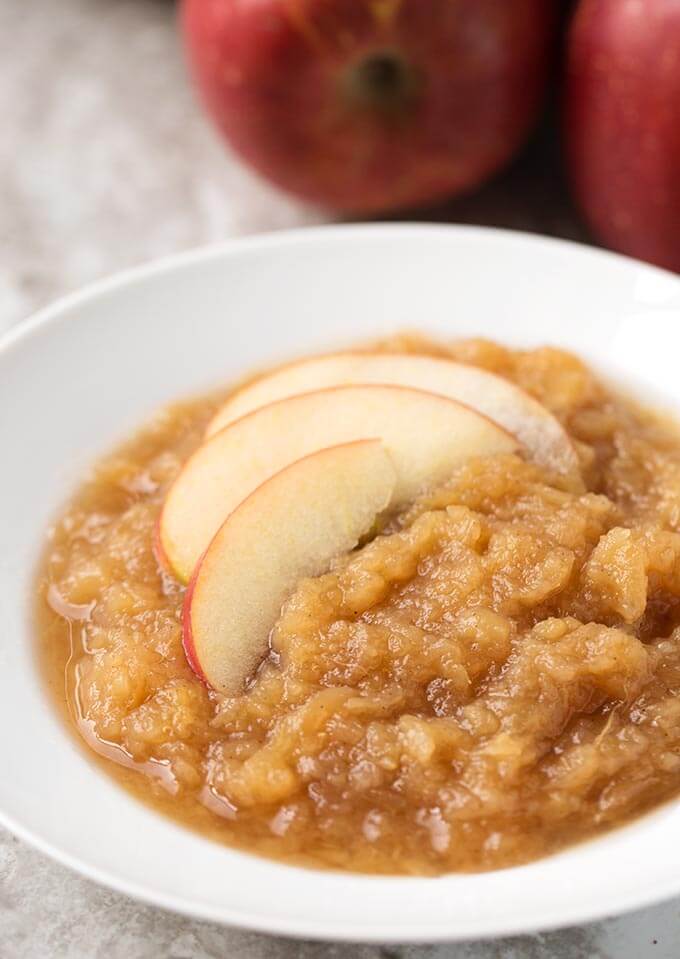 I like to cook with my Instant Pot, and it's nice to be able to make a small amount of pressure cooker applesauce, or a bigger batch if any of the kids will be around (Bryen just got a car, so you know I never see him!).


Instant Pot Strawberry Applesauce.
Instant Pot Apple Crisp
Instant Pot Baked Apples
Pin This Recipe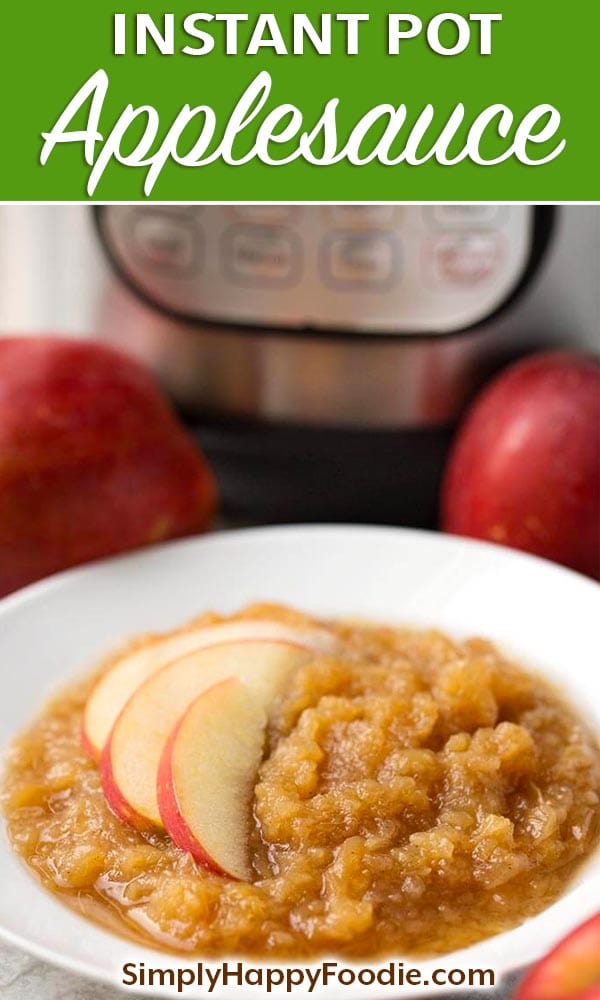 If you make this easy applesauce recipe, please leave me a comment below and let me know how you liked it!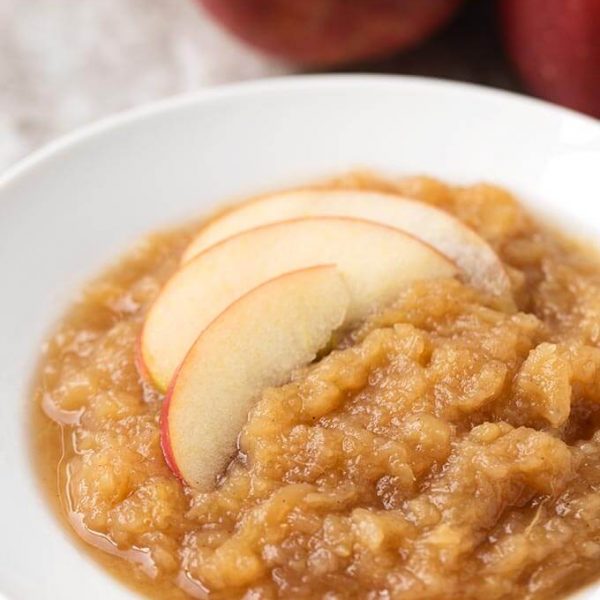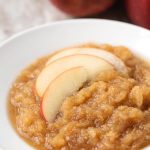 Instant Pot Applesauce
Make a quick batch of Instant Pot Applesauce for a sweet and healthy snack! It cooks in minutes and you control the ingredients!
Course:
Dessert, Vegetarian
Keyword:
pressure cooker applesauce recipe
Ingredients
6-8

Apples

(any variety, peeled, cored, chopped)

¼

cup

Water*

Juice of ½ of a Lemon

½

tsp

Cinnamon
Optional
2

Tbsp

Brown Sugar

1

Tbsp

Butter**
Instructions
Put the prepared apples in the pot with the other ingredients.

Close the lid and set the steam release knob to the Sealing position.

Press the Pressure Cook (or Manual) button or use dial, and then the + /- button or dial to choose 4 minutes.

When the cooking cycle ends, let the pressure cooker sit undisturbed until the pin in the lid drops down (also called naturally release the pressure).

**If you are using butter, you can do a Controlled Quick Release, but do so gradually, to be sure no sauce spews out with the steam!

When the pin in the lid drops back down, open the lid.

Use a potato masher to mash the apples to the texture that you like.

If the applesauce is too watery for you, press the Sauté button and cook it down as much as you like, stirring constantly.
Recipe Notes
*You don't need much water to bring the pot to pressure with apples as they contain a lot of water. ---------
**Butter is optional, but it does help reduce the foaming of the apples. If you choose not to use the butter, let the Instant Pot naturally release the pressure when it's done cooking. That will help ensure you don't get applesauce spewing from the steam release valve.

Resources to Make This Recipe and More
We are a participant in the Amazon Services LLC Associates Program, an affiliate advertising program designed to provide a means for us to earn fees by linking to Amazon.com and affiliated sites.