Instant Pot Egg Bites are soft, pillowy, delicious eggy puffs. Inspired by Starbucks® Sous Vide Egg Bites, these tasty breakfast pressure cooker egg bites are pressure cooked in a fun silicone mold to get the perfect size and shape! This is the best Instant Pot Egg Bites recipe! Change up the filling to make your favorite customized flavors!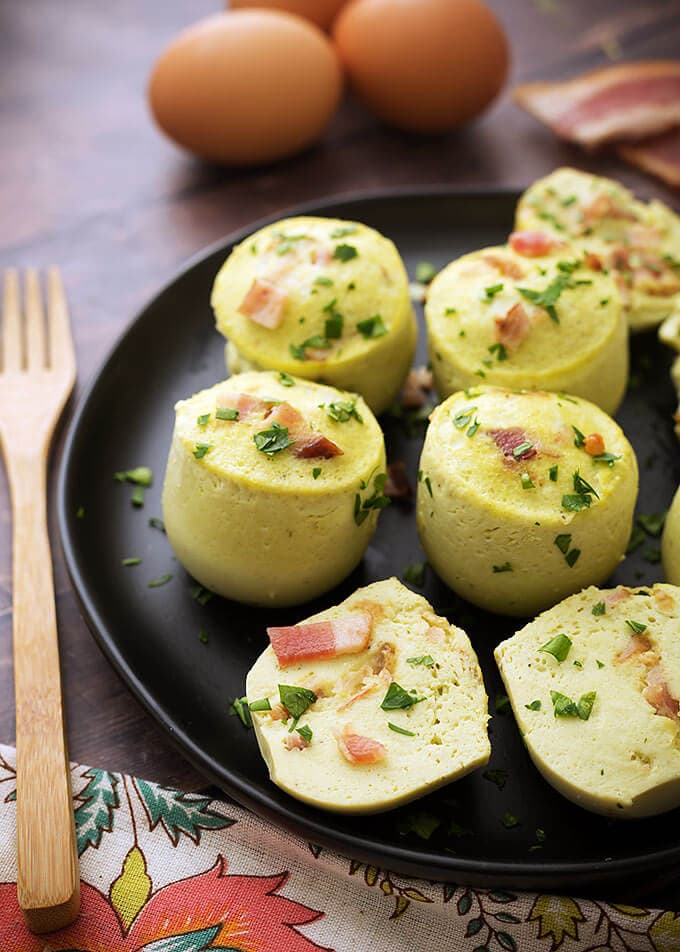 Instant Pot Egg Bites
Who loves a fun breakfast?! Well I sure do. Breakfast is a meal that I enjoy for so many reasons: Pancakes, waffles, oatmeal, French toast, bacon, Eggs... Need I go on? Sometimes, during the week, it isn't easy for me to get a good breakfast.
I wake up and get so busy, only to look at the clock and realize it's 11 am and I haven't eaten yet! So I need to grab something easy and quick.
Having some Instant Pot Egg Bites in the fridge, ready to go, is a perfect solution. You can reheat them quickly, about 25 seconds in the microwave, and they are great with a piece of toast and some fruit. I like to call them my protein bombs!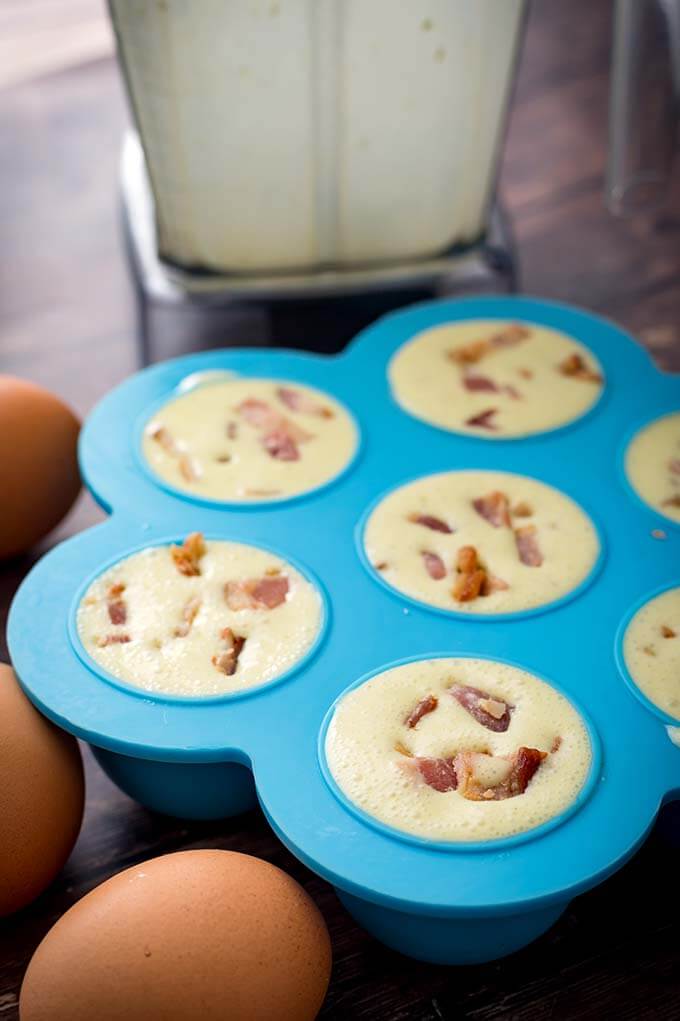 Fill up your egg bites mold about halfway. Then add bacon or other add-ins. Then top off with more egg mixture to the top of the mold and add more bacon.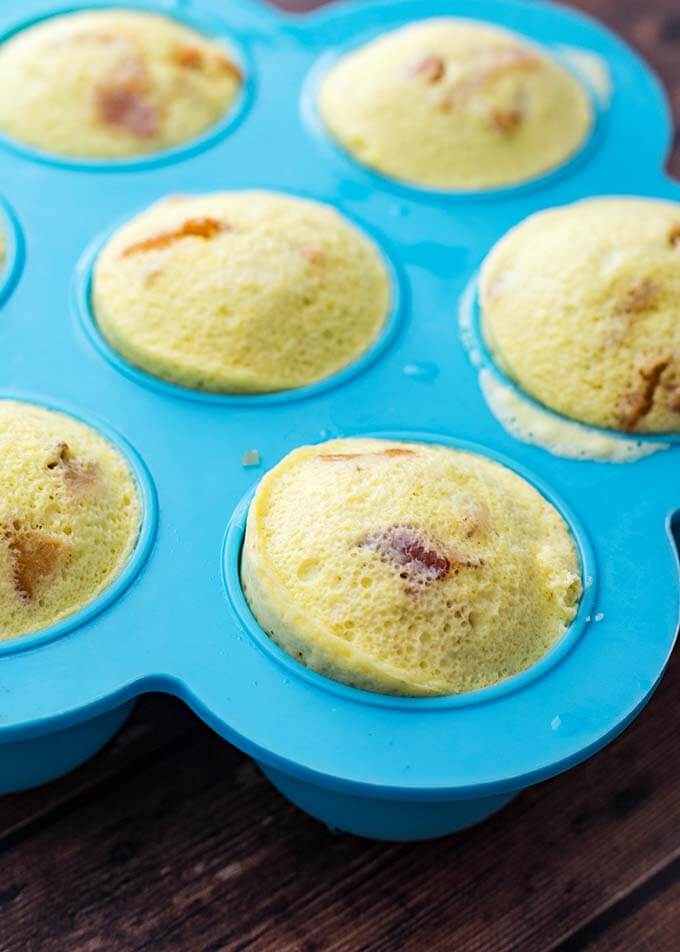 When the Instant Pot Egg Bites are done coking, they will be puffed up, often times pretty high. Don't worry, they will settle back down in just a few minutes as they cool off enough to eat.
When I first started making Instant Pot Egg Bites, about a year ago, they came out grainy, and I didn't like them at all. I wouldn't eat them. I tried several versions, and one thing I realized was that ricotta cheese, and bagged cheddar cheese were the reason they were so gross to me, lol!
Once I switched to my favorite, Gruyére cheese, and swapped out cottage cheese for the ricotta, they took on a completely different texture. Sooo much better!
Some variations on this pressure cooker egg bites recipe I enjoy are:
Mushroom, Swiss, Sausage.
Sun Dried Tomato, Feta Cheese.
Spinach, Tomato, Italian Seasoning.
Sausage, in place of Bacon.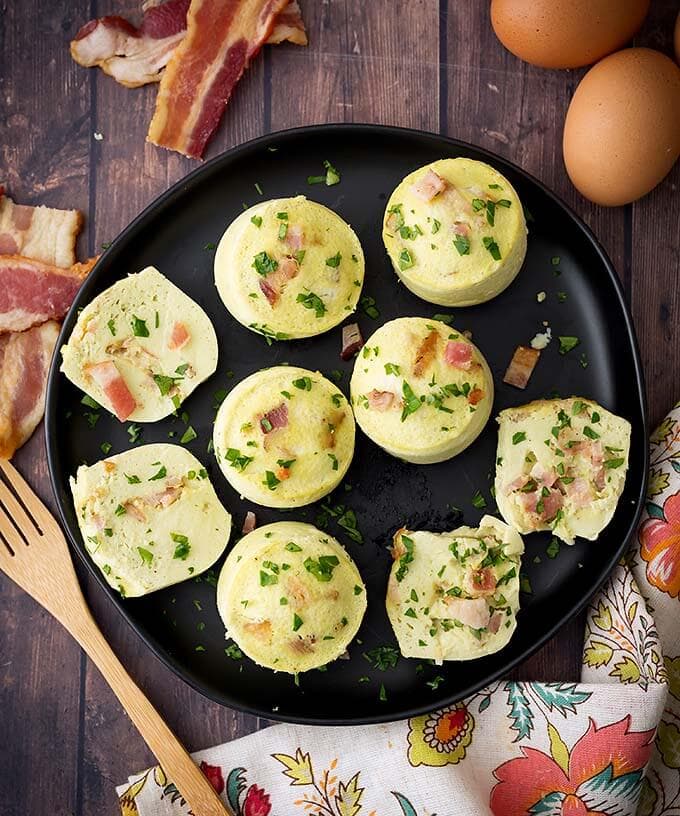 A serving size for me is 2 or 3 egg bites. If I'm having toast I will only eat 2 of them. I like to garnish egg bites with hot sauce, sour cream, salsa, or if not in the mood for any of that, I just eat them plain. They are so good!


Instant Pot Egg Loaf
Instant Pot Southwest Biscuit Egg Bake
Instant Pot Boiled Eggs
Instant Pot Breakfast Burritos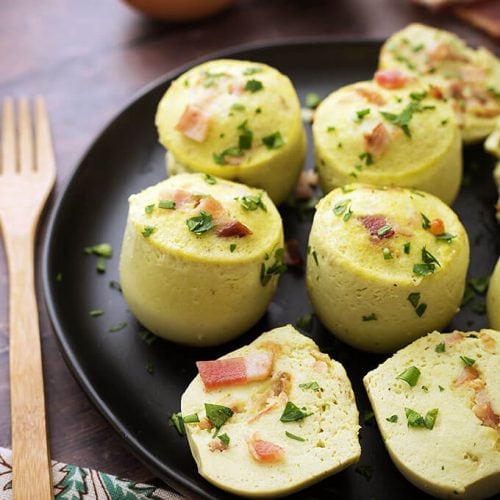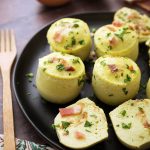 Instant Pot Egg Bites
Instant Pot Egg Bites are soft, pillowy, delicious egg puffs. It all started with Starbucks® Sous Vide Egg Bites, and those have inspired these tasty breakfast pressure cooker egg bites!
Keyword:
pressure cooker Egg Bites
Servings
:
7
Egg Bites (1 egg bite is a serving)
Ingredients
4

Eggs

½

cup

Cottage Cheese

¼

cup

Heavy Cream

⅔

cup

Gruyére Cheese,

shredded (or emmental, jarlsberg, beaufort, or comté cheese)

⅛

tsp

Pepper

2

Tbsp

Chives,

minced

3

slices

Cooked Thick Sliced Bacon,

chopped (or ½ cup Cooked Crumbled Sausage)
Optional Add-Ins*
1

tsp

Hot Sauce

½

cup

Broccoli

(cooked, chopped small)

½

cup

Tomatoes,

deseeded, diced

½

cup

Roasted Red Bell Peppers,

diced

½

cup

Mushrooms,

diced
Tools You'll Need
Cooking Spray

Egg Bites Silicone Mold

1

cup

Water

Instant Pot® Pressure Cooker

Trivet/Rack w/long handles, for the mold to sit on

Blender, or Immersion Blender

Foil
Instructions
Spray the silicone egg bites mold with the cooking spray. Set aside.

Add the eggs, cottage cheese, heavy cream, Gruyére cheese, pepper, and chives to the blender and blend for 2 minutes on medium speed, or until the mixture is light and fully incorporated.

Fill the egg bite mold openings halfway with the egg mixture. Then add ¾ of the the chopped bacon or other add-ins and gently press them in. Continue filling with the egg mixture, and top with remaining bacon, and press it in.

Pour 1 cup of water into the inner stainless liner of the pot. Then set the full egg bites mold on the trivet and very carefully set it in the pot. Loosely cover with foil.

Close the lid of the pot and set the steam release knob to the Sealing position.

Press the Pressure Cook or Manual button (or dial) then press the +/- button (or dial) to select 8 minutes. The pot will take a few minutes to come to pressure.

When the cook cycle is finished, let the pot sit undisturbed for 8 minutes (8 minute Natural Release). Then open the steam release valve to Quick Release the remaining pressure until the pin in the lid drops down.

Open the lid and remove the foil. Use silicone mitts to grasp the trivet handles and carefully remove the egg bites mold. Set aside to rest for about 4 minutes. They may be puffed up quite a bit, but they will go back down. They will come out of the mold easier if they cool a little.

Serve warm as is, or with any garnish you like. I like hot sauce and a bit of sour cream.
Recipe Notes
*If you like lots of add-ins in one batch, you may have too much mixture for one mold to hold it all. Maybe consider getting a second mold, or make another batch.
One batch yields 7 Instant Pot Egg Bites.

RESOURCES TO MAKE Instant Pot Egg Bites recipe and more
We are a participant in the Amazon Services LLC Associates Program, an affiliate advertising program designed to provide a means for us to earn fees by linking to Amazon.com and affiliated sites.