Instant Pot Beets are really simple to make. I like to make a big batch and eat some right away with butter and salt, or olive oil and balsamic vinegar. Then use the rest for my 3 favorite pressure cooker beets recipes, that I'm sharing with you!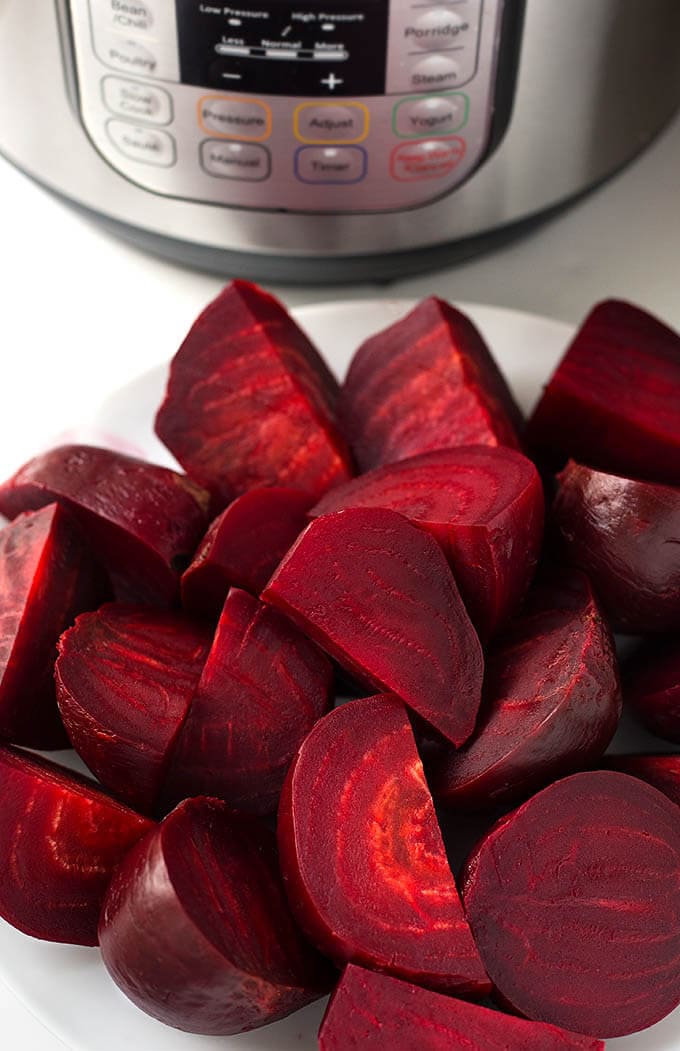 Instant Pot Beets (Beetroot)
Paul has the week off, so we have been doing a lot of running around. We stopped off at our local farmer's market to see what was fresh, and they had beets! I was excited because they had red and golden beets! So of course I bought both!
Beets, (also called Beetroot in some parts of the world) are delicious. They have a sweet, earthy flavor, a pleasant texture, and are so pretty! Of course, they are nutritious, too!
Cooking beets in the Instant Pot successfully is all about the size of the beet. My suggestion is when you buy your beets, try to get them all about the same size. That way they will cook to the same doneness.
Also, when you prepare them for cooking, try not to pierce the skin, and if you are trimming off the greens, leave a little at the tip. This ensures that the beets won't lose too much of their wonderful, nutritious juices while cooking!
Beets cooked in the oven can take up to an hour, whereas Instant Pot Beets take no more than a half hour, in most cases (Beets are done when you can stick a knife in it easily). I'm not going to say that one method is better than the other. I love beets cooked both ways, as well as boiled. It depends on what I'm making, and how much time I have.
Peeling Beets
The fun part! Peeling cooked beets really isn't that bad, but it can get messy, as beet juice stains EVERYTHING! I have some food service gloves that I purchased online that I wear for peeling and chopping cooked beets.
If I happen to get beet juice on my counter, which is a light color, I wipe it up right away. If it does stain, I just use a little bleach in some water and wipe it right off!
To peel these Instant Pot beets I just run them under cold water and start rubbing the skin off (still wearing gloves!). If there is a stubborn peel, just grab a paper towel and try rubbing the peel off with it.
Once the beets are all peeled, you can chop them to the size you need for the recipe you are going to make.
Here are a few of my favorite beet recipes:
Beet Salad with Goat Cheese and Orange Vinaigrette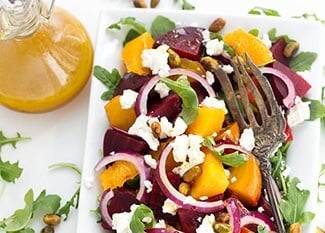 You Might Also Like
Instant Pot Sweet Potatoes
Instant Pot Corn on the Cob
Instant Pot Spaghetti Squash
Instant Pot Creamy Mashed Potatoes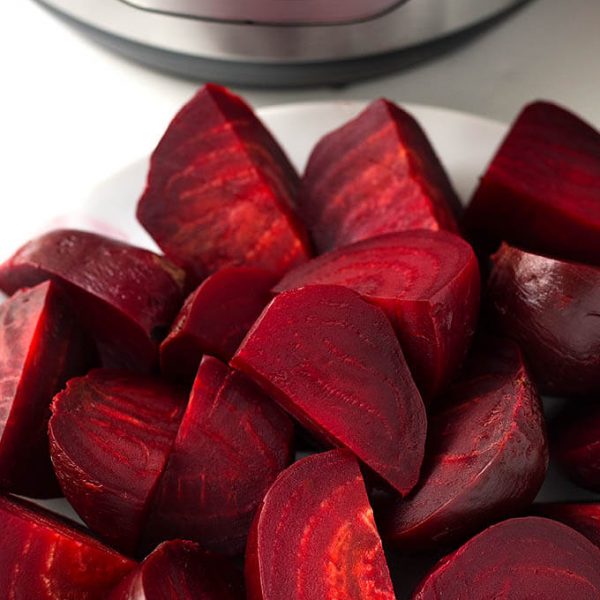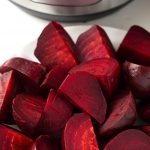 Instant Pot Beets
Instant Pot Beets are easy to cook in your electric pressure cooker. Eat them right away or make your favorite pressure cooker beets recipes from them!
Keyword:
pressure cooker beets
Ingredients
1 1/2

cups

Water

for the pressure cooker

Whole Fresh Beets

(unpeeled, with the ends trimmed off)
Instructions
Pour the water into the inner liner of the Instant Pot.

Place the trivet/steamer rack in the pot.

Rinse and scrub the beets, but don't peel or cut them. Place them on the trivet/rack in the pot.

Close the lid of the pressure cooker and set the steam release knob to the Sealing position.

See cook times below to choose the time to cook your beets.

Press the Manual (or Pressure Cook) button, and use the +/- button to adjust the cook time in minutes (times are below). High Pressure.

When cook cycle is done, wait 5 minutes and then do a Quick Release of the pressure. Do this in short bursts at first to ensure no beet juice spews out with the steam.
Beet (Beetroot) Cook Times*
Smaller Beets - 7-10 minutes (some beets are really small 1" - 2" in diameter, so cook those on the lesser time).

Medium Beets - 12-15 minutes (about the size of a lemon)

Large Beets - 20-25 minutes (when I get the ones that are the size of a baseball, I cook them for 25 minutes)

*If you like a very tender, soft result, add 2 minutes, or let Naturally Release for about 5 minutes. Results may vary depending on age of beets, your altitude, your brand of pressure cooker, etc.
Recipe Notes
I have a recipe booklet that belonged to my Nana from 1946 called Cooking Made Easy with a Wear-Ever Pressure Cooker. The beet cooking times come from there, and were modified for the electric pressure cooker from tests I've done. Your results may vary.

Resources to make this recipe and more
We are a participant in the Amazon Services LLC Associates Program, an affiliate advertising program designed to provide a means for us to earn fees by linking to Amazon.com and affiliated sites.