Easy Instant Pot Potato Salad is a delicious, simple side dish. It is very simple, flavorful, and you can change it up if you like it loaded! Pressure cooker potato salad is easier than on the stove top!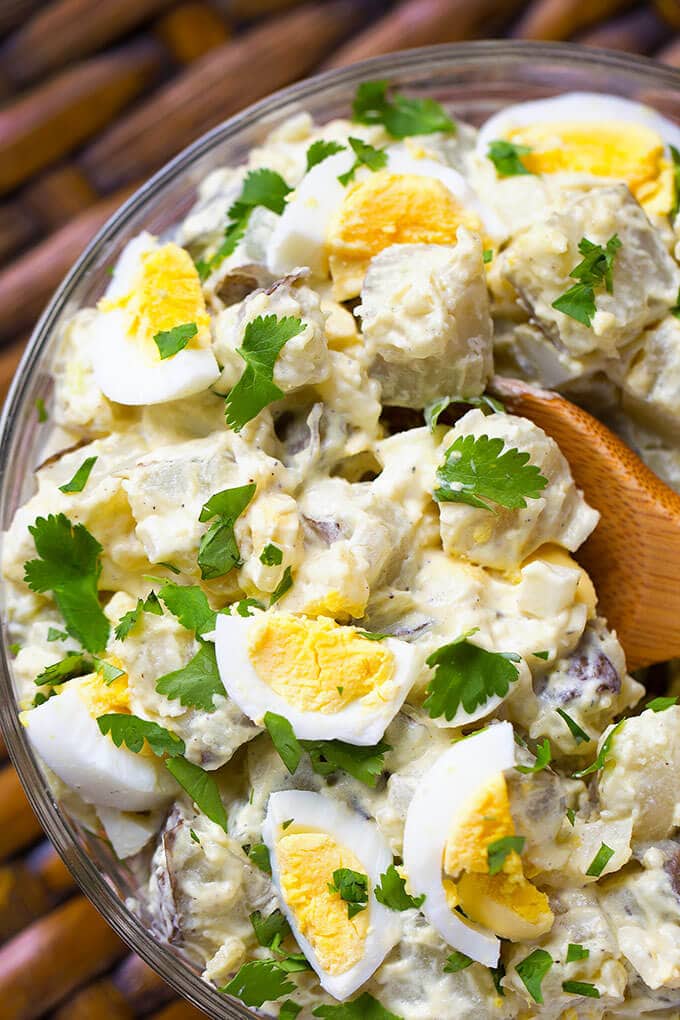 Easy Instant Pot Potato Salad
The Instant Pot® has taken the world by storm! Well, maybe not the whole world, but this little electric pressure cooker has a cult-like following. There are so many foods you can cook in it, and potato salad is one of my favorites!
Paul has dubbed it the "Magic Pot" and likes to tell people that. He's a goof and enjoys giving things (and people) nicknames, of which I have several... Anyway, I am a big fan of the IP (as I call it for short) and cook with it several times a week.
This Easy Instant Pot Potato Salad is tasty and fun to make. You don't have to boil the potatoes and drain them, and.. drumroll... You can cook the eggs and potatoes TOGETHER! Life changing for me in the world of potato salad.
The use of one of my favorite Instant Pot Accessories, the RSVP 3 qt stainless mesh basket, makes it possible. Well, at least much easier. Paul took off the handles for me (just bent them back and forth a few times until they snapped off), and it fits like a charm in the IP!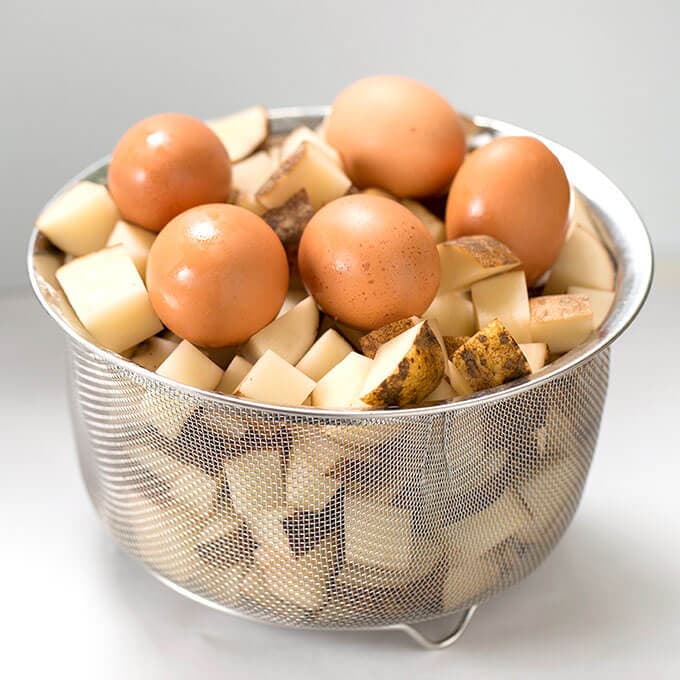 For quicker cooling of the potatoes, spread them out on a baking sheet.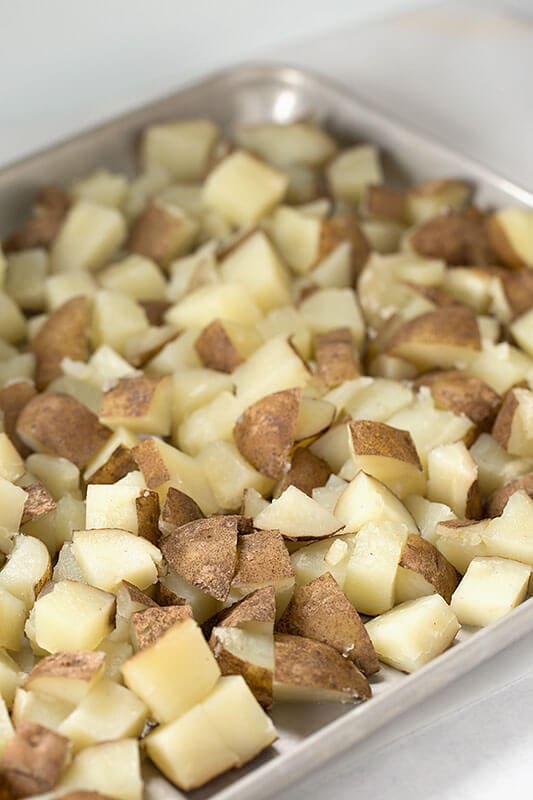 I think the reason everyone love Easy Instant Pot Potato Salad is because of its simplicity. Of course you can make it loaded, and it's so yummy, but sometimes simple is best!
Paul is excited because I texted him and told him that I made a batch for this post. He texted back googly eyes and a big smiley emoji! Friends and relatives who've had my Easy Instant Pot Potato Salad love it!
When they come over for a party, they always ask me if I made some. If the answer is no, they get all sad looking, and I just stand there feeling sad too. So, this is a must at every gathering so everyone will be happy!


Instant Pot Smoky Sweet Baked Beans
Instant Pot Baby Back Ribs
Instant Pot Corn on the Cob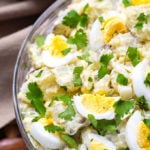 Easy Instant Pot Potato Salad
A simple and delicious potato salad made using the Instant Pot electric pressure cooker. No more boiling potatoes on the stove and draining them in the sink! This Instant Pot method of cooking the potatoes (and eggs TOGETHER) will win you over!
Keyword:
pressure cooker potato salad recipe
Ingredients
1

Cup

Water

(for the Instant Pot)

8

Med

Potatoes

(cubed in bite-sized pieces. I don't peel mine, but feel free!)

5

Eggs

(I always cook an extra as we like ours "eggy")
Dressing
1 ¼

Cups

Mayonnaise

1

Tbsp

Yellow Mustard

1 ½

Tbsp

Dill Pickle Juice

½

tsp

Kosher Salt

(I usually end up adding a pinch more, but this is a good start)

½

tsp

Pepper

1

Small

Sweet Onion

(finely chopped. Walla Walla or Vidalia are great!)
Optional to Load it Up!
½

cup

Cooked Chopped Bacon

1

cup

Shredded Cheddar Cheese

¼ - ½

cup

Sour Cream

(reduce mayo)

½

cup

Green Onions,

sliced
Instructions
Warm up the Instant Pot. Prepare a bowl of ice water for the eggs.
Put the water in the Instant Pot (make sure the liner is in it!). Plug in the pot and press the "Sauté" button. Continue with recipe prep as the water warms up. This helps your Instant Pot get up to pressure faster.
Prepare Potatoes & Eggs
Add cubed potatoes to a mesh colander or basket that is safe to cook in, and can hold all of the potatoes. Set the whole eggs directly on top of the potatoes as they will cook together.

As soon as the water in the Instant Pot is starting to simmer, very carefully set the basket of potatoes/eggs in the pot and close the lid, turning the steam release knob to the "Sealing" position.

Then turn the pot off by pressing the "Keep warm/Cancel" button.

Press the Manual button and use the + or - button to adjust cook time to 4 minutes.

While the IP is doing its magic, put all of the dressing ingredients, including the onion, in a bowl and whisk together. Taste to see how you like it and adjust seasonings to your liking (I like mine to taste just a little bit too salty, as there are a lot of potatoes to season, and for me it comes out perfect. Start with recommended amount, just to be safe!).

When the cook cycle has finished, turn the pot off and turn the steam release knob to the Venting position to Quick Release the steam/pressure. (QR or Quick Release). Once the pressure is released and the pin drops, open the lid facing away from you so you don't get a face full of steam!

Take out the eggs using tongs, and put them in the bowl of ice water. Then carefully take out the basket of potatoes. I use a mesh stainless basket and take out the basket of potatoes with pot holders.

To cool the potatoes faster, spread them out on a baking sheet in a single layer and stir them a few times. That helps a lot.

Peel the eggs and chop them to the size you want.

Put the cooled potatoes into a large bowl, pour the dressing on and stir. Add the chopped eggs, bacon, cheese, sour cream, and green onions, if using, and fold them in.

Refrigerate salad for a couple of hours, if you can wait that long, and serve!

Recipe Notes
*If you are making the Egg Loaf, use only 4-5 eggs, and a thin metal or foil type bowl so they cook fully.

Resources to Make This pressure cooker potato salad Recipe and More
We are a participant in the Amazon Services LLC Associates Program, an affiliate advertising program designed to provide a means for us to earn fees by linking to Amazon.com and affiliated sites.