Roasted Spicy Green Beans with Tomatoes are a simple vegetable side dish recipe. These roasted vegetables couldn't be easier to prepare, and have a quick cook time. The optional spic from red pepper flakes is a nice addition, if you choose. It is easy to roast vegetables, and so tasty!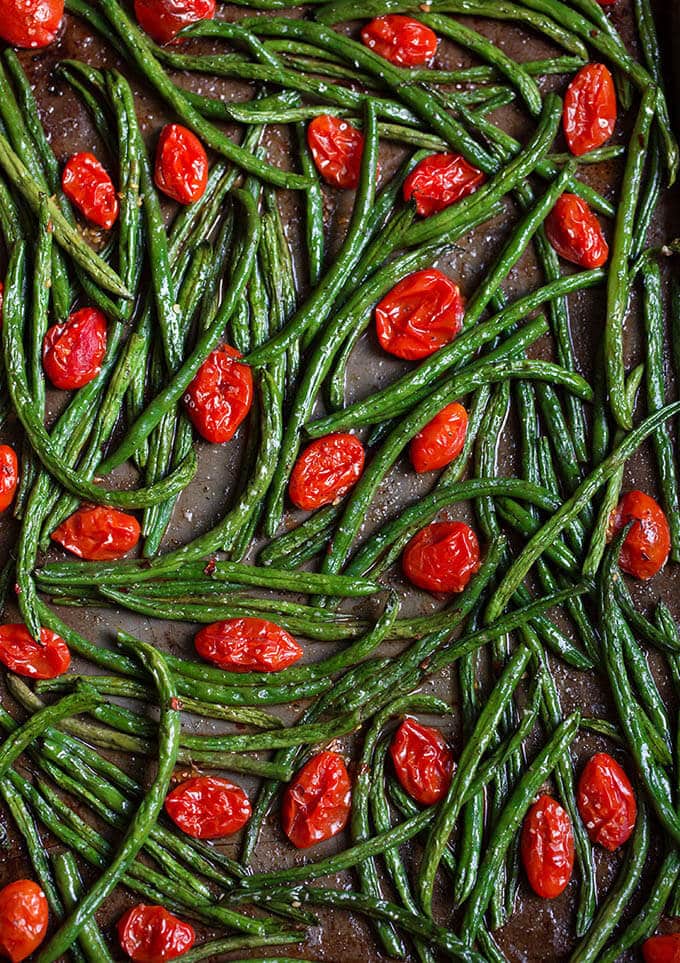 Originally published on 7/22/2017
Roasted Green Beans with Tomatoes
Roasted vegetables are more flavorful that most other methods of cooking them.
Which Green Beans are Good for Roasting?
When it comes to roasted green beans, you have a few options to choose from. Here are three popular types of green beans that work well for roasting:
French Green Beans (Haricots Verts): These thin and tender green beans are a popular choice for roasting. They have a delicate flavor and cook relatively quickly. French green beans are slightly more expensive than regular green beans but are worth it if you prefer a more refined taste and texture.
Regular Green Beans: Also known as snap beans or string beans, regular green beans are widely available and are a great choice for roasting. They have a slightly thicker texture and a classic green bean flavor. Regular green beans are often found in supermarkets and are more budget-friendly than French green beans.
Romano Beans: Romano beans are wider and flatter than regular green beans. They have a meatier texture and a slightly nutty flavor. Romano beans work well for roasting and can add a unique twist to your dish. Look for them in specialty stores or farmer's markets.

All of these green bean varieties can be roasted using this recipe. Remember to adjust the cooking time slightly based on the thickness of the beans you choose. Keep an eye on them as they roast to ensure they reach the desired tenderness and don't become overly charred.
Green beans are wonderful on their own, but for this recipe I decided to give them some company on the baking sheet.
Roasted tomatoes are super with haricot vert. They turn out sweet, and with some spice added, the roasted veggies are extra delicious!
Best Tomatoes for Roasting
Roasting small tomatoes along with green beans adds a burst of sweetness and juiciness to the dish.
Use small tomatoes (cherry tomatoes, grape tomatoes, or any other small variety will do).
The tomatoes are done when soft and slightly blistered.
Storage
You can store any leftovers in an airtight container in the refrigerator for a few days.
This roasted green beans and tomatoes recipe is a delightful accompaniment to various main dishes or can even be enjoyed as a light vegetarian meal.
Adjust the seasoning and cooking time according to your preference and taste. Enjoy the vibrant flavors of this roasted vegetable medley!
You Might Also Like
Instant Pot Beets
Easy Creamy Coleslaw
Pea Salad with Smoked Turkey
Sweet Potato Steak Fries

I hope you enjoy making Roasted Spicy Green Beans with Tomatoes.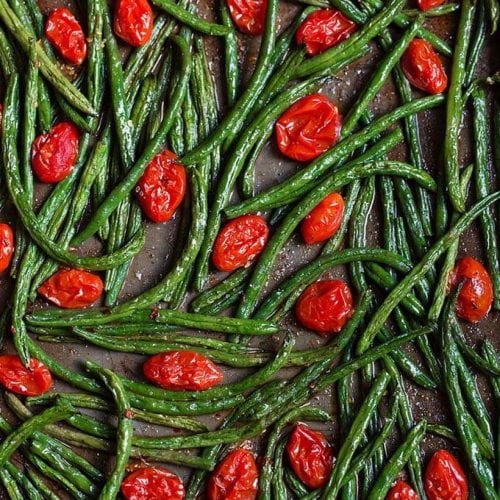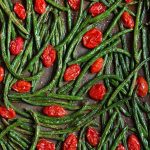 Roasted Spicy Green Beans with Tomatoes
Roasted Spicy Green Beans with Tomatoes are a wonderful way to enjoy green beans. The tomatoes become sweeter when you roast them. A wonderful vegetable side dish!
Course:
Side Dish, Vegetarian
Keyword:
roasted vegetables
Ingredients
12

oz

French Green Beans (haricot vert)

or use any fresh green beans

9

oz

Grape Tomatoes,

or cherry tomatoes

1 ½

Tablespoons

Olive Oil

1

teaspoon

Kosher Salt

½

teaspoon

Black Pepper

½

teaspoon

Garlic Powder

½

teaspoon

Red Pepper Flakes,

or more for spicier
Garnish
¼

cup

Parmesan Cheese,

shredded
Instructions
Rinse the green beans and pat dry with a paper towel. Place on a baking sheet with the tomatoes.

Pour olive oil over vegetables and sprinkle with the salt, black pepper, garlic powder, and red pepper flakes.

Using your hands, gently toss the vegetables with the oil and spices to coat all of them and spread out in a single layer.

Bake for 10 minutes, then stir and cook for 5 more minutes, or until the green beans are a little charred and the tomatoes are soft and slightly blistered.

Serve hot or at room temperature. Garnish with the parmesan cheese.
Recipe Notes
Store leftovers in the fridge in an airtight container for up to 3 days.
Resources to make this recipe and more
This post contains Affiliate links. As an Amazon Associate I earn from qualifying purchases.