Easy Creamy Coleslaw recipe is tasty and easy. Made using Napa cabbage and purple cabbage. This simple coleslaw is a great quick salad for a picnic, lunch, or dinner. This versatile side dish pairs perfectly with a variety of main courses, from grilled meats to sandwiches and seafood dishes. Not only is it visually appealing, but it's also easy and quick to prepare.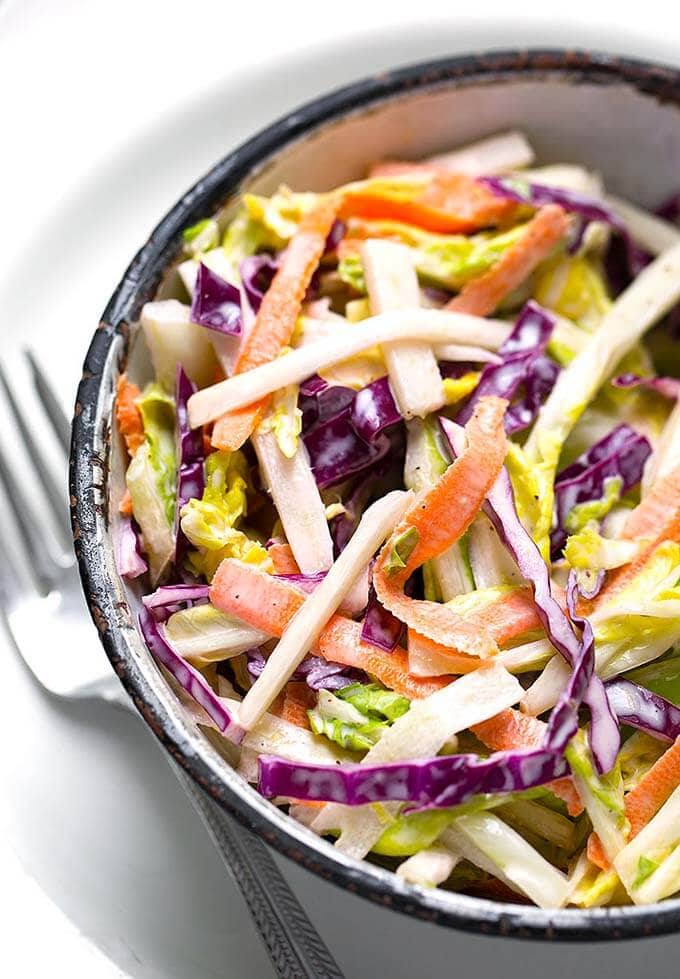 Simple Coleslaw Recipe
This is a simple, fresh and vibrant coleslaw that combines Napa cabbage, purple cabbage, and carrots, creating a beautiful array of colors on your plate.
The best part? You can customize Easy Creamy Coleslaw to your liking, adding your favorite veggies, herbs, or varying the dressing ingredients.
When to Serve Coleslaw?
Coleslaw can be enjoyed throughout the year, but there are certain occasions and seasons when it is particularly popular. Here are some good times to serve coleslaw:
• Barbecues and Picnics
• Cookouts and Potlucks
• Holiday Celebrations
• Fish Fry or Seafood Feasts
• BBQ or Grill Nights
• Sandwiches and Burgers
• Anytime as a Refreshing Side Dish
This Easy Coleslaw only has three veggies in it. You can add more variety and flavors with other vegetables:
Bell peppers (red, yellow, or green) - They add a sweet crunch and vibrant colors.
Red onions - They provide a mild onion flavor and a pop of color.
Radishes - They offer a peppery taste and a nice crunch.
Green onions/scallions - They add a mild onion flavor and a fresh, aromatic element.
Celery - It contributes a refreshing crunch and subtle flavor.
Broccoli stems - Finely shredded broccoli stems can add a pleasant texture and mild taste.
Jicama - It provides a crisp and slightly sweet flavor.
Fennel - It adds a refreshing, anise-like flavor and a crunchy texture.
Snow peas - They offer a crisp texture and a slightly sweet taste.
Sugar snap peas - Similar to snow peas, they provide a crunchy texture and a hint of sweetness.
Visit your local farmer's markets and gather the many vegetable offerings from your local growers!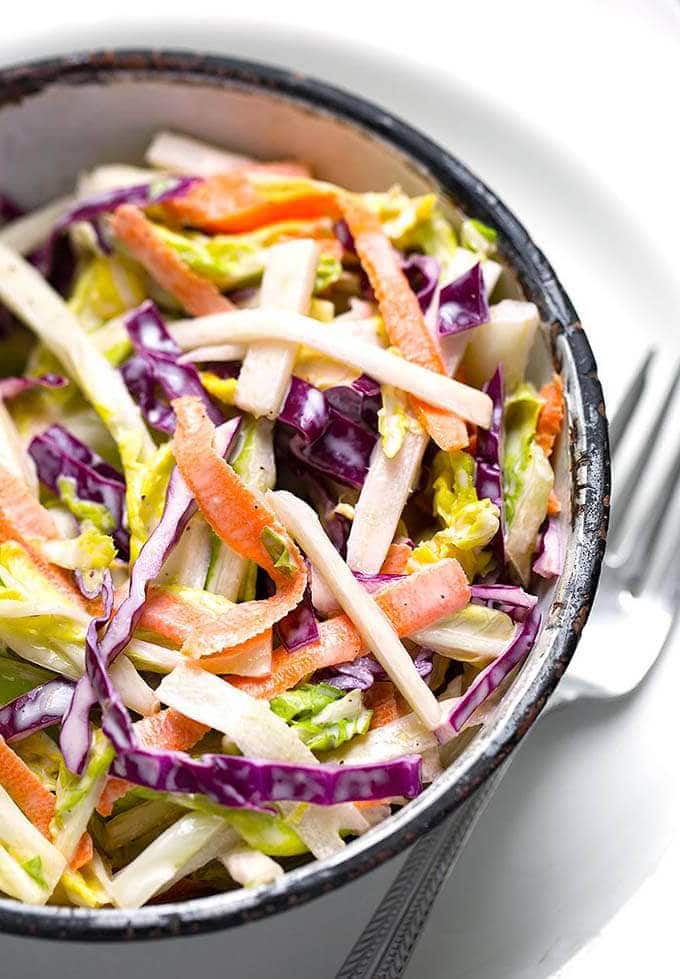 What to Serve Coleslaw With
I like to put Coleslaw on top of the Pulled Pork Sandwiches.
These are some other main dishes that coleslaw can be served with:
• Barbecue Ribs
• Fried Chicken
• Burgers
• Fish Tacos
• Grilled or Baked Fish
• BBQ Pulled Chicken
• Grilled Steak
• Hot Dogs
• BBQ Brisket
You Might Also Like
Fresh Asian Coleslaw
Pulled Pork Recipe
Slow Cooker Creamed Corn
Caprese Orzo Pasta Salad
Whether you're planning a casual picnic or a holiday gathering, or a simple meal at home, this refreshing and light Easy Creamy Coleslaw recipe is sure to satisfy.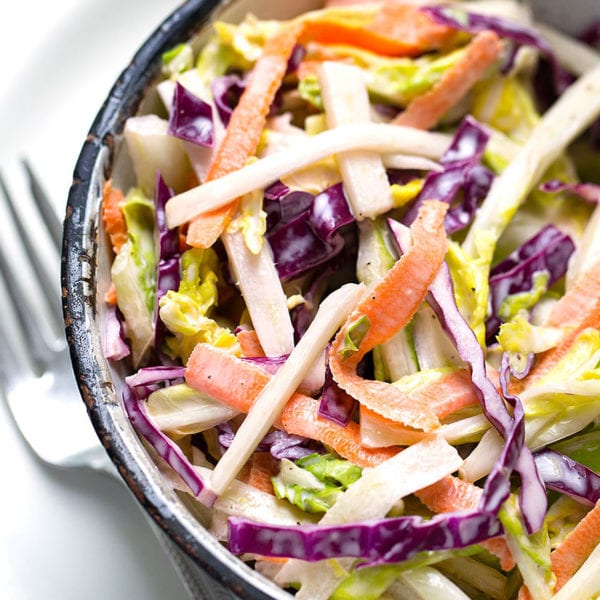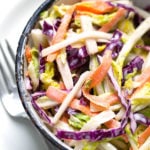 Easy Creamy Coleslaw
A classic creamy coleslaw recipe that is tasty on its own, or piled on top of a pulled pork sandwich. Just a bit of tang to keep it from being boring!
Keyword:
ease coleslaw recipe
Ingredients
Slaw
½

Head

Napa Cabbage,

cut in thin strips (or green cabbage)

¼

Head

Purple Cabbage,

cut in thin strips

1

Medium

Carrot,

shaved
Dressing
⅔

Cup

Mayonaise

2

teaspoons

Fine Sugar

4

teaspoons

Apple Cider Vinegar

1

Pinch

Kosher Salt

1

Pinch

Black Pepper
Instructions
Prepare vegetables and put in a serving bowl.

Mix dressing ingredients together in a small bowl. Wait a couple of minutes to taste test as the Kosher salt needs time to dissolve. Then taste and adjust seasoning to taste.

Dress the salad right before you serve it. Any extra dressing, if you have it, can be kept in the fridge in a sealed container for a couple of days.
Recipe Notes
You can halve this recipe when making a small amount of coleslaw, and double it when making a larger batch.