Norwegian Apple Pie is an easy to make apple cake-like dessert with a sweet apple flavor, and no added oil or butter! This apple pie recipe makes two 9" pies, and is delicious!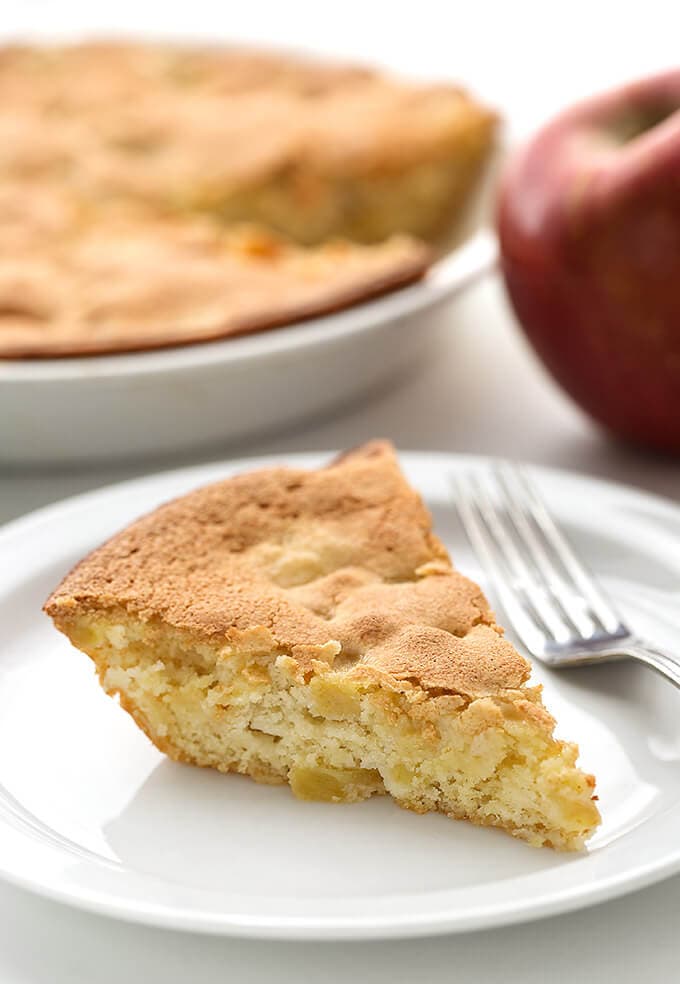 Originally Published 6/29/17
Norwegian Apple Pie
Just a FYI - This post contains a long story about this recipe as it was given to me by someone very special in my life.
Let me tell you about Ruth Anderson. She was the head cook at a retirement home kitchen that I got my first job in when I was 15. Ruth could cook. Lemme tell ya, she had skills.
Her repertoire was limited at the retirement home, but even so, she had some creative freedom, and often cooked her own recipes for those lucky residents! I was lucky too, because I got my meals as a benefit, and took full advantage of that perk!
Ruth taught me a lot about cooking, and we talked all the time. I was her prep cook and her dish washer (MY GOSH did she use a lot of dishes & utensils!). I also set the tables, served, and bussed. I was friends with all of the residents. We were a close-knit bunch!
Ruth told me that her mom used to say "It must have gone up the skimmer handle" when she'd lost something. She had many other colloquialisms she shared with me. Ruth was from Norway originally, and had married a Swede. Lots of fun stories about the family and all of the drama from her marrying a Swedish man (good humored drama)!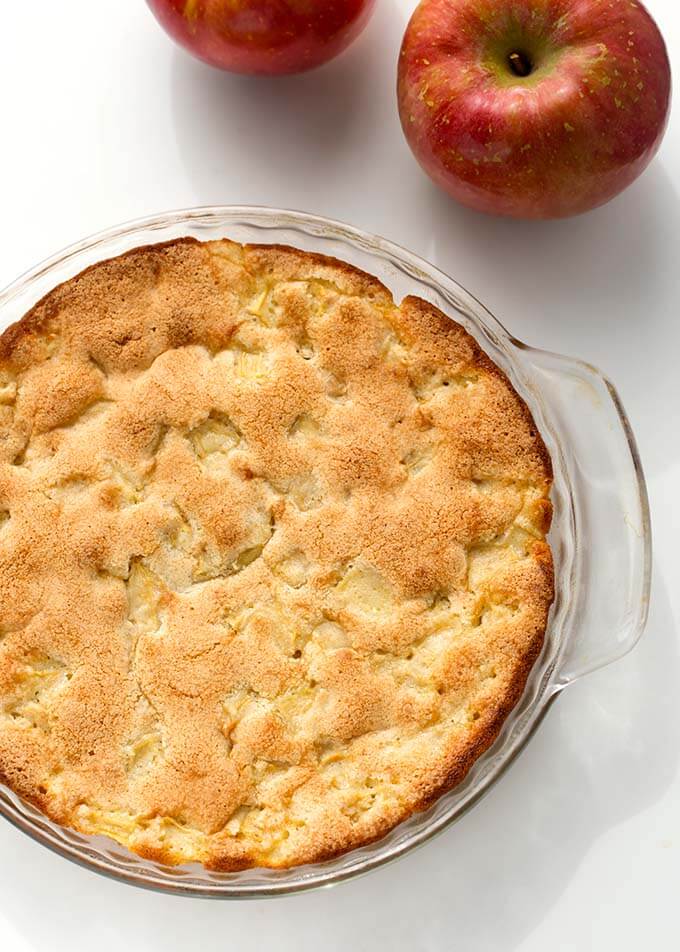 When I met Ruth, she was a widow. One day she told me that she used to go to sleep with her head on her husband's shoulder every night. That touched my young heart. So when I married Paul I was determined to do the same thing. The 'Magic Shoulder' is what he calls it, because I fall right asleep. Who wouldn't, when you feel all safe and loved!
Norwegian Apple Pie is Ruth's recipe. I don't know the history of it, but since it's Norwegian, as was she, it must have been a family recipe. This pie is actually more like an apple cake, so you will be creating a batter. And it doesn't have a crust.
Norwegian Apple Pie is very sweet, and has no fat in it, except for what is in the egg yolks (and you could just use the egg whites). No added oil, butter, (except for buttering or spraying the pie dish).
The batter comes together like a dough, of sorts. It looks like all of it should go into one pie pan to cook, but this recipe makes 2 pies, so just go with it!
It rises pretty well and will go right to the top of the pie pan. I hope you enjoy this super simple and different variation of an apple pie! I think of Ruth whenever I make it.


Easy Apple Galette
Pumpkin Pie Dump Cake
No Bake Peanut Butter Pie
Fresh Plum Cake
Peach Upside Down Cake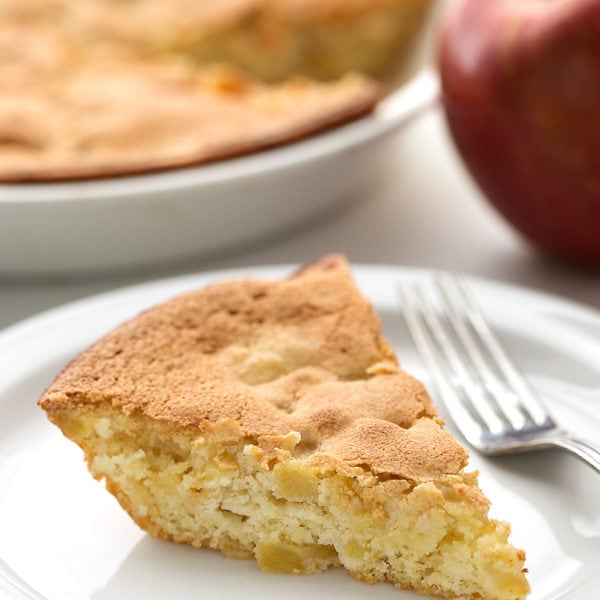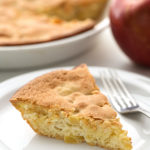 Norwegian Apple Pie
Norwegian Apple Pie is an easy to make apple cake-like dessert with a nice apple flavor, and no fat!
Keyword:
Norwegian Apple Pie recipe
Ingredients
3

Eggs

1 ½

cups

Sugar

2

tsp

Vanilla

¾

tsp

Salt

3

tsp

Baking Powder

1 ½

cups

Flour

3

cups

Apples,

peeled and diced
Optional
½

cup

Pecans,

chopped

⅔

cup

Raisins,

soaked
Instructions
Add eggs to a mixing bowl and lightly beat (by hand).

Add sugar and vanilla and mix well.

Add salt, baking powder and mix well.

Add flour, mix well, but do not over mix.

Gently fold in the diced apples.

Divide the batter between two 9" greased pie pans. Spread the batter so it is even, and covers the entire bottom of the pie pan.

Bake at 350 for 30 minutes.

Cool before serving, though it is good slightly warm, with freshly whipped cream, or vanilla ice cream.
Recipe Notes
This pie will be lightly crisp on top at first, and will soften up and get more moist the longer it sits. For that reason, we eat it within a day or two as we don't like it to be too moist.
Optional Ingredients: I have never made it with the nuts or raisins option, nor did Ruth when she made it with me. I think it could be very good. Please note that I guessed on the amounts for these options as the recipe didn't state any measurement for them.

Resources to Make this Apple Pie recipe
This post contains Affiliate links. As an Amazon Associate I earn from qualifying purchases.