This Easy Apple Galette recipe is really an apple pie without the pie pan! This Apple Galette, or Crostata, is a rustic apple pie dessert that is really simple and fast to make. A premade pie crust is a great shortcut to make this wonderful easy apple dessert recipe!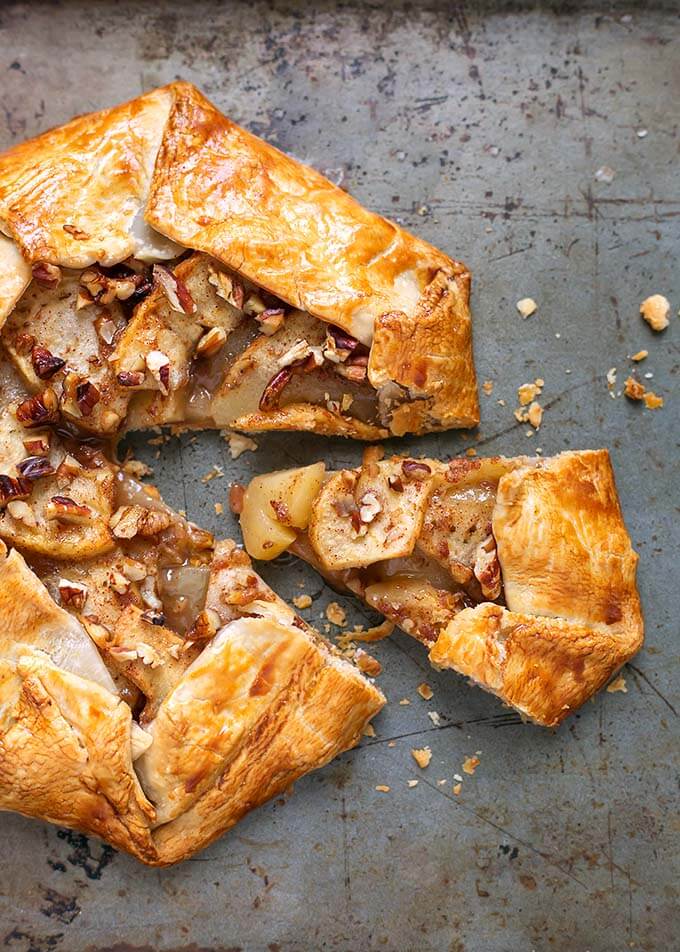 Easy Apple Galette
The Fall apples have been coming in and it has been so much fun to have some of the varieties that I haven't tasted since last year! Jonagold specifically. That's my favorite! However, for making pies and other apple desserts, I prefer a more tart apple such as the Granny Smith, which is available year round here in Washington.
What is a Galette?
A galette is a French term to describe various types of pastry that are flat, round or freeform shapes. Commonly, a galette is a rustic, freeform tart/pie where the outer part of the crust is folded over the filling. It is cooked on a baking sheet rather than in a pie pan. It can be made with a variety of seasonal fruits.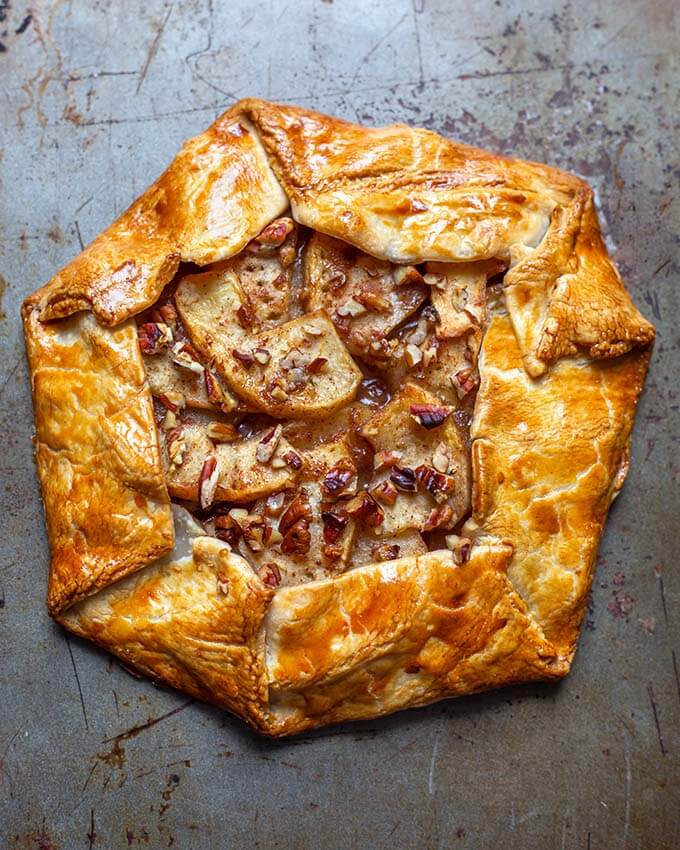 The term galette is often used interchangeably with the Italian Crostata. Both are open faced fruit tarts, but the crostata has a lattice crust on top, traditionally.
Here are the steps to make this Easy Apple Galette recipe: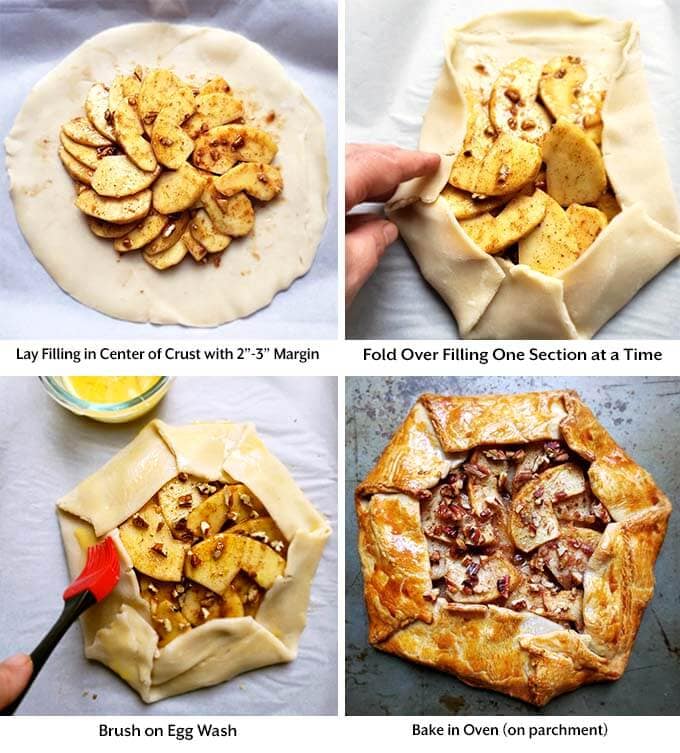 You can use a store bought refrigerated pie crust for this recipe, as I often do. You can also make your own homemade pie crust recipe and just use half of it.
The crust is easier to fold if it is close to room temperature. If it breaks or cracks while folding, no worries, just pinch it back together and rub it smooth with your finger.
When you brush the egg wash over the crust you will end up with a pretty crust that has browned nicely.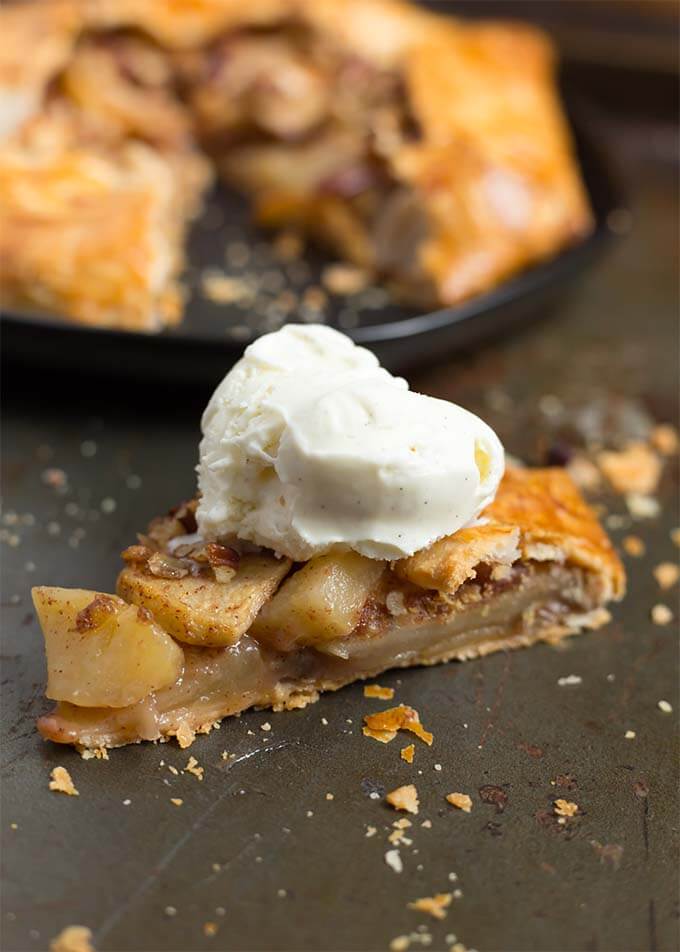 This is one of the simplest desserts to make, especially for the payoff. This Easy Apple Galette is a pretty dessert, and it tastes just like apple pie. The pieces are a bit thinner, but with only a bottom crust, the filling to crust ratio is perfect, and the flavor is there!


Norwegian Apple Pie
Fresh Plum Cake
Incredible Banana Cake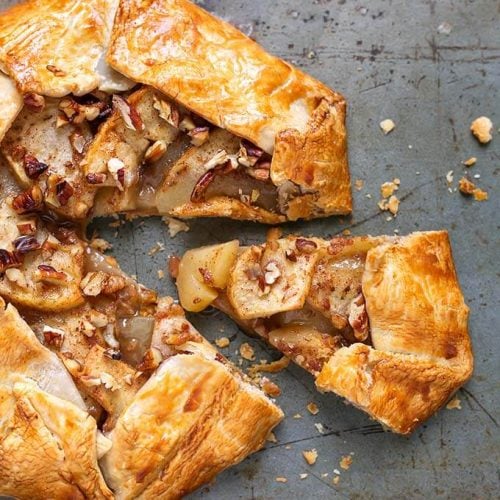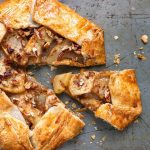 Easy Apple Galette
This delicious Easy Apple Galette recipe is really an apple pie without the pie pan! It is a rustic apple pie dessert that is really easy and fast to make.

Keyword:
apple crostata recipe
Ingredients
2

Apples,

peeled, cored, sliced

2

Tbsp

Flour

½

tsp

Cinnamon

⅛

tsp

Nutmeg

⅓

cup

Brown Sugar

½

tsp

Vanilla

3

tsp

Lemon Juice

¼

cup

Pecans,

chopped (optional)

1

9"

Pie Crust,

room temp. (store bought is a great shortcut)
Egg Wash (whisk together well)
Instructions
Heat oven to 425° (F)




Line a baking sheet with parchment.

In a mixing bowl, add the apples, flour, cinnamon, nutmeg, brown sugar, vanilla, and lemon juice, and pecans, if using. Mix well to combine.

On the parchment lined baking sheet, lay the crust out and mound the filling on it, leaving about a 2" to 3" margin around the edge.

Fold a section of the crust onto the fruit. The fold will be where the margin meets the edge of the fruit. Turn the pan a quarter turn. Fold over another section, then give the pan a quarter turn and fold another section, and so on until all of the margin of crust has been folded onto the fruit.

Brush an egg wash on the crust and put in the oven. Bake for 30 to 40 minutes, or until crust is nicely browned and apples are tender.

RESOURCES TO MAKE Easy Apple Galette recipe and more
We are a participant in the Amazon Services LLC Associates Program, an affiliate advertising program designed to provide a means for us to earn fees by linking to Amazon.com and affiliated sites.