Blueberry Lemon Cheesecake Squares are creamy, sweet and tart, with a delicious cheesecake filling. You can make them with fresh or frozen blueberries. You can make these Lemon Blueberry Cheesecake Bars any time of the year!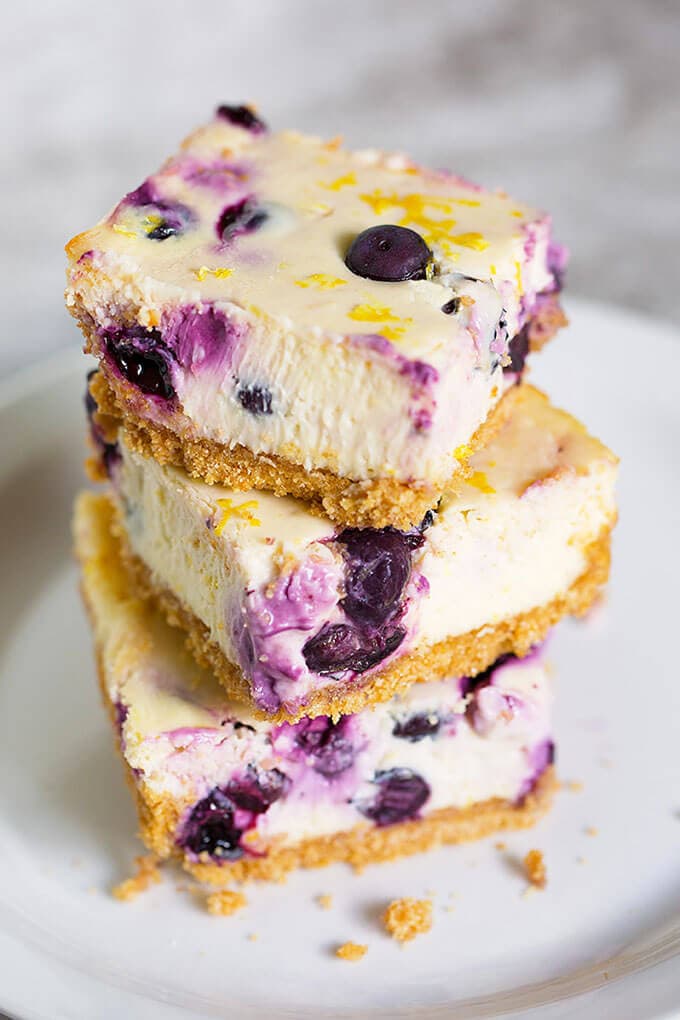 Originally published 7/01/2017
Blueberry Lemon Cheesecake Squares
Blueberries and lemons go together so beautifully. Put those together with cheesecake and you've really got something extra delicious!
Blueberry Lemon Cheesecake Bars are my go-to dessert when I need that sweet-tart-creamy dessert fix. You can make these tasty cheesecake bars any time of the year because the grocery store always has lemons (at least here in Washington they do), and you can use either fresh or frozen blueberries!
How Much Does This Recipe Make?
For this recipe you will need an 8"x8" baking dish. You can get 9 good sized Blueberry Lemon Cheesecake Squares out of this recipe. Or 4 huge ones. I'm not judging!
Can I Use Cookies for the Crust?
Yes you can. A cookie that is crisp and leans more towards a vanilla flavor will work best with these cheesecake bars.
Golden Oreos (without the cream filling (just scrape it out), shortbread cookies, or digestive biscuits can be used to make a cheesecake bar crust.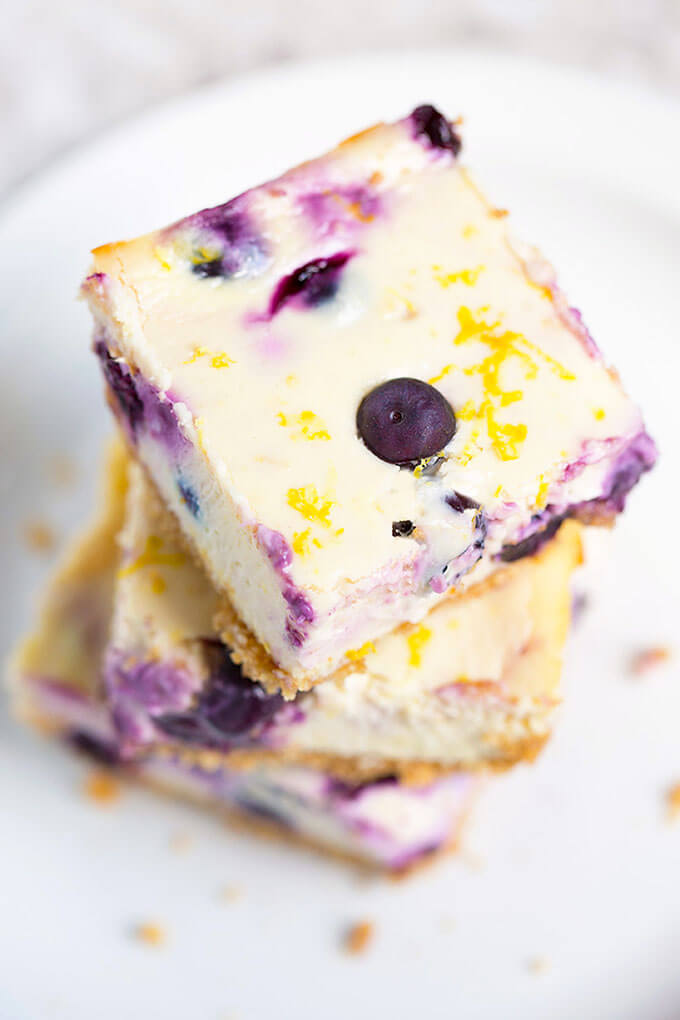 A Lower Fat Version
This recipe will not work with fat-free cream cheese. If you are wanting a lower calorie option, you can use the lower fat cream cheese, known as Neufchâtel cheese. Neufchâtel has one-third less fat than regular cream cheese.
Tip: When you are mixing up the filling for Blueberry Lemon Cheesecake Squares, you will add the eggs in last. Mix them in just until incorporated. Over mixing the eggs will cause the cheesecake to puff up and will change the density of the bars.


Easy Apple Galette
Instant Pot New York Cheesecake
Incredible Banana Cake
5 Ingredient Chocolate Peanut Bars
How To Store Blueberry Cheesecake Squares
Storage: Store leftover cheesecake bars in an airtight container in the refrigerator for up to 3 days.
To Freeze: Wrap the bars in plastic wrap, then in foil, or freeze in an airtight container, for up to 2 months. Allow them to thaw in the refrigerator before serving.
If you make these lemon blueberry cheesecake bars, let me know! Just leave a comment with a star rating below. I'd love to know how you liked them.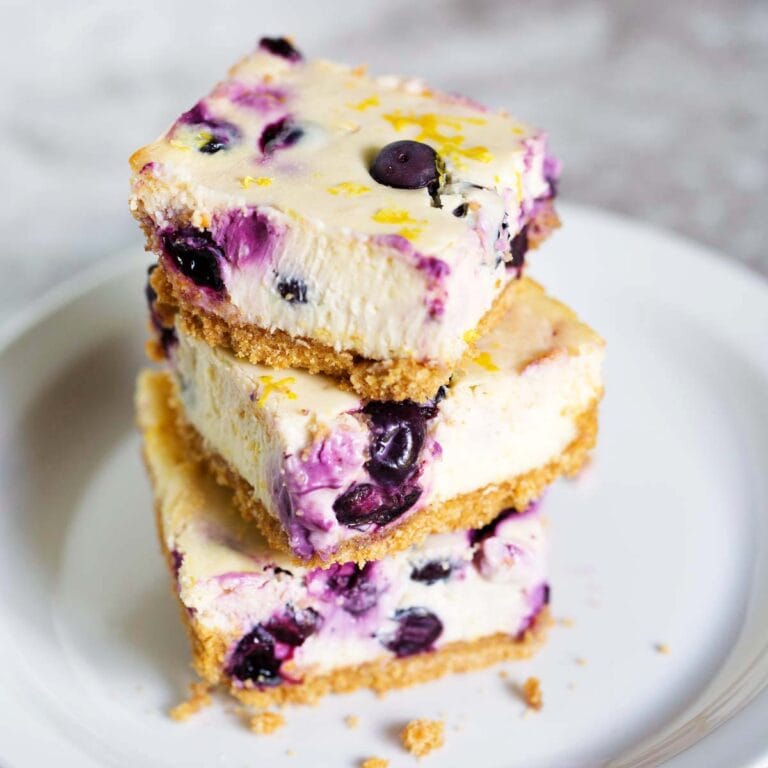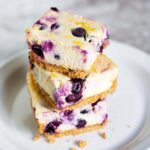 Blueberry Lemon Cheesecake Squares
Sweet blueberries and tart lemon are a dynamic duo in this dessert. Creamy and rich with a crisp graham cracker crust. Enjoy this easy to make pan of goodness any time of the year!
Keyword:
Blueberry Lemon Cheesecake Squares recipe
Ingredients
Graham Cracker Crust
10

Graham Crackers

¼

cup

Sugar

6

Tablespoons

Butter,

melted
Filling
2

8 oz blocks

Cream Cheese,

room temperature

⅓

cup

Sugar

1

teaspoon

Flour

1

teaspoon

Vanilla

2

Tablespoons

Lemon Zest

(I get 2 T from 2 average sized lemons)

3

Tablespoons

Lemon Juice

(fresh, usually I get 3 T from 1 lemon)

1

Egg,

room temp

1

Egg Yolk,

room temp

1 ½

cups

Blueberries

(fresh or frozen)
Instructions
Graham Cracker Crust
Heat oven to 325° F. Grease a 8"x8" baking dish with butter. Line the dish with parchment paper (on top of the butter) so it overhangs on both sides. This will help you get it out of the pan easier.

Break up graham crackers a bit and put them in a food processor. Pulse a few times.

Add sugar and turn on food processor and process until the pieces are all crumbs.

Add the melted butter and process again until the mixture resembles wet sand.

Pour the crumbs into the prepared baking dish and press evenly, using a small drinking glass.

Bake for 12 to 14 minutes until lightly browned. When done, cool dish on a wire rack while you make the filling.

Wipe out the food processor to use for making the filling.
Filling
Add cream cheese and sugar to the food processor. Mix until well combined and smooth.

Add flour and process until mixed in.

Add vanilla, lemon zest, lemon juice, and mix until fully combined.

Add egg and egg yolk. Pulse a few times until egg is fully incorporated, but don't over mix.

Pour mixture into a bowl and fold in the blueberries with a spatula (As an alternative, if you don't want to dirty a bowl, you can just put the berries on top, but I like them mixed in).

Pour mixture onto the cooled crust and spread to even it out.

Bake at 325° F for 35 minutes, or until the edges start to brown, and the mixture only slightly jiggles when shook.

Remove to a wire rack and cool completely. Then chill in the fridge for about 3 hours.

Cut into 9 squares and serve!
Recipe Notes
This recipe will not work with fat-free cream cheese. If you are wanting a lower calorie option, you can use Neufchâtel cheese.
If you don't have graham crackers, you can use cookies (without cream filling). You will need 1 cup of cookie crumbs. 
Storage: Store leftover squares in an airtight container in the refrigerator for up to 3 days.
To Freeze: Wrap squares in plastic wrap, then in foil. Freeze in an airtight container for up to 2 months. Allow them to thaw overnight in the refrigerator before serving.
Resources to Make Blueberry Lemon Cheesecake Bars
This post contains Affiliate links. As an Amazon Associate I earn from qualifying purchases.