Fresh Plum Cake, also called Pflaumenkuchen and Zwetschgenkuchen (German Plum Cake) is a thin, rustic sheet cake baked with fresh plum slices on it. This Fresh Plum Cake recipe is simple, and not too sweet. A great way to use your fresh, ripe plums!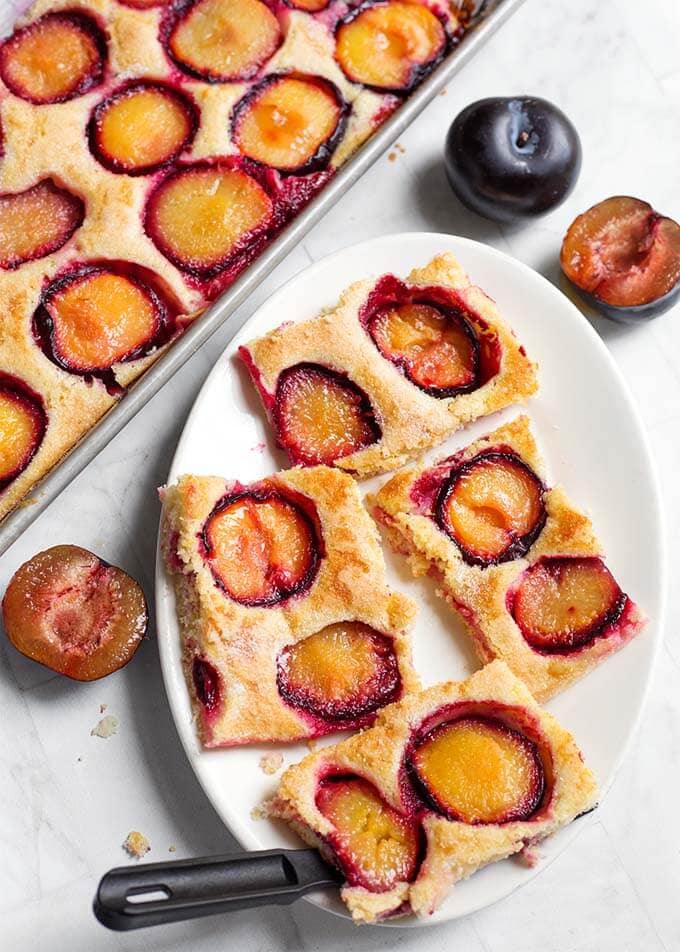 Fresh Plum Cake
Way back in the day I worked in a German Retirement Home (deutsches altersheim). I worked in the kitchen, and this is where my love of this German dessert recipe began!
I was used to German food as my mom sometimes cooked recipes she knew from her time living in Germany. At the GRH there were many types of meals prepared for the residents, and it was fun for me to learn so many new recipes.
Chrystal, one of the staff who is German, liked to make this Fresh Plum Cake recipe once in a while. She just called it Pflaumenkuchen. I really liked it so she gave me her recipe. I wrote it down on pink paper, being a girly teenager, and I've had it in my little recipe box ever since.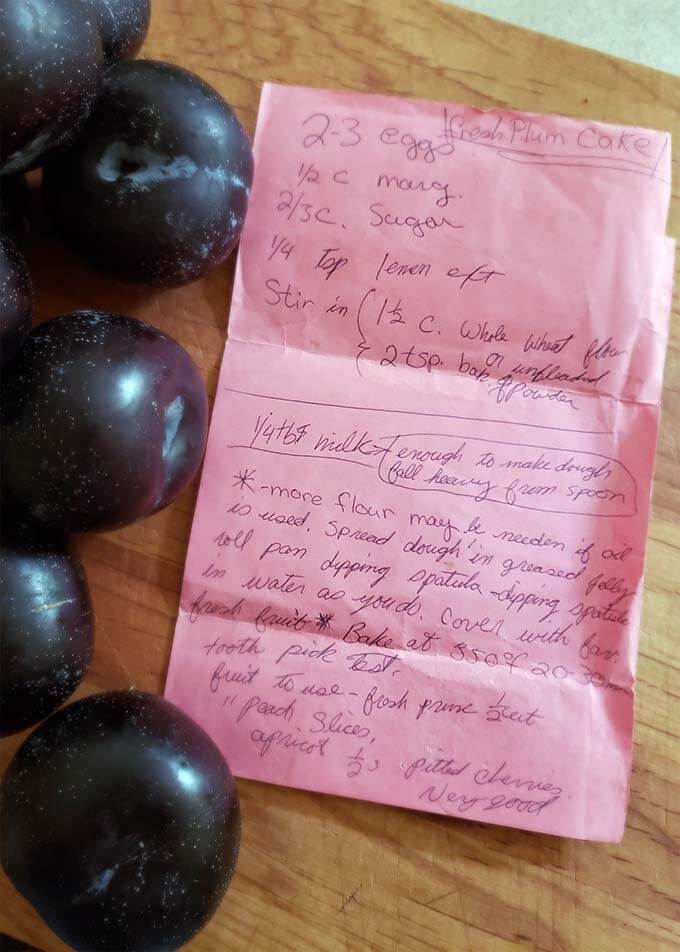 I don't make this Fresh Plum Cake exactly like the pictured written recipe because first of all, I stopped using margarine 20 years ago, and secondly, I use often white flour instead of wheat. It's just what I have on hand most of the time. Sometimes I use lemon extract, and usually use lemon zest. Use what you have!
What are the Best Plums to Use?
You can use Italian plums (prune plums), or whichever variety are your favorite. As long as they are ripe.
You don't even have to use plums! You can use peaches, pitted cherries, apricots, etc. I do suggest sprinkling a layer of white sugar over the fruit before baking as this is not a very sweet cake.
If you don't have whole fruit, you can put a layer of jam on the dough and cover with streusel.
How to Make Pflaumenkuchen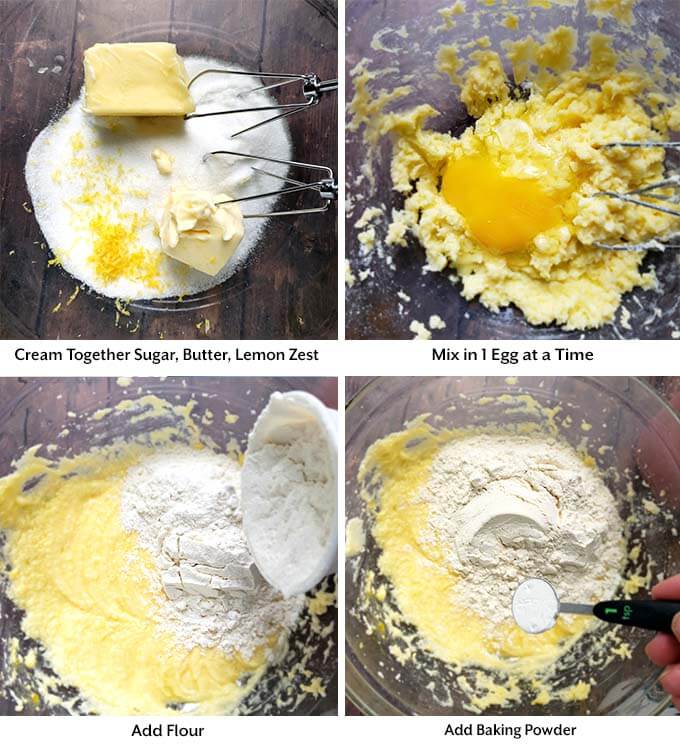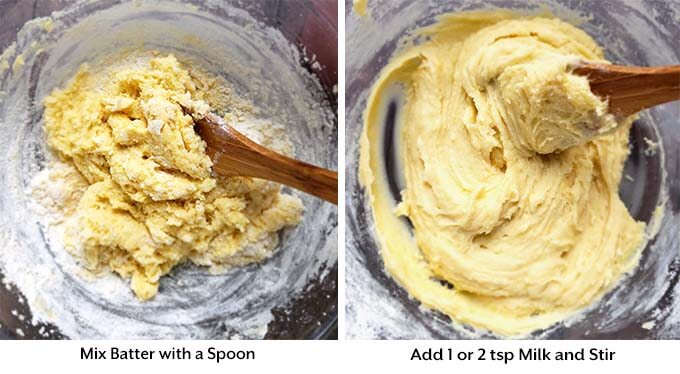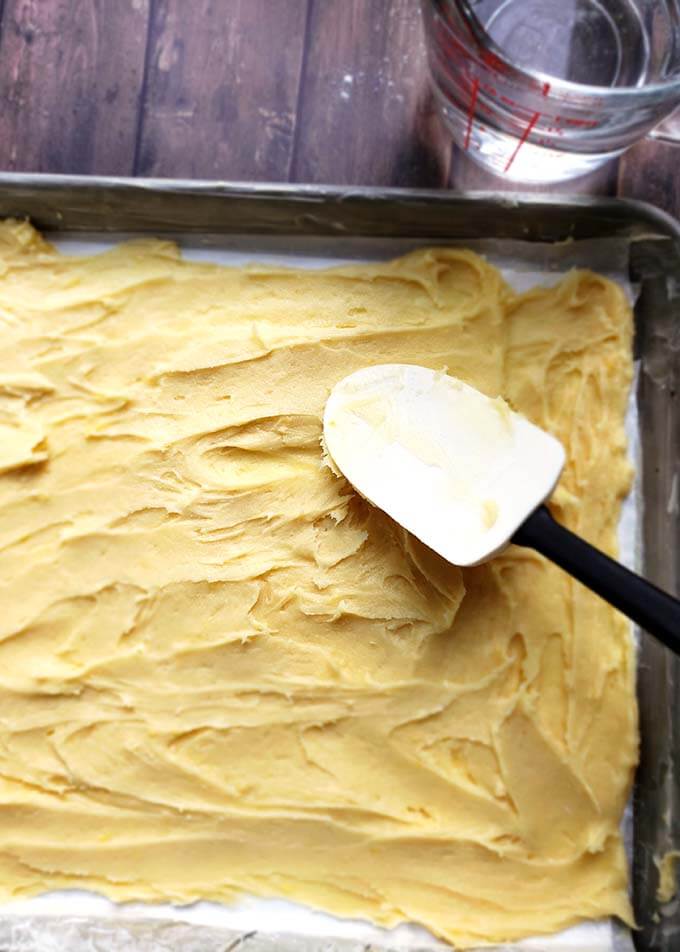 When you go to spread the batter on your jelly roll pan, you will notice that there will be enough for a thin layer. It looks weird, and impossible, but this is correct (remember, we have 2 teaspoons of baking powder in there!).
Tips for German Plum Cake
Don't use a pan larger than 10"x15" or it will be way too thin! If you don't have a jelly roll pan you can use a 9"x13" baking dish that has been well greased.
Be sure to use butter and eggs that are at room temperature (but use cold butter for making the streusel topping, if you make it)
Try adding ¼ to ½ teaspoon of almond extract (mix in with the eggs).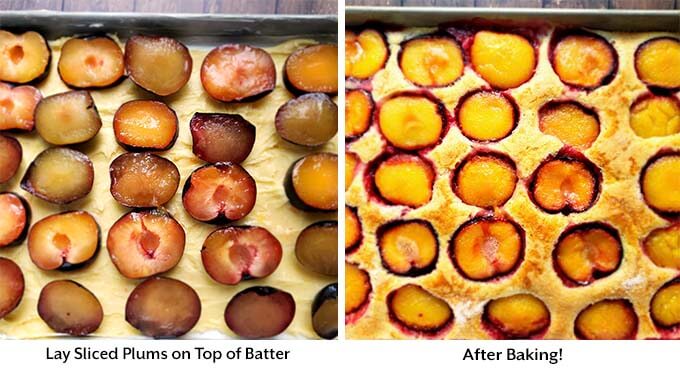 I like to but locally grown plums when in season. This is my favorite farmers market to go to when I can't get Downtown to the Pike Place Market.
You Might Also Like
Norwegian Apple Pie
Peach Upside Down Cake
Incredible Banana Cake
Blueberry Lemon Cheesecake Squares
If you bake up this yummy Fresh Plum CAke, let me know. You can leave a comment with a star rating below. I would like to know how you liked it!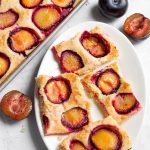 Fresh Plum Cake
Fresh Plum Cake, also called Pflaumenkuchen or German Plum Cake, is a thin, rustic sheet cake baked with fresh plum slices on it. Simple, and not too sweet.
Keyword:
German plum cake recipe
Ingredients
⅔

cup

Sugar,

plus more for topping

½

cup

Butter,

room temp

½

teaspoon

Lemon Zest

(or ¼ tsp lemon extract)

2

large

Eggs,

room temp

¼

teaspoon

Almond Extract

(optional)

1 ½

cups

Whole Wheat Flour

(or All-Purpose)

2

teaspoons

Baking Powder

1

teaspoon

Milk

1 ½

pounds

Fresh Ripe Plums,

pitted and sliced ½" thick
Optional Streusel Topping
2

cups

All-Purpose Flour 

1

cup

Granulated Sugar

1

cup

Cold unsalted butter
Instructions
Slice and pit your plums, and set them aside.

Line a jelly roll pan (no larger than 10"x15"x2") with parchment, or grease/spray well.

In a mixing bow, cream together sugar, butter, and lemon zest.

Add the flour and baking powder and mix together by hand, using a spoon.

Add 1 tsp milk and mix just until incorporated. Don't over mix.

Spread the batter on the pan using a spatula. Dip the spatula in water to help with the spreading (don't saturate the batter though). This will be a thin layer of batter, don't worry as this is correct.

Arrange the sliced plums on top of the batter, evenly spaced, with the skin side down (this keeps most of the juice in the fruit, not the batter).

Sprinkle a layer of sugar over the top of the fruit and exposed batter (I end up using 3 to 6 Tablespoons. It depends on how sweet the plums are).
Make the Topping
To make the topping, combine flour and sugar in a separate bowl. Cut in the cold butter using a pastry cutter (or you can grate it over the bowl) and mix to make crumbs. Sprinkle over top of the cake.

Bake for 20 to 30 minutes, or until a toothpick inserted into the batter comes out clean. You may need to bake about 10-15 minutes longer if adding the streusel topping.

Cool the cake on a wire rack and then slice as you wish and transfer the pieces to a serving dish.

This cake should be eaten within a day, though it does freeze well.
Resources to Make German Plum Cake
This post contains Affiliate links. As an Amazon Associate I earn from qualifying purchases.