Another wonderful Holiday cheesecake, Instant Pot Eggnog Cheesecake has the warm flavors of cinnamon, nutmeg, and rich eggnog. This is a favorite of our youngest son, who would drink only eggnog if we let him!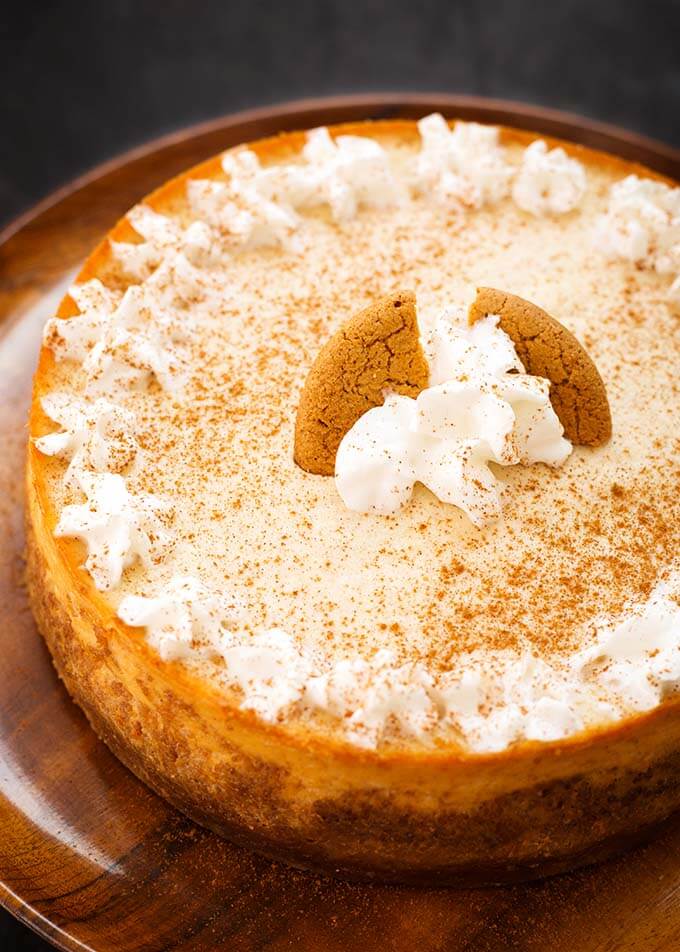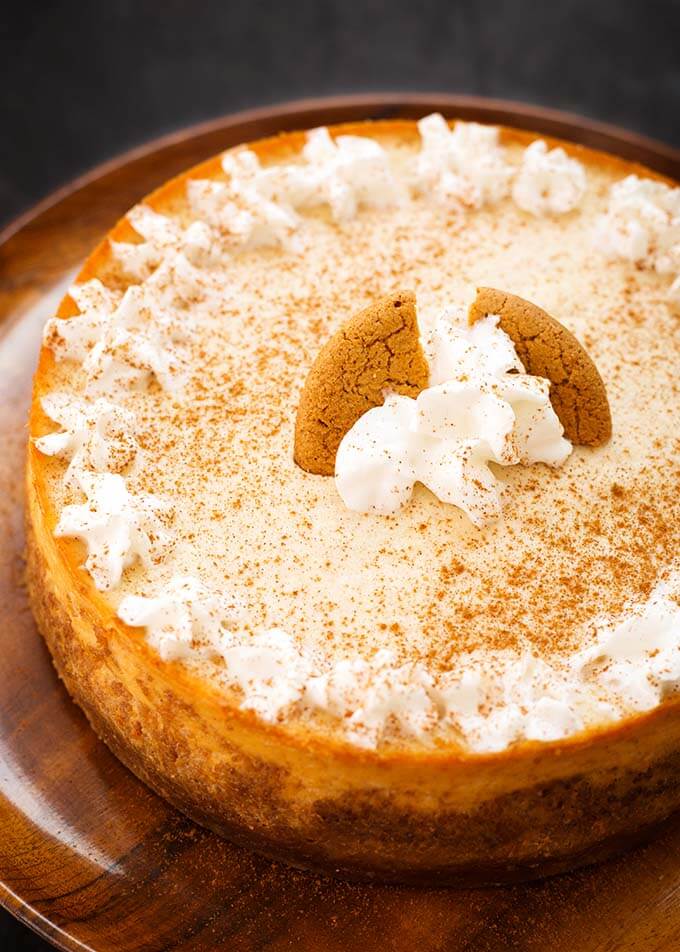 Instant Pot Eggnog Cheesecake
Needless to say, with this being Bryen's favorite flavor, eggnog anything is right up his alley. I surprised him a couple of years ago with an Instant Pot Eggnog Cheesecake, and now I have to make him one every year. I used to get him a half gallon of eggnog as one of his Holiday gifts! He loved it because it was his very own.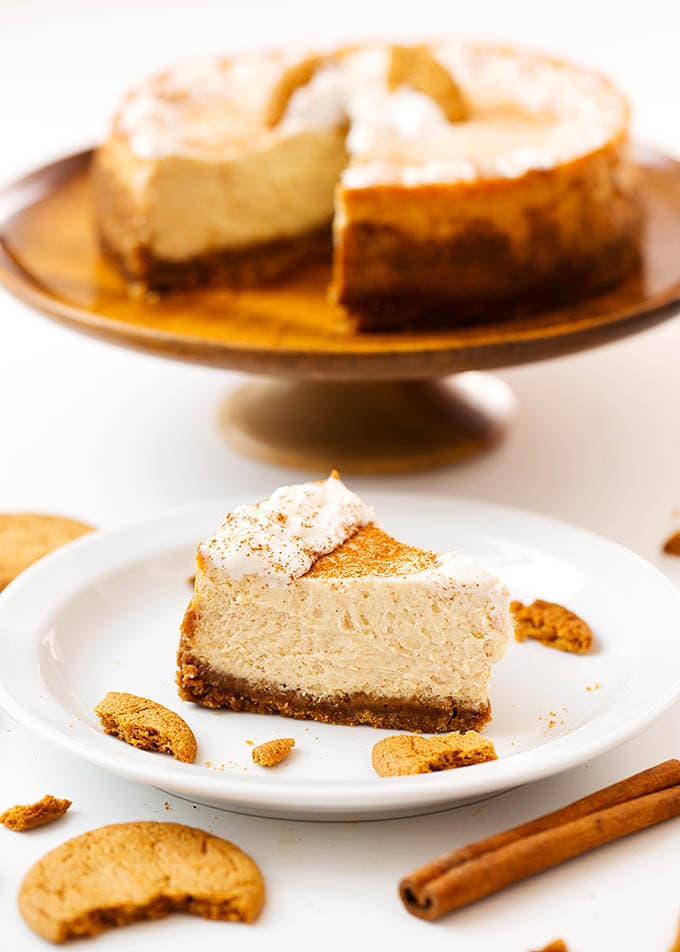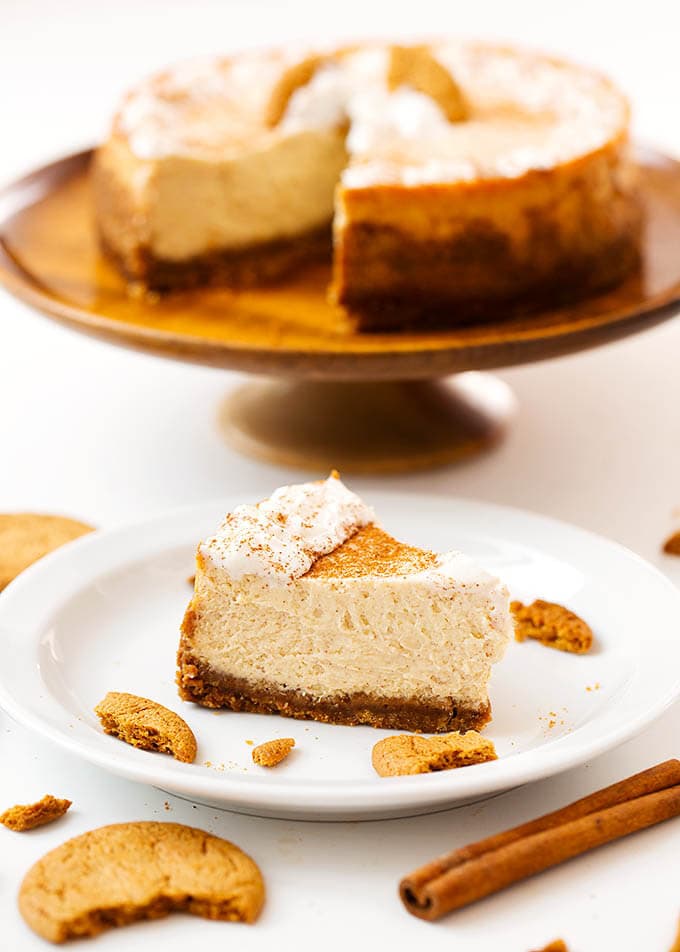 One of the things I like to do during the Holidays is make homemade food gifts for people. It's a way of giving something special that I made myself. It's a personalized gift.
This year I decided to gift a few people with an Instant Pot Eggnog Cheesecake. You can find bakery boxes online, and just pack in a little parchment paper, and wrap a ribbon around the box for delivery. Delicious and cute!
I also made some Instant Pot Hot Sauce gifts this year. I still need to get labels on these. Fun!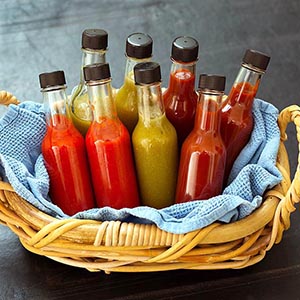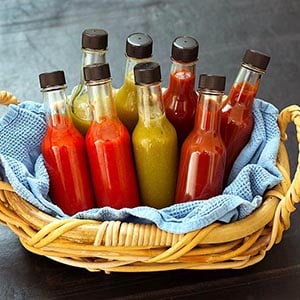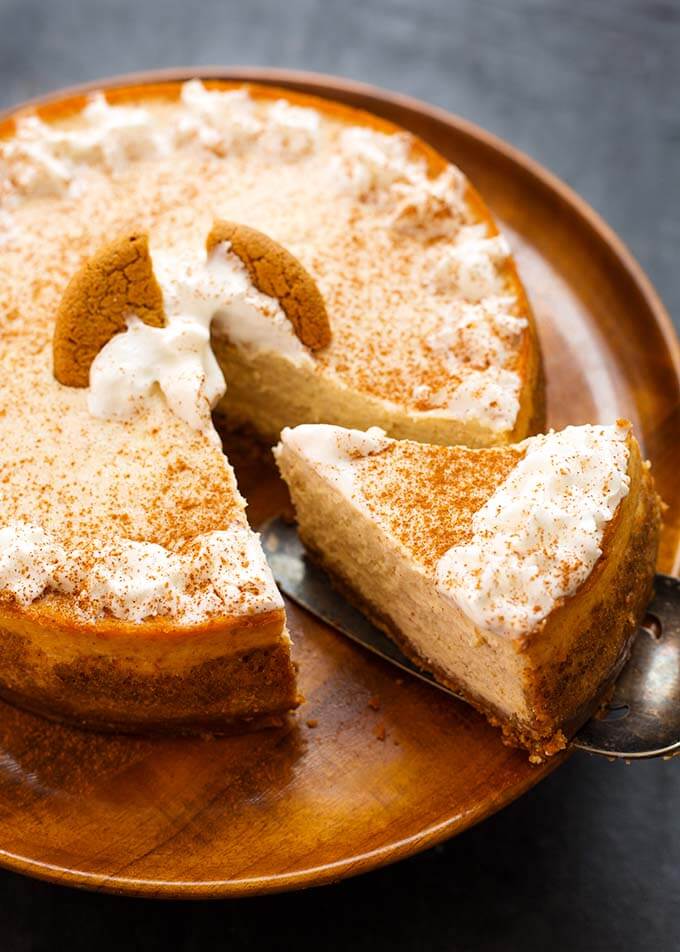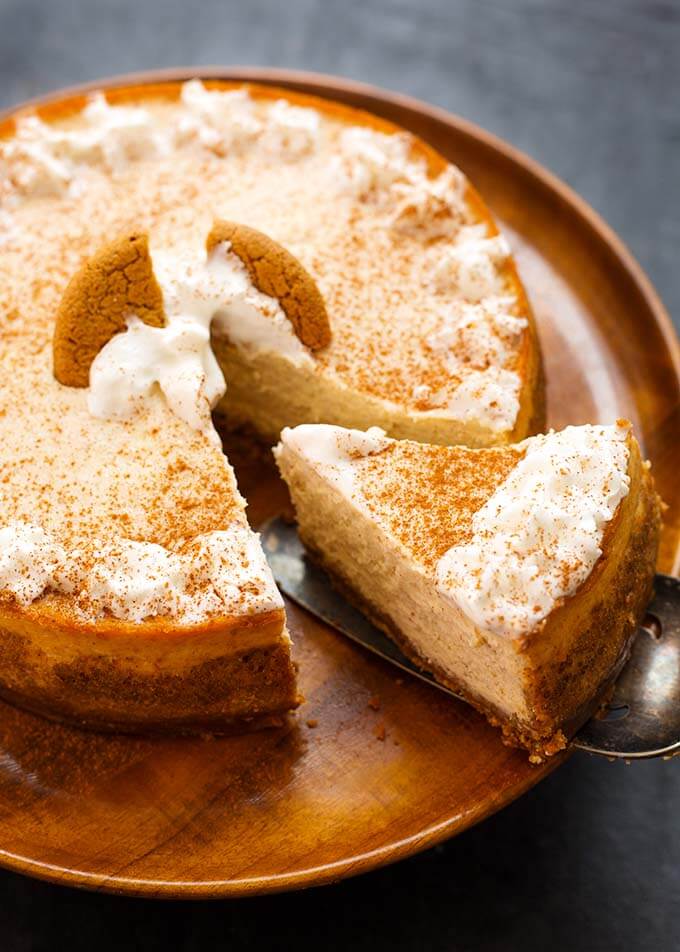 If you love cheesecake, here are some of my other scrumptious recipes
Instant Pot Chocolate Cheesecake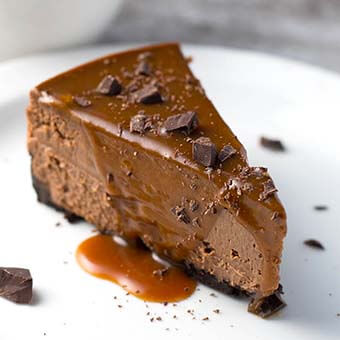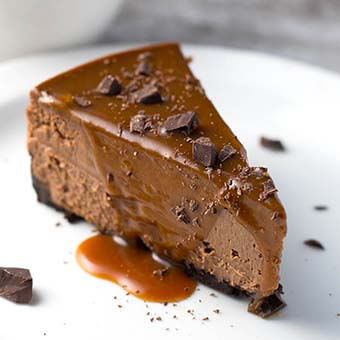 Pressure Cooker Dreamy Orange Cheesecake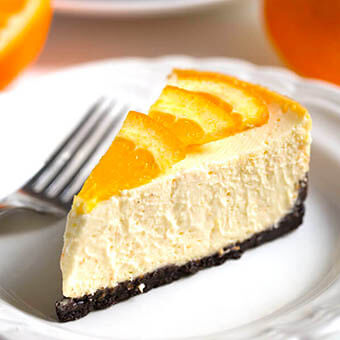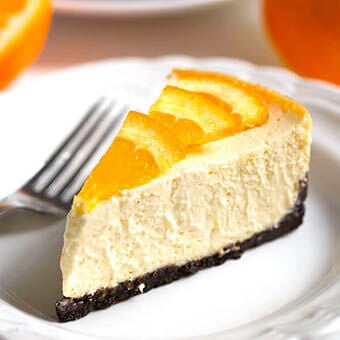 Instant Pot New York Cheesecake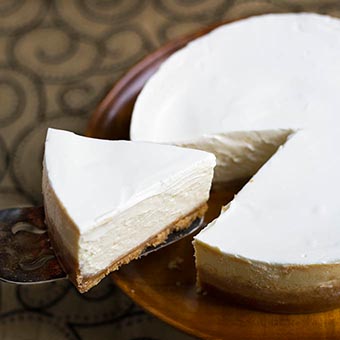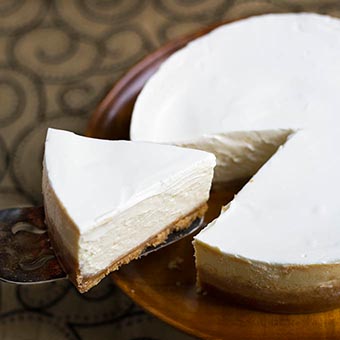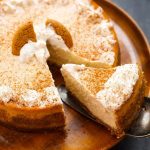 Instant Pot Eggnog Cheesecake
Instant Pot Eggnog Cheesecake is rich and lightly spiced with a not-too-sweet eggnog flavor. A delicious Holiday cheesecake!
Cuisine:
American, Holiday
Ingredients
Crust
6

Shortbread Cookies*

(1 1/2" squares or equivalent)

16

Gingersnap Cookies**

1

Tbsp

Sugar

3

Tbsp

Butter,

melted
Cheesecake Filling
2

8 oz

Pkgs Cream Cheese,

room temp

1/2

cup

Sugar

3/4

cup

Eggnog,

room temp

1 1/2

tsps

Corn Starch

1

tsp

Vanilla

1/4 to 1/2

tsp

Rum Flavoring

(imitation rum flavoring - found with the extracts)

3/4

tsp

Cinnamon

1/8

tsp

Nutmeg

3

Eggs,

room temp
Instructions
Prepare the Cheesecake Pan
Use a 7 inch cheesecake pan (I use a 7"

Fat Daddio's Push Pan

(affiliate), but you can use a springform pan as well. Whatever will fit comfortably in your pressure cooker).***

Spray the pan with baking spray. If you have parchment paper, cut a piece to fit the bottom of your pan and spray that too (or use

Worthy Parchment Liners

(affiliate).
Prepare the Pressure Cooker
Put 1 1/2 cups of water in the inner liner of the pressure cooker.

Put the trivet in the pot as well.
Prepare a Sling
Usually made with aluminum foil, used to get the cheesecake in and out of the pot easily.

Fold a 28" length of foil along the long end 3 times. You will end up with a sling that is 28" x 3"
Prepare the Crust
Place the cookies and sugar into a food processor.

Pulse several times until the cookies turn into fine crumbs.

Add the melted butter and pulse several times to combine and soften the crumbs. You may need to scrape the bowl of the food processor and pulse a few more times.

Pour crust mixture into your prepared pan and use your fingers or the bottom of a small glass to press the mixture into place (I now use a Pastry Tamper) (affiliate). Cover the entire bottom of the pan and come up the sides a little. You do not have to come all the way up the sides. You want the crust to be about 1/4" thick or so.

Put the pan in the freezer to chill and firm up while you prepare the cheesecake filling.
Prepare the Cheesecake Filling
Clean the crust residue out of the food processor.

Add the room temperature cream cheese and sugar to food processor and process until smooth and creamy.

Add the eggnog, corn starch, vanilla, rum flavoring, cinnamon, and nutmeg.

Pulse several times until well combined and creamy.

Add the room temperature eggs last. Pulse just a few short bursts until combined. If you whip the eggs too much the cheesecake will puff up and won't have the right consistency.

Take the crust from the freezer and pour the filling into the pan.

Cover the pan with a paper towel, then with a piece of foil. Crimp the edges around the pan so it stays taut and secure.

Lay the sling out and set the pan on it, centered. Gather up the two ends and very carefully lift the pan and set it in the pressure cooker, leaving the sling with it. Just fold over the two ends of the sling on top of the pan.
Cook the Cheesecake
Close the lid of the pressure cooker and set the steam release knob to the Sealing position.

Press the Manual (or Pressure Cook) button and then the + or - button to choose 37 minutes.

When cook cycle ends, let the cooker naturally release pressure for 15 minutes. Then manually release any remaining pressure.

When the pin drops and it is safe to open the lid, do so carefully, facing away from you.

Gather up the two ends of the sling and VERY carefully lift the cheesecake pan out of the cooker and onto a cooling rack.

Leave covered for 10 minutes, then carefully peel off the foil/paper towel.

Cheesecake is done when it jiggles just a little when the pan is shook. You don't want waves. It will firm up in the fridge. If it looks to liquid, cover it back up and cook for another 5 minutes, and let naturally release for 15 minutes.

Leave on cooling rack until cool enough to put in the fridge.

Put the cheesecake, still in the pan, into the fridge to chill for at least 4 hours before serving. I prefer to make my cheesecake in the evening and let it cool overnight.
To Serve
Remove from the push pan by setting the pan on top of a large can and pushing the pan straight down. The pan will slide down and the bottom with the cheesecake on it will stay atop the can. Slide cheesecake onto a serving dish.

Serve as is, which is very delicious, or top with whipped cream and a dusting of cinnamon.
Recipe Notes
*You can just use 34 (1 1/2 inch square or equivalent) shortbread cookies if you want.
**You can just use 20 Gingersnaps if you want.
***If you use a 6 inch pan, add 5 minutes to cook time.
Adapted from Rose Bakes
Resources to Make This Recipe and More
We are a participant in the Amazon Services LLC Associates Program, an affiliate advertising program designed to provide a means for us to earn fees by linking to Amazon.com and affiliated sites.
This is also referred to as a "Push Pan" because you push the bottom up to get the cheesecake out. I use this pan for my Instant Pot cheesecakes, and it's perfect! Fits in the 6 Qt Instant Pot just right.
Here is the 7″ Fat Daddio's pan I use.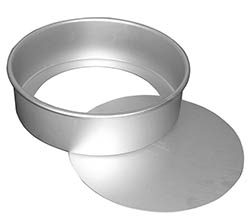 I use parchment rounds when I make my cheesecakes. They are precut to the size I need, which is either 7″ or 6″ depending on the pan I'm using. Not a bad price, either! They also come in Natural, which I haven't used, but looks like unbleached paper.
Worthy Parchment Liners (choice of size in product description)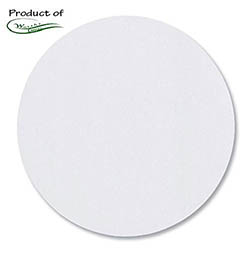 I completely adore these pans! I use them all the time for my Pot in Pot cooking. I waited to buy them, and when I finally did, the quality blew me away! I HIGHLY recommend them.
ekovana Stackable Stainless Steel Steamer Insert Pans – Fits 5, 6, 8 Quart Instant Pot Pressure Cooker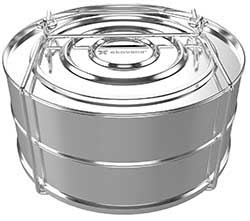 Awesome Spring Chef Stainless Measuring Spoons That Fit in Your Spice Jars!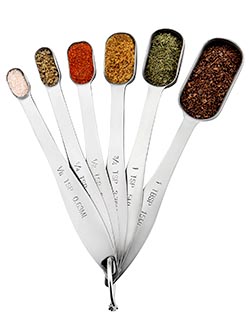 My New Favorite 6 qt Instant Pot:
Instant Pot Ultra 6 Qt 10-in-1 Multi-Use Programmable Pressure Cooker