Instant Pot Hot Sauce is fast and so fun to make! Grab your favorite chili peppers and a few other simple ingredients. You can control the flavor and heat, and it tastes great! Pressure cooker hot sauce makes awesome gifts, too!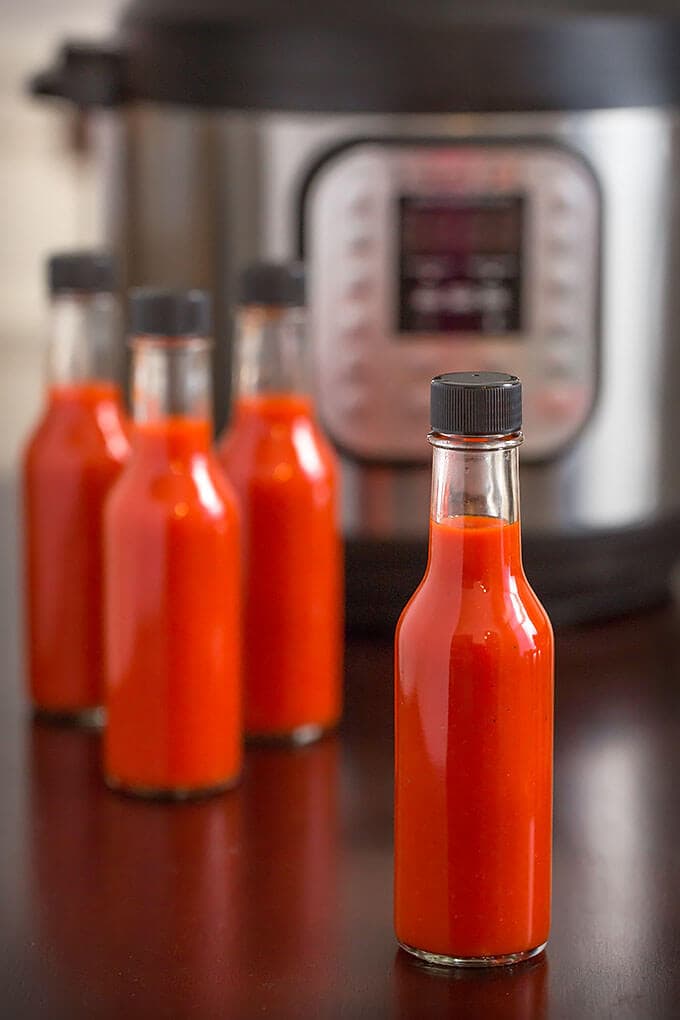 Originally published 9/15/17
Instant Pot Hot Sauce
My kitchen smells amazing right now! I'm cooking up a batch of Instant Pot Hot Sauce in my "Magic Pot!"
If you are wondering what to do with the chili peppers from your garden, I would say make some tasty hot sauce!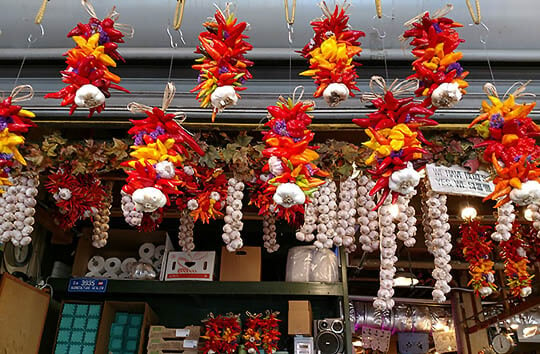 If I don't grow my own chili peppers, I get them from Seattle's Pike Place Market. We get down there a few times a year. The Market usually has great produce. Plus it's fun to walk around and see everything.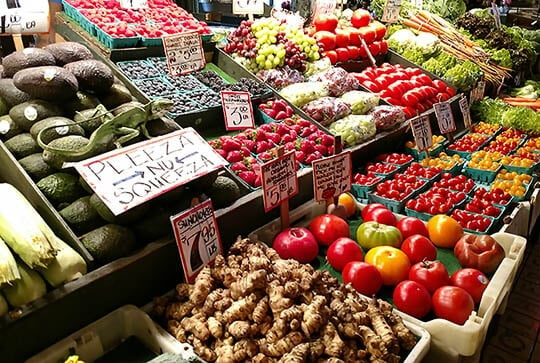 I found some lovely Fresno chiles, which are perfect for a nice red hot sauce (You can use any type of hot chile pepper!). There are so many hot sauce varieties out there, and we have several flavors we have picked up over time. I really like making my own though.
This Instant Pot Hot Sauce is really fast to make! For me, the best part is not having to stand over the stove stirring and breathing in those capsaicin fumes (which you shouldn't do!)!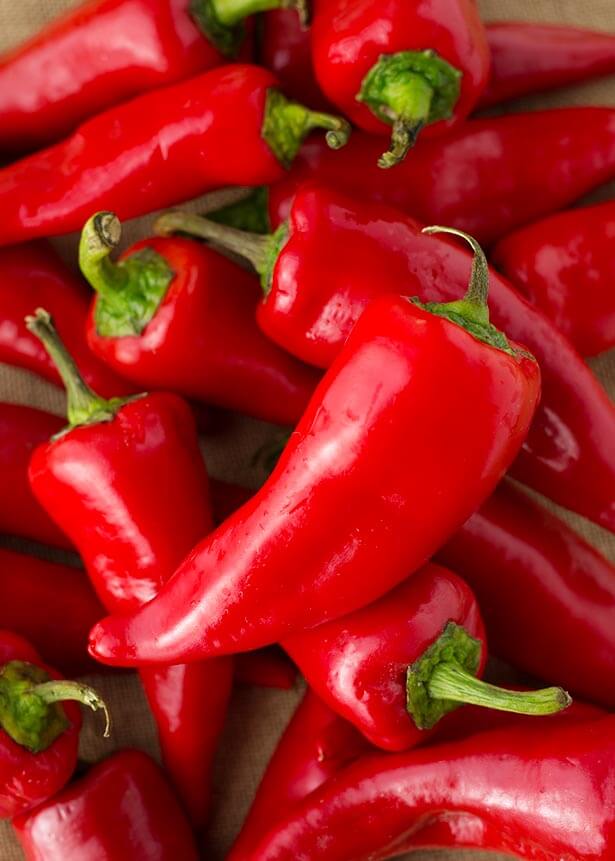 Quick Cook Time!
When I cook vegetables in my electric pressure cooker, depending on the type of veggie, I will only cook for 0 (yes, with the IP you can choose to cook for 0 minutes!) up to 3 minutes, on the average.
This recipe can cook 2-4 minutes with great results.
How Many Chili Peppers per Batch?
I normally use 1 pound of the hot chili peppers per batch, feel free to double or triple the recipe. You can keep the cook time the same.
If you are going to double the recipe, buy double the amount of glass bottles. I know that sounds obvious, but it's easy to forget.
This recipe is written for 12 oz of chili peppers, but feel free to use a full pound. You will need an extra hot sauce bottle or two.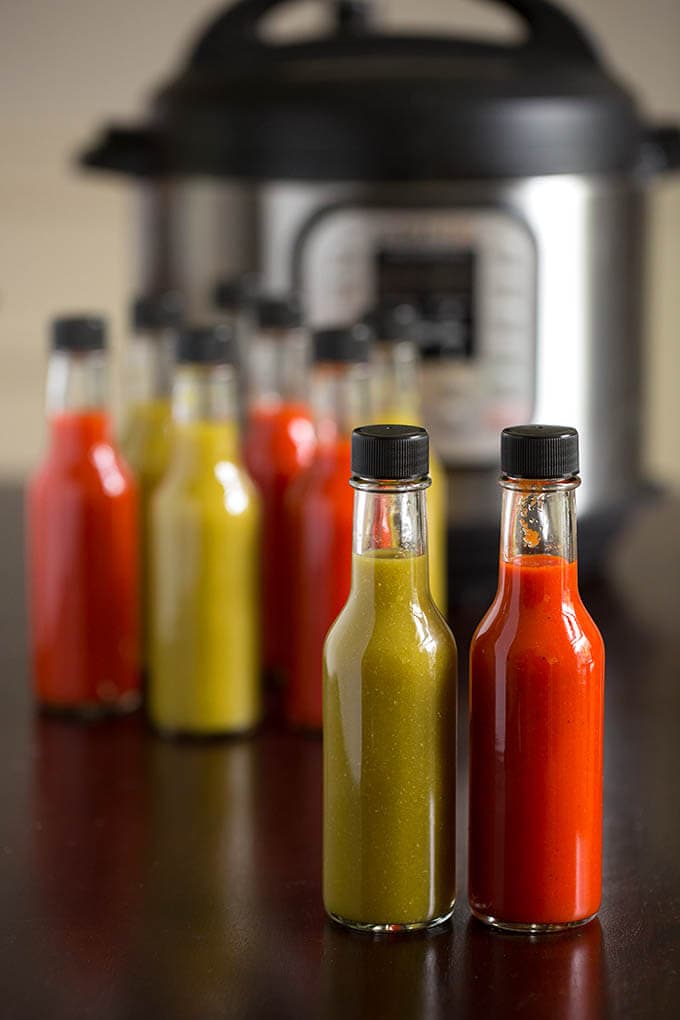 This Instant Pot Hot Sauce recipe is a little sweet, a touch smoky (I use alder smoked sea salt as a substitution for oak wood blocks), and HOT! I find myself reaching for it whenever I have Eggs in Tomato Sauce, Tacos, or Refried Beans, as it just goes with so many foods! Kicks them up a few notches!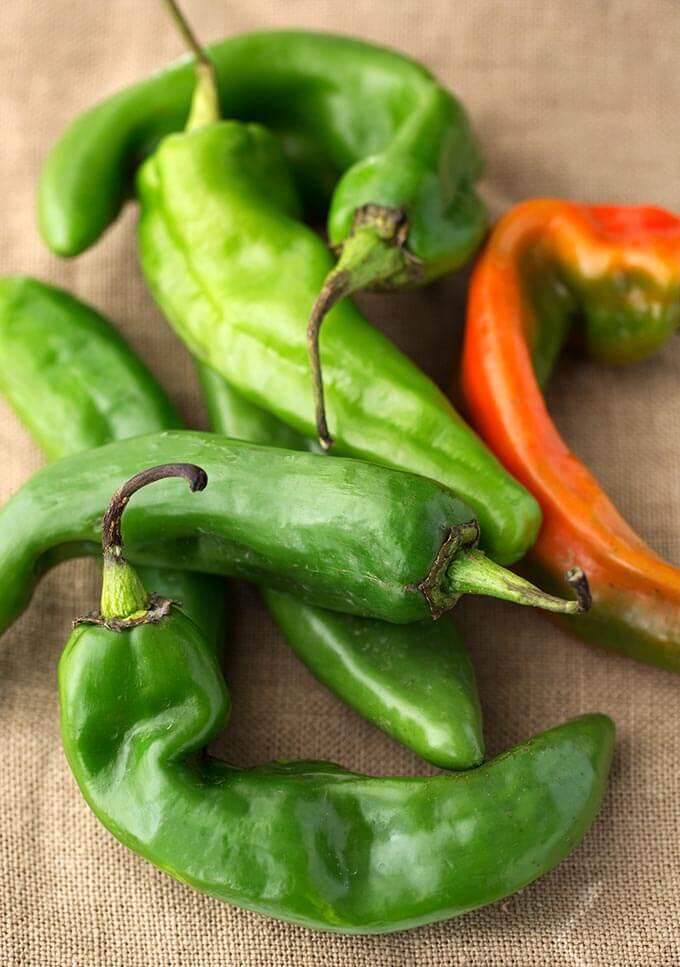 These Hatch green chiles are a milder chile, and they make an awesome green, or verde hot sauce (They also make the BEST Black Bean Soup!!)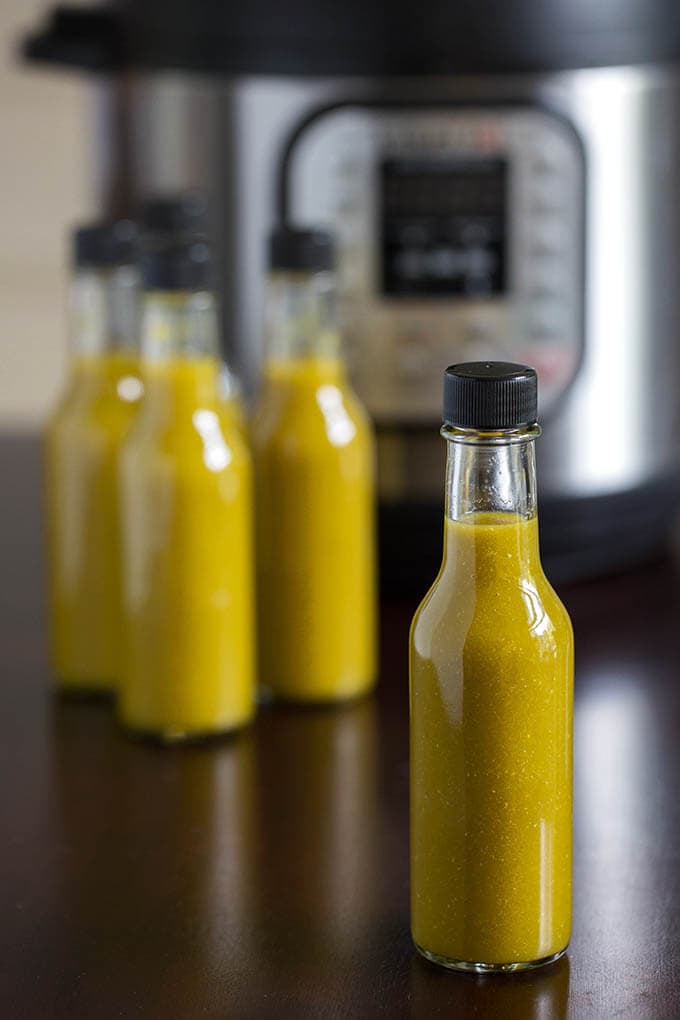 It's really not that difficult to make pressure cooker Hot Sauce, and the results are delicious! It gets better within a couple of weeks, as aging helps develop the flavors. I keep it in the fridge for up to 6 months (maybe longer, but ours never lasts that long!).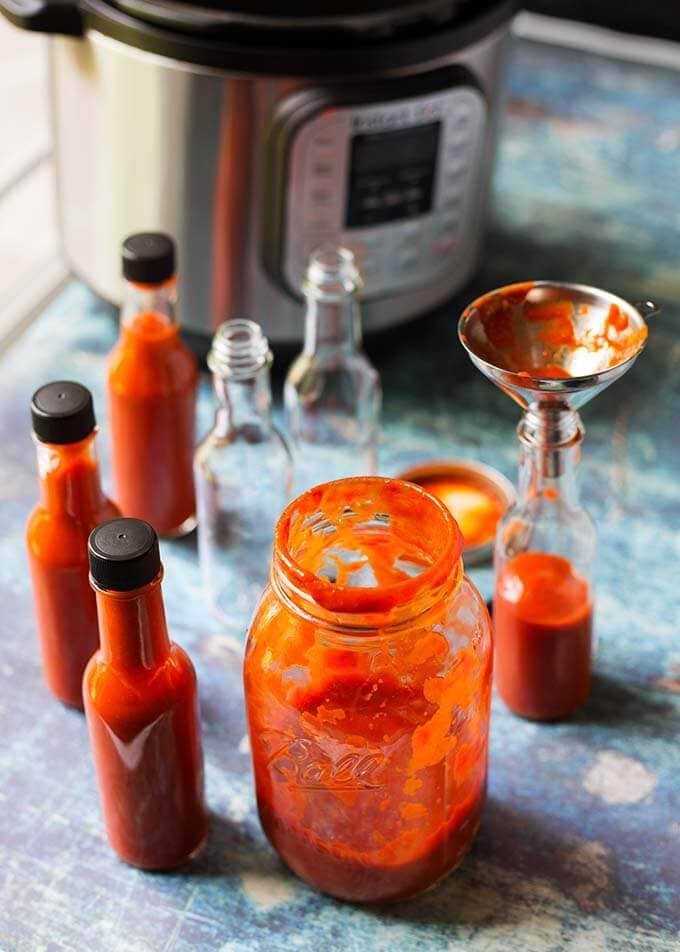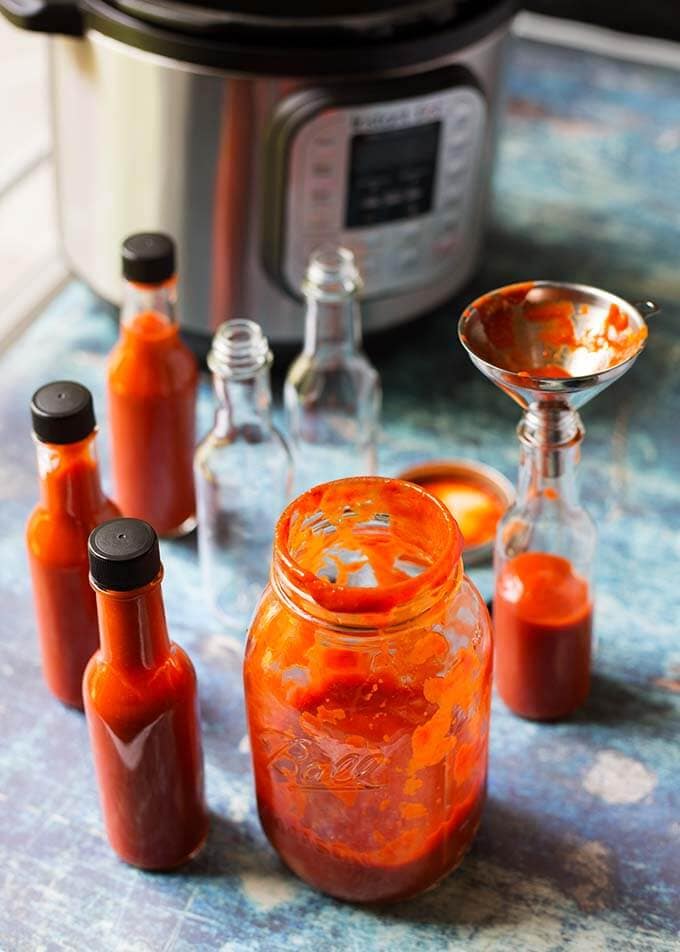 When you make homemade hot sauce, you will want to take simple precautions so you don't burn your eyes or inhale those strong capsaicin fumes (basically anything with strong fumes I let naturally release, such as vanilla, as it has alcohol in it).
Gloves (I have some food service gloves), eye protection (I just wear my reading glasses!), natural release of the pressure, washing your knife handle (I made the mistake of not doing that once) and cutting board, etc.
Please read the instructions in the recipe and heed my warning about safety! I hope I don't make it sound scary, but if you have ever touched your eye after touching a hot pepper... Ouch!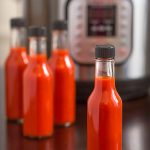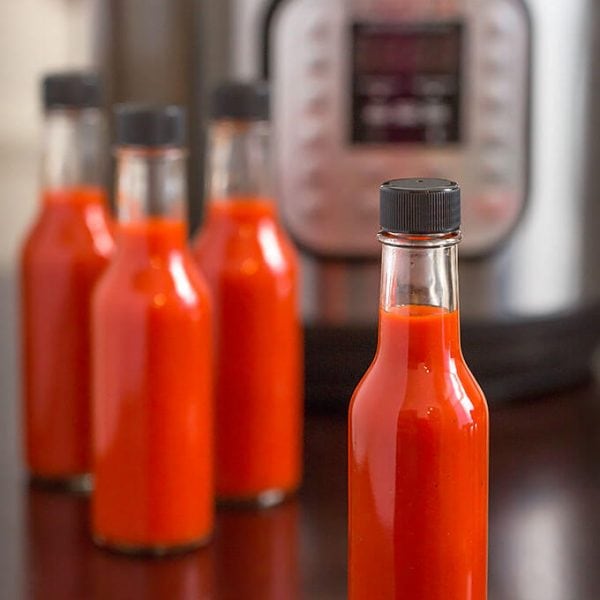 Instant Pot Hot Sauce
Pressure Building and Release
Instant Pot Hot Sauce is tasty and easy to make. A versatile pressure cooker hot sauce recipe that you can make from any variety of chile pepper. Customize the ingredients to make it your own!
Keyword:
pressure cooker hot sauce
Ingredients
Red Hot Sauce
¾ - 1

lb

Fresno Peppers,

(or Cayenne, or other)

¼

cup

Shredded Carrot,

6

Cloves of Garlic,

peeled and smashed

1

Roasted Red Pepper,

chopped (I use the jarred ones)

1

cup

White Vinegar

¼

cup

Apple Cider Vinegar

½

cup

Water

1

Tablespoon

Smoked Sea Salt

(or use regular or Kosher salt if that's all you have)
(4) 5oz Glass Hot Sauce Bottles (available on Amazon)
Optional Add-Ins
1

Tablespoon

Smoked Paprika

2

Chipotle Chiles in Adobo
Green Hot Sauce
12-16

oz

Green Chiles

(Hatch, Jalapeño, etc)

8

Cloves of Garlic,

peeled and smashed

1

Green Bell Pepper,

chopped (roast it first for even more flavor!)

1

cup

White Vinegar

¼

cup

Apple Cider Vinegar

½

cup

Water

1

Tablespoon

Smoked Sea Salt,

(or use regular or Kosher salt if that's all you have)
(4) 5-ounce Glass Hot Sauce Bottles (available on Amazon)
Instructions
Cut the tops off of the peppers and discard. Chop the peppers in thirds. Add to the stainless steel inner liner of the Instant Pot.

Add in the remaining ingredients.

Close the lid of the pressure cooker and set the steam release knob to the Sealing position.

Press Manual (or Pressure Cook function, High Pressure) and use the +/- button to select 2 minutes.

When cooking cycle ends, LET IT FULLY NATURALLY RELEASE PRESSURE. Do not do a Quick Release or manually release the pressure. You don't want to inhale those pepper fumes!

After all of the pressure is out of the pot, open the lid carefully, facing it away from your face. Don't breathe in the fumes!

Let the mixture cool, then transfer it to a blender and blend until smooth. You can use an immersion blender (though I find the regular blender makes it smoother). Be very careful, and wear gloves and eye protection.

Strain blended mixture through a strainer, and fill your hot sauce bottles! You could also leave unstrained and put in jars to enjoy a thicker hot sauce.

The hot sauce gets better as it ages a bit. It will keep in the fridge for several weeks or more!
Recipe Notes
Hot sauce is fun and easy to make, but please take some simple precautions:
Wear gloves (I use food service gloves) and eye protection (I wear my reading glasses) when handling and chopping the peppers.
Clean your knife handle and cutting board well after chopping.
Let the pressure cooker naturally release the pressure, don't do it manually as you don't want the fumes in the air that you might breathe. I learned that the hard way from cooking it on the stove top. Maybe open a window as well.
Open the lid facing away from your face and do not inhale the steam/fumes as it wafts out of the pot! That would not be good.
Resources to Make This Hot Sauce Recipe
We are a participant in the Amazon Services LLC Associates Program, an affiliate advertising program designed to provide a means for us to earn fees by linking to Amazon.com and affiliated sites.


I like to make fermented hot sauce as well. I really like the flavor, and oak (like in wine making), gives the sauce a nice smoky taste. I have a batch in the pantry, fermenting away. This is a nice method to bring in more complex flavors. It just takes a lot longer. I will ferment it, then let it age for a year or more (it's been 3 years and almost time!), and it will be ready soon. Patience.