Instant Pot Bone Broth is rich and delicious, and a fantastic base for soups, sauces, pastas, etc. We drink a mug of hot bone broth when feeling under the weather. Gather some bones and make a nice, rich batch of pressure cooker bone broth.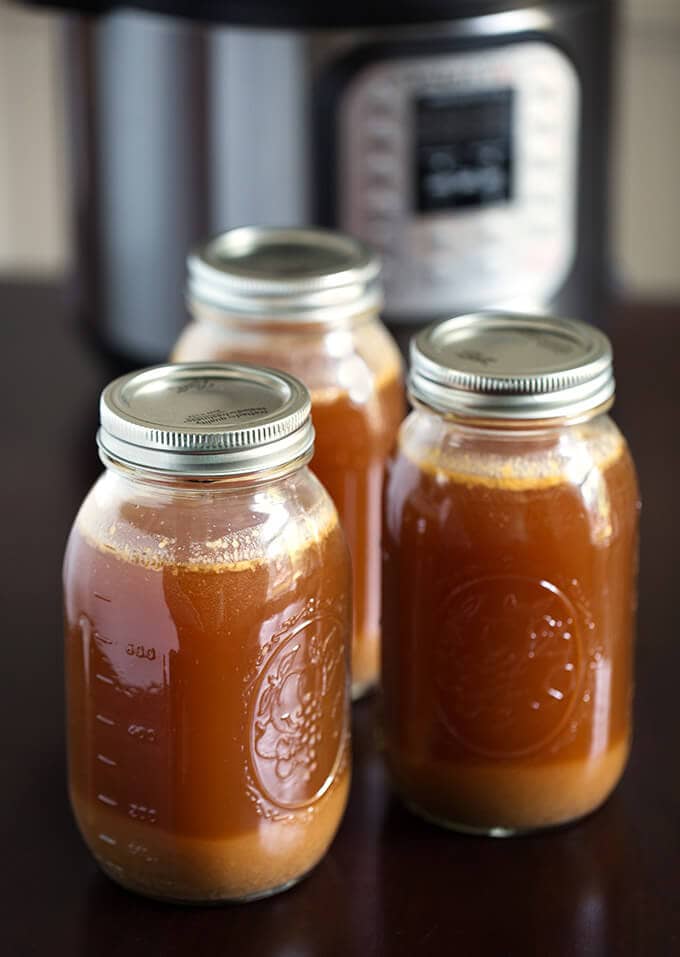 Instant Pot Bone Broth
If you own an Instant Pot, chances are you have made baby back ribs, or a whole chicken, or maybe even beans with a ham hock in them. So, what do you do with all of those leftover bones? Why not try making Instant Pot Bone Broth?
I use Instant Pot Bone Broth for most of my recipes that call for broth/stock. It adds a ton of flavor, and if those health claims happen to be true, then it's a win-win! It's a very easy way to make broth because you don't have to babysit the pot. Set it and walk away for a few hours.
The first thing you'll need to do is start saving bones. The broth is much richer if the bones have previously been cooked or roasted (375° for 25 minutes).
Paul and Bryen know that when they are finished eating their ribs, or chicken, there will be me, the Bone Collector, coming through with a bag for them. Then I put that bag of bones in the freezer until I have enough for a batch of Instant Pot Bone Broth!
In its purest form, bone broth is just bones covered with water and cooked for several hours to extract as much of the collagen, protein, marrow, and all of that good stuff as possible. Some folks make it in their slow cooker, and they let it cook for 24 hours! If you don't have an Instant Pot, maybe that's a solution for you.
Instant Pot Bone Broth only takes 5 hours (4 to cook and 1 to naturally release the pressure, or NPR). I add more to my bone broth than just the bones. Take a look at the recipe, and have fun with it. I never have two batches turn out exactly the same!
**I keep the bone broth in mason jars in the fridge, or freeze it in storage bags. I don't can it. The Instant Pot I use doesn't can.


Instant Pot Zuppa Toscana (Sausage Potato Soup)
Instant Pot Beef Barley Vegetable Soup
Sandy's Instant Pot Beef Stew
Instant Pot Ham Hock and Bean Soup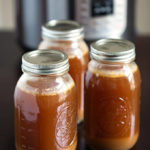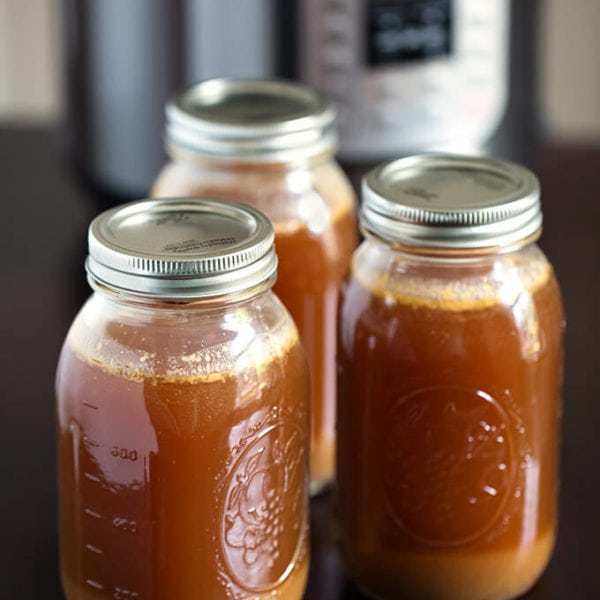 Instant Pot Bone Broth
Instant Pot Bone Broth is a rich and flavorful broth made from leftover bones. Cooked for several hours, the bones will soften and release collagen, protein, marrow, and more!

Keyword:
pressure cooker bone broth recipe
Ingredients
Bones*

(any kind, previously cooked)

Water**

(enough to just cover bones)

2

tsp

Kosher Salt

1

tsp

Black Pepper

1

Large Yellow Onion,

cut in quarters or eighths to fit in pot

5

cloves

Garlic,

smashed

2

Bay Leaves
Other Options
1-2

Tbsp

Apple Cider Vinegar***

2

Carrots,

cut in large pieces

1

Rib Celery,

cut in large pieces

Herbs,

whatever you like

2

inch

Fresh Ginger,

chopped
Instructions
Put all of the ingredients into the inner liner of your Instant Pot.

**Add just enough water to cover the bones.

Close the lid, set steam release knob to the Sealing position.

Press the Manual (or Pressure Cook) button, then the + or - button until you get to 240 minutes. That's 4 hours. If your IP only goes up to 120, just add another 120 after the first 120 minute cooking cycle ends.

After the cook cycle ends, let the IP naturally release pressure for at least 1 hour. You can let it NPR longer if you want, or very carefully do a manual pressure release after the hour.

Allow to cool, or if you can't wait, very carefully remove bones from the pot using a slotted spoon or a stainless steel spider.

Strain the remaining contents of the pot and put the bone broth into mason jars or other sealable containers. You might notice sediment on the bottom, and that's perfectly fine. If you want a clearer broth, strain again using a finer mesh or coffee filters (I never do this as I like the rich flavor the stuff has!).
Recipe Notes
*You will want to fill pot at least halfway with bones.
**Watch that you don't go over the manufacturer's recommendation for amount of liquid. I go below the max fill line. Please use caution!
***Not absolutely necessary, some say it helps break down the bones.
For this recipe I used the Instant Pot 8 quart pot, however, you can also use the Instant Pot 6 quart to make bone broth.
Calories are approximate, as it will depend on type and amount of bones and other ingredients.
RESOURCES TO MAKE pressure cooker bone broth recipe and more
We are a participant in the Amazon Services LLC Associates Program, an affiliate advertising program designed to provide a means for us to earn fees by linking to Amazon.com and affiliated sites.