The first recipe many people make in their electric pressure cookers is an Instant Pot Whole Chicken. A pressure cooker whole chicken comes out juicy and tender, and is super easy to make! Cooking a whole chicken in the Instant Pot also yields yummy broth to make rice, potatoes, or soup!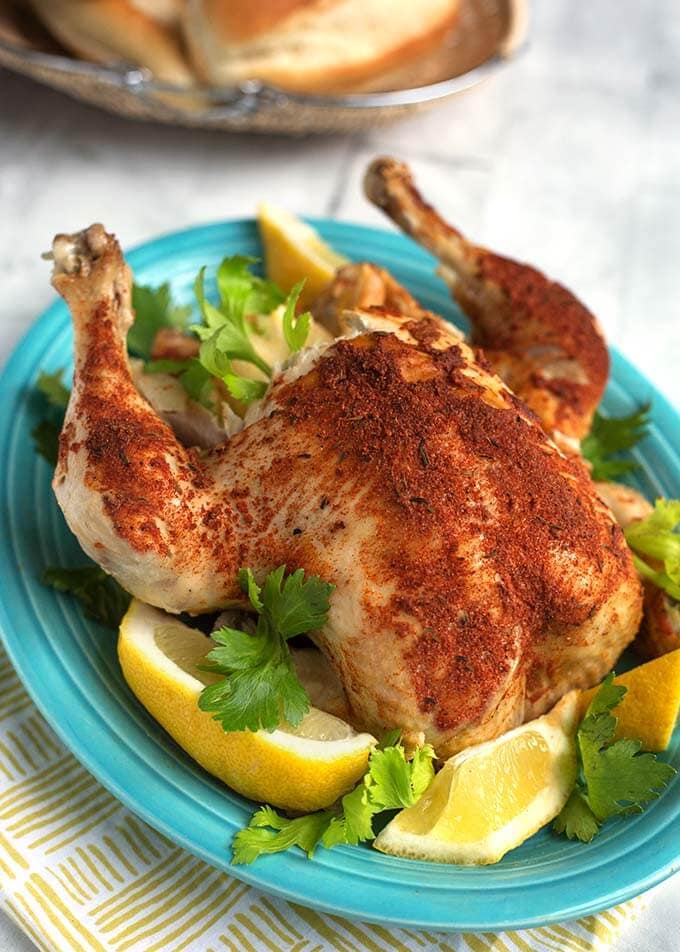 Instant Pot Whole Chicken
I like the rotisserie chickens from the grocery store. Sometimes.
I don't always have time to stop and get one, and truthfully, I have paid $7 and it was an overcooked, scrawny bird. Disappointing to say the least.
I like to have whole chickens on hand, either frozen or in the fridge, that I can cook up in an hour or less, depending on the size of the bird. I can season it the way I want, and it will never be scrawny or overcooked, because I have a formula for cooking an Instant Pot Whole Chicken!
Choosing your chicken
When you choose a whole bird for your Instant Pot Whole Chicken recipe, keep in mind the size of your pot! A 6 quart pressure cooker may hold up to a 7 lb chicken, depending on the shape.
But say you want to freeze your chicken to cook later. You want to make sure it will fit in your pot when it comes time to cook it. Here's what you can do. First, take out the bag of giblets and the little plastic thing that connects the legs (if it has one). Put the chicken in the freezer bag you will be using, and put the bagged whole chicken in your pressure cooker's inner pot.
If you can, freeze the chicken in the inner pot and it will freeze in the shape of the pot. Then remove the bagged chicken and put it back in the freezer. When you are ready to cook it, just take it out of the bag and put it into the pot. You know it will fit because you froze it in the pot. Easy!
If you don't have a freezer large enough to do this, choose smaller, 3 to 5 pound chickens at first. Then, if it looks like you can go bigger, buy a larger bird the next time. Of course, if you own an 8 quart pressure cooker, you can start with larger chickens.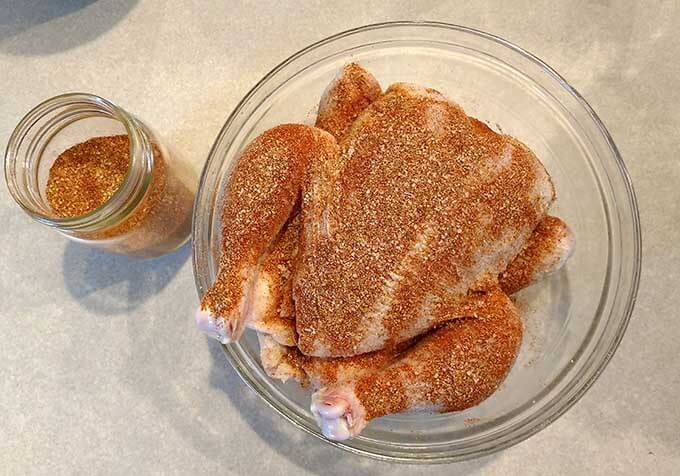 Rub the Chicken With the Rotisserie Chicken Spice Rub.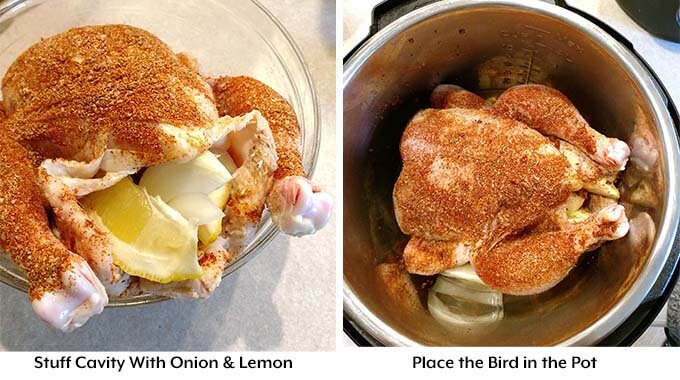 How to determine the time IT TAKEs TO COOK A WHOLE CHICKEN IN THE INSTANT POT
Cook time for your whole chicken will vary based on the size of your bird. I have always done high pressure, 6 minutes per pound, and a 15 minute Natural Release.
So for instance, a 4 lb whole chicken would be 24 minutes (6 minutes x 4 lbs = 24 minutes). Then a 15 minute Natural Release (which means you just let the pot sit, undisturbed for 15 minutes after the cook time has elapsed. Then you manually vent any remaining steam.).
If your Whole Chicken is Frozen
Same cook time! It just takes longer to get to pressure as it's like having a big ice cube in the pot. Just be sure the bag of giblets, and the plastic thing that holds the legs together are not in the chicken when you go to cook it! So if your chicken is 5 lbs it will need to cook on High pressure for 30 minutes (6 minutes x 5 lbs = 30 minutes) plus do a 15 minute Natural Pressure Release.


Instant Pot Chicken Breast
Baked Chicken Spice Rub
Rotisserie Chicken Spice Rub
Easy Instant Pot Potato Salad
Instant Pot Chicken Taco Pie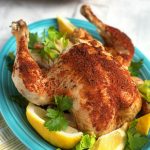 Instant Pot Whole Chicken
Instant Pot Whole Chicken. Learn how to cook a whole chicken in the Instant Pot. A pressure cooker whole chicken is easy and comes out tender and delicious!
Keyword:
whole chicken in instant pot
Ingredients
1

cup

Water

(for the pressure cooker. larger (8+ qt) pot use 2 cups)

1

Whole Chicken

(any size that will fit in your pot)

Spice Rub or Salt & Pepper
Optional
1/2

medium

Onion,

cut in wedges

1/2

large

Lemon,

cut in wedges
Instructions
Pour the cup of water into the inner cooking liner of the pressure cooker.

Stuff the cavity of the chicken loosely with the onion and lemon wedges.

Set the chicken on the trivet/rack and lower into the pot (you don't have to use the trivet, but it does make it easier to get the cooked chicken out of the pot).

Close the lid and set the vent to the Sealing position. Press the Pressure Cook/Manual button or dial, and then the + or - button or dial to select the cook time in minutes (High pressure):

6 minutes per pound, and a 15 minute Natural Release (So a 4 lb chicken will cook for 24 minutes, rest for 15 min.).


After the cooking cycle has finished, let the pot sit undisturbed for 15 minutes (15 minute natural release). Then turn the steam release knob to the Venting position to release any remaining steam/pressure.

Carefully open the lid once the pin has dropped down. Remove the chicken to a platter, or to a baking sheet if you are going to broil it to crisp up the skin.

If you are broiling it, set the broiler to 450° and set the chicken under it until the desired crispness is achieved.

Serve immediately, or let cool and store for use in recipes that call for cooked chicken meat.

Resources to make this recipe and more
We are a participant in the Amazon Services LLC Associates Program, an affiliate advertising program designed to provide a means for us to earn fees by linking to Amazon.com and affiliated sites.