I feel like shouting Eureka! I finally perfected Sandy's Instant Pot Beef Stew! This is a weeknight dinner game changer. You DO NOT need to brown the meat first. Unless you want to, which will enhance the flavor. I personally like it just fine without browning!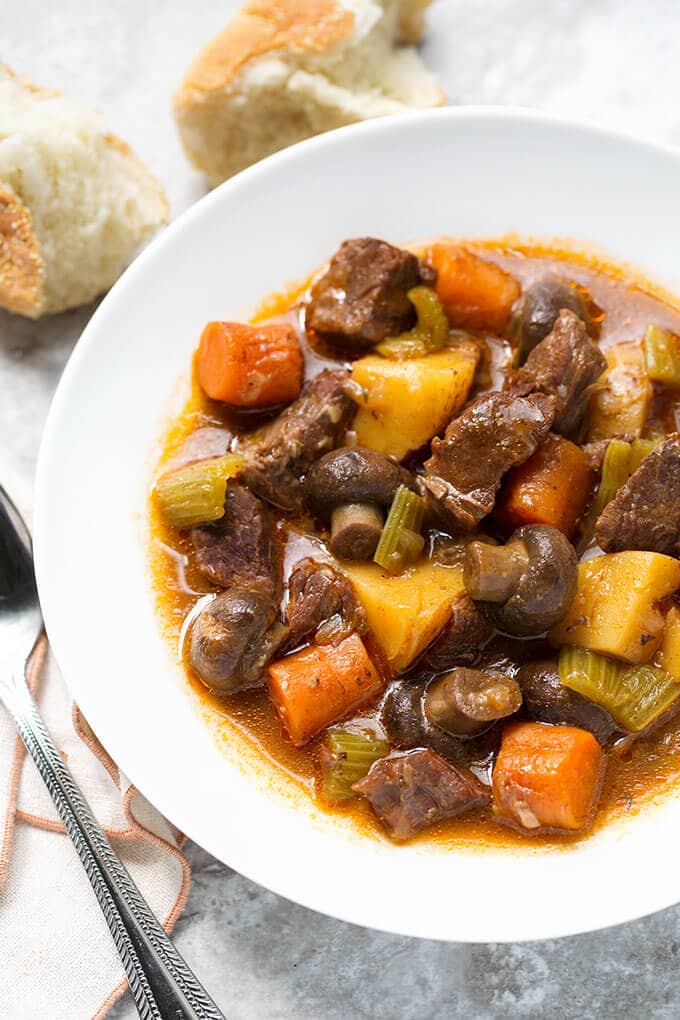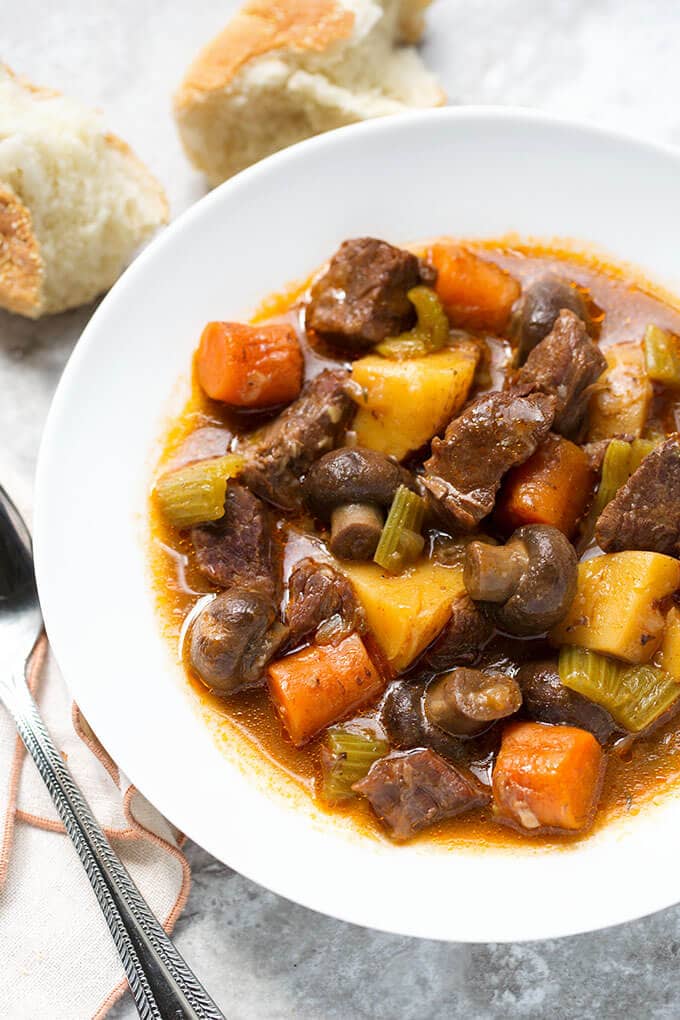 Sandy's Instant Pot Beef Stew
Ahhhh, the rains have returned to the Pacific Northwest! After our 6 week heat wave, I was so glad when rain was in the forecast. We can sleep at night with it being cooler, and our now brown lawn got a drink of water. Best of all, it was time for Beef Stew! I worked on this recipe last winter, but set it aside for the summer. I'm glad I was inspired to rework it because I like how it turned out! So does my family!
I was a little worried that no one would believe me when I told them that you do not have to brown the meat first. I mean, you can if you want, and it will be great, but you will still get a rich and delicious beef stew without doing it. It will also save you some time, which on a weeknight is awesome!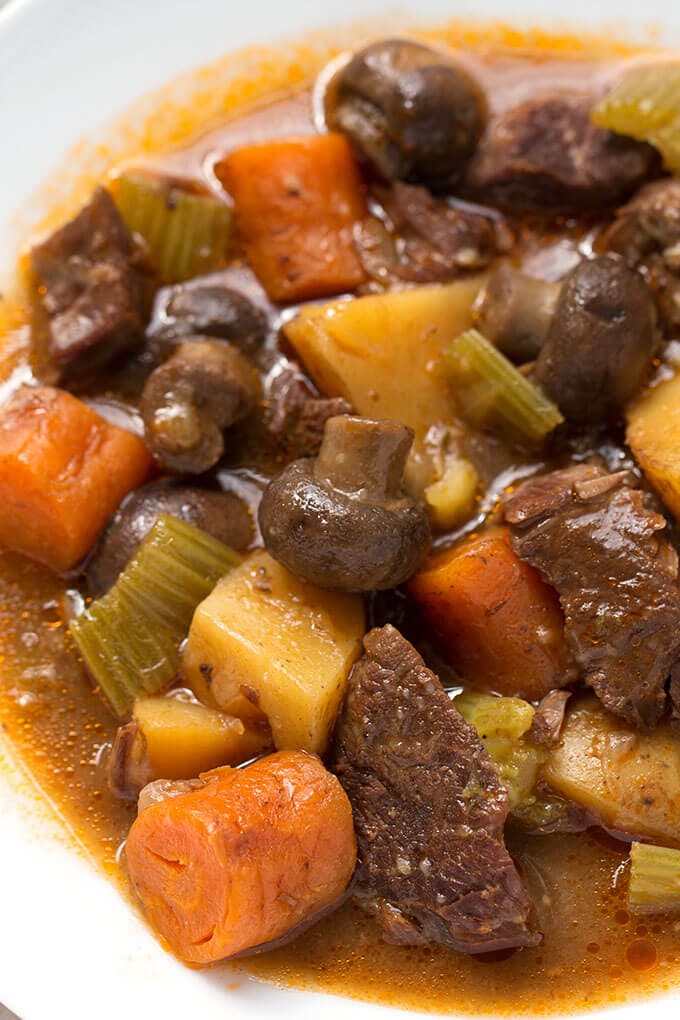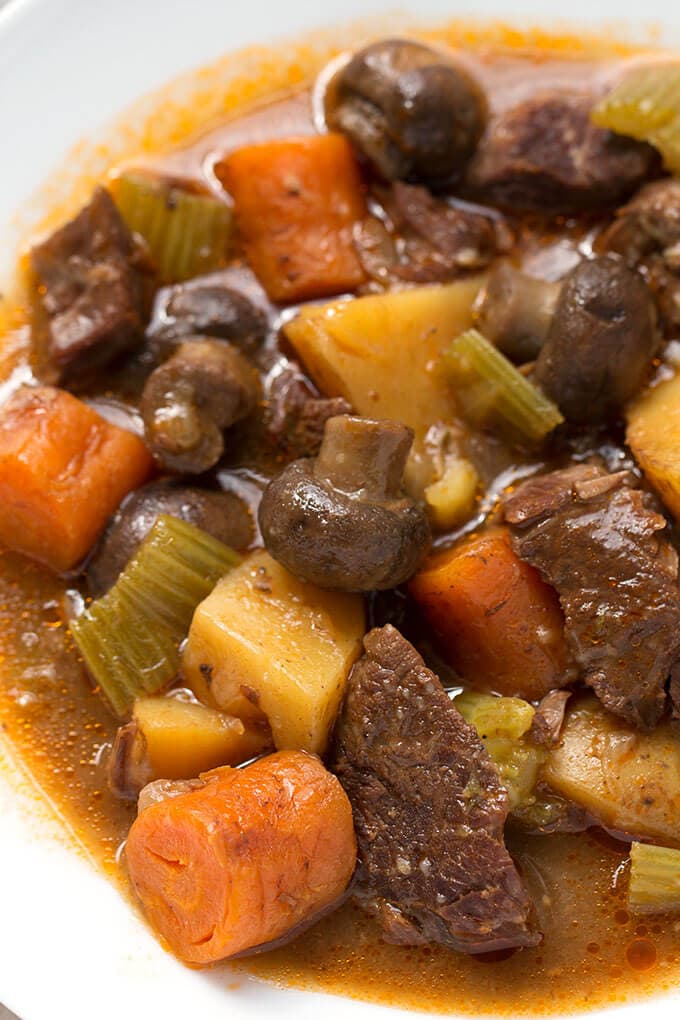 Sandy's Instant Pot Beef Stew is one of those recipes that you will go back to because it is so easy & tasty. Even if you still have a heat wave where you live, making this beef stew in your Instant Pot will be not only fast, but it won't heat up your kitchen! Winner winner, beef stew dinner! Sorry, I am really excited about this recipe. I can't wait for you to try it. Total comfort food.
You Might Also Like
Instant Pot Turkey Meatloaf
Instant Pot Chicken and Noodles
Instant Pot Beef Barley Vegetable Soup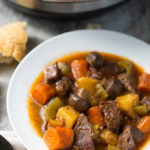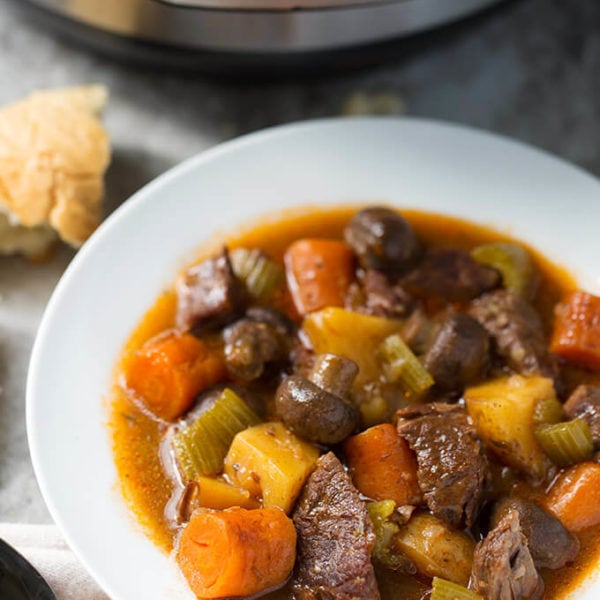 Sandy's Instant Pot Beef Stew
Sandy's Instant Pot Beef Stew is rich, delicious, and easy! No browning of the meat required!
Course:
Dinner, Main Course
Ingredients
2

cups

Beef or Chicken Broth,

low sodium

1/2

cup

Red Wine,

whatever you like to drink (or more broth)

3

Tbsp

Tomato Paste

2

Tbsp

Red Wine Vinegar

2

Tbsp

Worcestershire Sauce

2 1/2

lbs

Chuck Roast,

cut in 1 1/2 inch cubes

1

Large Onion,

cut in 1 inch pieces

3

Cloves Garlic,

minced

2

Ribs Celery,

chopped in 1 inch pieces

4

Carrots,

cut in 1 inch pieces

8oz

Small Crimini Mushrooms

4

Potatoes,

cut in 1 1/2 inch chunks

3

Sprigs Fresh Thyme

1

Sprig Fresh Rosemary

1

Bay Leaf

1 1/2

tsp

Kosher Salt

1

tsp

Sugar
To Thicken After Cooking
3

Tbsp

Flour

3

Tbsps

Butter,

softened
Instructions
Turn on the pot to the Sauté function.

Make sure the stainless inner liner is in the base and add the broth, wine, tomato paste, vinegar, and Worcestershire sauce. Stir well. Let this mixture heat to a low simmer.

Add all other ingredients, except for the thickener, to the pot. Stir. *See note about browning the meat.

Put the lid on and set the steam release knob to Sealing position.

Cancel the Sauté function.

Press the Meat/Stew button (should be high pressure for 35 minutes) or the Pressure Cook (Manual) button or dial, and the + or - (or dial) to choose 35 minutes.

This is a full pot, and may take several minutes to come to pressure.

After cooking cycle ends, let the pressure cooker Naturally Release the steam for 15 to 20 minutes.

Manually release the remaining pressure. Do this in short bursts as a full release at this point will have the hot stew spewing out of the steam release knob and all over your kitchen (don't ask me how I know this!).

Once all steam/pressure is out of the pot and the pin in the lid drops, open the lid carefully, facing it away from you.

Use a slotted spoon to transfer Stew, but not the liquid, to a large serving bowl.

Press the Sauté button on the pot.

Mix the flour and butter together for thickening. You might need to microwave the butter for 5 seconds to soften it.

When the liquid starts to simmer, whisk in the thickener and cook a couple of minutes, stirring constantly, until it starts to thicken.

Serve immediately.
Recipe Notes
*If you want to brown the meat first, just toss the beef cubes in flour, set the pot to Sauté, add some vegetable oil, and brown all sides of the meat before continuing.
Resources to Make This Recipe and More
We are a participant in the Amazon Services LLC Associates Program, an affiliate advertising program designed to provide a means for us to earn fees by linking to Amazon.com and affiliated sites.
My New Favorite 6 quart Instant Pot:
Instant Pot Ultra 6 Qt 10-in-1 Multi-Use Programmable Pressure Cooker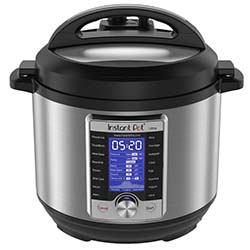 This is the 8 Quart Instant Pot Electric Pressure Cooker.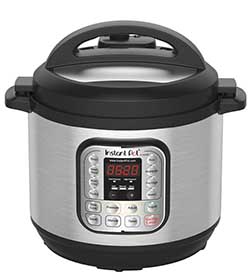 This is the Duo Plus 6 Quart Instant Pot pressure cooker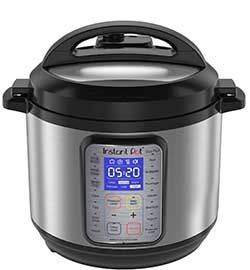 I'm having a blast cooking in this little cutie!
Check out my "Mini Series" of 3 quart recipes!
Instant Pot Mini 3 quart electric pressure cooker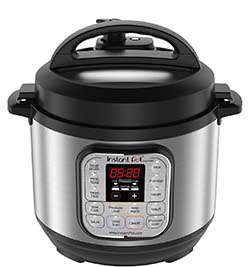 These ekovana Stackable Stainless Steamer Insert Pans allow you to cook more than one type of food in one pot! I use them together, stacked, to make more than one thing at a time. I also use them separately for making rice, fish, cornbread, scalloped potatoes, stuffing, and so much more! One of my favorite Instant Pot accessories!
ekovana Stackable Stainless Steamer Insert Pans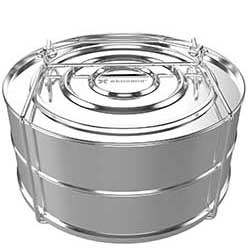 I cannot tell you how happy I am with these measuring spoons! They FIT IN MY SPICE JARS! And, they are high quality stainless. I was pleasantly surprised at how heavy duty they are. The set even has a 3/4 teaspoon size! They are flat on the bottom (the rectangle shape, not sure about the oval), so if I need to set one on the counter, the contents won't spill out. Did I mention they have a lifetime warranty?! I was not paid or anything to say this, I really love these!
Spring Chef Heavy Duty Stainless Steel Metal Measuring Spoons for Dry or Liquid, Fits in Spice Jar, Set of 6