Making delicious Instant Pot Orange Chicken is a great way to have a takeout meal at home on busy weeknights. This easy dinner recipe is full of flavor and quick to make. With tender chicken and flavorful sauce ingredients, this is a dish that the whole family will love. Even your picky eaters will enjoy this tasty Instant Pot dinner idea.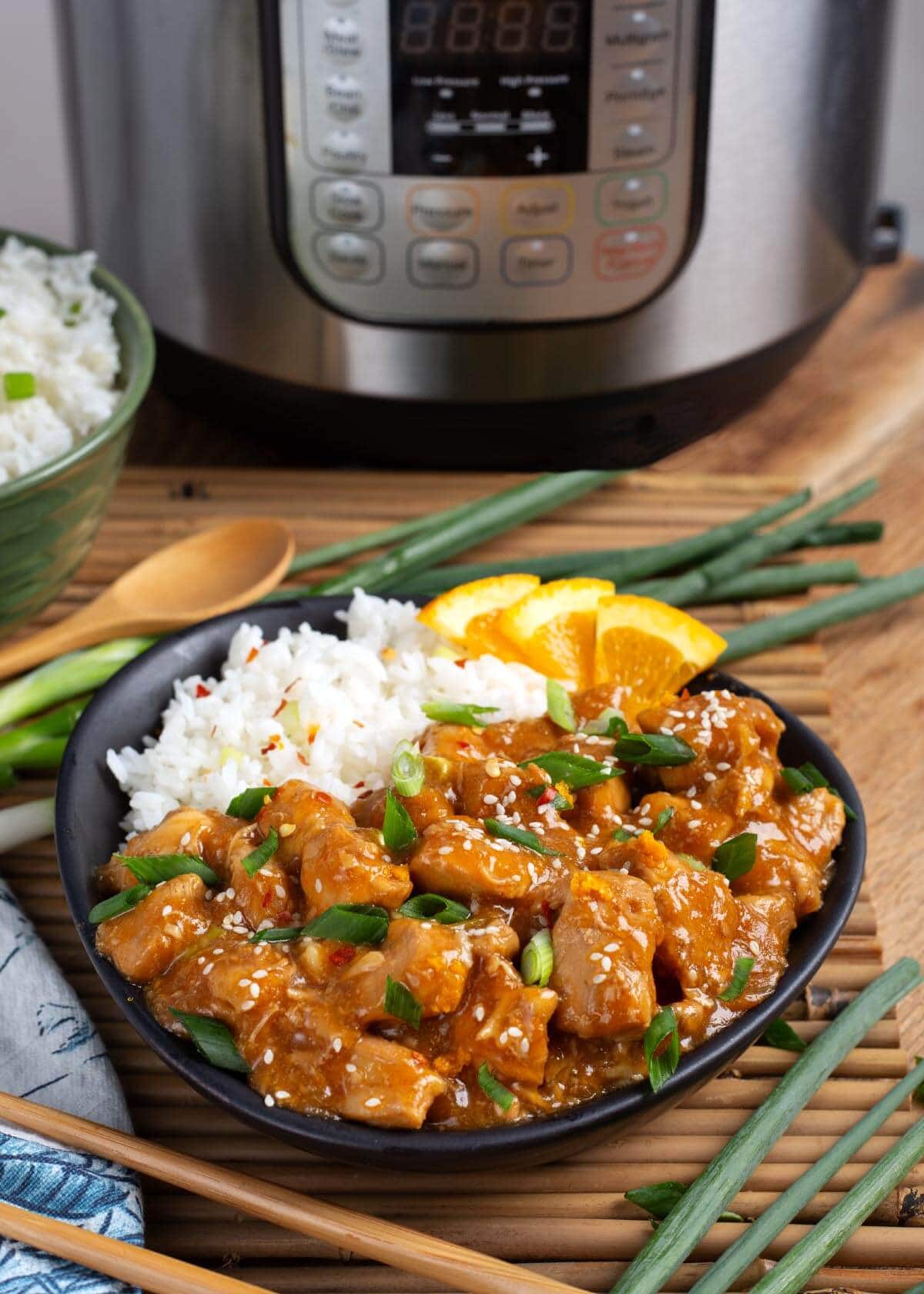 This post contains Affiliate links. As an Amazon Associate I earn from qualifying purchases.
Orange Chicken in the Instant Pot
Pressure Cooker Orange Chicken is a very popular recipe. People love the orange flavored tangy sauce tender bites of chicken, served with hot cooked rice. This is a great recipe for a weeknight dinner.
If you like Asian flavors, try these Instant Pot recipes: Instant Pot Cashew Chicken, Instant Pot Mongolian Beef, and Instant Pot Lo Mein, Instant Pot Garlic Noodles.
Be sure to check our other Instant Pot Recipes, there is everything from main dishes, to desserts!
This Orange Chicken recipe is made entirely in your electric pressure cooker. From browning the tender pieces of chicken, to pressure cooking it with the sauce.
You can even make rice at the same time if you have the appropriate rack and pan (more about that further down the page).
This easy instant pot orange chicken recipe can be made in the Instant Pot, stovetop, or slow cooker.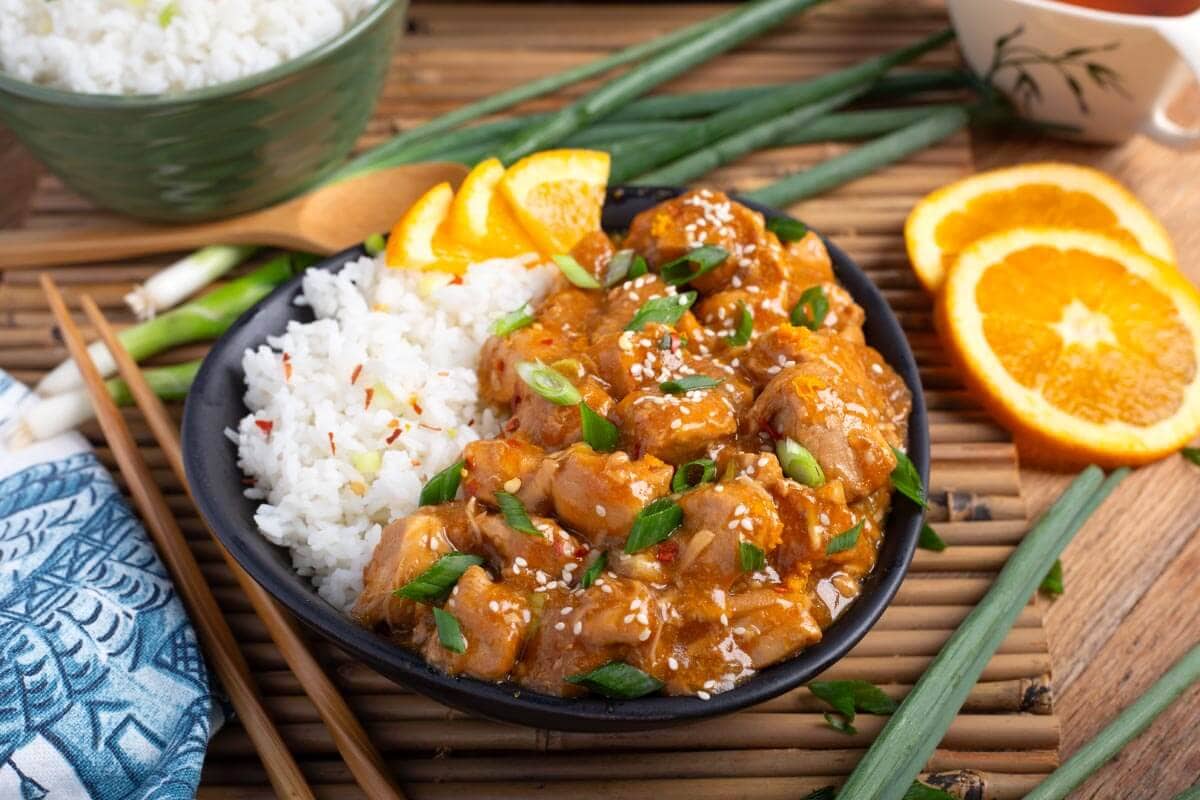 Is Instant Pot Orange Chicken Spicy?
Not vey much as written. if you don't like spicy food, just leave out the sriracha, and you will be fine.
Is the Chicken Breaded?
No it isn't. This recipe is like the orange flavored version of Bourbon Chicken where there is no breading. A great alternative for shaving off some calories and reducing the steps to make it!
Can I Use Frozen Chicken?
Yes, you can make this recipe using frozen chicken. Try and use smaller, boneless cuts. You won't be able to sauté the meat, so this will become a "dump and start" recipe.
Add the sauce ingredients to the pot and stir well.
Then add the frozen chicken and pressure cook on High pressure for about 7 to 10 minutes, depending on the size of the chicken pieces. You'll still do the 10 minute natural release.
If the chicken is not fully cooked, just turn on the sauté setting and cook a few minutes longer. Then thicken the sauce.
How Can I Cook Rice at the Same Time?
If you have a tall legged trivet/rack, and a stainless pan that will fit comfortably in your Instapot. We call this the PIP Method, which stands for Pot-in-Pot method.


Please see the Notes at the bottom of the recipe card for instructions.
Which Instant Pot is Best to Buy?
There are so many models and brands out there now, it can be confusing. I'll make it simple for you.
All you need is an Instapot that can brown food and also pressure cook it. All of the other buttons and settings are variations, or presets, of those two functions. You don't need anything complicated to make these recipes.
I trust the original brand of Instant Pot®. The best model, in my expert opinion, is this one, the Instant Pot DUO 7-in-1. It has all you need, and easy to use.
Accessories are very nice to have, but you don't need to go nuts. Here I explain and link to my most used: Instant Pot Gift Guide
Ingredients for Instant Pot Orange Chicken
Chicken - You can use skinless boneless chicken thighs, boneless skinless chicken breasts, or chicken tenders (chicken tenderloin), cut in bite size pieces.
Cooking Oil - A neutral oil works best with this recipe when browning the chicken pieces. Use Avocado oil, canola oil or vegetable oil. If all you have is olive oil, go ahead and use it.
Orange Zest - The zest of one orange is all you'll need. Be sure to zest it before slicing and juicing the orange.
Fresh Orange Juice - Needed to make the sticky orange sauce, real orange juice tastes best for fresh orange flavors. You will need 1 cup of orange juice, so you may need to juice more than one orange.
Soy Sauce - Use regular soy sauce, low sodium soy sauce, or use coconut aminos.
Rice Wine Vinegar - Use any rice vinegar, dry white wine, or even apple cider vinegar (in a pinch).
Fresh Ginger - Use fresh, peeled ginger that you grate. You can also use the ginger paste in the tube from the grocery store.
Garlic - This looks like a lot of garlic, but it is competing with other strong flavors. It adds a perfect savory flavor.
Brown Sugar - Adds a little sweetness to balance out the savory flavors (very common in Asian recipes).
Tomato Ketchup - This adds umami flavor and a little sweetness so you use less sugar. You can also tomato sauce, or use bbq sauce.
Sriracha - To add a little heat to the delicious sauce. Use as much as you like.
Cornstarch Slurry - To thicken the sauce after pressure cooking.
Green Onions - Sprinkle them on top of the chicken along with sesame seeds before serving.
Recipe Tips
Use fresh oranges if possible as the orange zest is important to get that good orange flavor. Try orange marmalade in a pinch.
Slow Cooker Version: Make this easy orange chicken recipe in the slow cooker (please see the recipe card for instructions).
Stove Top Version: You can make this easy chicken dinner on the stove (please see the recipe card for instructions).
Sugar: Use less if you want, or omit it altogether (it will change the flavor).
Use more cornstarch slurry if sauce is too thin. It thickens as it cools, so not too much.
Recipe Variations
• Meat Variations: Try this recipe with tofu, pork, beef, or turkey.
• Spice: Use more sriracha hot sauce, red pepper flakes, or cayenne pepper.
• Add Vegetables: Add some veggies. Try adding some broccoli, mushrooms, green beans, carrots, bok choy or bell peppers.
How to Make The Best Orange Chicken in the Instant Pot
This easy recipe is ready in about 30 minutes. For detailed ingredient measurements, see the recipe card below.
Gather all of your ingredients together first. Then chop and measure before you start cooking. This helps the process go so much easier and faster.


• Cook the Chicken in the Pot: Turn the Instant Pot Saute function on. When the pot is hot, add the oil. Then add the chicken to the pot and let it cook about 2-3 minutes without disturbing it. Then stir or turn thr pieces over, and cook a little longer. No need to cook fully as that will happen later.
NOTE: If you want more browned or seared chicken, use a skillet on the stove for this step as the IP won't brown well unless you cook in small batches. Just don't cook it all the way so you can avoid dry chicken.
• Add the orange juice and scrape the bottom of the pot with your wooden spoon or spatula. Get up any browned bits (deglaze). This is important to avoid the "Burn Notice" which is a safety setting that will prevent the pot from coming to pressure.
Add the remaining sauce ingredients to the pot:


• Pour in the soy sauce and rice wine vinegar.

• Add the ginger and garlic.

• Then add the orange zest and the brown sugar.

• Lastly, add the ketchup and sriracha.

• Stir well. Add your tall legged trivet/rack (to the bottom of the instant pot) and pan of uncooked rice and water on top of the trivet (see recipe card for rice instructions).
• Then close the lid and shut the steam release valve. Press the Pressure Cook (or Manual) button, and use the +/- button to select a cook time of 4 minutes - High Pressure.
Natural pressure release: When the cooking time has ended, let the pot sit undisturbed for 10 minutes (10 minute natural release). Then switch the valve to the venting position and quick release the remaining pressure (quick pressure release).

• Open the lid and very carefully remove the rice pan and the rack, if you made rice.

• To a small bowl, add the corn starch and water and gently whisk until a smooth slurry is made.
• Pour the slurry into the pot. Cook on the Sauté function for 1-2 minutes, stirring gently

• Simmer until the sauce thickens.
• Add green onions, if desired.

Enjoy it warm with some rice. Garnish with sesame seeds and sliced green onions.
How to Serve
Serve Instant Pot Orange Chicken with any type of rice you like. Try serving it with jasmine rice, basmati rice, white rice, brown rice, fried rice, or even cauliflower rice.
Rice Alternatives: Try serving Instant Pot Orange Chicken over tofu or noodles instead of rice. Try udon, soba noodles, or rice noodles.
Serve steamed or stir-fried veggies or salad as side dishes.
How to Store Leftover Orange Chicken
• Refrigerate: Let the food cool. Then place in an airtight container and keep in the fridge for up to 3-4 days.
• Freeze: Place the cooled leftovers into a freezer-safe container or freezer baggie. Freeze for up to 3 months.
• Reheat: Thaw in the fridge overnight if frozen (or defrost setting in the microwave). Reheat in a pan on the stovetop over medium-low heat.
Is this a Panda Express copy cat recipe? To be honest I don't know as I have never had the pleasure of eating there! Next time I see one I will try them!


More Instant Pot Chicken Recipes:
Instant Pot Chicken Pot Pie Soup
Instant Pot Chicken Noodle Soup
Instant Pot Chicken And Noodles Story
Instant Pot Whole Chicken

If you make this delicious Instapot Orange Chicken recipe, please leave a comment below with a star rating! Thanks!
Instant Pot Orange Chicken
Tender chicken pieces coated in a deliciously sweet and citrusy orange sauce made with a few simple ingredients and is super delicious over rice.
Keyword:
instant pot chicken
Ingredients
1

Tablespoon

Cooking Oil

(canola, avocado, vegetable)

1

lb

Boneless-Skinless Chicken Breast,

cut in bite-sized pieces

1

cup

Orange Juice,

fresh squeezed

¼

cup

Soy Sauce

1 ½

Tablespoons

Rice Vinegar

1

Tablespoon

Fresh Ginger,

grated

5

Garlic Cloves,

pressed or finely minced

1

Tablespoon

Orange Zest

¼

cup

Brown Sugar

3

Tablespoons

Tomato ketchup

1

teaspoon

Sriracha
Thickener
2

Tablespoons

Cornstarch

2

Tablespoons

Water
Garnishes
Green Onions

Sesame Seeds
Instructions
Turn on the Sauté setting. When the pot is hot, add the oil.

Add the chicken pieces and cook until the chicken is mostly done, but not fully cooked.

Add the orange juice, soy sauce, rice vinegar, ginger, garlic, orange zest brown sugar, tomato ketchup, and sriracha. Stir well.

If Making Rice: Add rack and pan of rice / water to the pot (see notes).

Close the lid and turn the steam release valve to the Sealing position (if not self-sealing).

Press the Pressure Cook/Manual button or dial, then the +/- button or dial to select 4 minutes. High Pressure. The pot will take a few minutes to come to pressure.

When the cook cycle has finished, turn off the pot and let it sit undisturbed for 10 minutes (10 minute natural release). Then turn the steam release valve to the Venting position to release any remaining steam/pressure.

Open the lid and press the Cancel button.

If Making Rice: Remove the pan of rice and the rack, using a pot holder, very carefully as it is very hot. Set aside.

In a bowl whisk together cornstarch and water until completely dissolved to make a smooth cornstarch slurry.

Once the sauce starts to bubble, slowly pour in the cornstarch slurry while stirring the sauce.

Allow to bubble and cook for 1-2 minutes or until the sauce thickens.

Select the Cancel button to turn off the pot.

Garnish with spring onions and sesame seeds.
Recipe Notes
Making Rice at the Same Time
You need a tall-legged trivet/rack (about 3" tall), and a stainless pan that is about 6" in diameter and no more than 3" high.
Use equal amounts of rinsed (white) rice and water. Season as desired. I use 1-2 cups of water and 1-2 cups of rinsed jasmine rice for mine.
Set the trivet in the pot, right into your chicken mixture.
Add rice and water to the pan. Stir.
Set the pan on top of the trivet. Don't cover it.
Place the lid on the pot and carry on pressure cooking.
When you open the lid after cooking, the pan of cooked rice can be removed with a pot holder. Be very careful as it and the pot are very hot.
Substitute
Use boneless skinless chicken thighs in place of breasts.
Storage
Store leftovers in an airtight container for 3-4 days in the refrigerator or up to 3 months in the freezer.
Stovetop Directions
To make this recipe on the stovetop:
1) Brown the chicken pieces in a pan over medium-high heat. 2) Stir in all of the sauce ingredients and cook for a minute. 3) Add the cornstarch slurry and simmer until the sauce thickens and the chicken is done. 4) Serve with garnishes over rice.
Slow Cooker Instructions
To make this recipe in the slow cooker:
1) Brown the chicken in a skillet and add to the crockpot. 2) Combine the sauce ingredients and pour over the chicken. 3) Cook on Low for 4-5 hours or on High for 2-3 hours. 4) 30 minutes before serving, stir in the cornstarch slurry and cover. 5) When thickened, serve.