Instant Pot Chili with some corn bread is a family favorite meal. That's some comfort food right there, as Grandpa would have said! Once you try my Instant Pot Chili, I think you'll agree! When you make pressure cooker chili, it makes the flavors more rich, for lack of a better word. It cooks in less time than on the stovetop, and you can set the Instant Pot and go do other things while it cooks.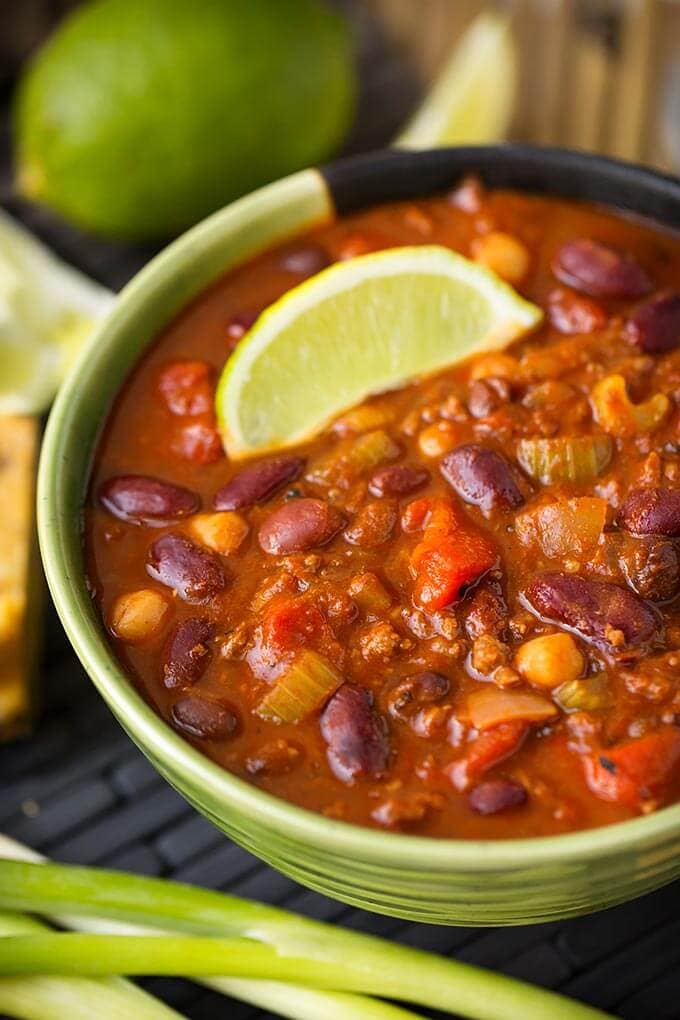 Originally Published on 10/27/17
Instant Pot Chili
Chili is a dish I make often in our house. I'm known for it in our circle of friends and family. This chili has been to almost every party and gathering we've had in the past 15 years!
This is a recipe that I make on the stovetop, and it recently occurred to me that I had never tried converting it to an Instant Pot Chili. I don't know why, I guess I revert to autopilot when I make this recipe and drag out the big cast iron pot! Well, I have to say, my chili made in the Instant Pot is amazing! I'm so happy I converted it. Now I'm sharing it with you!
Usually, I make this chili recipe with 93% lean ground turkey, and sometimes with 90% to 93% lean ground beef. This chili is delicious with either meat.
It's probably good without meat, too, though I have never tried that. The guys would picket the kitchen!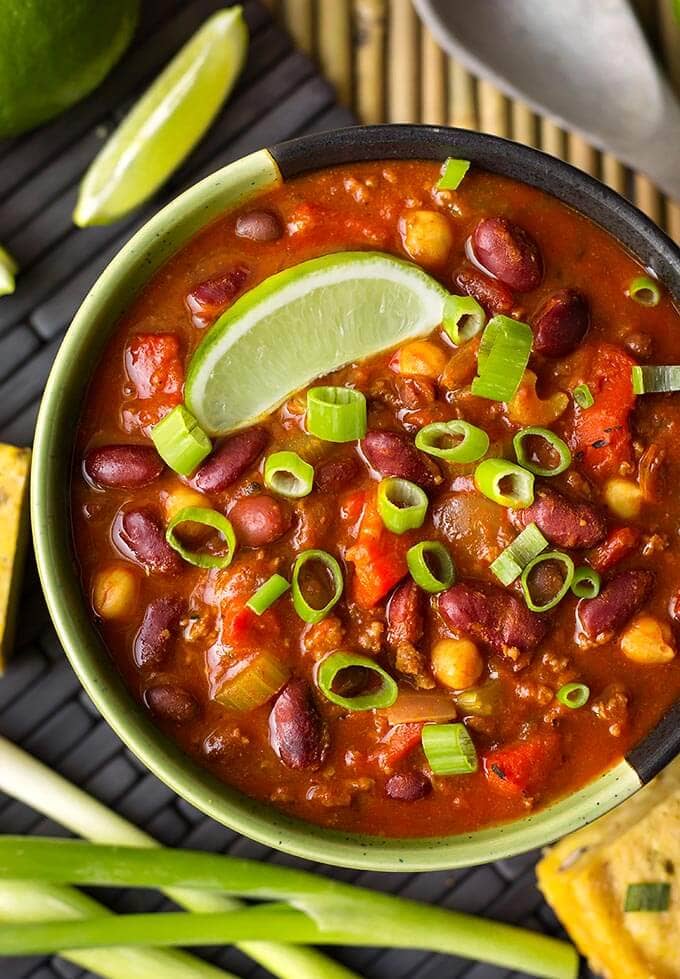 I find that using a trio of beans enhances the overall enjoyment of the pressure cooker chili for me. I started doing this with my baked beans, and we all really liked the variety, so I started doing this with my chili recipe, too!
My chosen trio of beans are black, red kidney, and garbanzo. I like pinto beans, and cook with them a lot, but I just thought they were a bit too strong for this chili. Personal preference.
You can add them and see what you think, if pintos are one of your favorite beans, or that's what you happen to have.
So get ready for some comfort food in the form of Instant Pot Chili! Serve this up on Game Day and feed a crowd! Bring this to your next pot luck and you will be asked for the recipe!
You Might Also Like
Instant Pot Drunken Beans (Frijoles Borrachos)
Instant Pot Zuppa Toscana (Sausage Potato Soup)
Instant Pot Beef Barley Vegetable Soup
Sandy's Instant Pot Beef Stew
Instant Pot Ham Hock and Bean Soup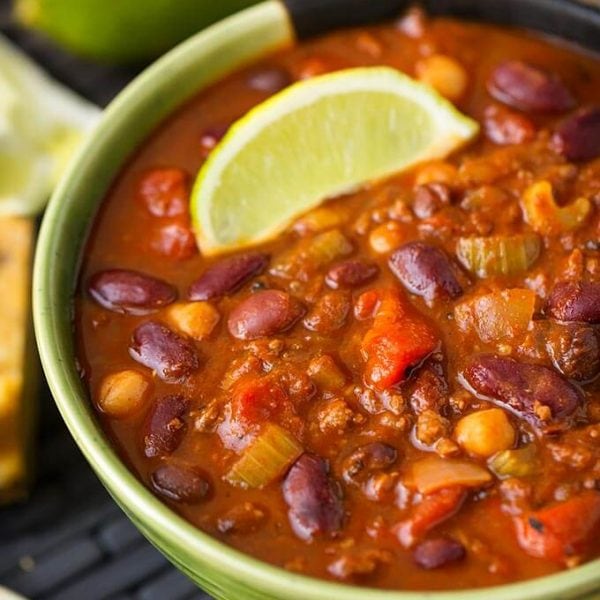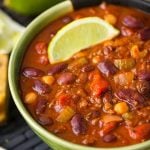 Instant Pot Chili
My original recipe for my famous chili adapted for the Instant Pot electric pressure cooker. This is a thick, delicious chili. I'm known for it! I hope you enjoy it!
Cuisine:
American, Mexican
Keyword:
pressure cooker chili recipe
Ingredients
2

lbs

Lean Ground Beef

(or 93% Lean Ground Turkey. Use a little olive oil to brown the turkey)

1

Bay Leaf

1

large

Onion,

chopped

1

cup

Diced Celery,

5

cloves

Garlic,

minced or pressed

2

tsp

Mexican Oregano

(or regular oregano)

1/4

tsp

Black Pepper

1 1/4

tsp

Kosher Salt

(or 1 tsp table salt) or to taste

2

tsp

Smoked Paprika,

optional

2

Tbsp

Ground Cumin

3

Tbsp

Chili Powder,

mild

1/4

tsp

Chipotle Chili Powder

(this adds the heat, and some extra flavor. Use more for a spicier chili) optional

2

cups

Low Sodium Chicken Broth or Water

(or LS beef broth. I like the flavor of chicken).

(1)

7 oz can

Diced Green Chilis

(with juice) optional

1

cup

Roasted Red Bell Peppers,

(chopped) optional

(2)

15.25 oz cans

Kidney Beans,

rinsed and drained

(1)

15 oz can

Black Beans,

rinsed and drained

(1)

15.5 oz can

Garbanzo Beans,

rinsed and drained

(2)

14.5 oz cans

Diced Tomatoes

(undrained)

(2)

6 oz cans

Tomato Paste
Instructions
Set the Instant Pot to the Sauté setting. When the display reads "Hot" add the meat. Cook, stirring occasionally, until almost done (if you use 93% lean or higher, you won't need to drain the fat. You'll need a little to cook the onions).

If you use ground turkey, you will need a little oil.

Add the bay leaf, onion, celery, garlic, and oregano. Cook for about 5 minutes, stirring occasionally, until onion starts to turn translucent.

Add salt, pepper, smoked paprika, cumin, chili powder, and chipotle chili powder. Stir well.

Add the broth/water. Stir well.

Cancel/turn off the Sauté setting.
From this point on, layer the remaining ingredients and Do Not Stir (to avoid the BURN Error)
Add the green chiles and roasted red pepper, if using. Do not stir.

Add all of the rinsed & drained beans. Do not stir.

Add the diced tomatoes. Do not stir.

Add the tomato paste. Do not stir.

Place the lid on the pressure cooker and lock it into place. Set the steam release knob to Sealing (if your model is not self-sealing).

Press the Pressure Cook (or Manual) button and then the + or - button to choose 5 minutes. High Pressure.

Stay by the pot until it comes to pressure. I wanted to make this as close to my original recipe as possible, which is a thick chili. If the time starts to count down and the pot has NOT come to pressure (the pin in the lid is still down), open the pot, add in 1/2 cup of water, and reset the lid and cook time. You shouldn't have to as I make it this way and it always comes to pressure, but just in case. It will take several minutes to come to pressure, but after it does, the time will appear on the display and start counting down.***

When the cook cycle is finished, let the pot sit and naturally release pressure for 20 minutes minimum. This is a big full pot, so it will take time.

Manually release the remaining pressure by turning the steam release knob to the Venting position. Do this in short bursts, releasing the steam gradually, until you can be sure that none of the sauce will spew out with the steam. Be careful to keep the hot steam from burning you. Maybe use a spoon handle to move the knob, or wear silicone oven mitts.

Carefully stir the chili and then taste it. Adjust salt and/or seasonings as desired. Serve with your favorite chili fixings and maybe some some cornbread!
Recipe Notes
• I hear from people who have trouble getting a thicker pot of food, such as this chili, to pressure. They get the dreaded BURN message, and it never comes to pressure. ***Once the pin pops up it is at pressure, and the time will start to count down after a minute or so. At that point I always feel like I'm home free and nothing will burn! I always hang around my pot while cooking a thicker dish, just in case. 
• The layering technique, and not stirring, helps keep the tomatoes from touching the bottom of the pot and burning. Tomatoes have a lot of natural sugar in them, so they burn easily.
• Also, by not stirring, the mixture doesn't get too thick. You need thin liquid to create the steam that builds the pressure.
RESOURCES TO MAKE This Recipe and More
We are a participant in the Amazon Services LLC Associates Program, an affiliate advertising program designed to provide a means for us to earn fees by linking to Amazon.com and affiliated sites.