Instant Pot Zuppa Toscana (Sausage Potato Soup) is hearty and full of amazing flavor. This Olive Garden copycat soup is an all-time family favorite! Pressure cooker Zuppa Toscana is a very delicious, awesome soup to make in your Instant Pot!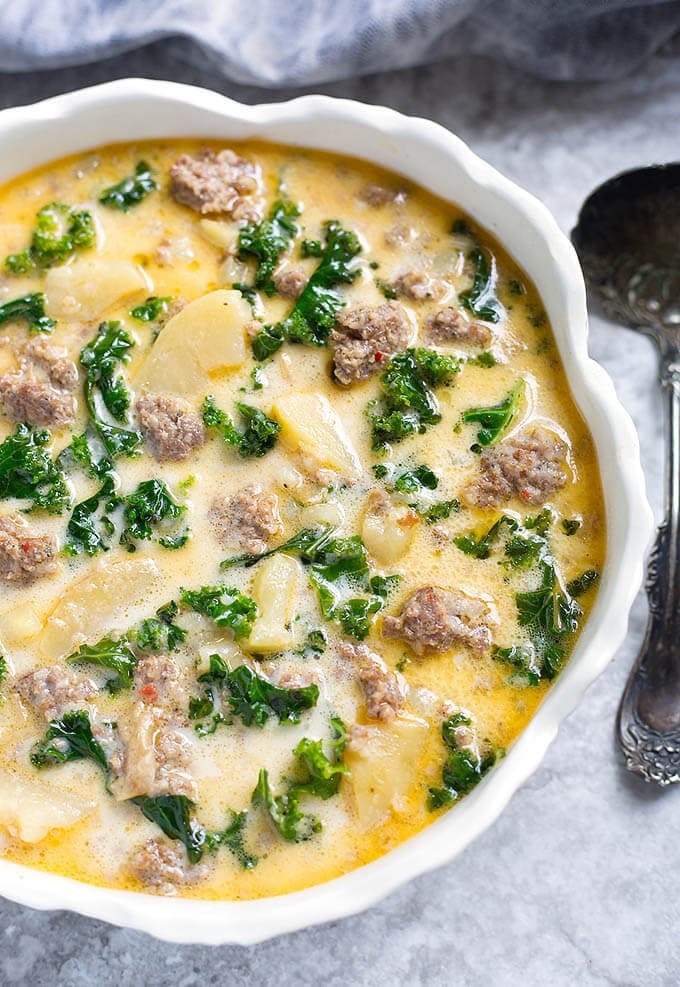 A little spicy, creamy, and hearty, this Instant Pot Zuppa Toscana is just fabulous!
Originally published 9/8/2017
Instant Pot Zuppa Toscana (Sausage Potato Soup)
If you are looking for a super delicious soup to make in your Instant Pot®, you have found it!
There is a reason that so many cooks have made a copycat recipe of this yummy Olive Garden Sausage Potato Soup recipe. It just hits all the right notes.
I get compliments EVERY time I make this pressure cooker Zuppa Toscana recipe, even from my picky eaters.
About the Meat in Zuppa Toscana
My go-to is a flavorful bulk Italian sausage (or Jimmy Dean, etc.). I buy 1 pound of hot, and 1 pound of mild and use both. This gives enough spice and flavor, but not too spicy. Use all hot or all mild if you like.
Another way incredible flavor is added to this Instant Pot soup is with bacon. Smoky bacon. Just a few slices of a good smoky bacon take this already amazing soup right over the top and into the clouds!
I highly recommend it. I mean, bacon. How bad can that be? Either way you make it, you will end up with a rich, hearty, and very satisfying, rustic Italian inspired Instant Pot Zuppa Toscana (Sausage Potato Soup)!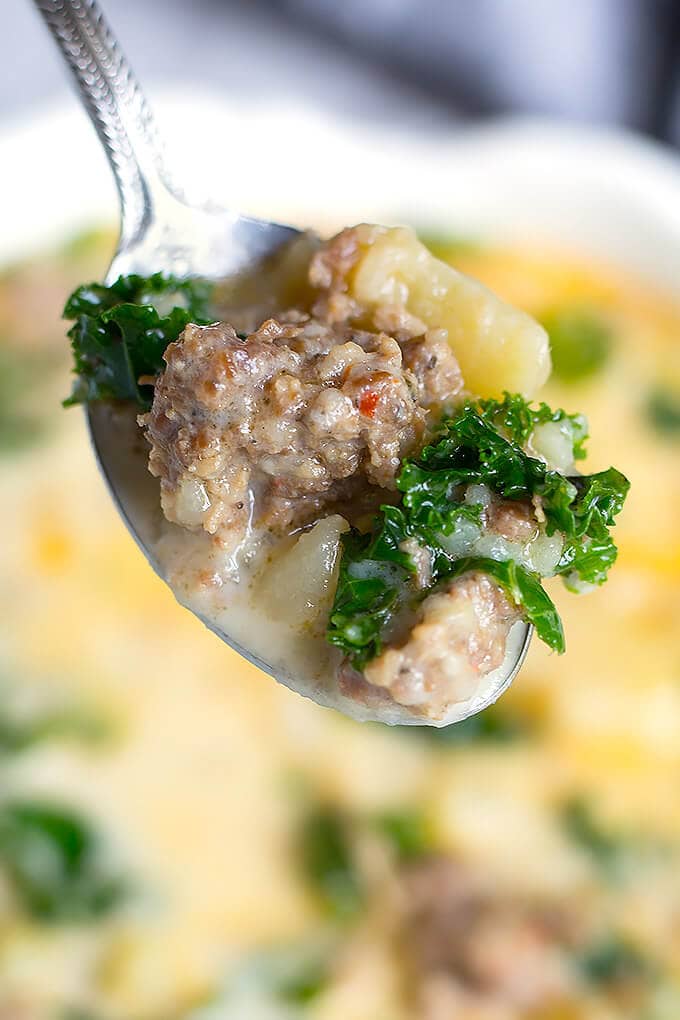 The Greens to Use for Zuppa Toscana
The usual greens to add to Zuppa Toscana is kale. It is hearty and wilts just enough in the hot soup.
You can vary from the usual way of making Instant Pot Zuppa Toscana by using spinach instead of kale.
Use either fresh baby spinach, or frozen chopped spinach (the kind in the box) thawed, and add it after cooking, just before adding the cream.
Both versions are wonderful!
Can I Make This Zuppa Toscana Non-Dairy?
Yes you can! Substitute your favorite plant-based milk, such as unsweetened coconut milk or almond milk, etc. Since you add it after cooking, the flavor stays intact.
Can I Freeze Instant Pot Zuppa Toscana?
Yes! I like to freeze it in portion sizes in a freezer baggie or air-tight container.
Pro-Tip: To reheat, be sure to thaw the soup first, and reheat slowly.


Instant Pot Pasta E Fagioli (pasta and bean soup)
Instant Pot Beef Barley Vegetable Soup
Instant Pot Ham Hock and Bean Soup
Instant Pot Turkey Soup
If you make this pressure cooker Zuppa Toscana Olive Garden Copycat soup recipe, please let me know! Just leave a comment with a star rating. Thank you!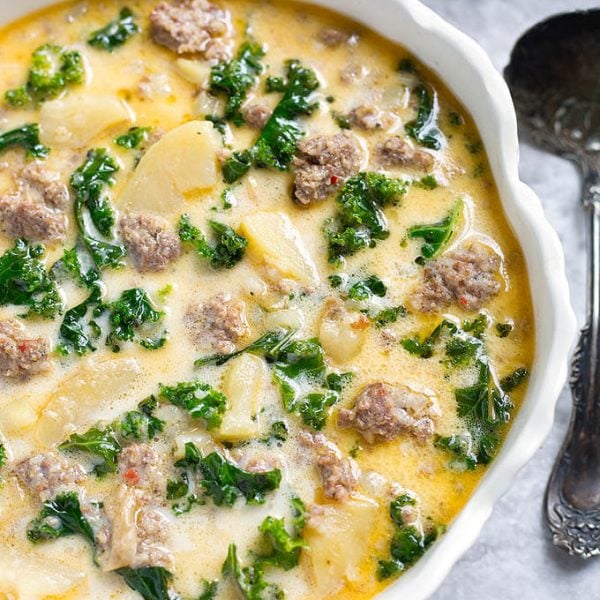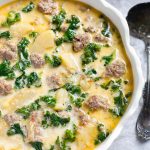 Instant Pot Zuppa Toscana (Sausage Potato Soup)
Pressure Building and Release
Instant Pot Zuppa Toscana (Sausage Potato Soup) is hearty and full of flavor. One of my family's all-time favorites! Very simple to make in your Instant Pot!
Keyword:
olive garden soup, pressure cooker zuppa toscana
Ingredients
3

strips

Thick Cut Smoky Bacon,

chopped

2

lbs

Ground Hot Italian Sausage

(use ½ hot and ½ mild if you don't like spicy)

1

Large Onion,

chopped

1

teaspoon

Oregano,

dried

4

large cloves

Garlic,

pressed or minced

4-6

Medium Potatoes,

halved and sliced ½ inch thick

6

cups

Chicken Broth,

low sodium

1

Bunch of Kale**

chopped, with rib removed

1 - 1 ½

cups

Heavy Cream

(or whole milk, half and half, etc.)
Optional Substitute for the Kale
1

Pkg Frozen Chopped Spinach (thawed) or fresh Baby Spinach*
Instructions
Turn the Instant Pot to Sauté mode, and add the chopped bacon. Cook, stirring occasionally, until the bacon renders out most of its fat. Remove and set aside.

Add the sausage and brown it, stirring a few times. If you can get a good browning on it the flavor will be even better!

Spoon out most of the fat (all but 1 Tablespoon of the fat, enough to cook the onions).

Add the onions, stir them.

When the onions start to turn translucent, add the garlic and stir.

Pour in the broth, stirring, and make sure you scrape the bottom of the pot to get up any browned bits (deglaze).

Add the potatoes, and add the bacon back in.

Check to make sure the contents don't go over the Max Fill line marked on the inner liner.

Close the lid, set the steam release knob to Sealing.

Set to Manual (or Pressure Cook), and choose 5 minutes* (High Pressure). The pot will take several minutes to come to pressure.

After cooking cycle ends, allow a 10 minute NPR (Natural Pressure Release).

Do a Controlled Quick Release for the rest of the steam, and when the pin in the lid drops, open the lid.

Add in the kale, (or thawed spinach, if using) and stir well. Cover and let heat through for 5 minutes or so to soften the kale. If using spinach, just stir it in and proceed to the next step.

Serve!
Recipe Notes
*Cook time is the time the soup cooks once it is at pressure (and time sautéing). Full pots of soup can take several minutes to come to pressure.
**You can use spinach in place of the kale. Use fresh baby spinach or thawed frozen chopped spinach.
You shouldn't need to add any salt to this recipe as the meat has plenty in it. Some pepper might be good, but it has a nice little kick of spice if you use hot Italian sausage, and you may not need it.
Resources to Make InstaPot Zuppa Toscana Recipe
This post contains Affiliate links. As an Amazon Associate I earn from qualifying purchases.