Homemade Easy Taco Seasoning recipe has common spices that, when combined, make the best tasting taco spice blend. It is easier to make homemade spice blends than you might think. It can be budget friendly to make your own seasoning blends. This homemade Taco Seasoning recipe will replace the packet from the store with the preservatives in it.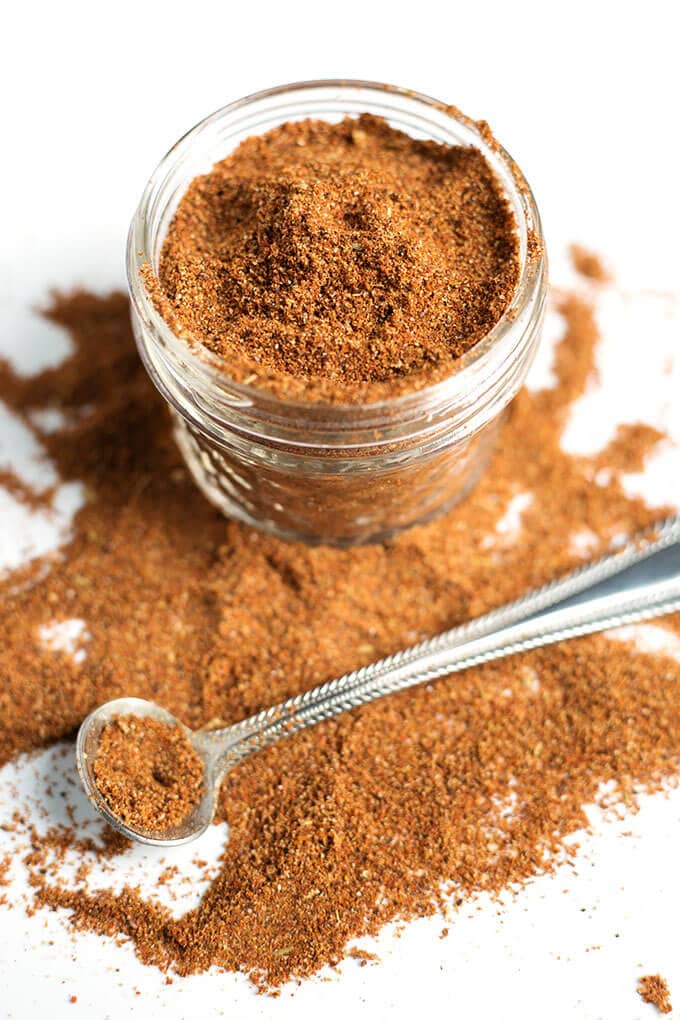 Originally published 8/6/17
Make Your Own Taco Seasoning
Have you ever been in the middle of making a recipe that calls for taco seasoning, and you realize that you don't have one of those little packets? Me too.
So what I used to do was just toss some spices into the pot and hoped it would come out okay. It usually did, but it would have been easier and faster to have a taco seasoning blend already on hand.
Making Taco Seasoning from scratch only takes a few minutes to mix up, so it's very doable to make it at the last minute.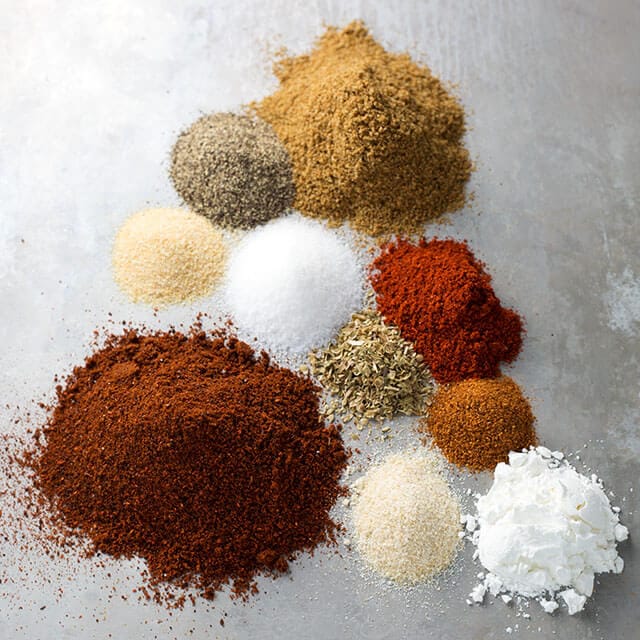 How Much Does This Recipe Make?
This homemade Taco Seasoning recipe makes about a half a cup, so you will have plenty on hand. You'll get about 3 'packets worth' from this recipe (2 Tbsp equals 1 packet).
I like to make a double batch as I use taco seasoning a lot.
I like to store this in a glass mason jar so it stays fresher longer. But really I use it so often it doesn't have time to go bad!
Why is There Corn Starch in Taco Seasoning?
• I use corn starch because it helps to keep the taco seasoning spices from clumping.
• It is also a thickening agent.
• Corn starch also serves as a dispersant of the finer spices to achieve better, more uniform coverage.
• You can omit it or try using potato starch or another fine starch, such as arrowroot.
Here are Some Recipes That Use a Taco Spice Blend
Instant Pot Salsa Chicken
Instant Pot Beef Taco Bowls
Instant Pot Chicken Taco Bowls
Slow Cooker Taco Soup
Instant Pot Taco Soup
Instant Pot Taco Pie
Instant Pot Cheesy Taco Pasta
You can use this taco spice blend with any meat that you want that taco taste on. You can also use it to make a creamy taco flavored salad dressing, or in a meatloaf or even in hamburger!


Cajun Spice Blend
Homemade Fajita Seasoning
Homemade Onion Soup Mix
Homemade Ranch Dressing Mix
Baked Chicken Spice Rub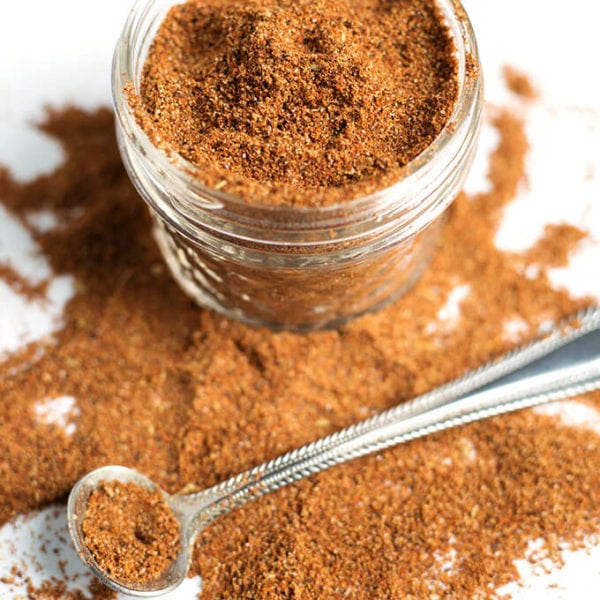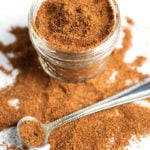 Easy Taco Seasoning
Easy Taco Seasoning uses spices you already have. Tastes like the packet and no preservatives!
Keyword:
homemade seasoning, spice blends
Ingredients
3

Tbsp

Chili Powder

½

teaspoon

Garlic Powder

½

teaspoon

Onion Powder

¼

teaspoon

Cayenne Pepper

½

teaspoon

Oregano

1

teaspoon

Paprika

3 ½

teaspoons

Cumin

1

teaspoon

Salt

(more or less to taste)

2

teaspoons

Black Pepper

1

teaspoon

Corn Starch
Instructions
Mix all ingredients in a bowl.

Transfer to an air-tight container. I like to use mason jars.
Recipe Notes
This Easy Taco Seasoning recipe is fairly low sodium. If you want a little more salt, add 1 tsp to the recipe.
RESOURCES TO MAKE this recipe and more
We are a participant in the Amazon Services LLC Associates Program, an affiliate advertising program designed to provide a means for us to earn fees by linking to Amazon.com and affiliated sites.


Pin This Recipe