Strawberry Pretzel Jello Salad is a classic retro recipe! A pretzel crust with a sweet creamy layer over it, and a third layer that has fresh strawberries suspended in strawberry jello! It's rich, delicious, and this strawberry jello salad recipe will feed a crowd!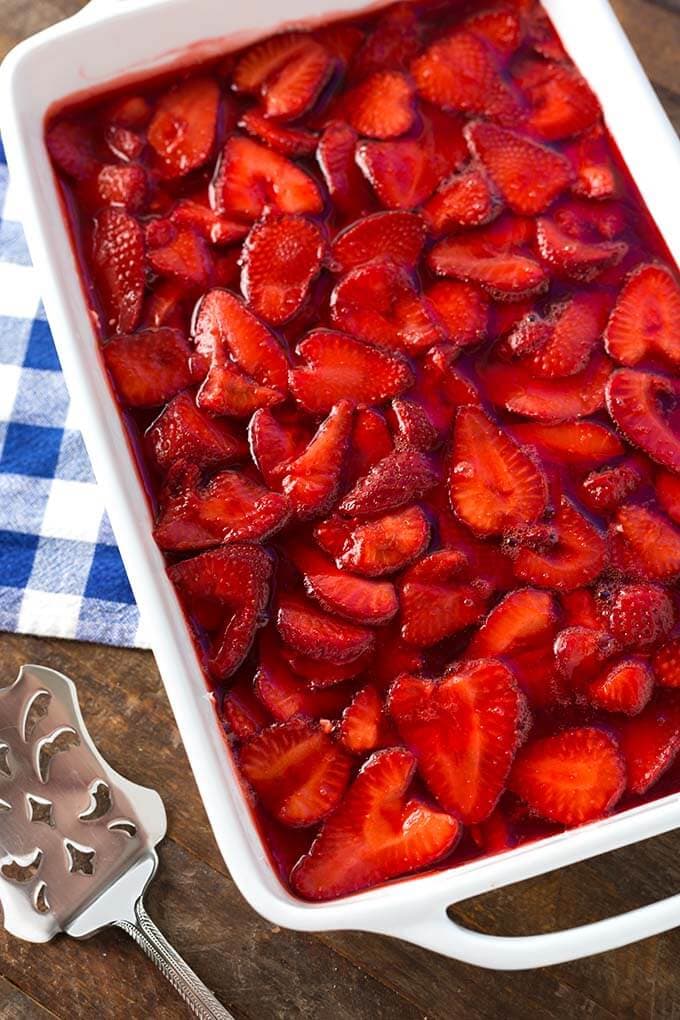 Strawberry Pretzel Jello Salad
Back in the day, no potluck was complete without this favorite Strawberry Pretzel Jello Salad! It was like some unspoken potluck rule that it had to be there.
This recipe is really more of a dessert. Calling it a salad is a stretch! It seems that jello with any kind of fruit or veggie floating in it can be called a salad. That's fine with me. They had me at jello!
I made a few changes to the original recipe that my Nana made. The first being less sugar. In fact, I cut the sugar in half. It just doesn't need that much. Unless your sweet tooth is raging!
I also use fresh strawberries. You can use the sliced frozen kind (like the original recipe), but be sure to get unsweetened. We'll add a little sugar to them, and they will be so much better than the already sweetened kind.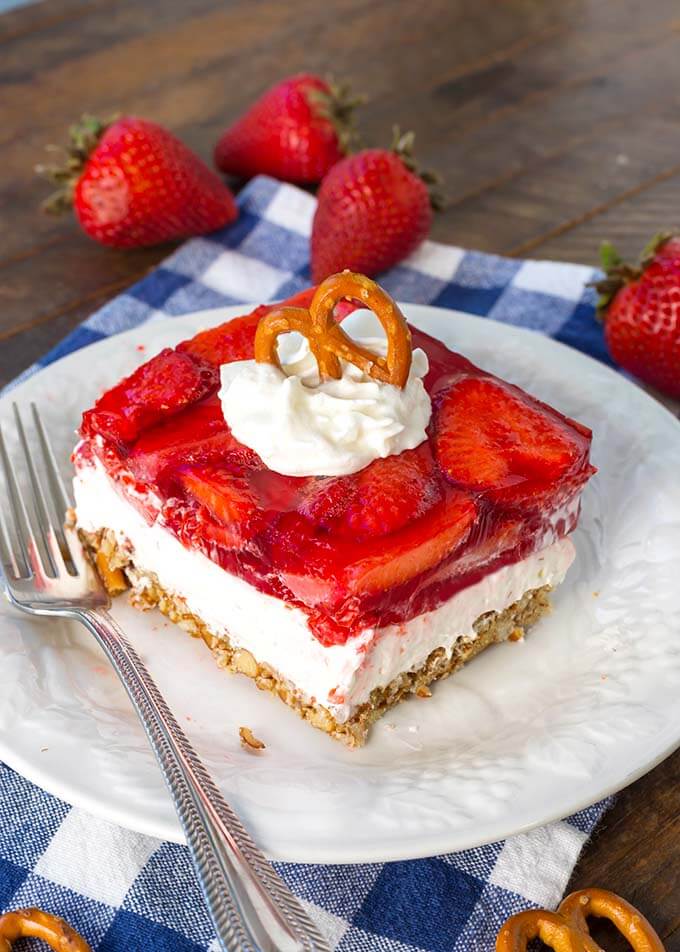 There are like 3 million jello salad recipes. Maybe 3 million and one, I'm not sure. But there are a lot! I like most of them. The lime flavored one with celery in it is not on my like list. But the carrot-orange one is!
This Strawberry Pretzel Jello Salad recipe is labor intensive. It has several steps. So I don't advise starting to make this an hour before you need to bring it somewhere! You will need a good two hours or so, maybe a little more with all of the chilling.
I have laid out the steps in order on the recipe card, but here is a brief rundown. With the steps broken up, it is much easier to follow along and have a successful jello salad recipe.
The steps to make Strawberry Pretzel Jello Salad
Make the pretzel crust, bake it, and let it cool.
Make the cream cheese filling, layer it over the cooled crust, and chill (The crust, not you. Yet.).
Make the strawberry jello, mix in the berries, let it cool.
Pour the strawberry topping over the cream cheese layer and pop the jello salad into the fridge until it sets and chills (and you can chill now!).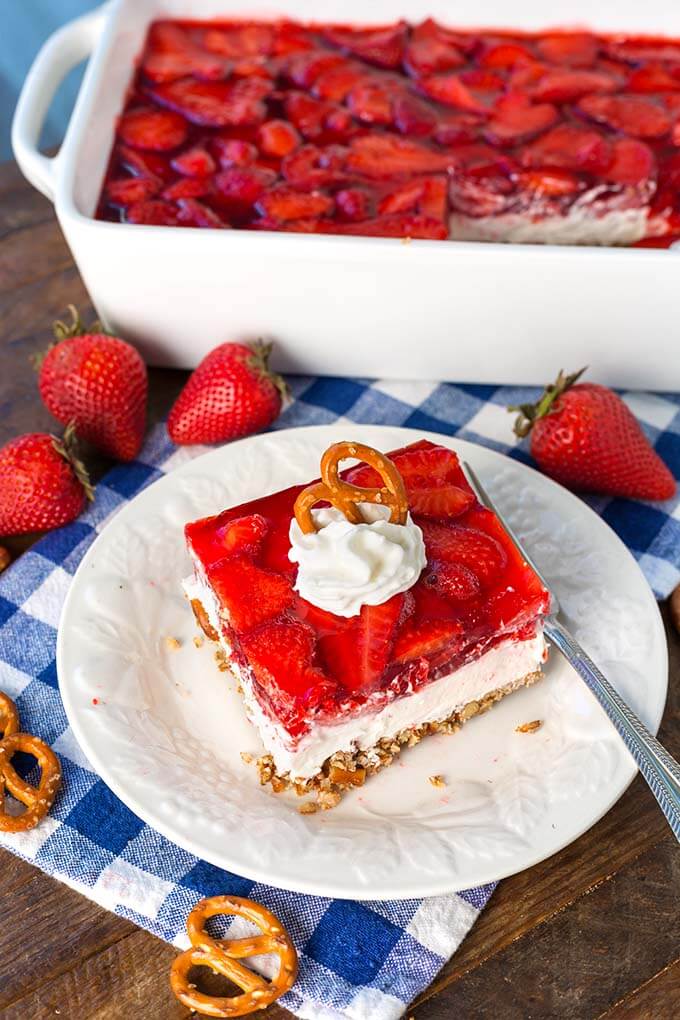 There is also prep work involved such as crushing the pretzels, and slicing the strawberries (unless you bought the sliced frozen kind). It is a fun recipe to make, albeit a little challenging if you are not one to spend much time in the kitchen.
The effort and time are worth it! The resulting Strawberry Pretzel Jello Salad is beautiful, and delicious. Worthy of any potluck, and will give the other jello salads a run for their money!


No Bake Peanut Butter Pie
Norwegian Apple Pie
Quick Pumpkin Pie Pudding
Pin This Recipe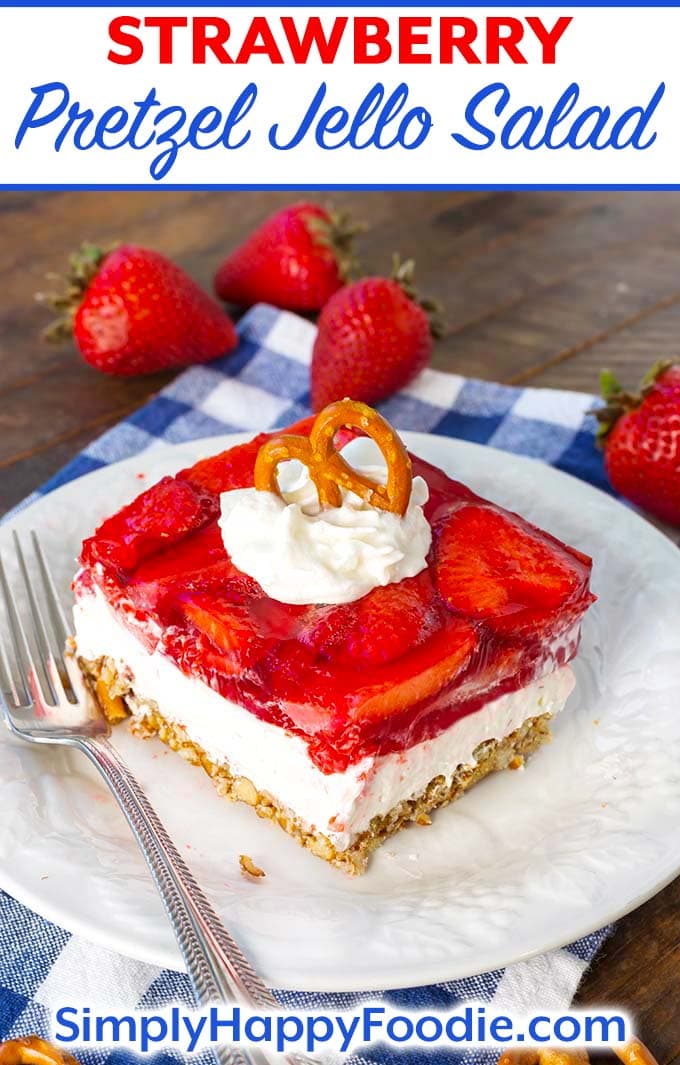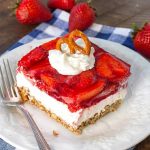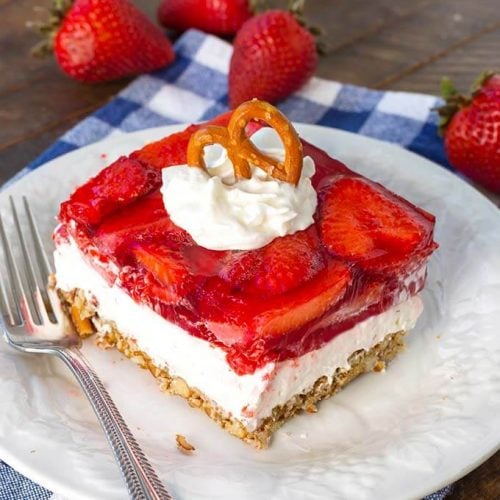 Strawberry Pretzel Jello Salad
Strawberry Pretzel Jello Salad
Keyword:
Strawberry pretzel gelatin dessert recipe
Ingredients
Crust
2 ½

cups

Crushed Pretzels

(leave some small chunks)

¾

cup

Unsalted Butter,

melted

3

Tbsp

Sugar
Filling
8

oz

Cream Cheese,

room temperature

½

cup

Sugar

2

cups

Whipped Cream Topping
Gelatin Topping
2

(3 oz) packages

Strawberry Gelatin

2

cups

Boiling Water

2

(16 oz) bags

Frozen Sliced Strawberries

(or 2 (16 oz) containers of fresh, sliced)

1

Tbsp

Sugar
Instructions
Make Crust
Add the crushed pretzels, sugar, and melted butter to a bowl and stir well to combine.

Add the pretzel mixture to a 9"13" baking dish and spread in an even layer across the bottom. Use a glass to press the crust down.

Bake at 350° for 10 minutes. Set aside to cool completely.
Make the Filling
In a mixing bowl, beat the cream cheese and sugar until combined.

Add the whipped cream topping and mix well.

Spread in an even layer over the cooled pretzel crust. Be sure to cover entire crust to the sides to prevent the gelatin from seeping into crust.

Chill while making the gelatin topping.
Make the Gelatin Topping
Add strawberries to a bowl.

Add 1 Tbsp sugar to them and mix well. Set aside.

Dissolve both boxes of gelatin in 2 cups of boiling water.

Add the strawberries to the gelatin and stir.

Chill, but not long enough to set. Check on it often so you can catch it before it sets. It can be a little thickened, but you just want it cold enough so it doesn't melt the cream cheese layer.

Pour the chilled strawberry topping over the cream cheese layer evenly.

Cut into squares and serve with a dollop of whipped cream topping.

RESOURCES TO MAKE this recipe and more
We are a participant in the Amazon Services LLC Associates Program, an affiliate advertising program designed to provide a means for us to earn fees by linking to Amazon.com and affiliated sites.