Philly Cheese Steak Sloppy Joes are a tasty alternative to the typical Sloppy Joes recipe that calls for tomato sauce. A delicious Sloppy Joes variation of an East Coast classic!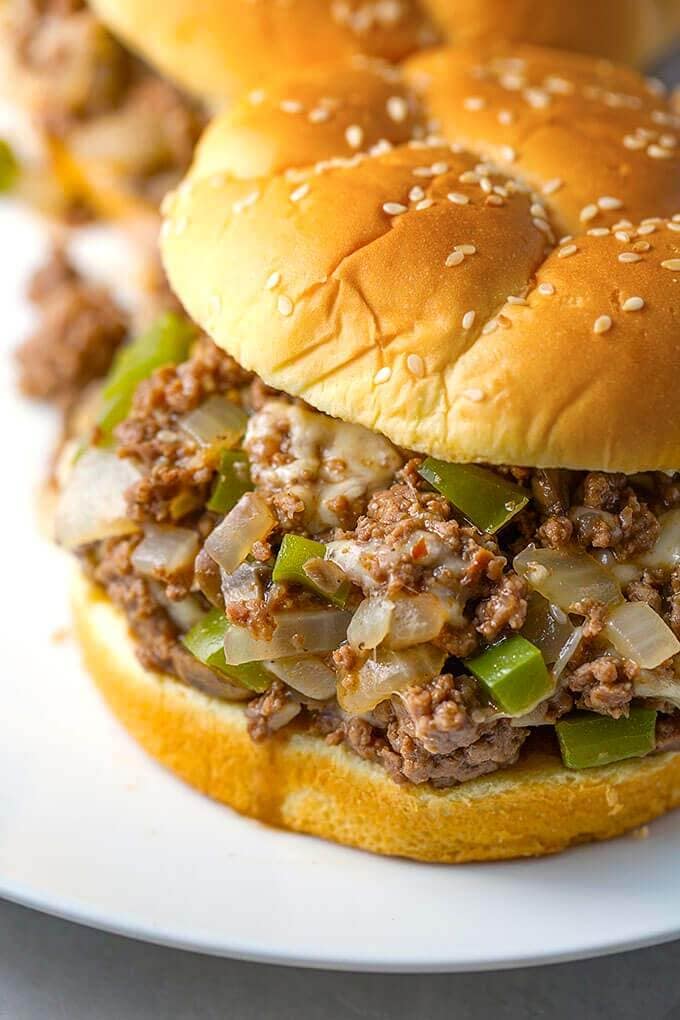 Philly Cheese Steak Sloppy Joes
Today was a BIG DAY! The Solar Eclipse happened this morning, and people were buzzing about it all day! My Facebook feed was full of fun pictures of my friends in their eclipse glasses, pointing at the sky, and all sorts of images of the moon photobombing the sun!
Bryen and a bunch of his friends drove to Oregon to be right there in the thick of it. How fun! I was at home working, but had to go outside and experience the eclipse myself! It was interesting to feel the temperature drop from earlier this morning, and see the changes in the shadows from the trees. We didn't get totality here, but it was a good show!
Here is a photo I took of the eclipse shadows on the fence. The leaves in the trees acted like a pinhole lens and made these cool eclipses!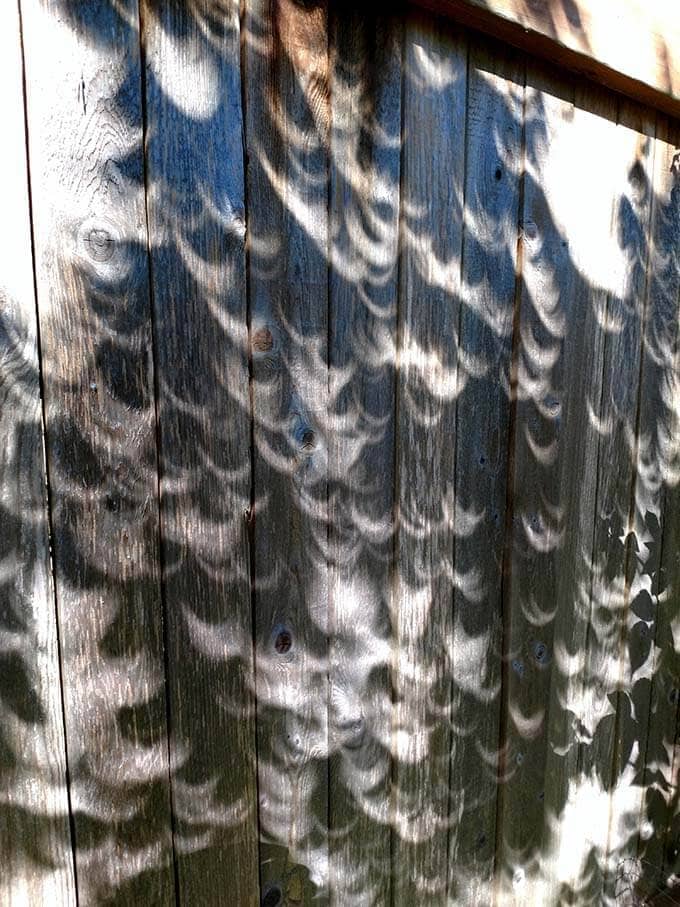 I cooked up these Philly Cheese Steak Sloppy Joes for dinner tonight. They are one of those easy one-pan meals that the whole family loves. If you have ever enjoyed an actual Philly Cheese Steak, you might appreciate this take on that classic. Made with ground beef (or turkey) instead of rib eye, it cooks up just like a traditional Sloppy Joe. I like the cheese mixed in at the end, but you could put the cheese on top and let it melt that way if you wish. You could even broil it a minute or two.
Funny how this it TWO American classics sort of blended together! Does one of them eclipse the other? Oh gosh, I know. But I do love puns! 😀
You Might Also Like
Slow Cooker Barbecue Pulled Pork
Easy Baked Meatballs
Instant Pot Hamburgers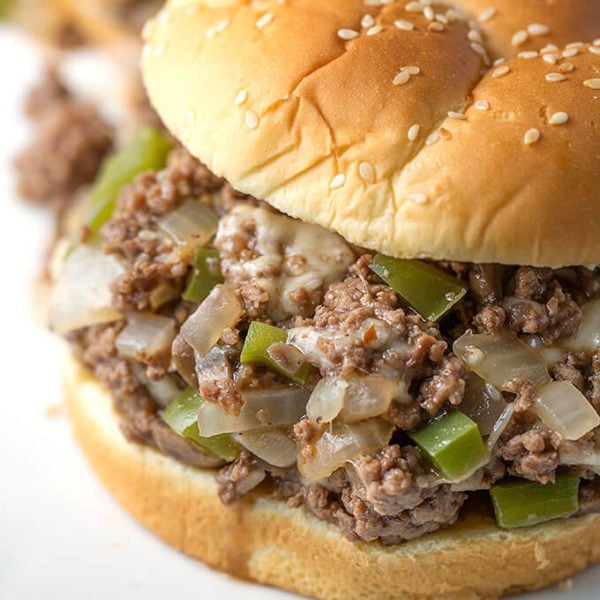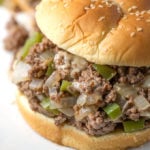 Philly Cheese Steak Sloppy Joes
Philly Cheese Steak Sloppy Joes are a delicious and convenient take on an East Coast classic!
Keyword:
sloppy joes recipe
Ingredients
1

lb

93% Lean Ground Beef

(or 93% lean ground turkey)

1

Small Yellow Onion,

diced

1

Small Green Bell Pepper,

diced

8

oz

Crimini Mushrooms,

chopped

1

Tbsp

Worcestershire Sauce

2

Tbsp

Tomato Paste

½

tsp

Garlic Powder

1

tsp

Steak Seasoning*

½

tsp

Kosher Salt

½

tsp

Black Pepper

1

cup

Beef Broth

1 ½

Tbsp

Cornstarch

8

oz

Provolone Cheese Slices

(stack them and cut into cubes)

6

Hamburger Buns
Instructions
Heat a large skillet and add the ground beef. Cook for a few minutes and stir (No need to drain if using 93% lean ground beef or 93% lean ground turkey).

Add the onion, green pepper and mushrooms. Cook, stirring occasionally, until meat is almost completely brown.

Stir in Worcestershire sauce, tomato paste, garlic powder, steak seasoning, salt, pepper. Cook until meat is done.

Whisk the cornstarch with the beef broth and pour into the meat mixture. Cook, stirring, until thickened.

Taste and adjust salt if needed.

Add the cubed provolone cheese and stir. Take pan off of the heat. Cover and let sit for a couple of minutes until cheese is melted.

Serve on hamburger buns (toast them for even better flavor).
Recipe Notes
*Use 2 Tbsp A-1 steak sauce in place of the seasoning if desired.
Resources to Make This Recipe and more
We are a participant in the Amazon Services LLC Associates Program, an affiliate advertising program designed to provide a means for us to earn fees by linking to Amazon.com and affiliated sites.