Slow Cooker BBQ Pulled Pork. It doesn't get much easier than this! I love coming home to a tasty and hearty meal of crock pot barbecue Pulled Pork. We like it piled high on kaiser buns, and topped with extra bbq sauce and a simple Creamy Coleslaw.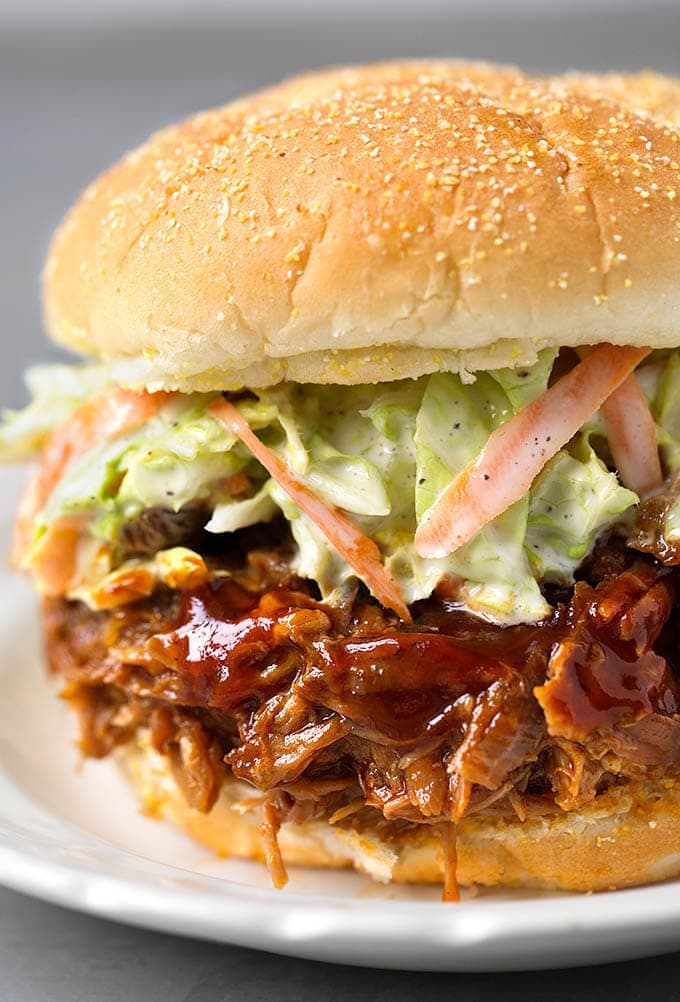 Slow Cooker BBQ Pulled Pork
Today was really busy. Chores, work, and the added extra clean up of ash. I knew it would be a slow cooker meal day. With all of the fires in our state (Washington), and neighboring states, the smoke and ash have been dreadful. Again. This happened earlier this summer from the Vancouver fires, only we didn't have any ash. Just lots of smoke.
I left the living room window open last night and ash came in through the screen! I had fun vacuuming that up! But I don't mind, it could be worse. We could be in the path of those wildfires. No thank you. My heart hurts for the people who have lost everything to those fires. We haven't had any rain to speak of, so it's a lot drier than normal. Then on the opposite corner of the country there is Harvey and Irma wreaking havoc! Sheesh! Crazy!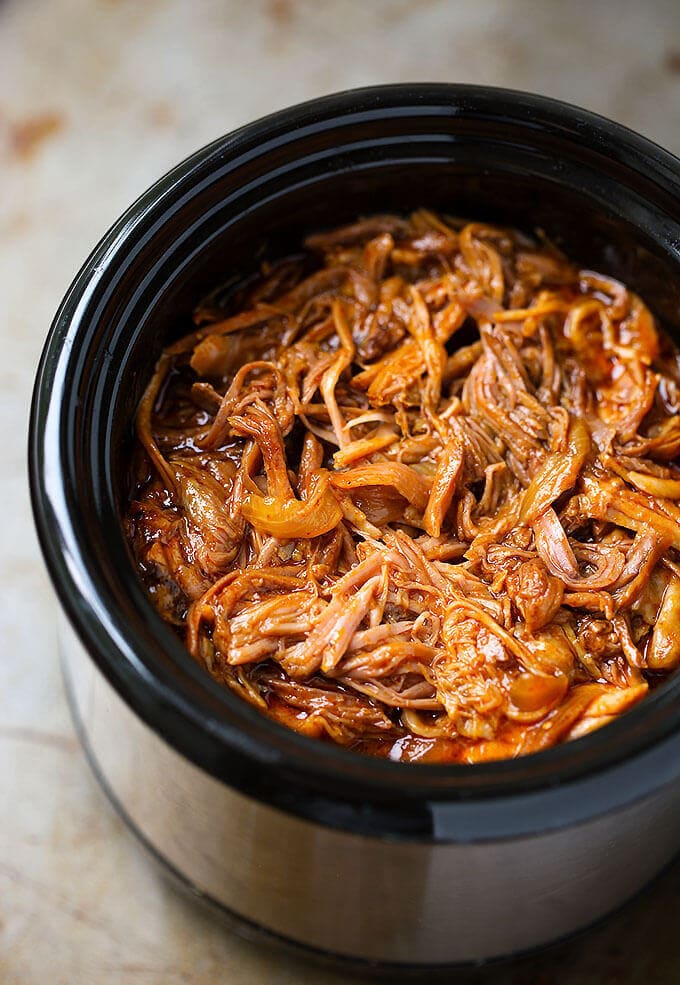 My recipe for Slow Cooker BBQ Pulled Pork is a pretty simple one. I have a few pulled pork recipes, but this one fit the bill today because it is so quick to throw together. Plus it cooks all day if you use the Low setting, and I was able to get stuff done!
Many people have lost the use of their kitchens, so having a slow cooker or an Instant Pot is going to allow them to make meals for their families while they have so much to deal with.
You Might Also Like
Ribs Spice Rub recipe.
Easy Creamy Coleslaw.
Easy Instant Pot Potato Salad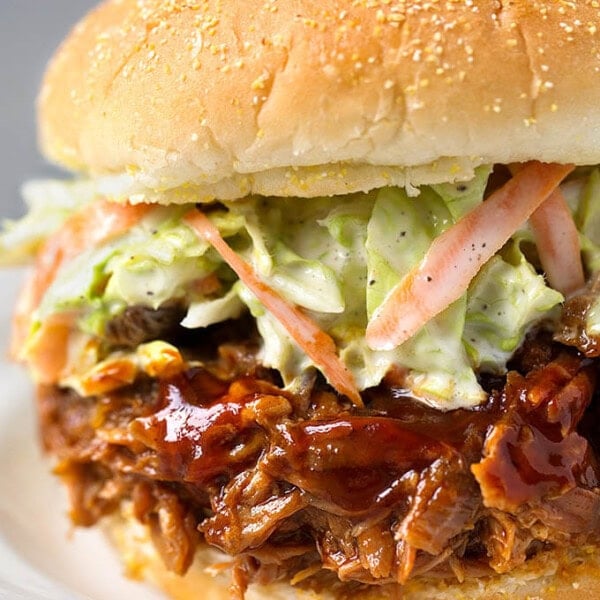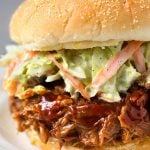 Slow Cooker BBQ Pulled Pork
Slow Cooker BBQ Pulled Pork is an easy meal you can make in your crock pot / slow cooker. Just a few simple ingredients and you will have a delicious meal to satisfy the whole gang!
Course:
Dinner, Main Course
Keyword:
crock pot barbecue pulled pork recipe
Ingredients
3-4

lbs

Pork Shoulder

(boneless or bone-in)

½-1

tsp

Kosher Salt

1

Tbsp

Ribs Spice Rub (My recipe)

or your favorite rub

1

Small Yellow Onion,

halved and sliced

2

cups

Barbecue Sauce,

use your favorite
Optional
1-2

Tbsp

Chipotles in Adobo, with some of the sauce

(for a spicy, smoky flavor)
Instructions
Add onion, barbecue sauce, and chipotle, if using. Stir.

Rub pork shoulder with the salt and the spice rub.

Place pork shoulder in the slow cooker with the fat side up.

Cook on Low for 9-10 hours, or High for 5-6 hours. If you can, stir the sauce about halfway through and turn the meat over. It will be fine if you don't.

After cooking, scrape off the fat layer and discard. Remove the meat to a large plate and shred it using two forks.

Skim some of the fat off of the top of the juices in the pot, using a large spoon. Return the meat to the crock and stir to combine with the juices. Add a little more bbq sauce if needed.

Resources to make This Recipe and More
We are a participant in the Amazon Services LLC Associates Program, an affiliate advertising program designed to provide a means for us to earn fees by linking to Amazon.com and affiliated sites.