Shakshouka - Eggs in Purgatory is a Middle Eastern tomato and egg dish with delicious spices, red bell pepper, and onion. Also known as Shakshuka, or eggs poached in tomato sauce. My version also has creamy, tangy feta cheese. A great brunch recipe!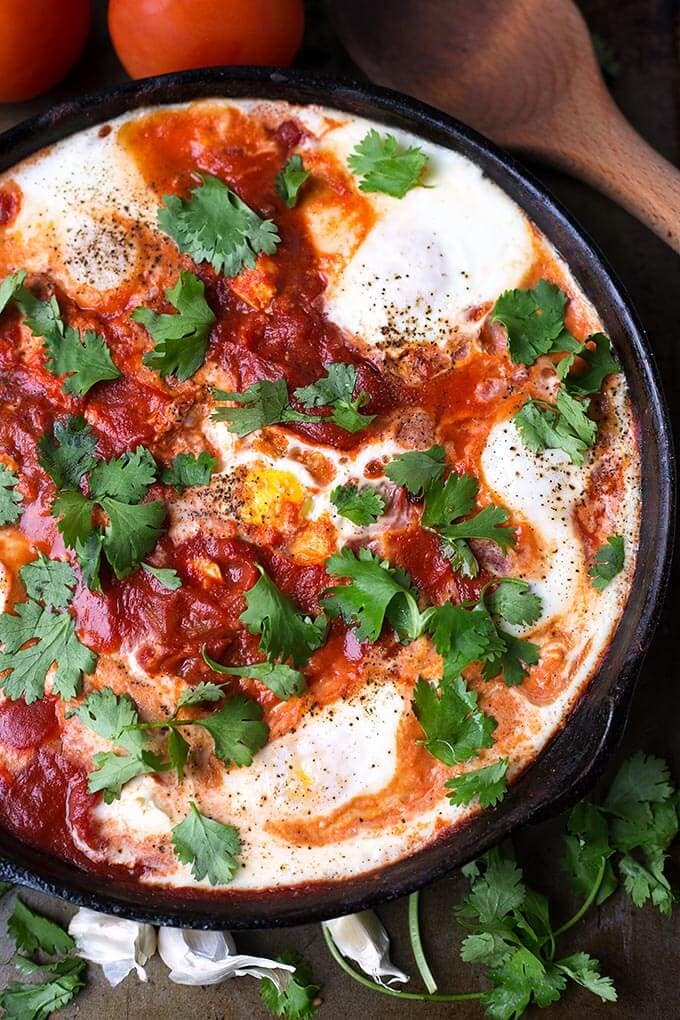 Shakshouka - Eggs in Purgatory
I woke up this morning with a craving for this specific dish. It occurred to me that I hadn't yet blogged about Shakshouka - Eggs in Purgatory, as it is sometimes called. Many cultures have a version of this dish, and there are debates as to where it originated. It doesn't matter to me. I just love this stuff, and enjoy making my own version of it.
Basically this dish is eggs poached in a thick tomato sauce. But it is much more than that. Onions are cooked to golden. Garlic and spices are added, along with tomato puree, and creamy, tangy feta cheese. Then the eggs are poached in this wondrous medley of flavor! It is a known hangover dish in many parts of the world! Don't ask me how I know that! Just kidding!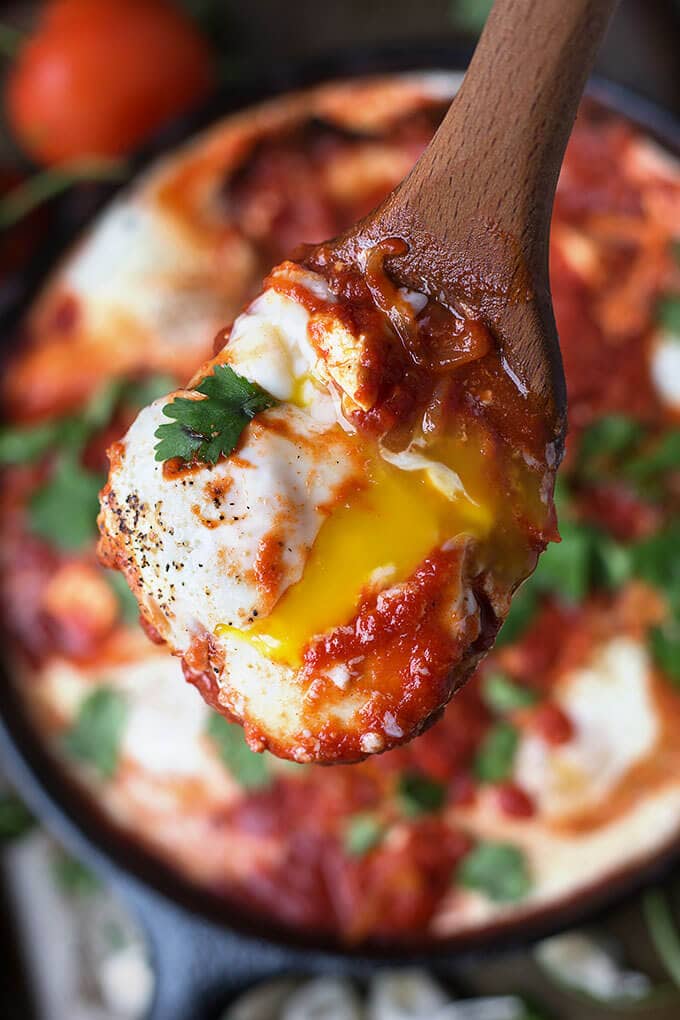 Shakshuka is a fast one-pot meal, or one-skillet meal, as I like to use my cast iron skillet to make it. It is very good on toast so you can sop up that sauce and dripping egg yolk!
I hope you give Shakshouka - Eggs in Purgatory a try. Let me know how you liked it!
You Might Also Like
31 Fresh Tomato Recipes
Easy Breakfast Egg Bake
Chorizo Tomato Sauce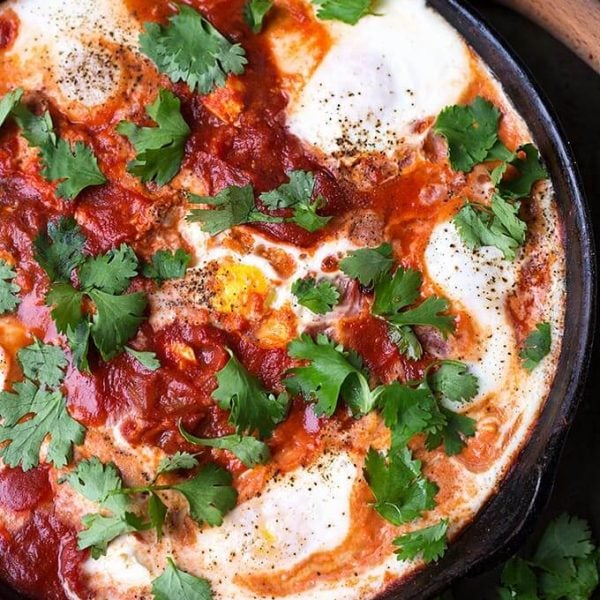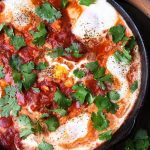 Shakshouka (Eggs in Purgatory)
Shakshouka (Eggs in Purgatory) is a Middle Eastern tomato and egg dish with delicious spices, red bell pepper, and onion. This version also features feta cheese for a rich and creamy flavor! A great brunch recipe!
Course:
Breakfast, Brunch
Keyword:
eggs in tomato sauce recipe
Ingredients
2

Tbsp

Olive Oil

1

Large Yellow Onion

halved and thinly sliced

3

cloves

Garlic,

pressed

1

tsp

Kosher Salt

½

tsp

Black Pepper

⅛

tsp

Cayenne Pepper

2

tsp

Cumin

1 ½

tsp

Ground Coriander

1

Tbsp

Sweet Paprika

1

Roasted Red Pepper,

sliced

1

14.5 oz

Can of Diced Tomatoes,

drained

1

29 oz

Can of Tomato Puree

(not sauce, as it's too thin)

6

oz

Feta Cheese*

cut in 1-2 inch cubes

6-8

Eggs

1

Handful of Fresh Cilantro Leaves
Instructions
Heat oven to 375 degrees F.

Heat a large skillet, medium heat, and when hot add the olive oil.

Add the onions and sauté until soft and slightly golden, about 15-20 minutes. Stir occasionally.

Reduce heat to med-low. Add garlic and spices. Stir and cook for a minute.

Add roasted red pepper, diced tomatoes, and tomato puree. Simmer until hot and bubbling, stirring occasionally.

Add the feta cheese, stir gently, just to distribute, but not to blend in. You want most of the chunks to soften in place.

Crack eggs, one at a time, directly into the hot tomato mixture. Space them out evenly. Sprinkle each egg with a little salt & pepper.

Put skillet in the oven for 5-10 minutes, just until eggs cook, but yolks remain very soft, like a poached egg. If you prefer to broil, just watch as the eggs do cook faster!

Garnish with fresh cilantro and serve.

Delicious over grits or with bread!
Recipe Notes
*You can also try goat cheese, or fresh mozzarella.
------
There are many variations of this recipe, and many names! There is no wrong way to make it. I hope you enjoy my version! I can't say there was any one source of inspiration. I saw a photo of eggs in tomato sauce somewhere, and it stuck with me. The main technique I drew from was the one from the New York Times Cooking - Shakshouka with Feta recipe
Resources to make this recipe and more
We are a participant in the Amazon Services LLC Associates Program, an affiliate advertising program designed to provide a means for us to earn fees by linking to Amazon.com and affiliated sites.