Air Fryer Turkey Breast with Orange Glaze is savory, juicy, and tender. With an orange sweet glaze, this air fryer turkey breast recipe is a favorite for Thanksgiving or any time. This is a great beginner air fryer recipe.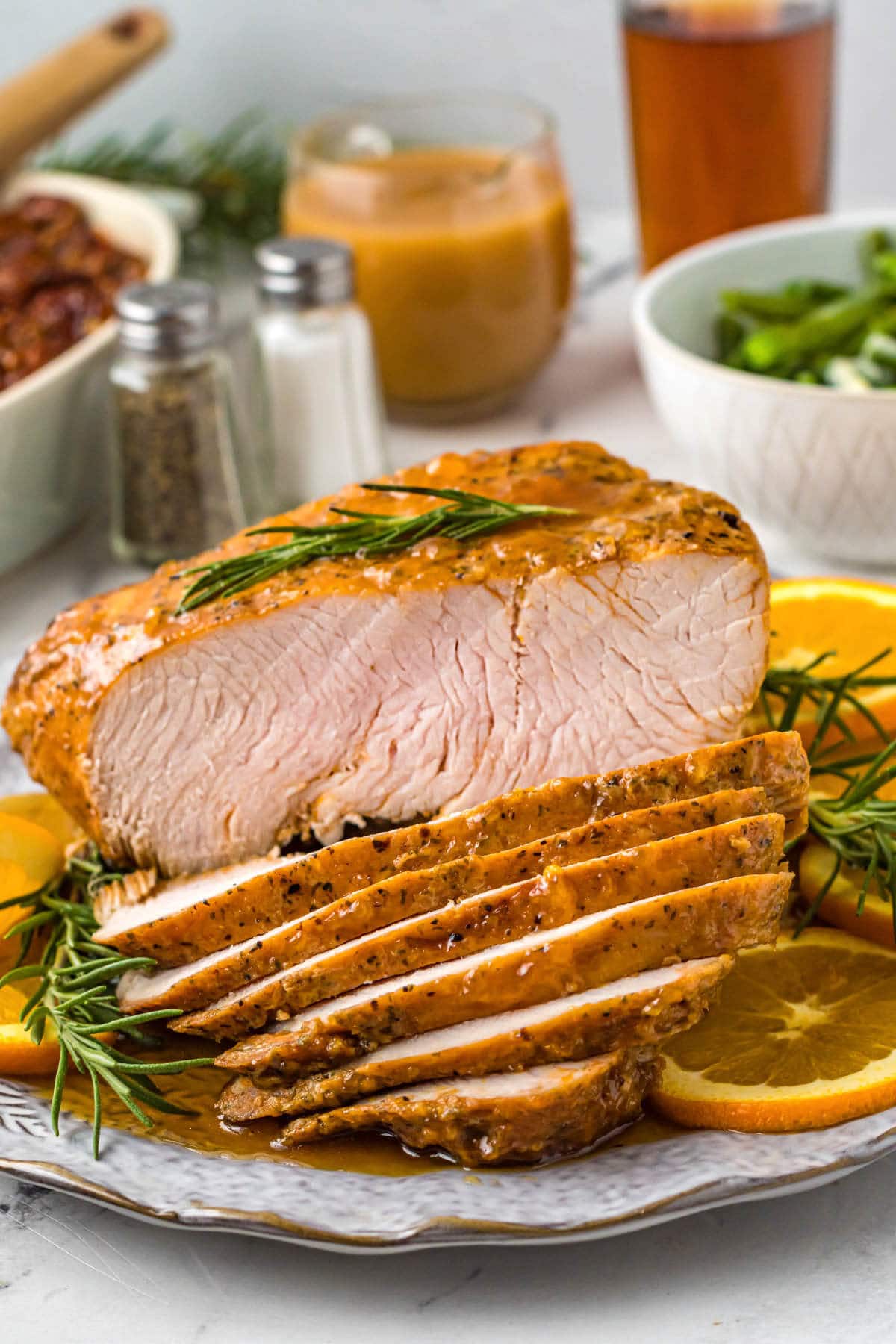 Air Fryer Turkey Breast with Orange Glaze
Having a small gathering but don't want to make a large turkey? A turkey breast is the perfect size for a small group!
With the relaxed effort of preparing this turkey in the air fryer you will have time and energy for delicious side dishes or fun with friends.
Creating no heat in the kitchen, only the best smells and the ultimate satisfaction of an amazing turkey!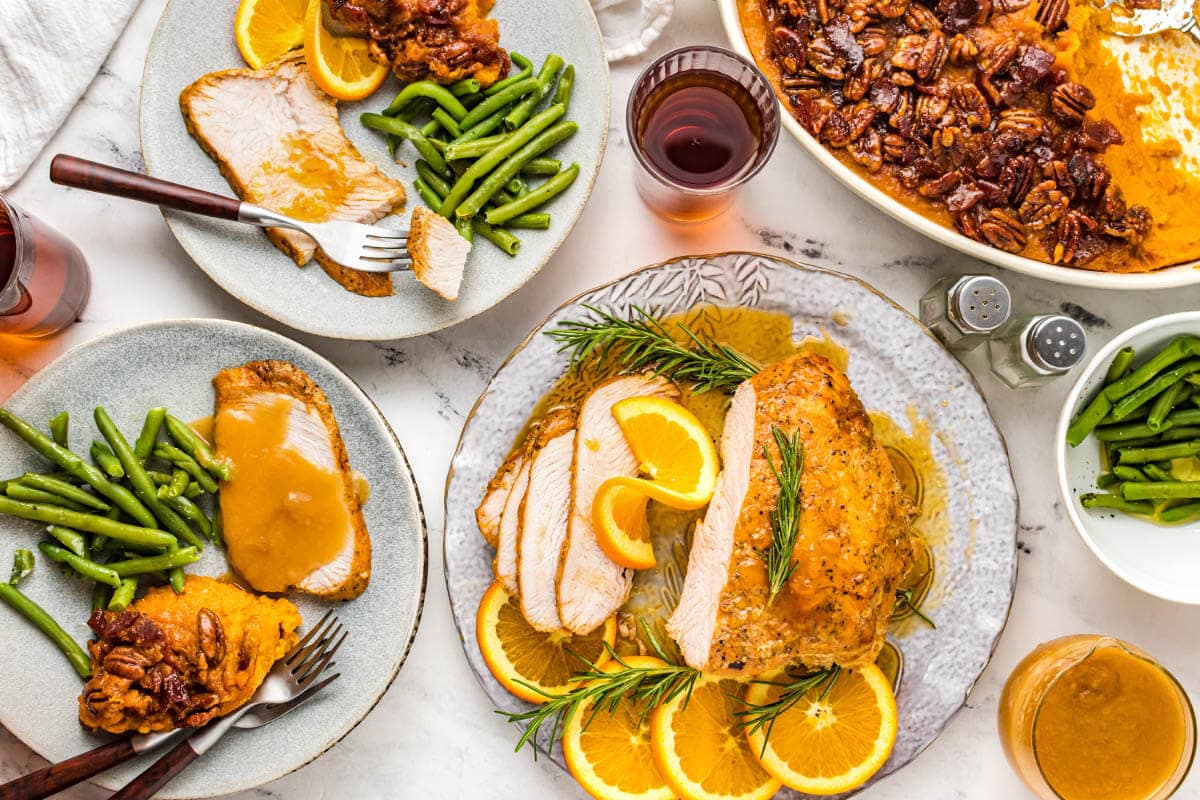 A turkey breast with a sweet orange glaze is the centerpiece of this wonderful meal for a smaller group.
I like to get the largest turkey breast that my air fryer will hold. I always try to have leftover turkey for turkey sandwiches!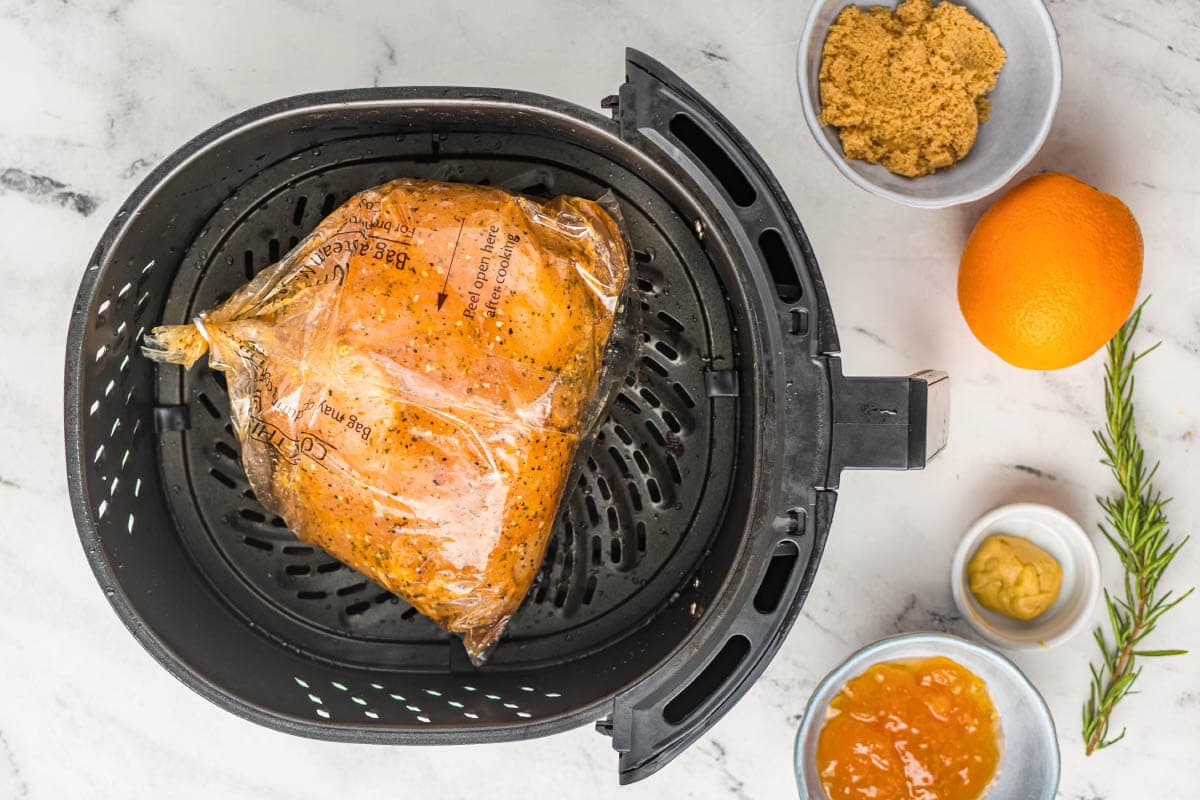 If you get a turkey breast in a bag, cook it in the bag that it comes in. If it has no bag, wrap it in foil to cook it.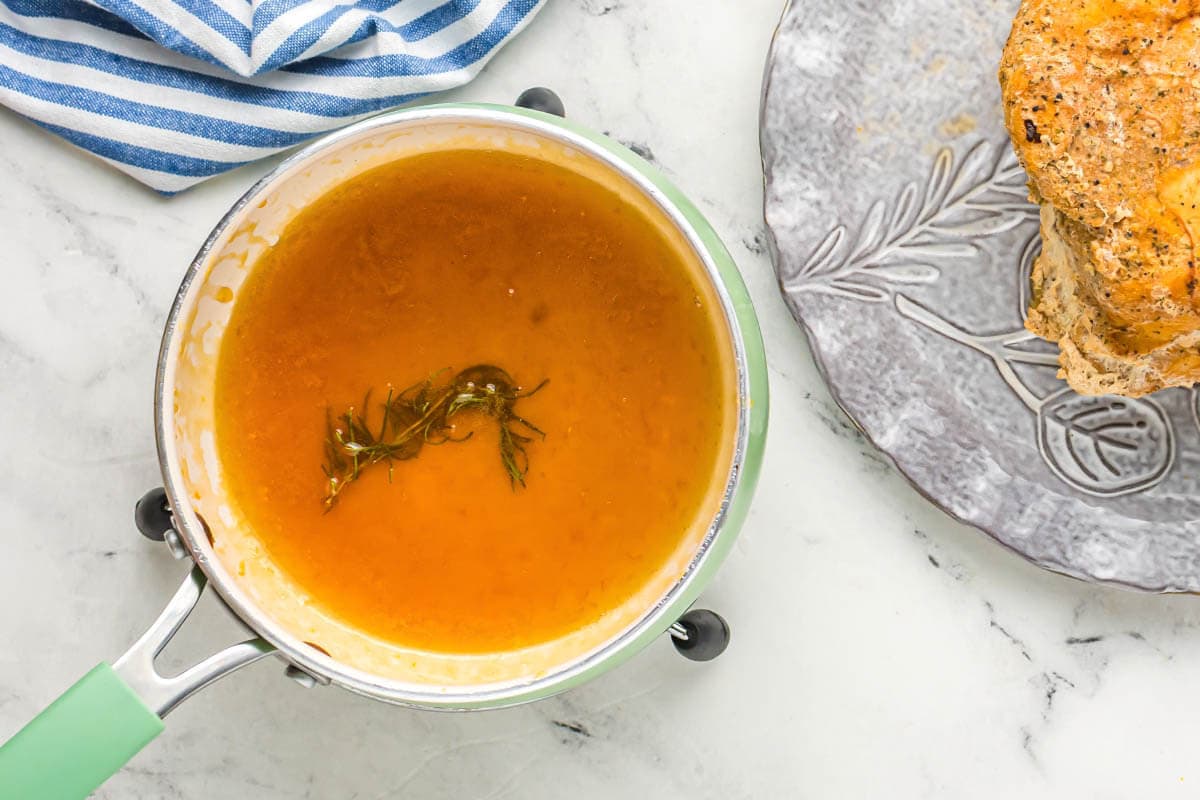 Cook the orange glaze on the stove in a saucepan and spoon over the turkey breast after it has cooked, while it is still hot.
If you are not a fan of orange flavor, you could use apple cider and apple jelly, applesauce or even apple butter, with its warm spices.
Or use just herbs and garlic sautéed in butter. The combinations are endless!


Air Fryer Turkey Breast
Air Fryer Pumpkin Pie
Air Fryer Sweet Potato Fries
Air Fryer French Toast
Instant Pot Bone-In Ham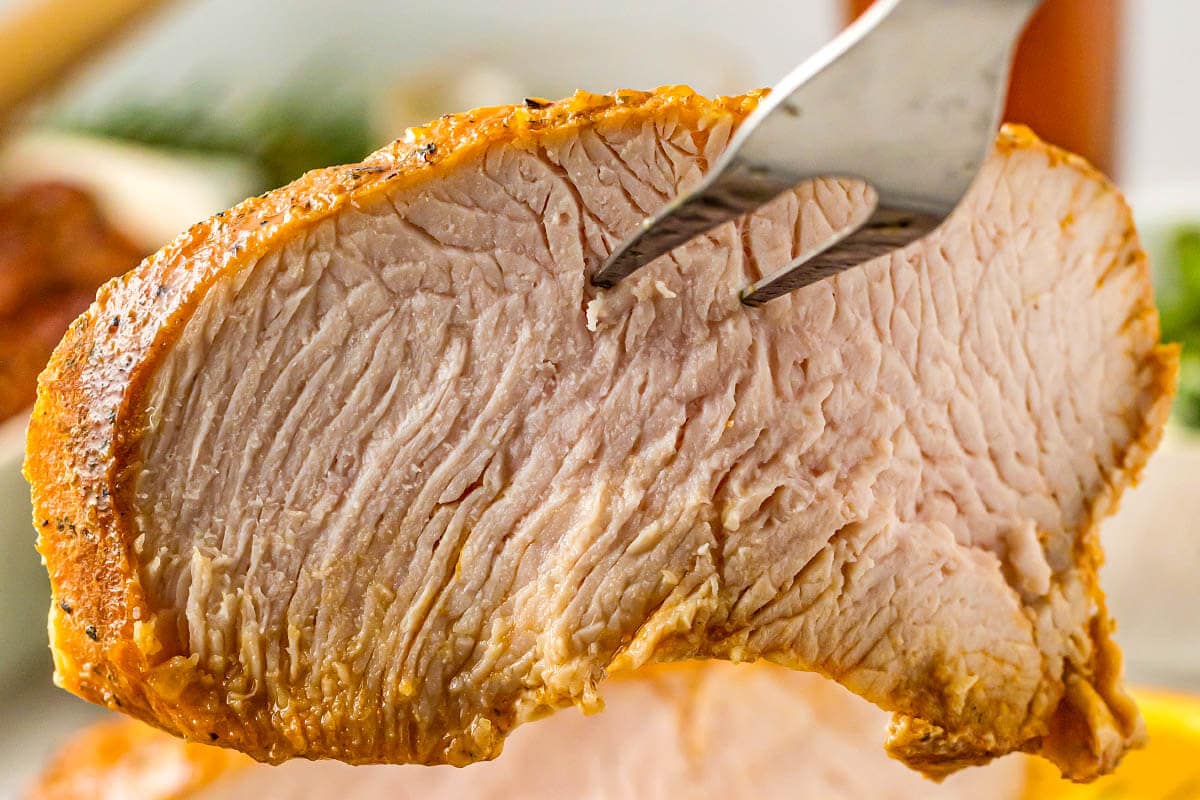 The turkey breast meat is nice and juicy, and the orange glaze adds a hint of sweetness.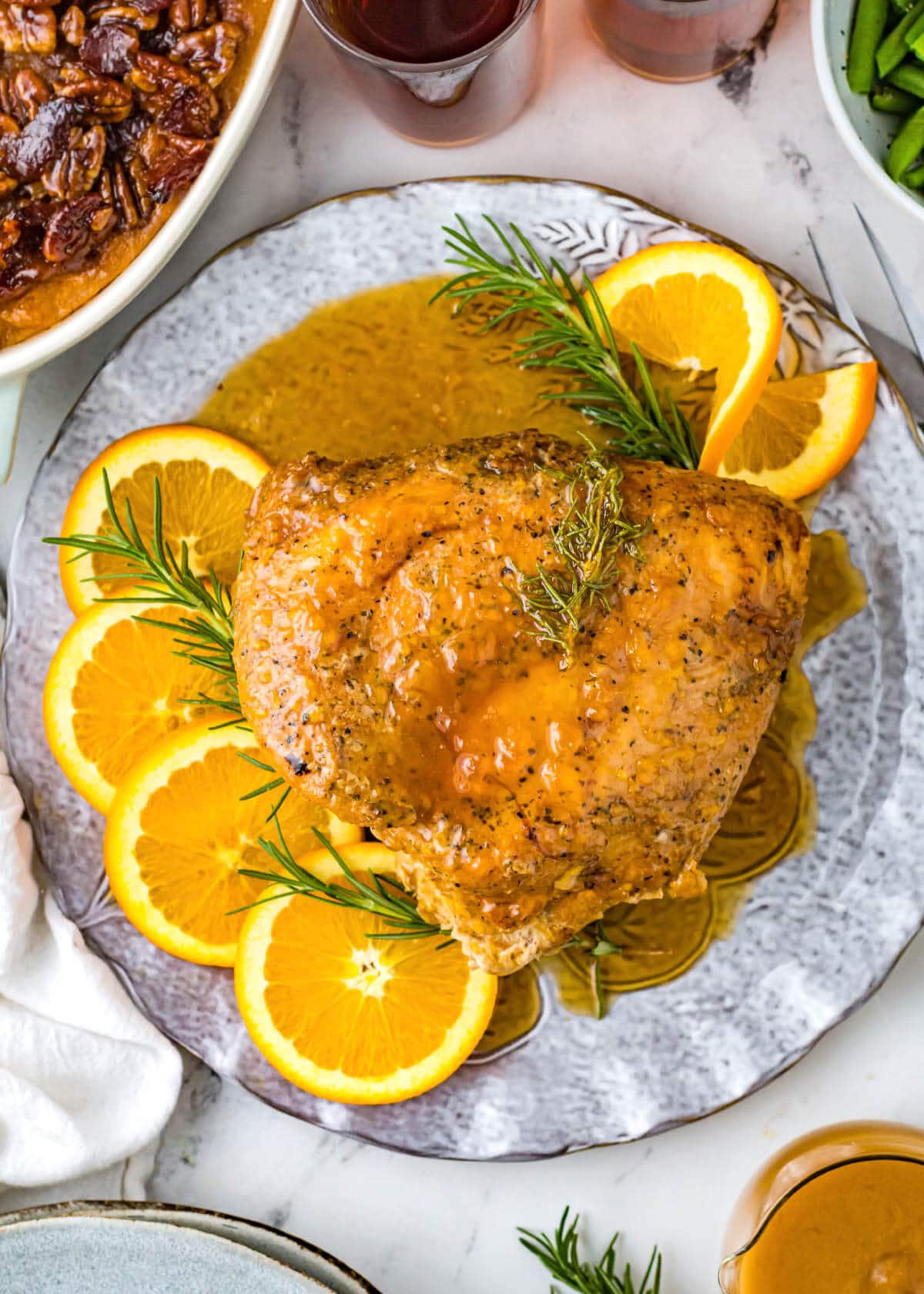 If you make this delicious air fryer turkey breast, please let me know. Just leave a comment below with a star rating.
I would like to know how you enjoyed this easy air fryer recipe!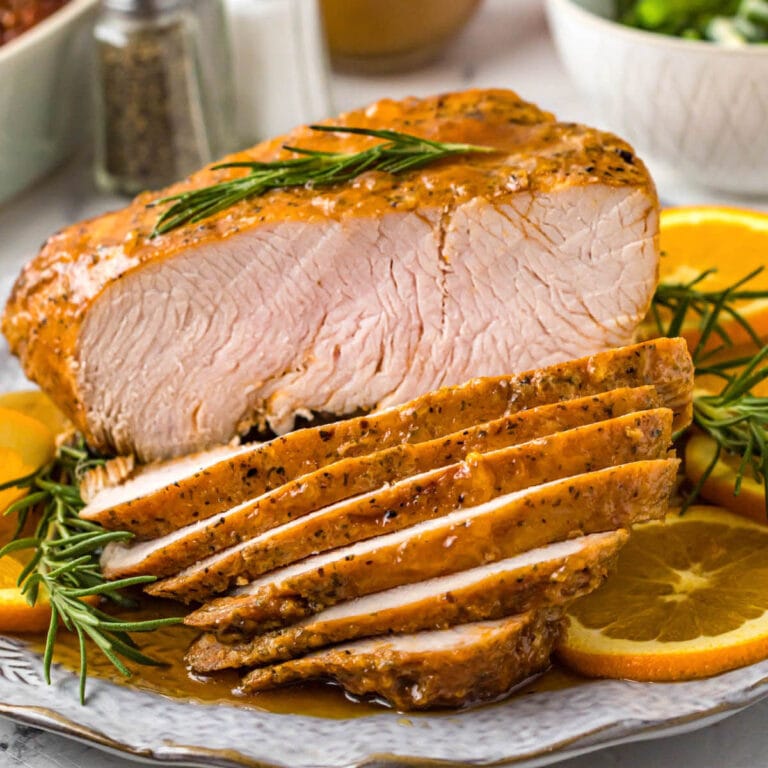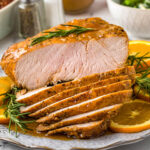 Air Fryer Turkey Breast with Orange Glaze
Savory, juicy, and moist, with orange sweet glaze this turkey breast will delight. A great meal to cook for a smaller group. A nice Thanksgiving turkey breast recipe, or any time.
Keyword:
air fryer recipes, air fryer turkey
Ingredients
2-3

pounds

Turkey Breast,

uncooked

¼

cup

Orange Marmalade

1

teaspoon

Dijon Mustard

1

sprig

Fresh Rosemary

½

teaspoon

Orange Zest

2

Tablespoons

Orange Juice

¼

cup

Brown Sugar

Use remaining orange for garnish by slicing into thin slices.
Instructions
If the turkey breast comes in a cooking bag, leave it in the cooking bag and place in the air fryer. Set at 350° F and set for 20 minutes. After 20 minutes flip the bagged turkey breast over to the other side and cook for 10 more minutes, then using a meat thermometer, check for doneness. If it isn't completely cooked, cook for an additional 5 minutes then check again and repeat as necessary.

**If the turkey breast doesn't come in a cooking bag, then place the turkey breast in foil and wrap tightly. Air fry on 350° F for 20 minutes, then flip the turkey breast still in the tin foil over and air fry for 10 more minutes, open foil and check for doneness. Use a meat thermometer to check for an internal temperature of 160° F. Then let rest for 10 minutes, and temp should read 165° F.
For the Orange Glaze
Combine the orange marmalade, mustard, orange zest, orange juice, brown sugar, and rosemary in a medium saucepan. Bring the glaze to a boil over medium heat, cook for 1 minute, stirring continually.

Remove the turkey from the bag or foil, and place the turkey breast onto a serving plate. Spoon the warm orange glaze over the turkey breast covering the entire surface.

Serve turkey on the serving plate with orange slices and more fresh rosemary sprigs for garnish.
Recipe Notes
Time will vary depending on the size of your turkey breast. I recommend a meat thermometer to ensure it's cooked perfectly. Internal temperature should read 160° F.
If you purchase your turkey breast frozen, thaw it overnight in the refrigerator before preparation.
The Butterball turkey breast comes with a gravy packet that is delicious and saves time.
Butterball has oven directions and times on the back, but for an air fryer, the time is greatly reduced.
Storage:
Will keep refrigerated in an airtight container or sealed with cling wrap for up to 7 days.

Will also freeze well for up to 3 months. To thaw, place in the refrigerator overnight. Reheat on the stove top or in a microwave safe dish.