Air Fryer Pumpkin Pie is delicious Fall dessert recipe. For those who need to save space in their ovens on Thanksgiving, this is a great way to bake a pumpkin pie. This pumpkin pie made in the air fryer is a classic tasting recipe. This recipe will yield two pumpkin pies.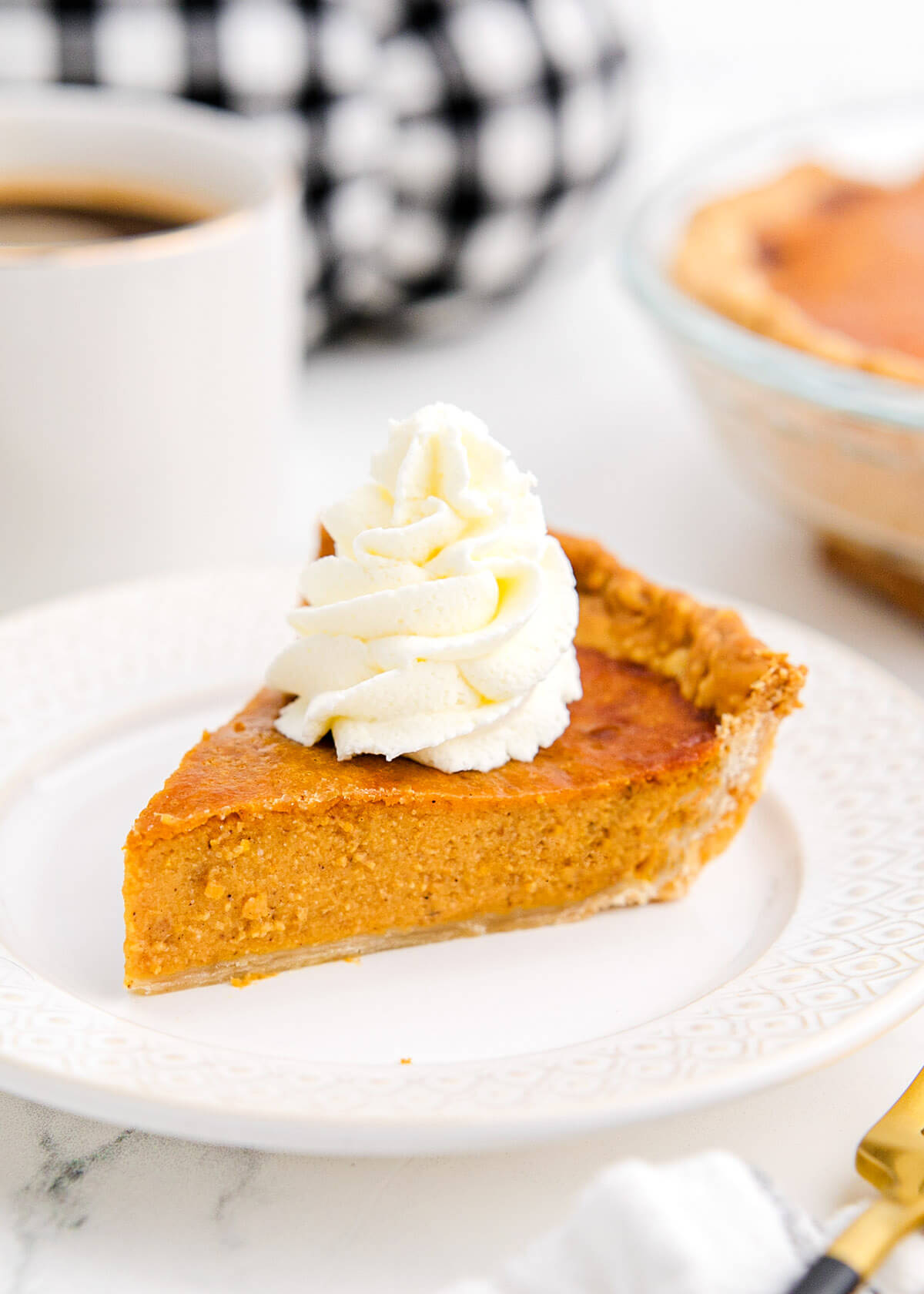 Air Fryer Pumpkin Pie
If you own an air fryer you probably are often surprised at how many types of recipes can be made in it.
What makes the air fryer great for making a pumpkin pie is that it frees up your oven for other baked recipes.
If you happen to live in a warmer climate, cooking with an air fryer will help keep your house cool if you don't want to use your oven!
Do I Need to Blind Bake this Crust?
The crust stays quite soft, a little raw on the bottom if it is not blind-baked.
Because there is no heat coming from the bottom, the crust will not cook the same as in an oven.
It is a little more time & effort to do it this way, but makes all the difference!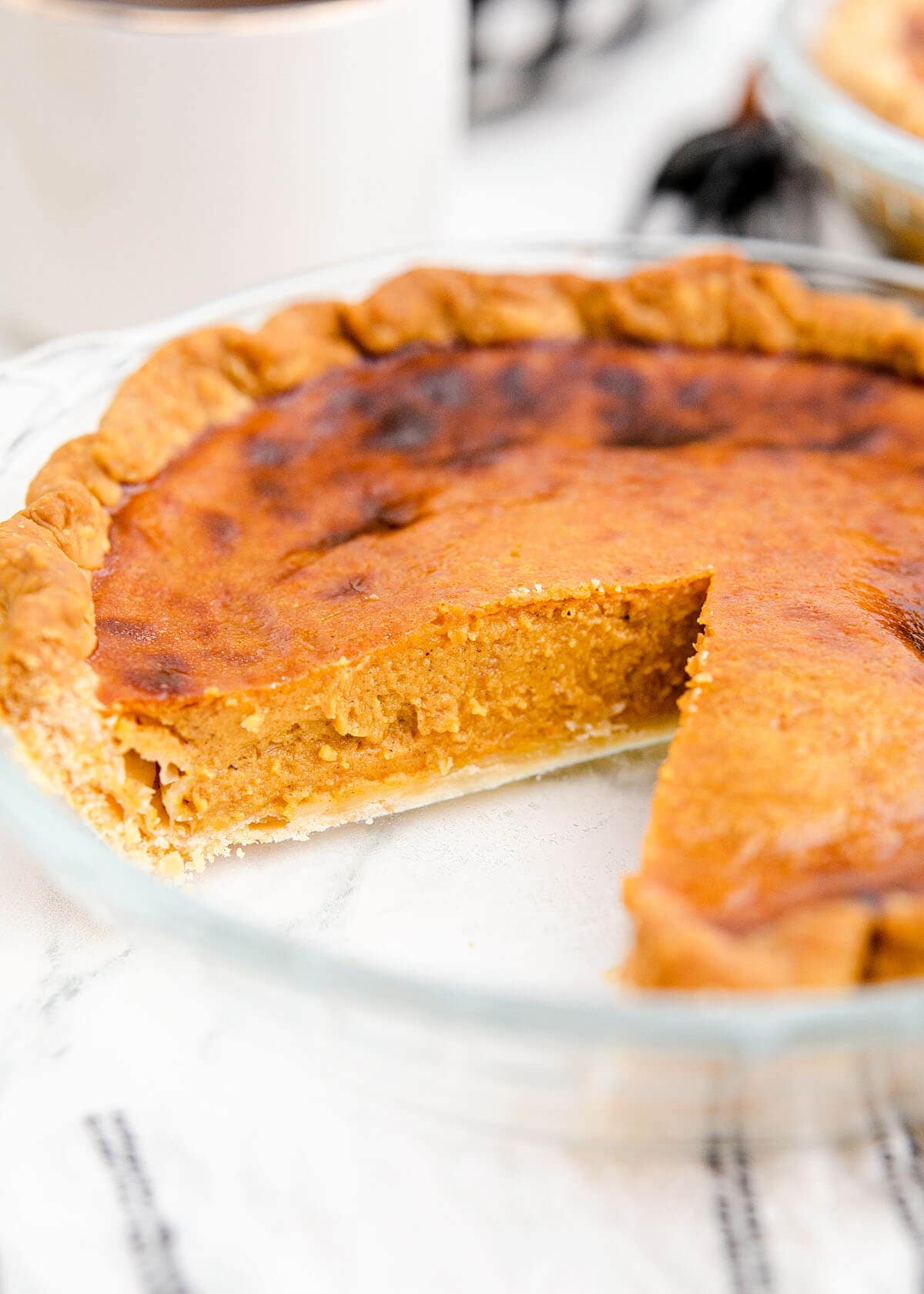 FAQ for This Recipe
Can I just use pumpkin pie spice in this recipe? Yes! Use 2 teaspoons of pumpkin spice to replace the cinnamon, nutmeg, ginger, and cloves in this recipe.
I don't have any evaporated milk - is there something else I could use? Yes, You may substitute milk or cream. Just add 1 Tablespoon of cornstarch to the recipe as well.
Do I need to use both brown and white sugar? No. You may use all white sugar or all brown sugar. It will change the flavor and texture slightly but will still be delicious.
Could I use fresh pumpkin in this recipe? Yes, it will be a slightly different texture but I'm sure you'll enjoy it.


Air Fryer Turkey Breast
Air Fryer Garlic Parmesan Potatoes
Air Fryer Asparagus
Air Fryer Chicken Breasts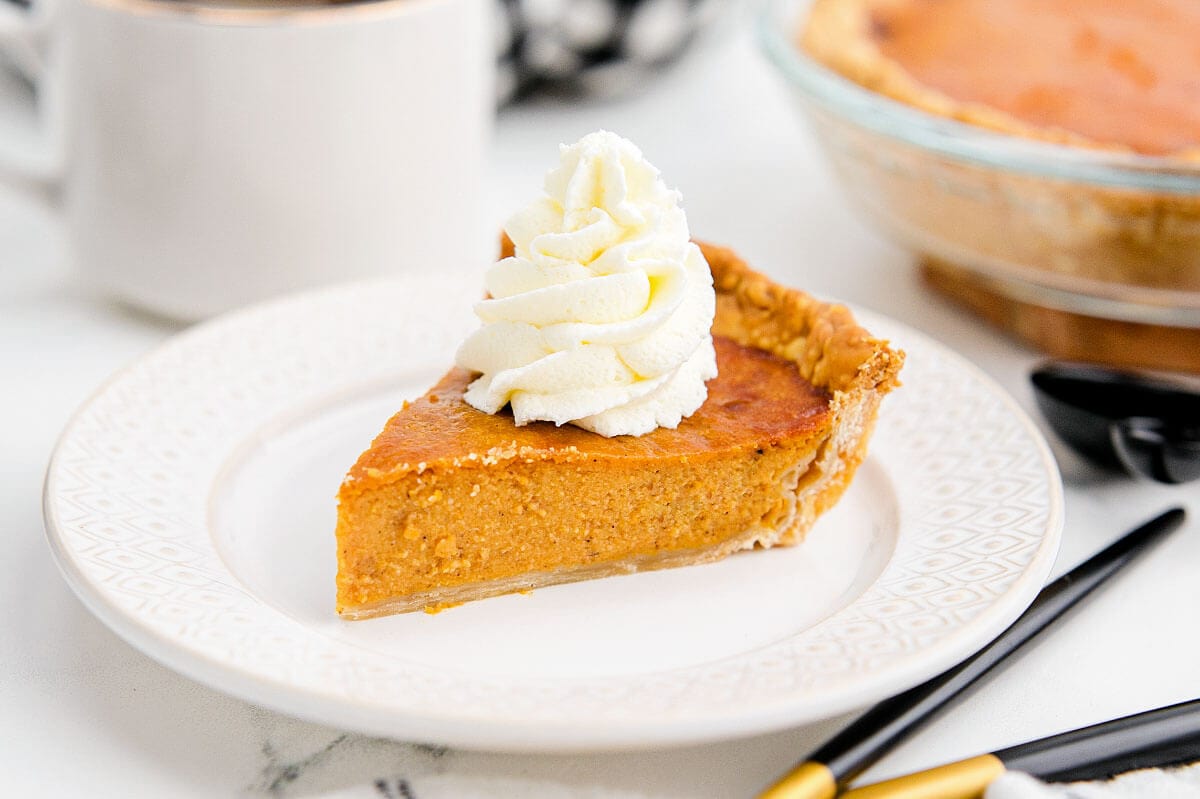 Cooking with an air fryer is fun and yields great results! I hope you enjoy making this recipe for pumpkin pie in the air fryer.
Check out my other Air Fryer Recipes. Lots more are on the way!

If you make this yummy pumpkin pie in the air fryer, please let me know. Just leave a comment with a star rating in the comments section below.
I'd love to know how you liked it!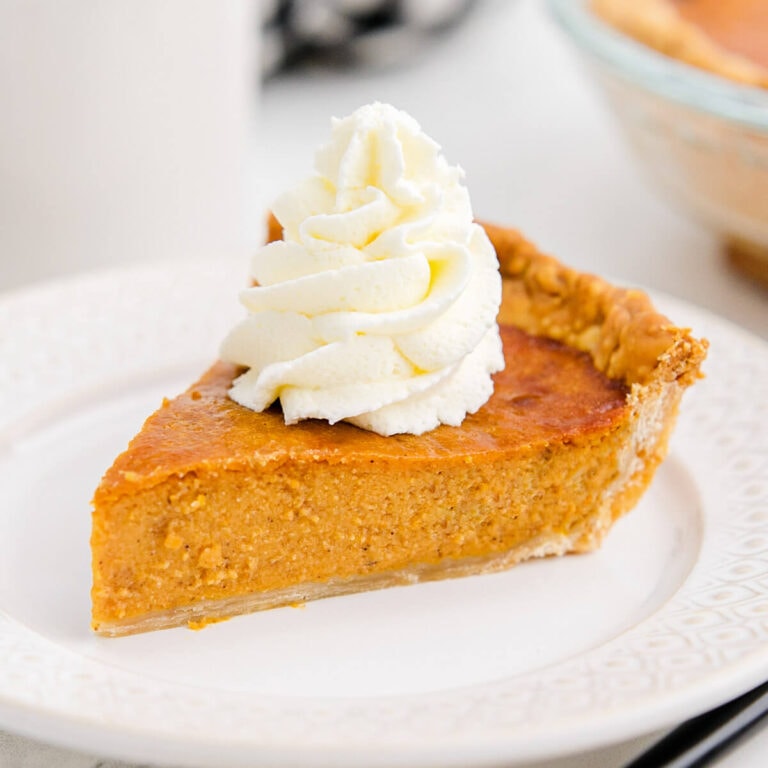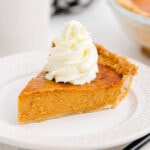 Air Fryer Pumpkin Pie
Air Fryer Pumpkin Pie is delicious Fall dessert recipe. This pumpkin pie made in the air fryer is a classic tasting recipe. This recipe will yield two pumpkin pies.
Cuisine:
American, Holiday
Keyword:
air fryer dessert, air fryer thanksgiving
Ingredients
Refrigerated Pie Pastry

(for 2 pie bottoms, no tops needed)

1

15-ounce can

Pumpkin Puree

(not pie filling/mix)

1

12-ounce can

Evaporated Milk

½

cup

Brown Sugar

¼

cup

White Sugar

2

Tablespoons

Flour

1

teaspoon

Cinnamon

½

teaspoon

Nutmeg

½

teaspoon

Ground Ginger

½

teaspoon

Salt

¼

teaspoon

Ground Cloves

3

Eggs
Instructions
Preheat the air fryer to 300° F for about 5 minutes.

Place the pastry into a 7 or 8-inch pie pan. Cut off any excess pastry (there should only be about 1 inch of pastry over the edge of the pie plate. Fold the edges of the pastry under itself to create a thicker crust along the edge. Then press into a scalloped pattern by pinching and crimping the pastry all the way around.

Press a sheet of tin foil over the pastry - the tin foil should be pressed into every nook of the crust and make sure it is larger than the crust so it can easily be removed later. Fill the tin foil with beans, pie weights, or rice. (This is to make sure the pastry retains its shape while baking.)

Blind bake the crust (this means there is no filling in it yet) for 10 minutes at 300° F*.

Then remove the tin foil containing the beans, weights, or rice. Prick the bottom of the crust with a fork about 10 times (this keeps it from puffing up too much) and bake at 300 for another 5 minutes.

While the crust is baking, use a hand mixer to combine the pumpkin, evaporated milk, brown sugar, white sugar, flour, cinnamon, nutmeg, ginger, salt, cloves. Once your batter is combined, mix in the eggs.

Transfer the batter into a smaller container that allows you to easily pour it, like a liquid measuring cup. Leave the crust in the air fryer while you carefully pour the pumpkin batter into the pie plate. (It will be too hot and difficult to move in and out of the air fryer.) You will use no more than half of the mixture in each pie. Do not overfill the crust. It should come about ¼ of an inch from the top of the crust.

If you have an air fryer with a rack that allows you to cook both pies at the same time, you may get both of the pies ready to bake, otherwise bake them one at a time.

Set the temperature to 350° F and bake the pie for 20 minutes. The middle should be just set, not jiggly. If it is jiggly, bake at 5 minute intervals until done.

Cool the pies at room temperature for an hour, maximum 2 hours (Just remove the basket from the air fryer and do not remove the pie(s) from the basket - it is too hot and difficult to move.).

Then cool the pies in the fridge for at least 2 hours to firm up.
Recipe Notes
*Although some recipes say you don't need to blind bake the crust, the bottom of the crust does not cook completely that way. It is much better when you blind baked the crust.
Resources to Make this Recipe and More
This post contains Affiliate links. As an Amazon Associate I earn from qualifying purchases.