Air Fryer Bacon turns out so well you may not want to cook it any other way! Air fried bacon can be crispy or not-so-crispy, and is so easy to make. I will show you how to make bacon in the air fryer.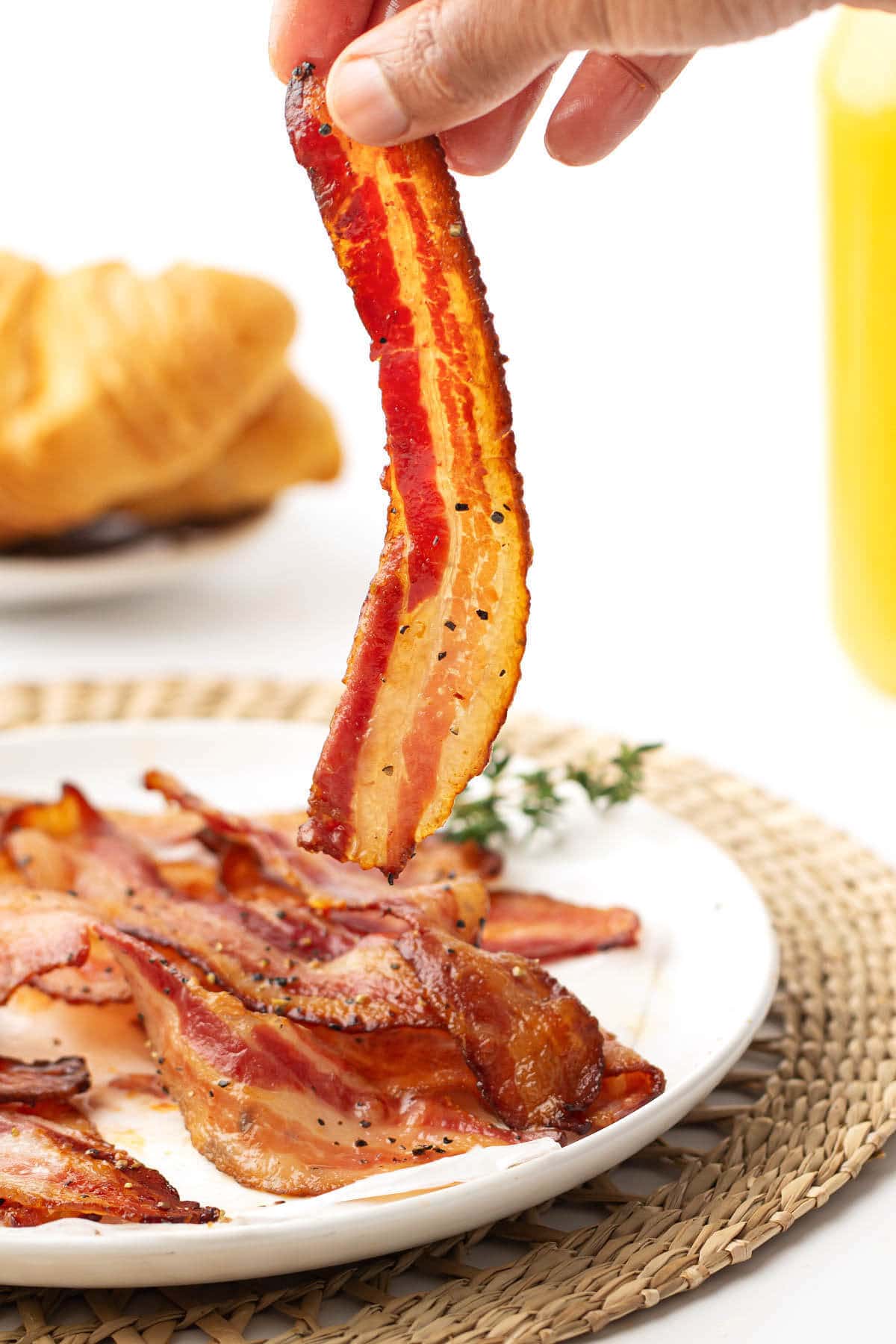 Air Fryer Bacon
Making bacon in the air fryer has become my favorite method of cooking bacon.
In this post I will give you some tips and suggestions on how to easily cook bacon in the air fryer.
How Much Bacon Can I Make in the Air Fryer?
This will depend on the style and size of your air fryer. An average 6-quart basket holds about 6 slices of bacon. If you have an oven-style air fryer, it may hold more.
If you want to make more bacon, simply put your oven on warm and put the cooked bacon on a plate in it. Cook in batches.


Even if you have multiple trays, you will keep the cook time the same as this method (though different brands of air fryers will vary in cook time, etc.).
FAQ For Air Frying Bacon
Do I Need to Preheat My Air Fryer?
I don't. There are some brands of air fryers that recommend preheating them, but I don't think you need to for air frying bacon.
Do I Need to Spritz the Bacon with Oil?
Nope. Just like frying on the stove or cooking bacon in the oven, you air fry it as is.
What if I have Thick-Cut Bacon?
You will just cook it a little longer.
What if My Bacon Curls?
When you check it at the halfway point and see it is curling, just flip it over.
Does This Work With Turkey Bacon?
Yes, it does. You can use this method and timing for turkey bacon.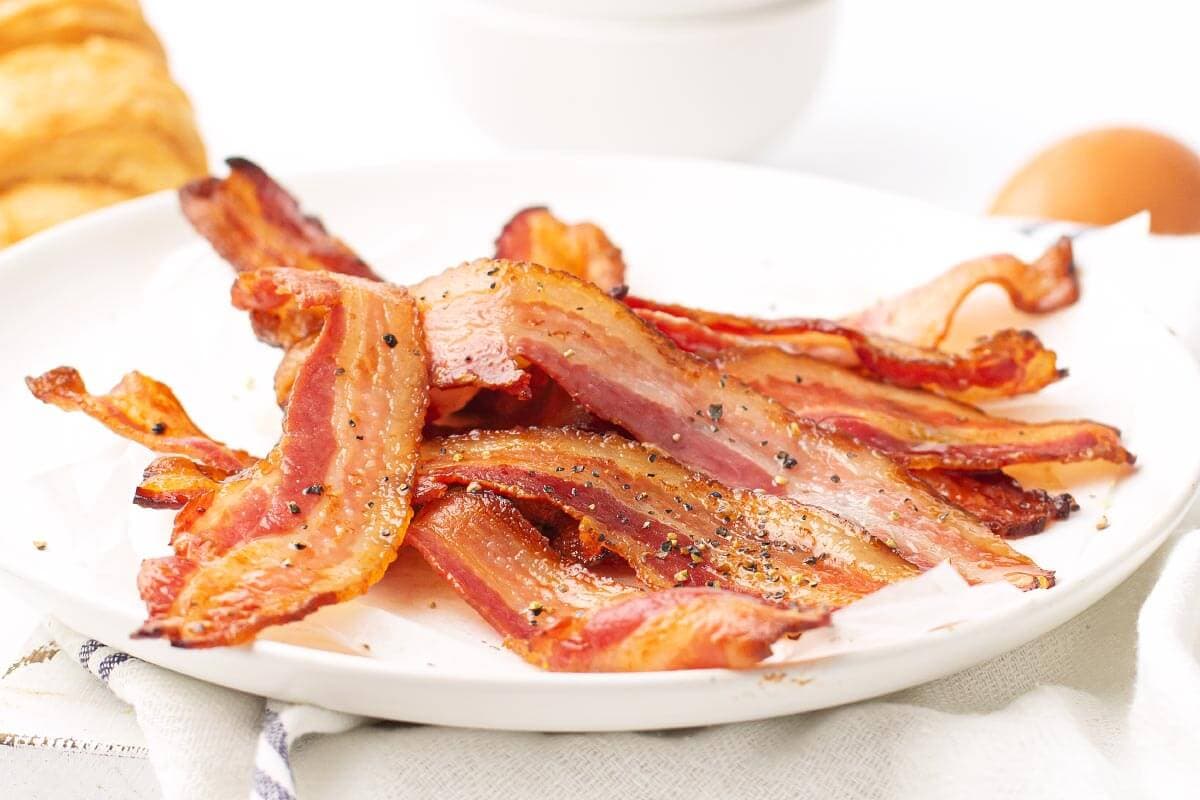 Does Bacon Make the Air Fryer Smoke?
• The temperature and excess grease is usually what makes it smoke. If kept below 400°F, which is bacon grease's smoke point, it should be okay.
• Try emptying the grease and wiping it out between each batch if you make multiple batches.
• Some people have success with adding a few tablespoons of water to the bottom of the air fryer.
• I have also heard that a piece of bread can be set on the bottom of the air fryer to absorb grease (I haven't tried this).


Air Fryer French Toast
Air Fryer Boiled Eggs
Air Fryer Rib Eye Steak
Air Fryer Pickles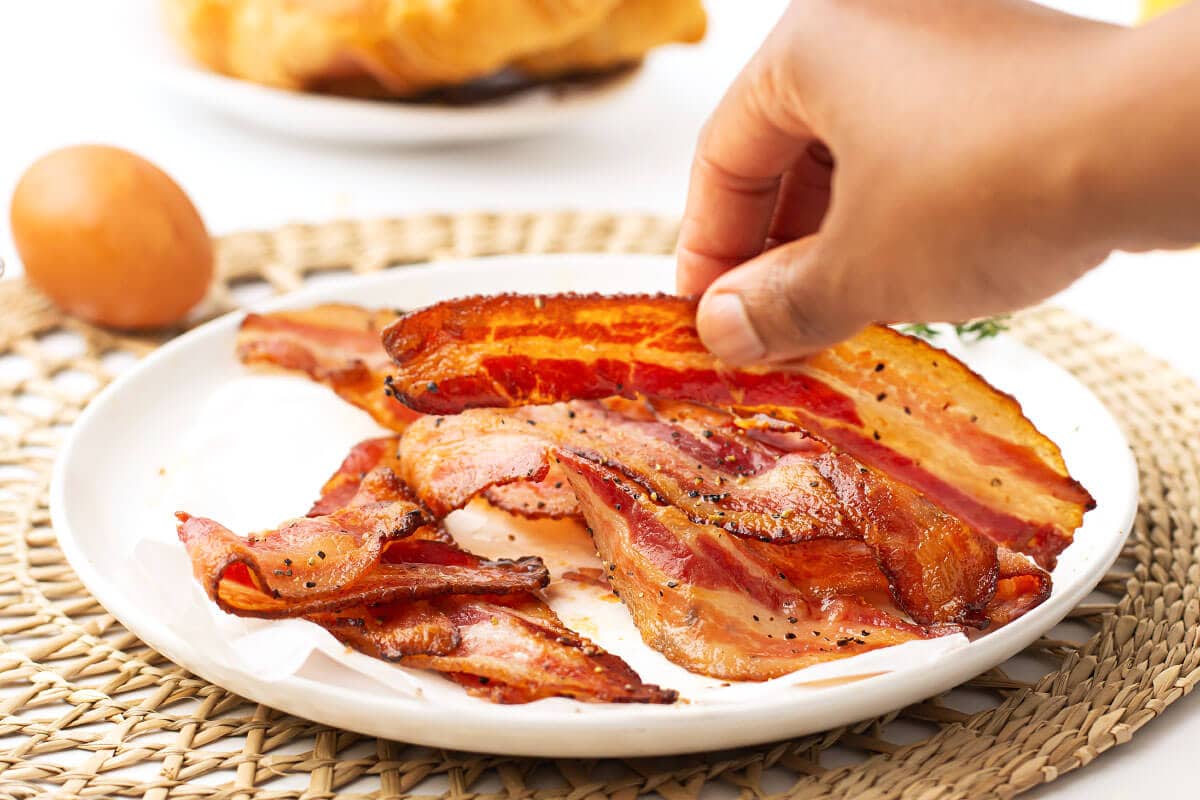 If you make this easy bacon in the air fryer, please let me know. Just leave a comment below with a star rating.
I'd like to know how it worked for you!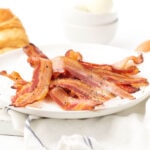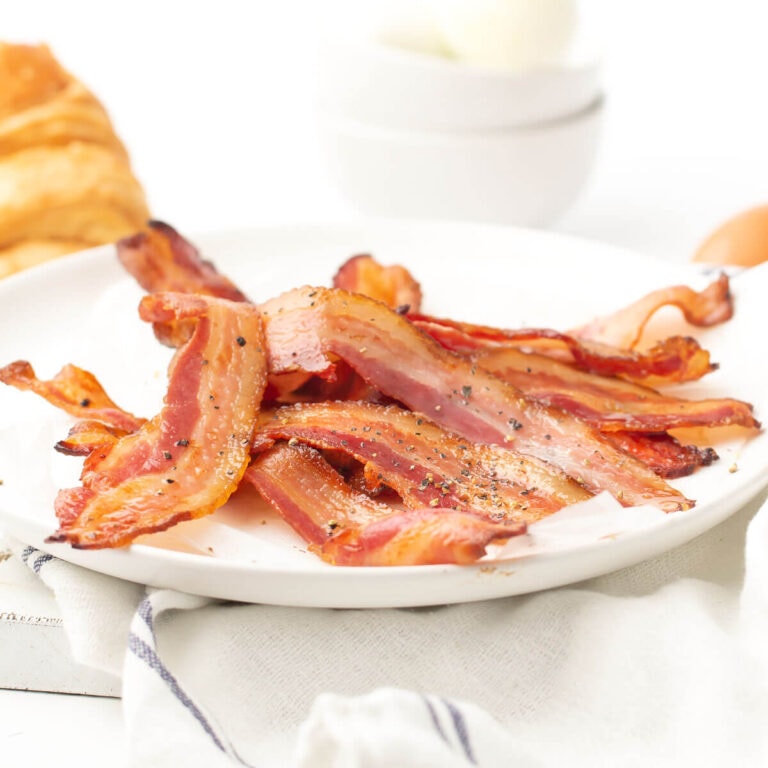 Air Fryer Bacon
Air Fryer Bacon is so easy and turns out as crisp as you want it to. Try air frying bacon and you may not want to cook it any other way!
Keyword:
air fryer recipes, how to air fry bacon
Instructions
Begin the recipe by laying out the bacon slices in the air fryer basket. Ensure that they are not overlapping one another.

Cook the bacon at 375°F for about 10 minutes. Check at the 5 minute mark* to see if the air fryer fan has moved (overlapped) any of the bacon slices and rearrange if needed, using tongs or a fork.

*If you check it at the halfway point and see the bacon is curling, just flip it over. Otherwise you shouldn't have to flip it.

After cooking, serve immediately, unless you are making more than one batch. You can place the bacon on a plate, lightly covered with foil, and set in a warm (not hot) oven to keep until all batches are ready to serve.
Resources to Make This Recipe and More
This post contains Affiliate links. As an Amazon Associate I earn from qualifying purchases.