This Tasty Turkey Meatloaf is flavorful and juicy. Easy to make and the family will love it!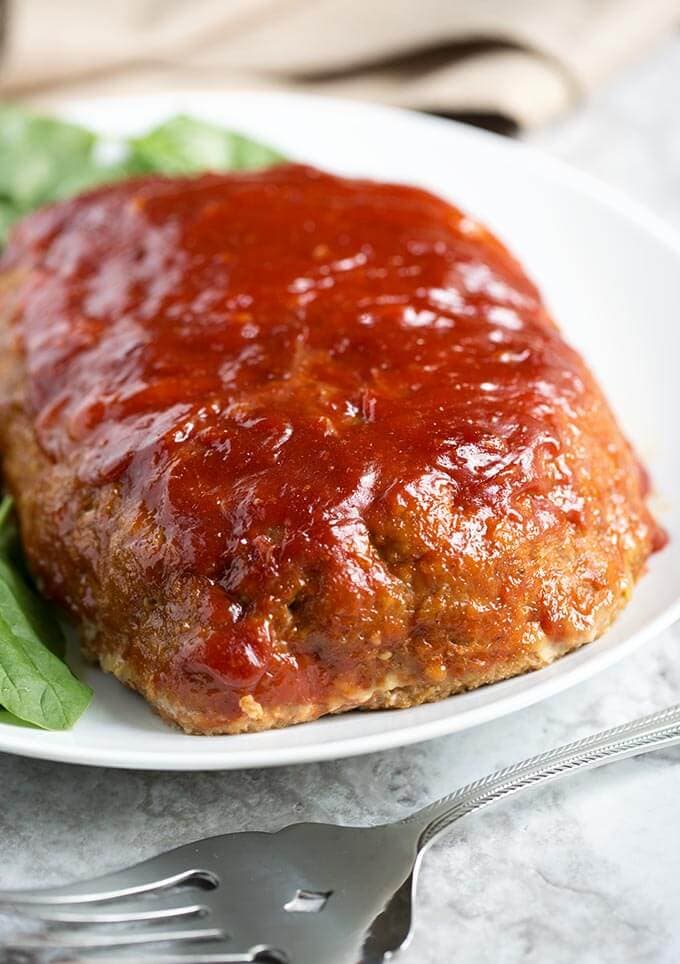 Tasty Turkey Meatloaf
When I think of the meatloaf from my childhood, I think of weeknights at home with the family. My favorite shows were on the TV (Wonder Woman, The Bionic Woman, Starsky and Hutch!). Mom made a simple meatloaf, ground beef with some crackers and milk in it. A simple layer of ketchup on top. Always accompanied by mashed potatoes! Great memories.
We didn't buy ground turkey back in those days. I don't know if it wasn't readily available, or if hamburger was just the popular meat to buy. We did eat a lot of Hamburger Helper when mom had to work!
I discovered ground turkey in the late 1980's. I suddenly started to get sick every time I ate ground beef. It was crazy, and seemingly out of the blue. So when I discovered ground turkey, it replaced the beef in my diet, and every ground beef recipe I made. A lifesaver!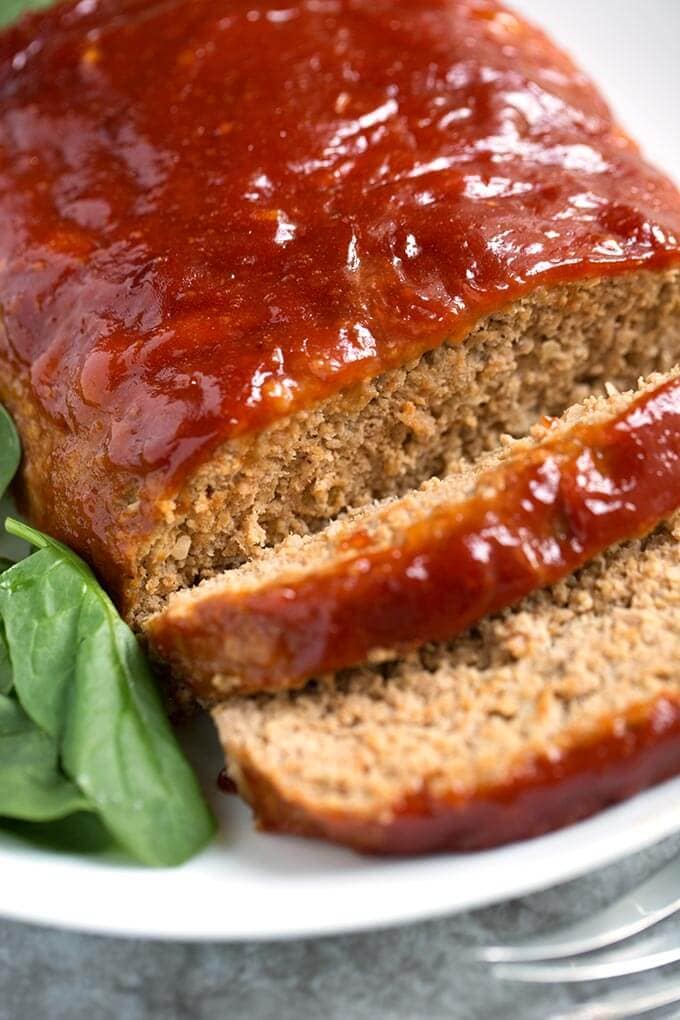 I went over 20 years without eating beef. None. Not even a roast! I was afraid to get so sick again. I actually didn't miss it much, and would make it for the guys as they love it (of course!). In the last few years I have tried a little here and there. Mostly things like half of a Roast Beef sandwich, organic, grass fed beef in tiny portions. I've been tolerating it pretty well!
Today I wanted to share my favorite (and my family's favorite) Tasty Turkey Meatloaf recipe with you. It has a great flavor, and it's not dry. Just don't use ground turkey breast, as that is very dry. I like to use 80% lean for this recipe, but 97% is what I used to use and it's also great.
The topping sauce is really simple, and I like to put it on rather thick. Sometimes I double the sauce and keep half of it for dipping. Yum! I hope you enjoy it, and have fun making those memories with your family and friends when you sit down to eat. Check out those old reruns on TV!


Easy Baked Meatballs
Slow Cooker Barbecue Pulled Pork
Nana's Easy Cinnamon Bread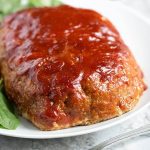 Tasty Turkey Meatloaf
Tasty Turkey Meatloaf is flavorful and juicy. Simple ingredients and a sweet & tangy sauce makes this our favorite meatloaf!
Course:
Dinner, Main Course
Keyword:
turkey meatloaf recipe
Ingredients
Meatloaf Mixture
2

lbs

Lean Ground Turkey

1/2

cup

Panko Bread Crumbs

1/4

cup

Heavy Cream,

or Whole Milk, or half and half (for a little fat)

1/2

Small Sweet Onion,

diced small (or 2 Tbsp dehydrated onion)

2

Eggs

1/4

cup

Ketchup

1

tsp

Worcestershire Sauce

1

tsp

Kosher Salt

1/2

tsp

Black Pepper

1

tsp

Garlic Powder

1/4

tsp

Poultry Seasoning
Sauce Topping
1/2

cup

Ketchup

1/4

cup

Brown Sugar

1

tsp

Yellow Mustard
Instructions
Heat oven to 350 degrees F.

In a large bowl, combine all of the meatloaf mixture ingredients until well incorporated. Try not to overwork the mixture.

Place on a baking sheet lined with parchment and use your hands to shape it into a loaf of even thickness (If all you have is a loaf pan, that will work fine, you might use less of the topping, which you can save for dipping).

Bake for 50 minutes. Use a meat thermometer to take the internal temperature of the meatloaf. If it reads 160 degrees, then it is done. If less than that, put it back in the oven for 15 minutes and take temperature again (I take mine out at 155 degrees and let it rest for 10 minutes or so. The temperature ends up at 160).

If you have any of the topping sauce left, you can use it as a dip, or spread it over the cooked meatloaf and serve.
Recipe Notes
This recipe will work with ground beef. Switch out the poultry seasoning for thyme or steak seasoning. Use a lean ground beef.

RESOURCES TO MAKE Tasty Turkey Meatloaf recipe and more
We are a participant in the Amazon Services LLC Associates Program, an affiliate advertising program designed to provide a means for us to earn fees by linking to Amazon.com and affiliated sites.