Pulled Pork is so delicious, easy to make, and inexpensive to make, as pork shoulder (pork butt) is a less costly cut of meat. There aren't very many ingredients in this pulled pork recipe, and you can set it and forget it as it cooks slowly all day.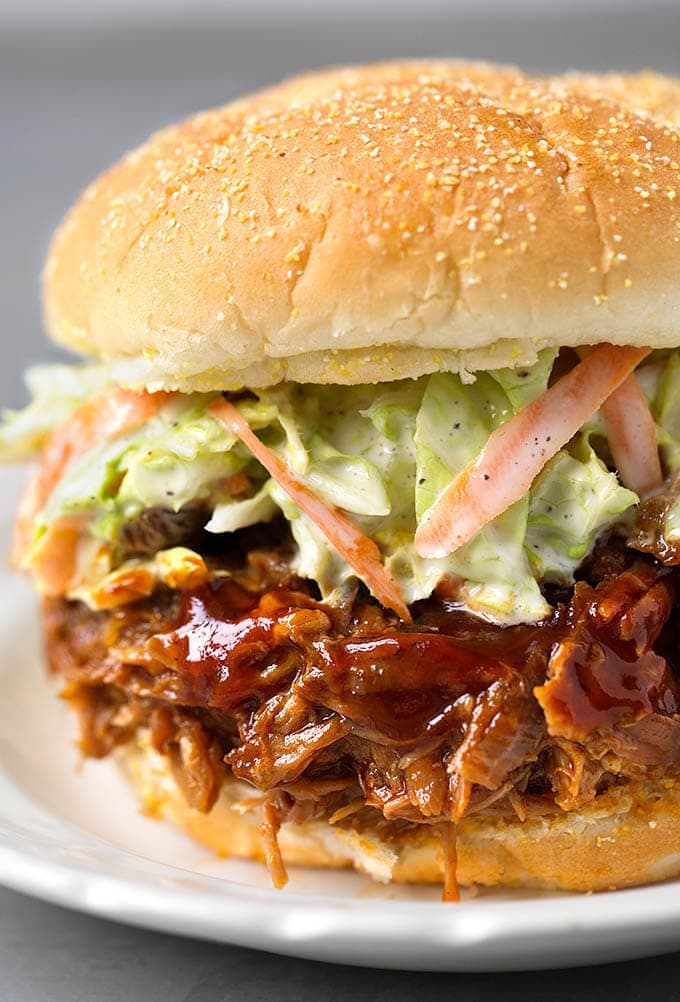 Pulled Pork
I think I was in my mid 20's when I had my first tender, rich, saucy pulled pork sandwich at a BBQ joint in Portland, OR. Thank goodness my friends took me there! I was so impressed that I asked the owner of the restaurant how to make it. He was happy to give me a few pointers, and I also learned other methods from our church ladies, who know how to feed a crowd!
Nowadays I make pulled pork often. I have men in the house, and as you might have guessed, they love to eat meat. And potatoes. So cliché! I do love feeding them pulled pork because I get to have some, too! I usually make a 7 to 8 pound pork shoulder (or pork butt), and that feeds us for days! And days…
The meat is so versatile. You can make a classic pulled pork sandwich, topped with a crunchy creamy cole slaw, and you can also use the meat to make soft tacos, omelettes, or we sometimes put a big spoonful of pulled pork on mashed potatoes. So good!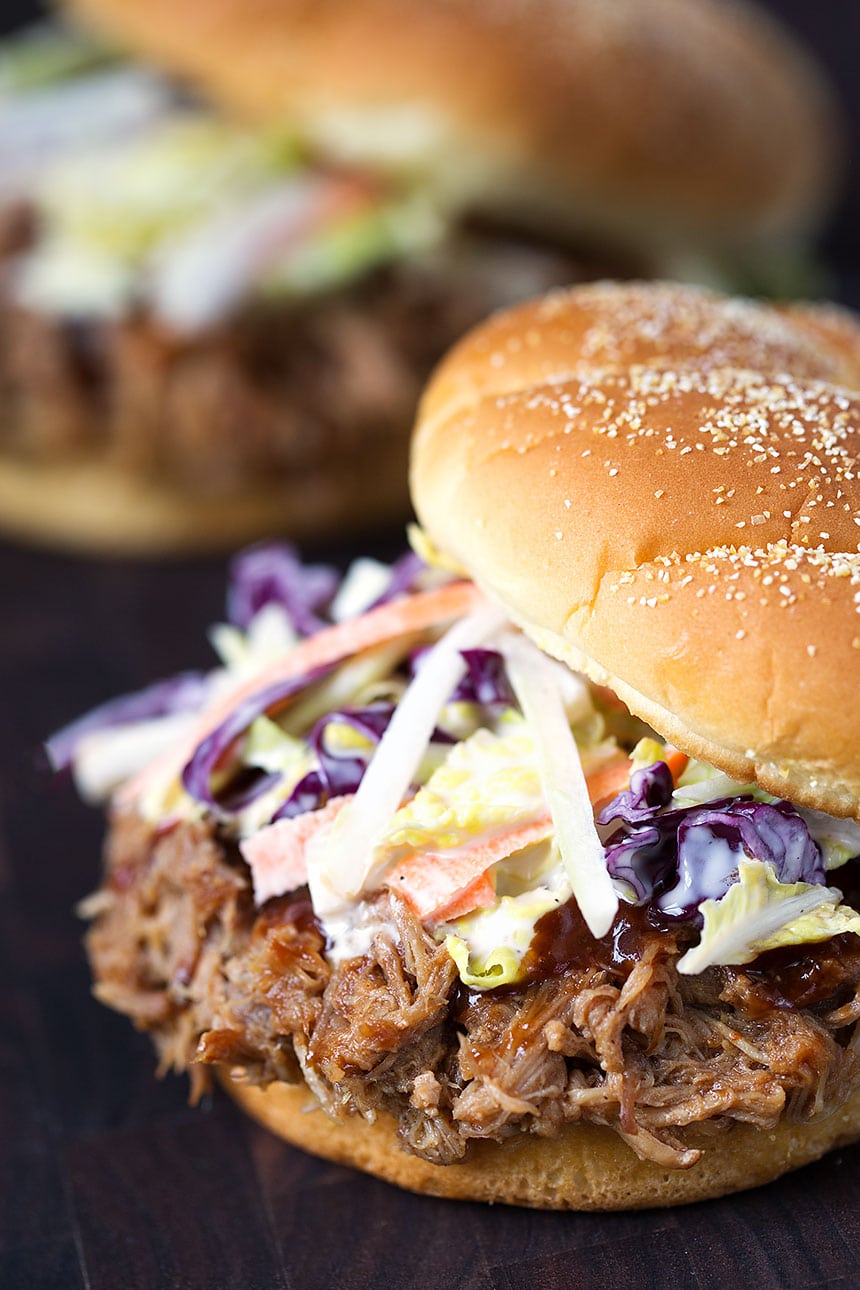 If you have a smaller bunch to feed, try a 5 or 6 pound pork shoulder to make your pulled pork. If you have a good dutch oven, use it! I have three of them in different sizes, my favorite being the Lodge enameled cast iron. I have the 6 qt and the 7.5 qt. What a workhorse, and they last for years!
I hope you don't wait to treat yourself, and your family, friends, partygoers, neighbors, etc. by making this wonderful pulled pork!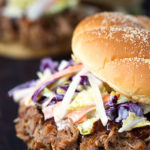 Pulled Pork
Pulled Pork cooked low and slow on a bed of onions with flavorful add-ins like pop, chipotle, bbq sauce, and a spice rub. Makes the best pulled pork sandwiches!
Keyword:
dr pepper pulled pork
Ingredients
(1) 7-8

lb

Pork Shoulder

(Pork Butt, same thing) If you use a smaller roast, closer to 5 or 6 pounds, cut the cook time to 6 hours.

Kosher Salt

3-5

Tbsp

Spice Rub Seasoning

(My Ribs Spice Rub is really good on this)

2

Onions,

cut in large wedges

3

Chipotle Peppers in Adobo Sauce

(comes in a 7 oz. can. Use 3 of the peppers and all of the sauce in the can)

2

12 oz cans

Dr. Pepper

(or cola, root beer)

3

Tbsp

Brown Sugar

2

Cups

BBQ Sauce,

divided
Instructions
Heat oven to 300 degrees F.

Chop the onions and put in a large 8 qt dutch oven.

Sprinkle the salt lightly on all sides of the pork.

Rub the pork with the spice rub and set it in the dutch oven, fat side down.

Pour in the soda (not over the meat).

Stir in the brown sugar.

Spoon the chipotle adobo sauce on top of the pork, and the peppers. You can use a few more if you like it spicy (Three peppers will give it just a hint of spice).

Pour 1 cup of the BBQ sauce over the pork.

Put the lid on the dutch oven and put in the oven.

Cook for 6 to 8 hours, flipping the pork over halfway through. You will know when it is done as you can stick a fork in the meat and it will be soft and come apart easily.

Remove the dutch oven to a heat proof surface (It will obviously be very hot, and be careful as it will also be very heavy!).

Remove the pork to a baking sheet or large platter and shred the meat using two forks (This is "pulling" the pork).

Skim the fat off the top of the liquid that is still in the dutch oven. You can also scoop the liquid into a fat separator, which is what I do.

Return the de-fatted (is that a word?) liquid to the dutch oven and use an immersion blender to blend the onions into the liquid. This also thickness it a small amount. If you don't have an immersion blender, use a food processor. With either method, please be very careful as you are blending HOT liquid, and it can burn you.

Return the shredded pork to the liquid and mix it in well.

You can either add the remaining BBQ sauce to the meat, or use the remaining sauce as a condiment on your sandwich. I recommend tasting it the pork first and seeing what you like.
Recipe Notes
1. Use a kaiser roll, or your favorite buns to make a delicious pulled pork sandwich.
2. Top with my Easy Creamy Coleslaw, as it goes perfectly with this pulled pork.
Resources to make this recipe and more
We are a participant in the Amazon Services LLC Associates Program, an affiliate advertising program designed to provide a means for us to earn fees by linking to Amazon.com and affiliated sites.