Slow Cooker Spaghetti Squash and Meatballs is so simple to make! You will enjoy this easy low carb crockpot spaghetti squash and meatballs dinner! Prep is fast. We love this recipe!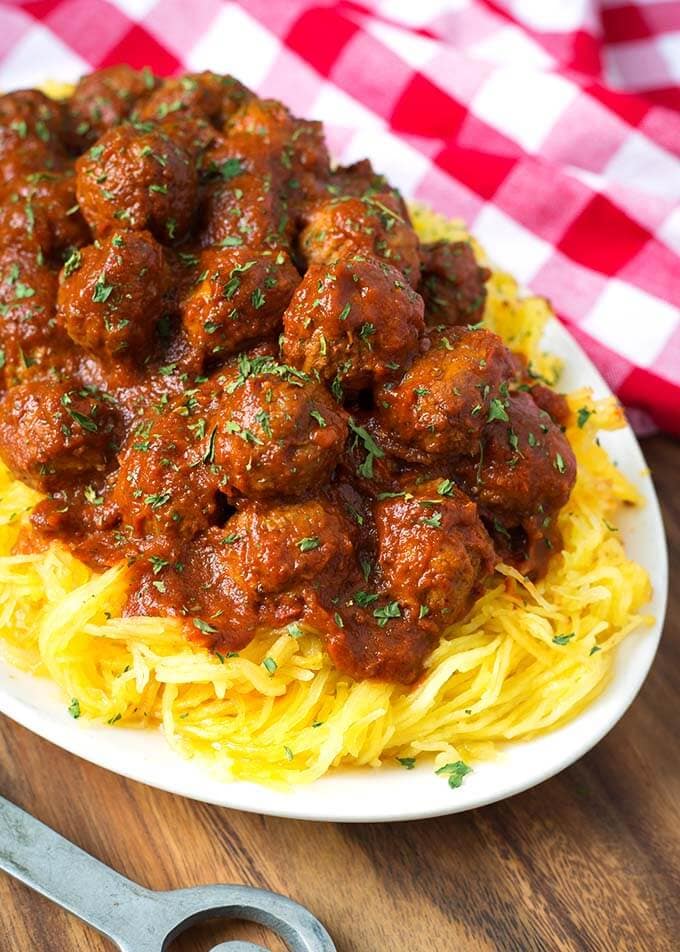 It almost looks like spaghetti and meatballs! This is such a great low carb dinner recipe!
Originally published Aug 27, 2018
Slow Cooker Spaghetti Squash and Meatballs
I often have a bag of cooked meatballs hanging around in my freezer. They are handy to have on hand for an easy dinner.
I also usually have a spaghetti squash or two in my pantry. They last a long time, so if you buy one you don't have to use it right away.
Setting up the slow cooker in the morning before work can be time intensive if you have to sauté or pre-cook any of the ingredients first. You just don't always have time to do that.
This Slow Cooker Spaghetti Squash and Meatballs recipe uses those wonderful precooked frozen meatballs and jarred spaghetti sauce. With only a few ingredients, that makes putting it together in the morning a cinch!
Here are the easy steps to make Slow Cooker Spaghetti Squash and Meatballs: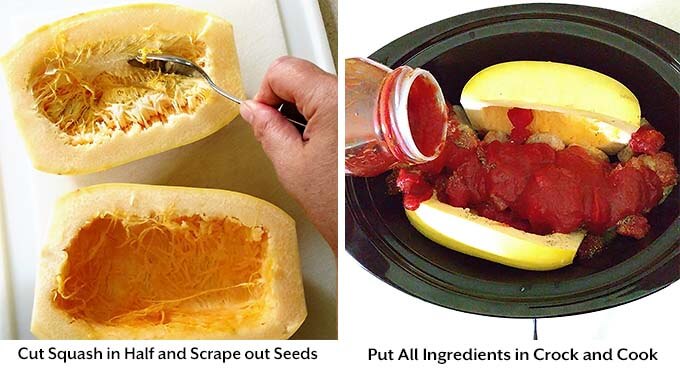 When it has finished cooking just scrape out the stringy flesh (the 'spaghetti') with a fork and either mix it in with the meatballs and sauce, or spoon the mixture over the spaghetti squash.
What Are the Best Meatballs to Use?
Normally I grab a bag of meatballs from the freezer section at the store. Just use your favorite.
You can also make your own meatballs. I bake mine in the oven and freeze them in freezer bags. They are delicious! I make both beef and turkey. Here's my Easy Baked Meatballs recipe.
We also like to use the Ikea® Swedish meatballs if we can get them. They are smaller and one bag (2 lbs / 1000 g) with a large spaghetti squash makes a lot. They make a veggie and a chicken version, as well as the traditional beef meatballs. You will need a larger (7 or 8 qt) crock pot if you use the whole bag.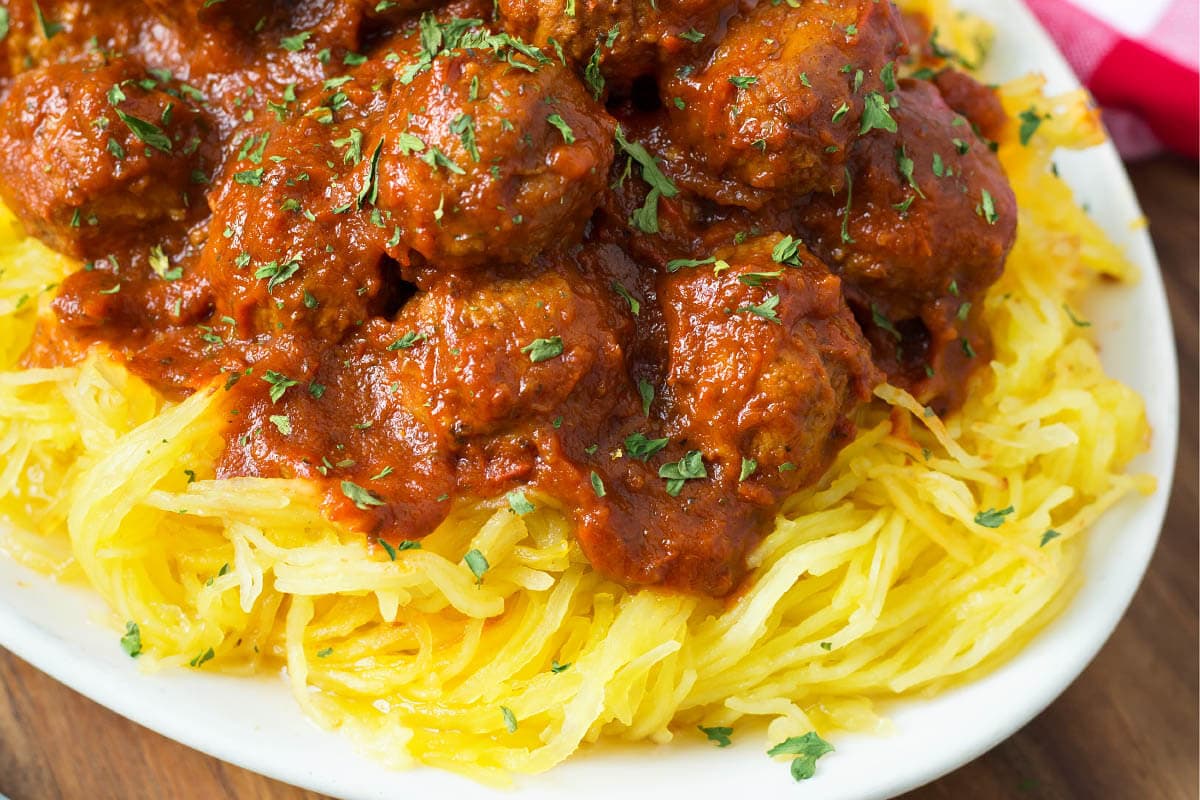 Which Spaghetti Sauce is the Best to use?
• Use your favorite. It's all about taste and convenience. I personally enjoy using Marinara Sauce and adding my own seasonings.
• I also love making fresh marinara sauce in my Instant Pot®. Here my recipe for Instant Pot Marinara Fresh Tomato Sauce. This sauce is amazing with this recipe!


Easy Baked Meatballs
Slow Cooker Creamy Tortellini Soup
Slow Cooker Chicken Fajitas
Slow Cooker Creamy Tuscan Chicken
My Instant Pot Meatball Pasta Dinner recipe also uses frozen meatballs, and is a super fast and delicious meal.
If you make this easy, tasty crockpot meatballs and spaghetti squash recipe, please let me know! Just leave a comment below with a star rating. I'd love to know how it worked for you!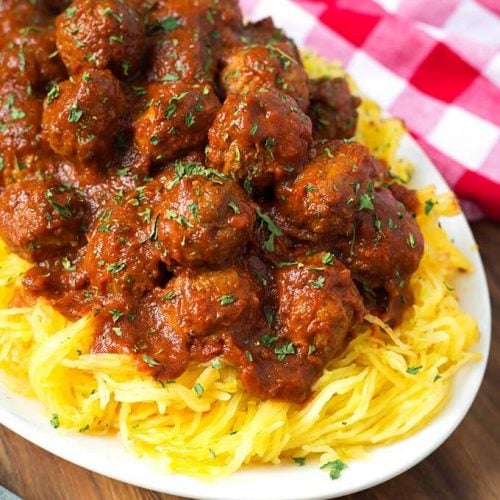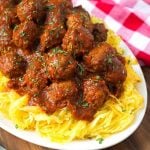 Slow Cooker Spaghetti Squash and Meatballs
Slow Cooker Spaghetti Squash and Meatballs has only 4 ingredients and is so simple to make! You will enjoy this easy low carb crock pot spaghetti squash and meatballs dinner! We love this recipe!

Keyword:
crock pot spaghetti squash, crock pot spaghetti squash and meatballs
Ingredients
1

Spaghetti Squash,

cut in half and deseeded

1 - 2

lbs

Meatballs

(cooked, frozen)

1

24-ounce jar

Spaghetti Sauce

(if you use marinara, add some spices)

1

14-ounce can

Diced Tomatoes,

drained (optional)
Garnish (Optional)
Parsley,

chopped or dried

Parmesan Cheese,

grated
Instructions
Wash the spaghetti squash and cut in half (lengthwise or crosswise) however it will best fit in your slow cooker* with the lid on. Remove the seeds and place in the slow cooker.

Pour the diced tomatoes over the meatballs.

Pour the spaghetti sauce over the meatballs/tomatoes.

Press the squash into the sauce, flesh facing down (skin side up).

Cover and cook on Low for 5-6 hours, or High for 3-4 hours. You will know it is done when a knife slides easily through the squash.

When done cooking, remove the squash and carefully scrape out the flesh with a fork. You may need to let it sit a few minutes after removing it so it cools a little. Discard the skin/shell.

Either add the squash to the meatballs/sauce and stir, or serve a portion of squash to each person and spoon some sauce and meatballs over it.

Garnish with some parmesan cheese and parsley, if desired.
Recipe Notes
*If the squash doesn't fit well when cut in half, you can quarter it. The "spaghetti" strings will be shorter, but it should be able to fit in your slow cooker better.
Resources to Make Slow Cooker Spaghetti Squash and Meatballs Recipe and More
We are a participant in the Amazon Services LLC Associates Program, an affiliate advertising program designed to provide a means for us to earn fees by linking to Amazon.com and affiliated sites.