Instant Pot Marinara Fresh Tomato Sauce recipe makes a big batch of delicious sauce that you can use as spaghetti sauce, or any recipe that calls for a flavorful pasta sauce. Pressure cooker marinara sauce from fresh tomatoes is a great way to use up your summer bounty of garden fresh tomatoes!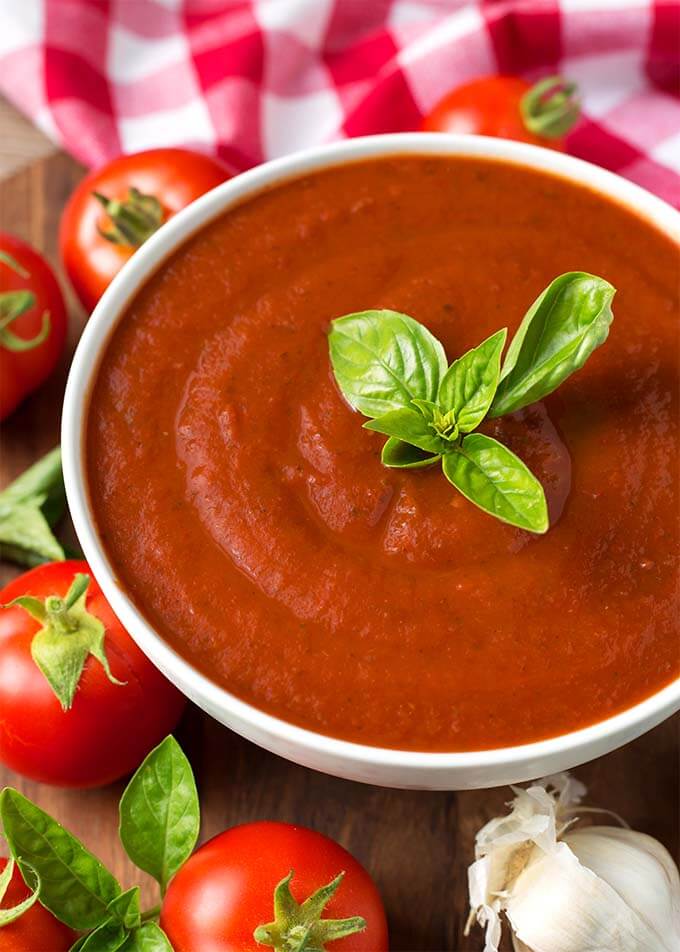 Originally published 8/26/18
Homemade Instant Pot Marinara Tomato Sauce
My garden is doing very well this year, and the tomatoes are ripening, with some to pick every day! I like to make tomato sauce from fresh tomatoes, and I especially enjoy making Instant Pot Marinara Fresh Tomato Sauce.
This year I planted several varieties: Early Girl, Whopper, Beefsteak, Roma, Cherry, and Yellow Pear. Paul likes to snack on the cherry tomatoes, and I like the Early Girls and Whoppers for cheese and tomato sandwiches! Yum!
So far this season the plants have yielded about 15 pounds all together. We will get a few more pounds as the growing season is coming to an end. The Yellow Pear tomatoes will keep going for a while yet as they come on later in the summer than the others.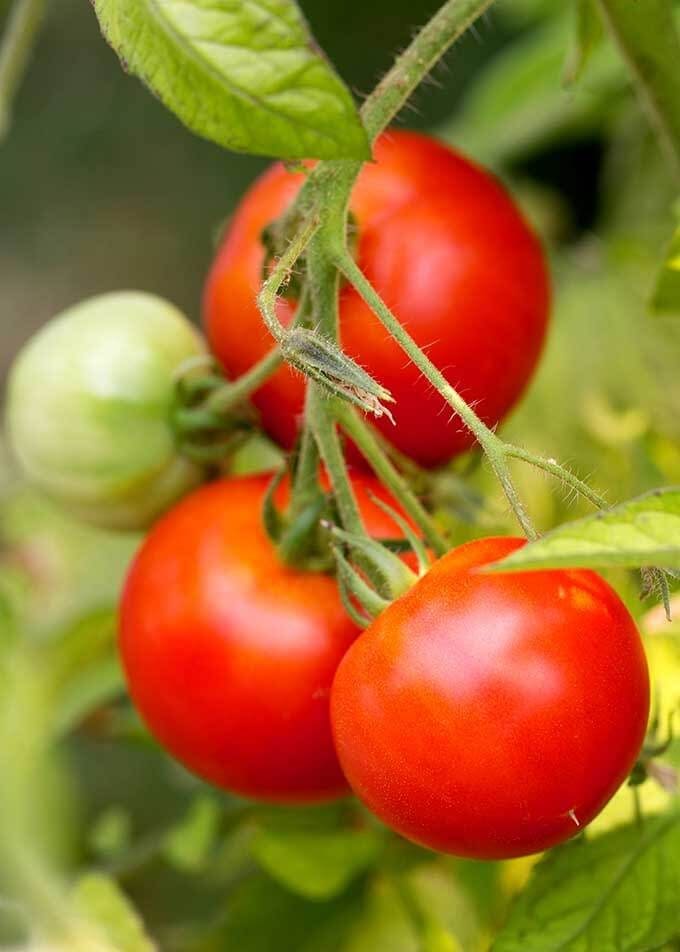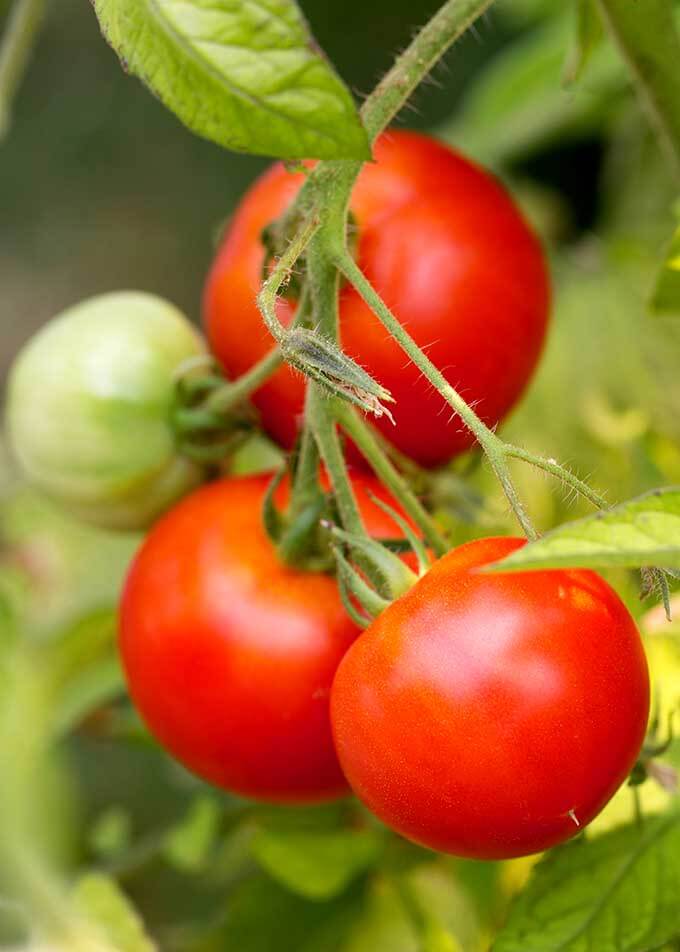 You can tell how much I enjoy growing my own tomatoes! They just taste so perfect when they are homegrown. The ones in the store don't have any flavor, as far as I'm concerned. So I don't make Instant Pot Marinara Fresh Tomato Sauce from store bought. Ever.
I like to buy Newman's Own Marinara® if I don't have any of my own homemade tomato sauce.
Making marinara sauce with fresh tomatoes in the pressure cooker is easy, and faster than the stove top. I love the results!
Here's how to make Instant Pot Marinara Fresh Tomato Sauce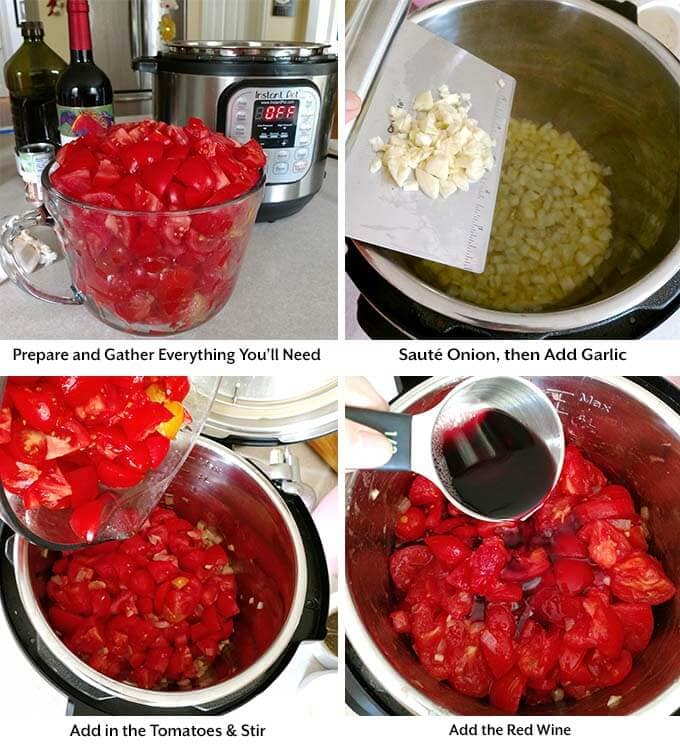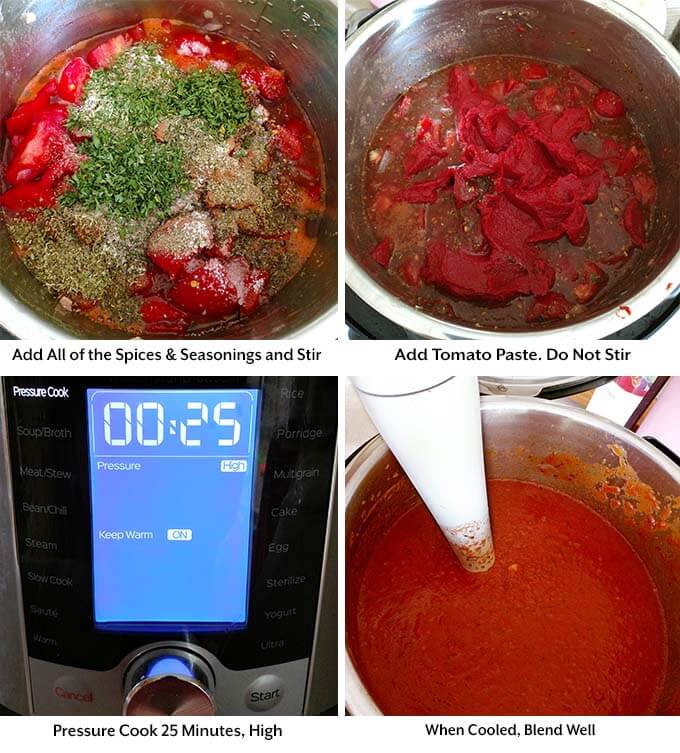 How To Deal With Acidic Marinara Sauce
Using fresh tomatoes to make your Instant Pot Marinara Sauce can sometimes yield a sauce that is too acidic for some tastes. It happens sometimes. Your results will vary by how sweet the tomatoes are.
The cocoa powder in the sauce helps the acidity, and it adds a nice complexity to the sauce. You will not notice it is in there. Don't use dark cocoa as it is more bitter. Please don't omit unless you have to!
Here are a few more ways to fix acidic marinara sauce
Sweeter wine will yield a sweeter sauce. Not like a dessert wine, but not a sour one either. Something you enjoy drinking.
Stir in some sugar. Sugar doesn't reduce acidity, but it does help mask it.
Add some Baking Soda. Baking soda is an acid neutralizer, and works very well (I drink it mixed with water when I have an acid attack in my tummy). When adding it to your sauce, start with 1/4 tsp and sprinkle it on the sauce. You will see it get fizzy. Just let it do that and then stir it. Taste, and add another 1/4 tsp if necessary. Be careful not to add too much as baking soda is bitter tasting.
Add some salt. Adding some extra salt sometimes does the trick, however you need to be really careful not to add too much. I have only used salt once for this, and that was because I added too much sugar.
Toss in a sliced carrot before cooking. My reader Cara learned that from an Italian neighbor she had (thanks, Cara!)!
You Might Also Like These Recipes that Use this pressure cooker Fresh Marinara Tomato Sauce
Instant Pot Spaghetti and Meatballs
Instant Pot Lasagna
Instant Pot Pizza Pasta Casserole
Instant Pot Meatball Pasta Dinner
Pin This Recipe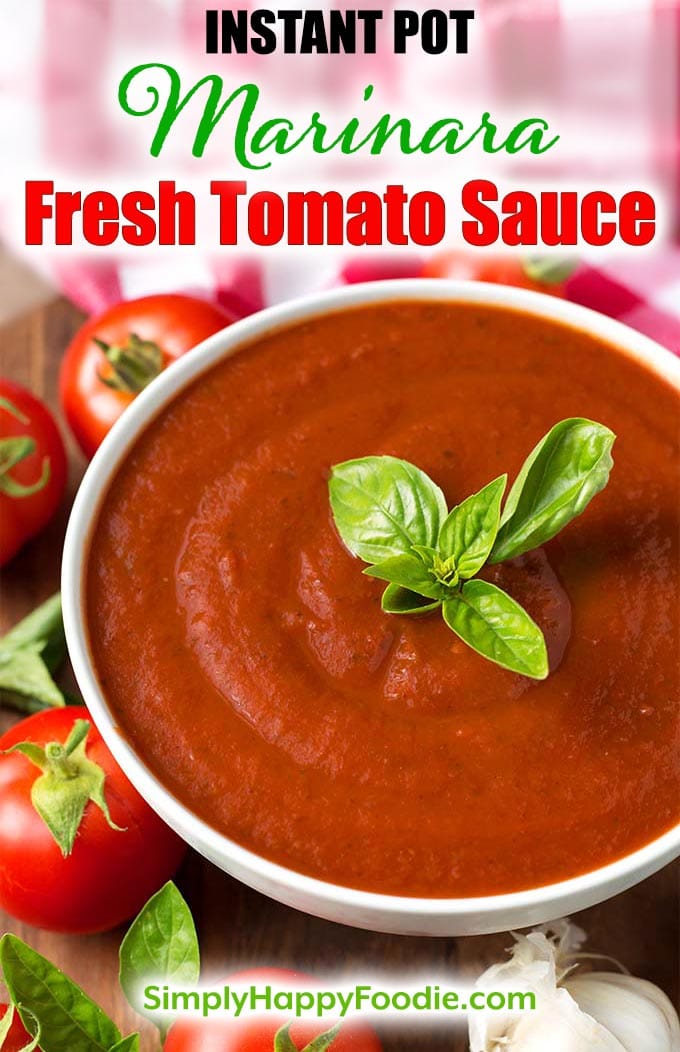 If you make this wonderful pressure cooker marinara sauce, please leave me a comment below. I'd love to know how you liked it!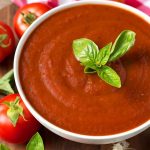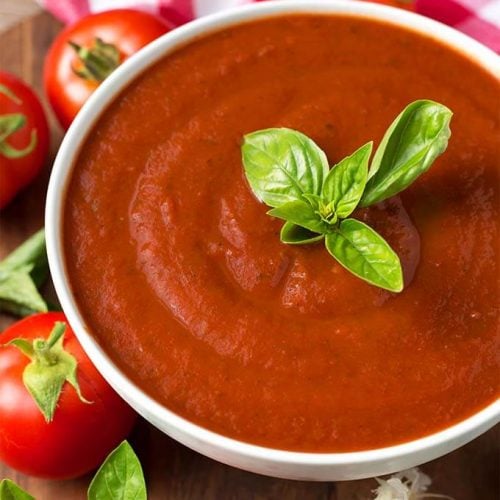 Instant Pot Marinara Fresh Tomato Sauce
Instant Pot Marinara Fresh Tomato Sauce recipe makes a big batch of delicious sauce that you can use as spaghetti sauce, or any recipe that calls for a flavorful pasta sauce. A great way to use up your summer bounty of garden fresh tomatoes!

Keyword:
pressure cooker marinara fresh tomato sauce recipe
Ingredients
4

Tbsp

Olive Oil

1

small

Onion,

chopped

5

cloves

Garlic,

minced

5

lbs

Tomatoes*,

chopped, about 9 1/2 cups (any variety or mix)

1/2

cup

Red Wine

1/2

cup

Water** (optional)

see Notes

3

tsp

Kosher Salt

1/2

tsp

Pepper

1

Tbsp

Cocoa Powder,

unsweetened (cuts acidity and adds a complexity. You won't notice it). Don't use dark!

2

tsp

Basil,

dried

2 1/2

Tbsp

Italian Seasoning

1/4 - 1/2

tsp

Red Pepper Flakes

(or more for spicier)

2

tsp

Oregano,

dried

2

Tbsp

Parsley Flakes,

dried

3-4

(6 oz) cans

Tomato Paste
Add Only if the Sauce is too Acidic (After Pressure Cooking)
2

tsp

Sugar

(optional, if needed)

1/4 - 1/2

tsp

Baking Soda

(optional, if needed)
Instructions
Before you begin the cooking process, have all of your veggies chopped & ingredients measured and ready to go.

Turn on the Sauté setting. When the pot is Hot, add the olive oil. Don't add the oil to a cold pot. Then add the onion and cook, stirring occasionally, until turning translucent.

Add the minced garlic and cook, stirring constantly, for about 30 seconds.

Add the chopped tomatoes and stir.

Add the red wine, salt, pepper, cocoa powder, basil, Italian seasoning, red pepper flakes, oregano, and parsley flakes. Stir well to combine.

Add the tomato paste, but do not stir it in. Leave it sitting on top. If you stir it in it will be too thick and the pot may scorch and not come to pressure.

Also, you will not have to add any additional liquid as the red wine and juice from the tomatoes is plenty to get the pot to pressure.

Close the lid and set the steam release knob to the Sealing position. Then press the Pressure Cook (or Manual) button or dial to select 25 minutes (You can cook less time, but I tested and liked this time best).

After the cook cycle is finished, turn the pot off so it doesn't go to the Warm setting. Then leave it to Naturally Release the pressure until the pin in the lid drops down. Then open the lid and give the sauce a stir. Careful of the hot sauce splattering, so stir slowly!

Taste, and if the sauce is too acidic, either add the sugar, or add the baking soda. Stir it in and let it sit a while. Then taste and adjust as necessary.

Let the sauce cool, then use an immersion blender, food processor, or blender to puree it nice and smooth. It is best to do this when the sauce has cooled.

Transfer the sauce to jars with lids and keep in the fridge for up to 5 days. You can freeze it as well.
Recipe Notes
*Don't bother peeling the tomatoes. The skin cooks down and the immersion blender or food processor takes care of it. You won't even notice!
**If your tomatoes are not very juicy, add 1/2 cup of water when you add them to the pot. This will help the pot come to pressure easier. You can use the sauté setting to cook off extra water after pressure cooking if the sauce is too thin.
Canning: If you want to can this sauce, please look up how to adjust for canning as you will need to add citric acid or lemon juice, etc.

Resources to make Instant Pot Marinara Fresh Tomato Sauce recipe and more
We are a participant in the Amazon Services LLC Associates Program, an affiliate advertising program designed to provide a means for us to earn fees by linking to Amazon.com and affiliated sites.