Nana's Easy Cinnamon Bread is a yummy quick bread that uses simple ingredients, including warm cinnamon to make it extra delicious! This Cinnamon Bread recipe is an old one, and tastes so good. An easy quick bread recipe.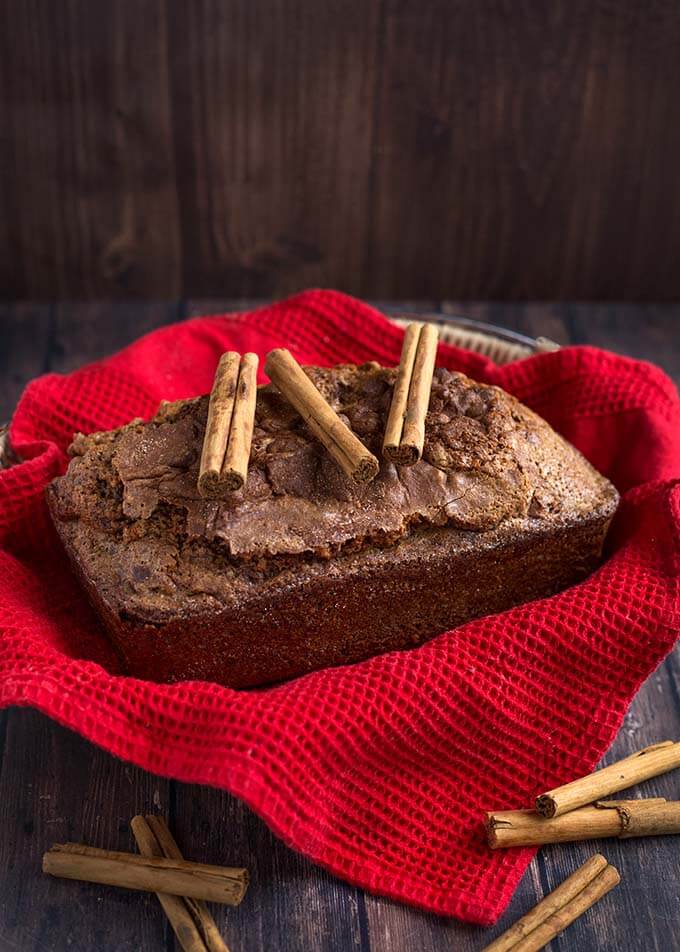 Nana's Easy Cinnamon Bread
Quick breads are breads without yeast, and no kneading or rising required! There are so many wonderful flavors of these breads that you are sure to find a favorite recipe that you will make over and over again!
The formula for making a quick bread is pretty universal: wet ingredients, dry ingredients, a 9″x 5″ loaf pan, and a 350° oven. What makes them unique is the added flavorful ingredients that you mix in. Everything from bananas, zucchini, beer, cheese, and in this recipe, lots of warm, yummy cinnamon!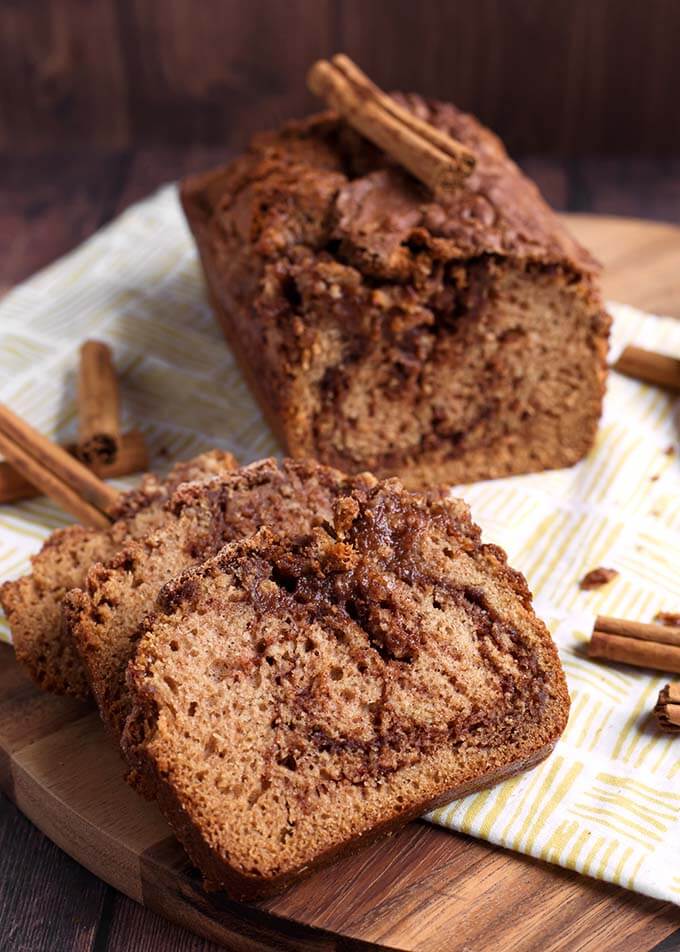 As a kid I liked nothing better than being with my Nana and watching her cook or sew. She was the best! When Nana made her Easy Cinnamon Bread, she always gave me a warm slice with plenty of butter on it, and a glass of cold, fresh milk. Yum!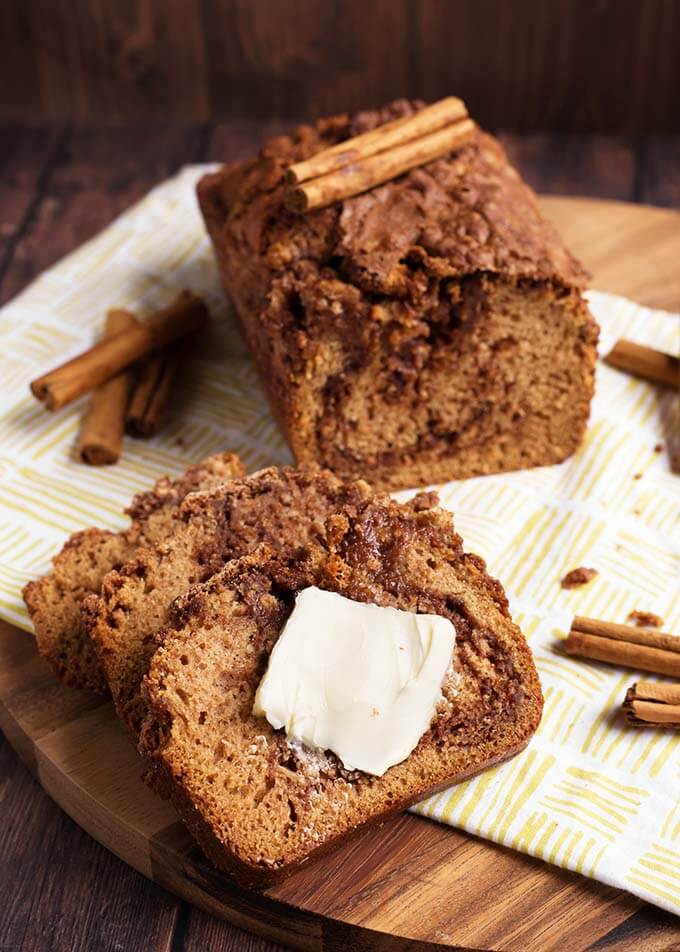 This recipe is pretty forgiving. Usually, when you are making a quick bread, you add the dry ingredients to the wet, and just barely stir until they are moistened. You never want to over mix these batters.
With this recipe, there is a cup of buttermilk that you also add to the wet ingredients. It's going to need a little more stirring to get all incorporated with the dry and wet, but don't worry, this bread has come out perfect every time for me! I'm sure it will for you, too!
There is a special layering that you do with the cinnamon sugar mixture and the batter to make this cinnamon bread extra yummy. You will layer the batter, then a layer of half of the cinnamon sugar, then the remaining batter, and then the rest of the cinnamon sugar.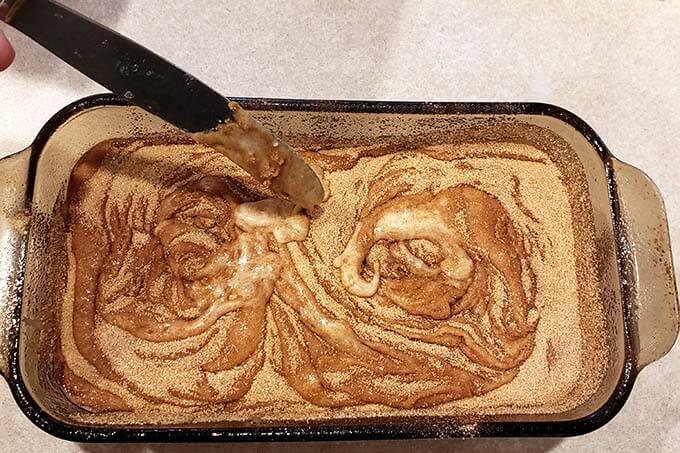 After that, just grab a butter knife and stick it in the batter and swirl it. You don't want to mix it up too much, but this method makes a river of cinnamon sugar throughout the bread. That part is my favorite because it is nice and sweet!


Easy Apple Galette
Fresh Plum Cake
Norwegian Apple Pie
Incredible Banana Cake
Pin This Recipe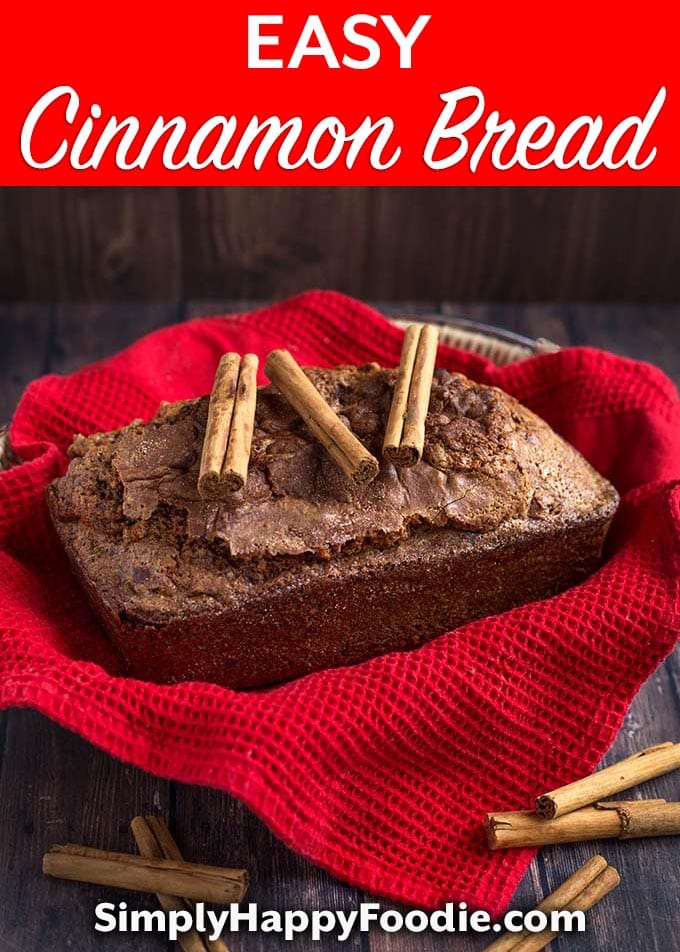 We especially enjoy this cinnamon bread around the Holidays. Fall is when I start baking in earnest, and I love everything about it! No Holiday season would be complete without Nana's Easy Cinnamon Bread making the house smell wonderful!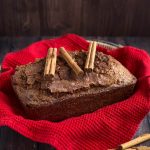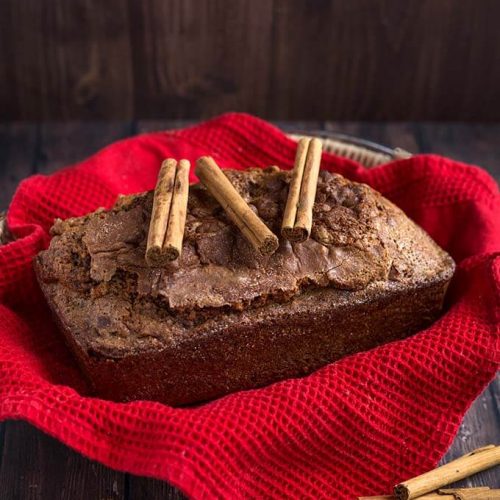 Nana's Easy Cinnamon Bread
Nana's Easy Cinnamon Bread is a lovely quick bread that uses simple ingredients and warm cinnamon to flavor it. This Cinnamon Bread recipe is an old one from my Nana!
Keyword:
cinnamon quick bread recipe
Ingredients
1

Tbsp plus 2 tsp

Cinnamon,

divided

1 1/2

cups

Sugar,

divided

1

Egg

1/4

cup

Oil

2

cups

All Purpose Flour

1/2

tsp

Salt

1

tsp

Baking Soda

1

cup

Buttermilk
Instructions
Heat oven to 350° (F). Grease a 9"x5" loaf pan. Set aside.

In a small bowl, mix together 1 Tbsp of the cinnamon and 1/2 cup of the sugar. Set aside.

In a mixing bowl, beat together the remaining 1 cup of sugar, egg, and oil. Mix until well combined.

In a second mixing bowl mix together the flour, baking soda, salt, and remaining 2 tsp of the cinnamon.

Add the flour mixture to the egg mixture alternately with the buttermilk, stirring well to combine.

Pour half of the batter into the loaf pan. Then sprinkle with half of the sugar/cinnamon mixture. Repeat the layers and then swirl the batter with a butter knife.

Bake at 350° for 60 minutes. Cool in pan for 10 minutes, then turn onto a cooling rack.

Serve warm or at room temperature.

RESOURCES TO MAKE Nana's Easy Cinnamon Bread recipe and more
We are a participant in the Amazon Services LLC Associates Program, an affiliate advertising program designed to provide a means for us to earn fees by linking to Amazon.com and affiliated sites.