Instant Pot Collard Greens cooked with a ham hock and a few seasonings ends up being a delicious and nutritious dish that to me, is synonymous with the South. What used to take hours to cook in my dutch oven now takes a little over an hour! If you haven't tried pressure cooker collard greens, I highly recommend it!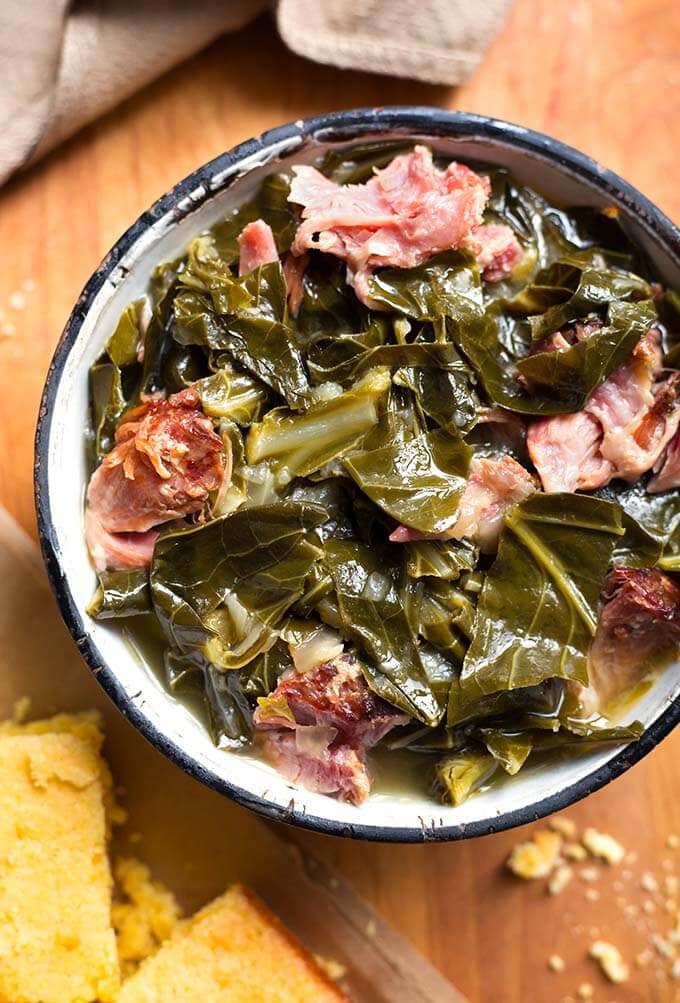 Instant Pot Collard Greens
When I eat collard greens I think of my mom. Most Southern classic foods remind me of her, and of my family on her side. They hail from Kentucky and Southern Indiana, which are not fully Southern states.
That defines my mom and her family perfectly as they were quite Southern in many respects, like cooking, the accent (though not as strong in my mom), religion, and even their use of colloquialisms.
There was also a lot of Northern, or Yankee in them too. When the family moved to WA State, we became settled in and are still here! I like the fact that there are parts of the North and the South that I have been exposed to. I can't imagine never having eaten Southern cooking!
There are a thousand ways to cook up a pot of collard greens. I have always loved my recipe, which is part mom's and part mine. After I got my Instant Pot, I was doubtful that the flavor could be infused into this dish in such a short time. After all, anything simmered on the stove for 3 hours is going to be better, right? Maybe not.
The first time I tried making Instant Pot Collard Greens, I just sautéd the onion and threw everything in. Then cooked it for an hour. It wasn't bad, but I knew it could be better.
I don't like my greens cooked too soft, but I like them soft, if that makes sense. But I needed to get more flavor from the ham hock, and the only way I saw to do that was to give it a head start in the pressure cooker, then add the greens and cook them with the ham hock for the amount of time it takes to get them to that perfect tenderness.
So, a two-step process is what I came up with. It works so well, and now that's how I will always make my Instant Pot collard greens! How classically American!


Instant Pot Black Eyed Peas
Instant Pot Cornbread Stuffing
Instant Pot Mashed Potatoes
Instant Pot Southwest Corn Pudding
Easy Instant Pot Potato Salad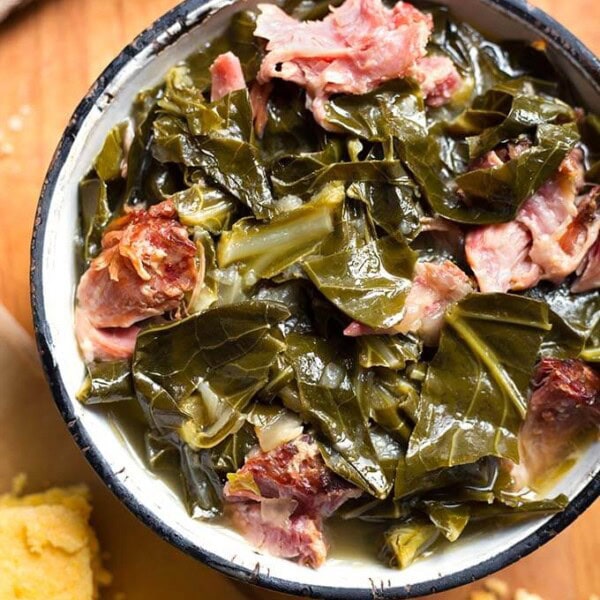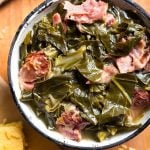 Instant Pot Collard Greens
Rich, flavorful Instant Pot Collard Greens & a ham hock are so delicious! We love these pressure cooked collard greens with cornbread! Faster than on the stove!
Keyword:
pressure cooker collard greens recipe
Ingredients
1

Tbsp

Olive Oil

1

large

Onion,

chopped

1

tsp

Johnny's Seasoned Salt

¼

tsp

Crushed Red Pepper Flakes

½

tsp

Kosher Salt

(coarse salt)

4

Garlic Cloves,

minced (optional)

32

oz

Chicken Broth,

low sodium

1

Ham Hock

(about 1 to 1 ½ lbs)
Step Two
1

lb

Collard Greens,

washed, and chopped (or 1 or 2 10 oz bags of pre-washed and chopped)
Instructions
Step One
Set the Instant Pot to the Sauté setting (Normal/Med heat). When the display reads "Hot" add the oil.

Add the onion and cook it, stirring occasionally, until tender.

Add the seasoned salt, red pepper flakes, and salt. Stir.

Add the garlic and cook about 30 seconds or until it starts to smell fragrant, stirring constantly.

Stir in the chicken broth and set the ham hock in the broth. It may not be covered with broth, and that's okay.

Turn off the Sauté mode and put the lid on the pot and lock it into place. Set the Steam Release Knob to the Sealing position (not on the Ultra). Press the Meat/Stew button (or use dial on Ultra) and use the + or - button to select 35 minutes.

When the cooking cycle has finished wait 10 minutes and then manually release the remaining steam by turning the knob to Venting (on the Ultra, push the button) until the pin in the lid drops. Then open the lid.

If you can, try to break up the ham hock a little using 2 forks. It might still be tough, so don't try too hard as it will be hot! I like to break it in half to help it cook more. But it's okay if you can't or don't want to. Just flip it over!
Step Two
Add the collard greens to the pot and use a spoon to push them down into the liquid.

Make sure the silicone ring is properly in place, then put the lid back on the pot and set the knob to Sealing again.

Press Manual (or Pressure Cook) and use the + or - button (or dial) to choose 25 minutes.

When cook cycle is finished, let the pot naturally release pressure for 10 minutes. Then manually release the remaining steam until the pin in the lid drops.

Open the lid and remove the ham hock to a bowl. Use 2 forks to separate the fat and bones from the meat. Save the bones in the freezer for a batch of Bone Broth! Discard the fat.

Shred the meat and add it back into the collard greens.

That's it! You now have a rich and tasty batch of collard greens! Serve them hot with a side of cornbread to sop up the pot likker (pot liquor)!
Recipe Notes
This is a Two Step Recipe, but don't worry, it's still faster than on the stove, and the results are excellent!

Resources to Make Instant Pot Collard Greens Recipe and More
We are a participant in the Amazon Services LLC Associates Program, an affiliate advertising program designed to provide a means for us to earn fees by linking to Amazon.com and affiliated sites.