Instant Pot Mashed potatoes are very easy to make. They come out fluffy and delicious. You can make pressure cooker Mashed Potatoes in minutes!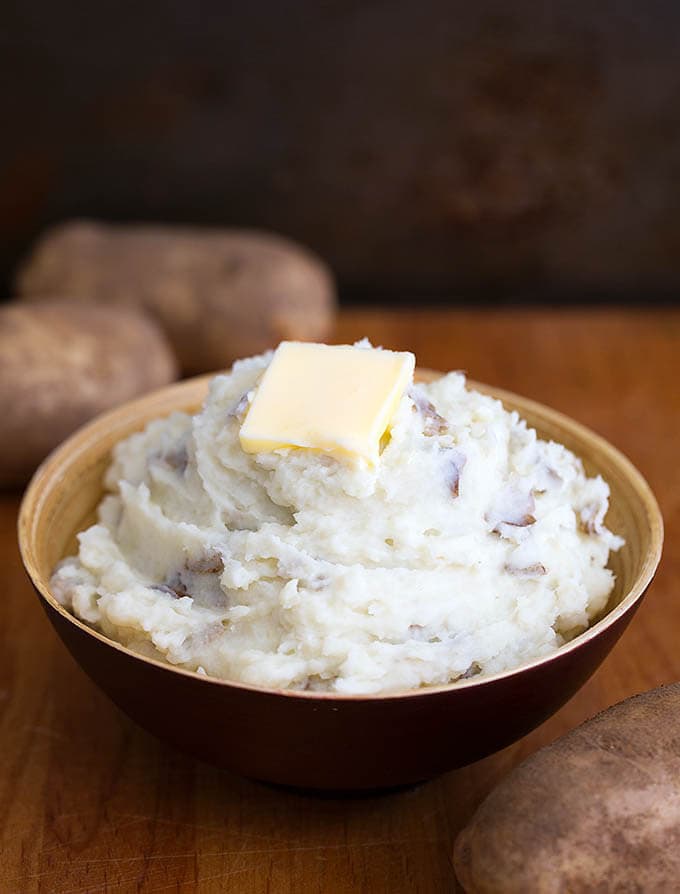 Instant Pot Mashed Potatoes
One of the most popular side dishes ever to grace an American dinner table is mashed potatoes! Right alongside the meatloaf! As easy as mashed potatoes are to make, they are even easier to make in the Instant Pot electric pressure cooker. Just say no to waiting for a pot to boil and then having to drain that hot water out. No more soggy potatoes!
This is a simple recipe for basic mashed potatoes. No garlic or cheese in it, as I wanted to share the basic recipe that would be good smothered in gravy, loaded with extra butter or sour cream, and any toppings you like.
I think this mashed potato recipe satisfies the 'mashed potato purists' out there. Though I have nothing against garlic mashed potatoes, you can find that recipe here: Instant Pot Creamy Mashed Potatoes.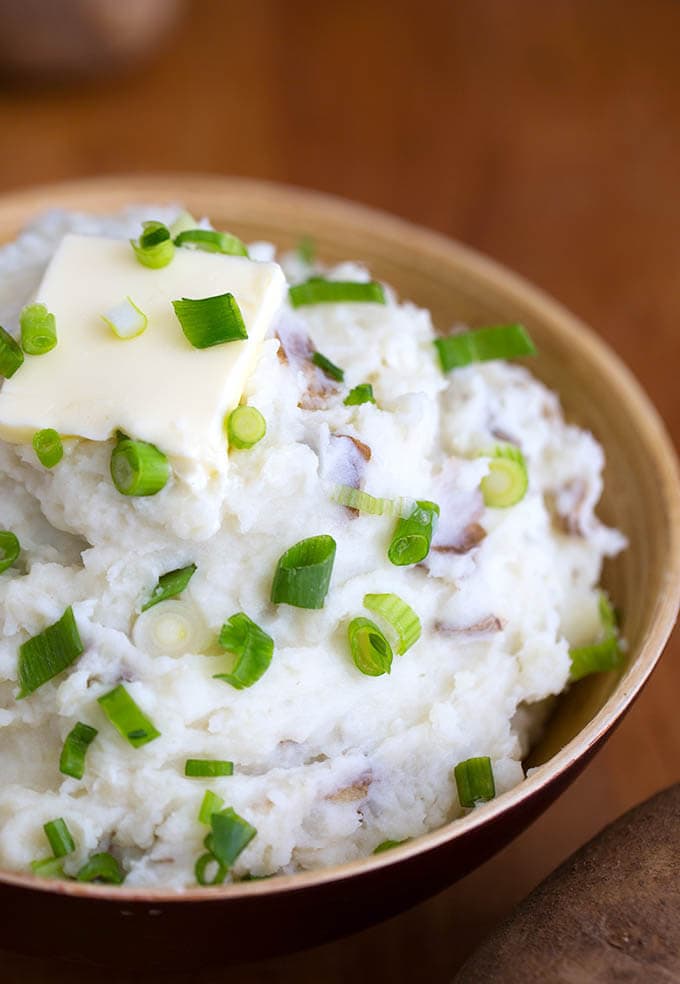 The texture of the Instant Pot Mashed Potatoes is a little drier, and they come out fluffier, too. How fluffy also depends on the type of potato you use. Here is a quote from Bridget Lancaster, host of America's Test Kitchen in an interview with Sally Swift, Managing Producer at The Splendid Table about the Best Baked Potato (even though we aren't baking them, it still applies):
It starts with the right potato. Most people know that Russets are the premium baking potato. They're high starch and low water. That's important because the starch is going to absorb that water and swell up. When you cook the potato, it gives the crumbly, plumpy texture that we think of as "fluffy." Start with the Russet.
Russets come out pretty nice, but use what you have. I also like Yukon Gold Potatoes. Something about the creamy texture is very appealing in mashed potatoes. Speaking of peeling (haha), I don't peel my potatoes, I just mash that peel right in with the potatoes. Go ahead and peel yours if you like them that way, there is no wrong way to enjoy them!
You Might Also Like
Instant Pot Meatloaf and Mashed Potatoes
Instant Pot Creamy Mashed Potatoes
Instant Pot Mashed Cauliflower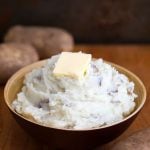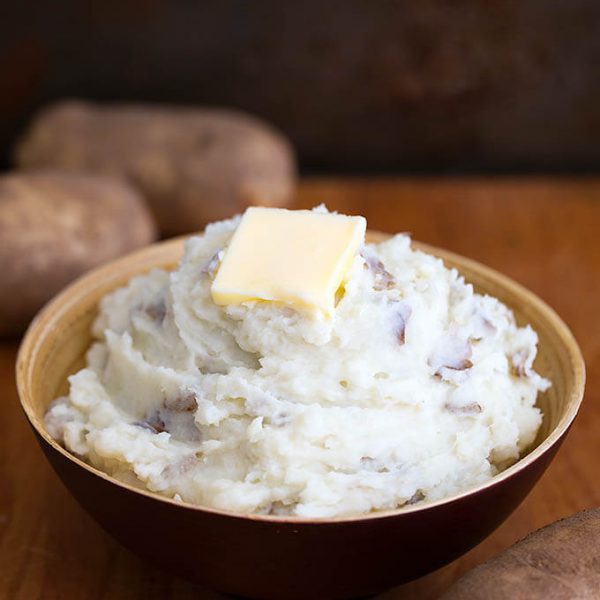 Instant Pot Mashed Potatoes
Instant Pot Mashed potatoes are very easy to make. It doesn't take long to cook fluffy pressure cooker Mashed Potatoes using this easy recipe.
Course:
Side Dish, Vegetarian
Keyword:
pressure cooker mashed potatoes recipe
Ingredients
1

cup

water

(for the pressure cooker)

2

lbs

Russet Potatoes

(about 5 medium potatoes)

4

Tbsp

Butter

1 1/4

tsp

Kosher Salt

(or 1 tsp table salt)

2/3

cup

Half and Half

(or whole milk)
Instructions
Put the water into the inner liner of the Instant Pot.

Scrub the potatoes, or peel them, if you prefer. Cut each potato into fourths.

Put the potatoes in a steamer basket or steamer rack. Set the basket or rack into the pot.

Close the lid and lock it into position. Set the Steam Release Knob to the Sealing position.

Set to Pressure Cook (Manual), and use the +/- button or dial to choose 8 minutes.

When the cook cycle ends, do a Quick Release of the pressure by turning the steam release knob to Venting (on the Ultra, just press the steam release button).

When all of the steam is out and the pin in the lid drops, open the lid and remove the basket or rack of potatoes (very carefully) and transfer potatoes to a bowl.

Add the butter and use a potato masher to incorporate the butter as well as mash the potatoes. Try not to over mash them.

Add the salt and cream, then use a spoon to continue mixing to the desired consistency. Add more cream or milk as desired.

Taste and adjust salt, if necessary.
RESOURCES TO MAKE Instant Pot Mashed Potatoes
We are a participant in the Amazon Services LLC Associates Program, an affiliate advertising program designed to provide a means for us to earn fees by linking to Amazon.com and affiliated sites.