Instant Pot Mac and Cheese is easy, cheesy, and delicious. This is an Instant Pot Dump and Start recipe, and is so good. This pressure cooker mac and cheese recipe made with 5 ingredients is perfect for a quick dinner! So creamy, cheesy, and tasty! Instant Pot macaroni and cheese is a great recipe for the creamiest mac and cheese, and is one of the great beginner Instant Pot recipes.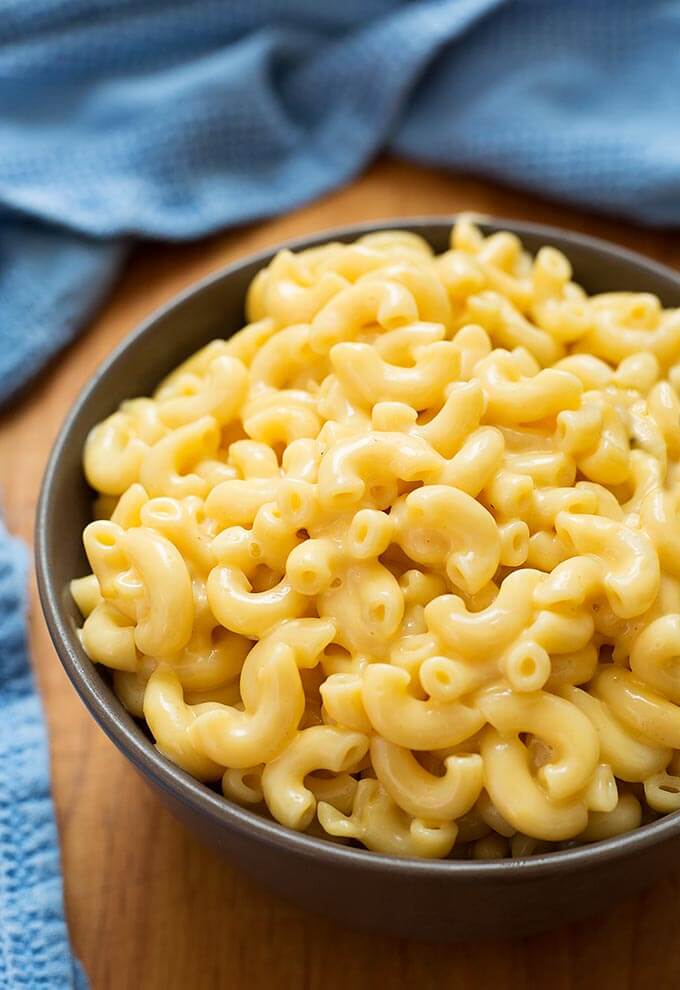 Instapot Mac and Cheese is a main dish or a side dish. You don't need the boxed stuff!
Originally published on Sep 22, 2017
Instant Pot Mac and Cheese
Homemade Macaroni and Cheese is one of the best comfort foods. Maybe the ultimate comfort food for some people. If you have an Instant Pot electric pressure cooker, you can make this creamy mac and cheese recipe all in one pot. No need to boil or drain the pasta!
This easy Instant Pot recipe is one that I make over and over because it is so easy and is a delicious mac & cheese! You can ditch the blue box from the grocery stores because electric pressure cookers make cooking pasta so easy and tastes better than the boxed version!
Instant Pot Mac and Cheese Questions
These are some frequently asked questions about making mac and cheese in the Instant Pot.
Will This Recipe Work with Gluten-Free Pasta?
Not really very good luck with these. I tested this recipe with a few kinds of GF noodles and just didn't get the best results. New GF pastas are coming out all the time, so maybe there will eventually be one that I like that doesn't turn to mush.
What Kind of Cheese Works Best?
The types of cheese I like to use for a cheesy pasta dish is a blend of two or more different cheeses, for the best flavor. Usually sharp cheddar cheese, Monterey jack, mozzarella cheese, and parmesan. You can even use cream cheese or Velveeta® for a creamy cheese sauce. The cheese options are vast so you can make your perfect mac!
Which Seasonings Go Well in Mac and Cheese?
I like to add a garlic powder, kosher salt & black pepper, dry ground mustard powder, and a few dashes of hot sauce for extra flavor. You can get by with just salt & pepper if you like.
Can I use Whole Wheat Pasta?
Yes, just note the cook time and use half the time of what the package directions say to cook for.
What Type of Milk Works Best in Mac and Cheese?
• Milk options you can use are: whole milk, heavy cream, half and half, evaporated milk, low fat milk, unsweetened almond or coconut milk, etc.
• Since it is added after pressure cooking to make the sauce as creamy as you want it, you can use what you like.
How to Make Instant Pot Mac and Cheese


• Add broth or water to the inner pot, plus butter and hot sauce. Add spices (salt, pepper, garlic powder, dry mustard, or whatever you like).


• Add the elbow macaroni pasta to the pot, level it out so it is submerged, then stir it. Use the pressure cook setting to cook the pasta for a 4 minute cook time on high pressure.
• Then do a controlled quick release. Most pasta dishes don't need a natural release as that is too long of a cooking time.
PRO TIP: When you quick release the pressure, you may want to open the steam release valve in short bursts at first, as the force of the pressure escaping can cause sauce to spew out with the steam. So carefully open for a few seconds, then close, repeat until you are sure no sauce will come out of the vent (I use a wooden spoon so I don't have to touch the valve).


• After pressure cooking the pasta, stir in sharp cheddar cheese, or any kind you like. About 2 cups or more, a cup at a time, for your desired level of cheesy mac.
• Then stir in as much regular milk, evaporated milk, or heavy cream as you want for your preferred level of creaminess.
This post contains Affiliate links. As an Amazon Associate I earn from qualifying purchases.
Tips for Pasta in the Instant Pot
Make sure to measure your pasta, preferably by weighing. This recipe calls for 16-ounces of pasta, so that will look different in a measuring cup, depending on the type of pasta you are using. 16 oz is not always 2 cups.
I highly recommend a food scale, or Google the type of pasta you are using if you aren't sure what 16 oz looks like. For the small macaroni it is about 4 cups.
With Instant Pot Mac and Cheese, you don't drain the pasta! The starch stays in the pot and provides all the thickening you need. If you replace the water with chicken broth, the flavor will be richer (use low sodium!).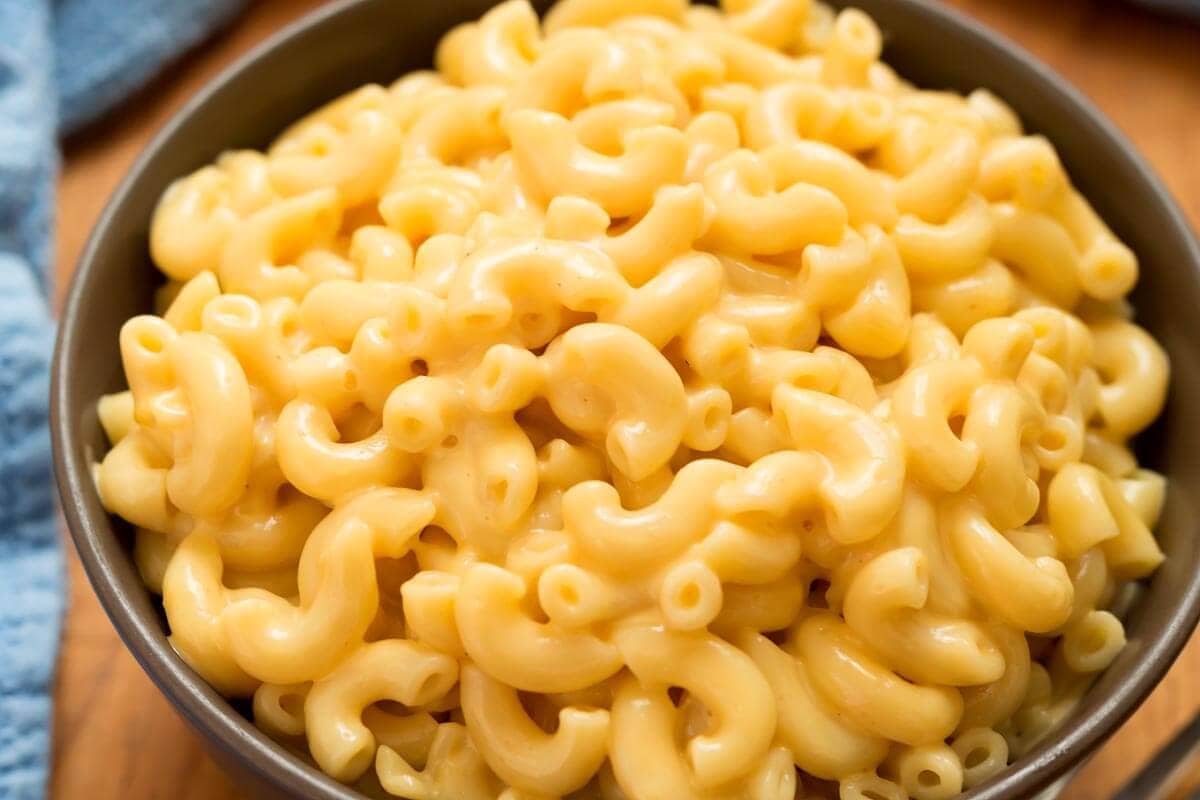 Liquid to Pasta Ratio
• This is the key to cooking pasta in the Instant Pot. Because the pasta cooks in the liquid and absorbs it (you don't drain it), the ratio is important. You don't want too little or too much liquid.
• The rule-of-thumb is 1 cup of liquid to 4-ounces of pasta. Again, a food scale is the best tool to measure pasta.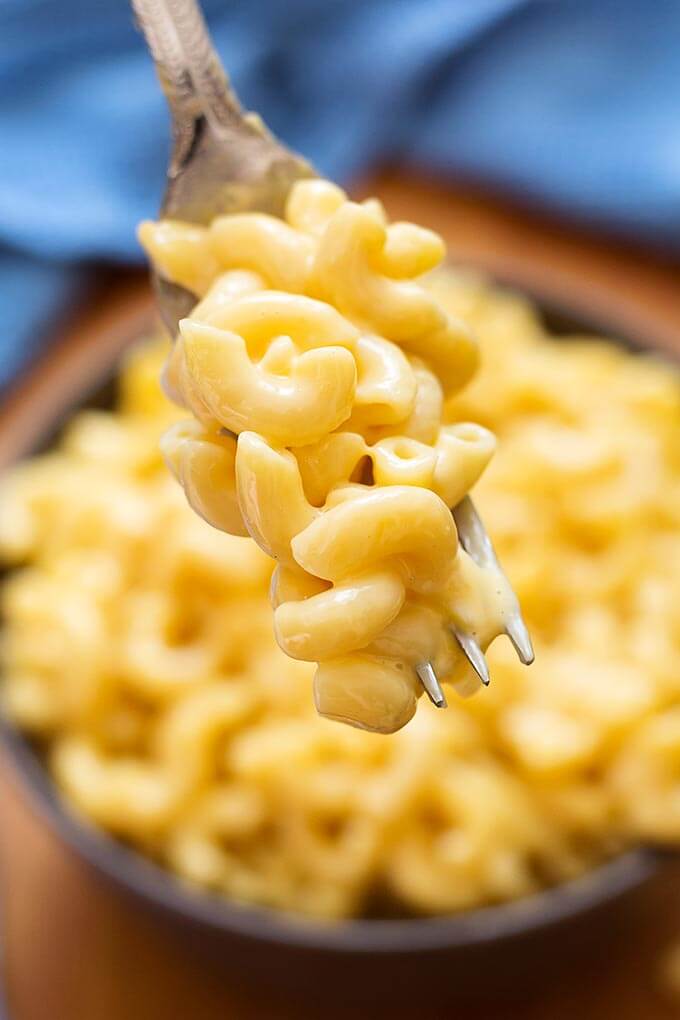 Tips For the Best Instant Pot Mac and Cheese
For richer flavor, try using chicken broth as the cooking liquid. Low sodium chicken broth is best. If you don't have low sodium, omit the salt in the recipe, then add salt to taste.
Use seasoning. Pasta needs flavor added. I also add a little hot sauce to the cooking liquid. The hot sauce doesn't make this spicy. It will add a nice flavor.
Use a combination of cheeses for the best flavor. I like to use a mixture of sharp cheddar, Monterey Jack or mozzarella, and parmesan cheese. When adding the cheese, do so a cup at a time, stirring well after each cup until it melts into a creamy macaroni and cheese. Also, the amount of cheese is flexible. Measure it with your heart!
For protein you can stir in a shredded rotisserie chicken.
If you like a bit of tartness, stir in some sour cream.
Top with some crunchy breadcrumbs and use an air fryer lid or bake in the oven in a baking dish after pressure cooking for a crisp topping.
Can I make Slow Cooker Macaroni and Cheese?
I actually have the perfect recipe for Slow Cooker Mac and Cheese recipe here.
Macaroni and Cheese Storage
• Store leftover mac and cheese in an airtight container in the fridge for up to 4 days.
• Reheat with a little milk added to loosen it up. I like to reheat it in the microwave oven for a minute, then stir and heat again, if needed, in 30 second intervals.

More Instant Pot Pasta Recipes
Instant Pot Spaghetti
Instant Pot Cheesy Taco Pasta
Instant Pot Meatball Pasta Dinner
Instant Pot Cheeseburger Macaroni
Instant Pot Pizza Pasta Casserole
This is an easy, quick meal, and perfect for weeknights and those times when you don't want to have to put together an elaborate meal. Satisfy the picky eater in your home with the best Instant Pot Mac and Cheese recipe!
Just whip up some Instant Pot Mac and Cheese, and you'll have your family running for the dinner table! Yay for the Instant Pot!
If you make this yummy creamy Instant Pot Mac and Cheese recipe, please let me know. Just leave a comment below with a star rating. I'd love to know how you liked it!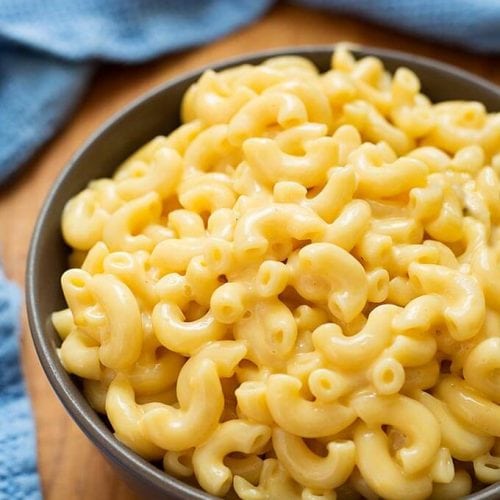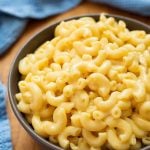 Instant Pot Mac and Cheese
Pressure Building and Release
Instant Pot Mac and Cheese is simple, creamy, cheesy, and delicious. Make this fast in your electric pressure cooker, and in one pot!
Course:
Dinner, pasta, Side Dish
Keyword:
pressure cooker mac and cheese recipe
Ingredients
4

cups

Water or Low Sodium Chicken Broth

3

Tablespoons

Butter,

unsalted

¾

teaspoon

Kosher Salt

½

teaspoon

Pepper

¾

teaspoon

Garlic Powder

¼

teaspoon

Ground Mustard

(optional)

A Few Dashes of Hot Sauce

(optional, but it adds a nice flavor, not spicy)

16

oz

Macaroni Pasta

(1 lb, or penne, shells, etc.) weigh it for best results

2

cups

Shredded Sharp Cheddar Cheese,

shredded (freshly shredded for creamiest result)

1

cup

Shredded Monterey Jack or Mozzarella Cheese,

freshly shredded is best

¼

cup

Shredded Parmesan Cheese

½ - 1

cup

Milk

(or half and half, evaporated milk) Add enough to get desired creaminess.
Instructions
Add the water or broth, butter, salt, pepper, garlic powder, ground mustard, and hot sauce to the Instant Pot.

Stir in the pasta and close the lid. Set the steam release knob to the Sealing position.

Press the Manual (or Pressure Cook) button and use the +/- button to choose 4 minutes (or half of the time the pasta package directions recommends).

When the cook cycle ends, do a Controlled Quick Release of the pressure. Start slowly, using several small bursts of steam release, to make sure none of the sauce spews out with the steam (the butter usually helps keep the foam down). Then fully release the remaining steam.

When the pin in the lid drops back down, open the pot and give the contents a stir. You want some liquid in there, but if it looks too watery, take some out.

Add the cheeses, a cup at a time, and stir. Let it melt before next step.

Add the milk and stir until creamy and blended with the cheese.

If it is too saucy, cover and let sit for a few minutes to soak everything up.
Recipe Notes
The mac and cheese thickens up as it cools. If you need to loosen it up, just add more milk as needed.
Resources to Make this Instant Pot Mac and Cheese Recipe
This post contains Affiliate links. As an Amazon Associate I earn from qualifying purchases.


Pin This Instapot Mac and Cheese Recipe