Instant Pot Cabbage Soup is a delicious and healthy recipe made with wholesome ingredients, and lots of fresh vegetables, mainly green cabbage. This is a flavorful cabbage soup recipe for weight loss, or serve as a tasty vegetarian soup recipe. Making cabbage soup in the Instant Pot is the perfect use of this awesome appliance.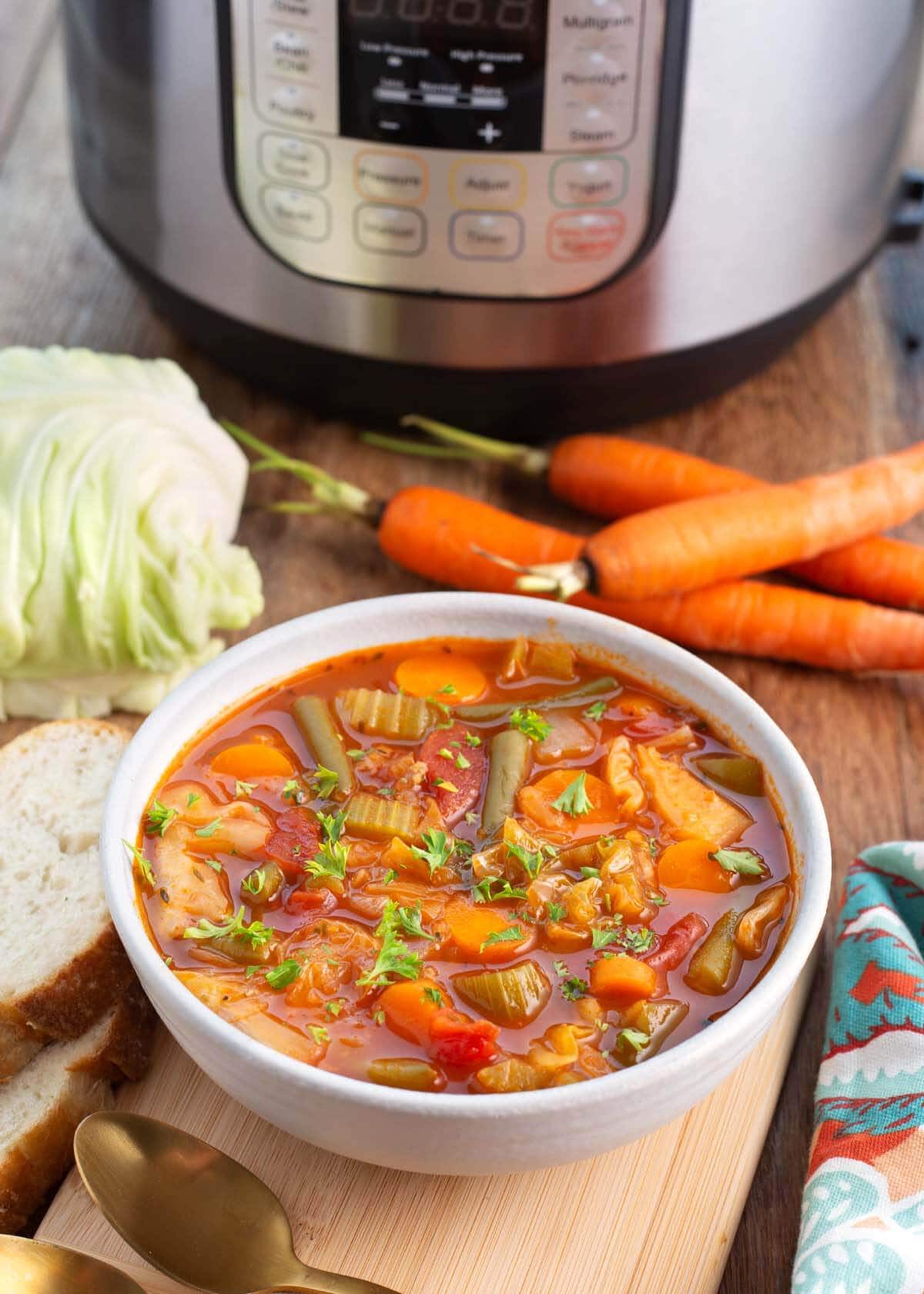 Instant Pot Cabbage Soup
Cabbage is a wonderful vegetable. A head of cabbage can last a month or two in the fridge, and is a great addition to so many recipes. Whether raw in a Coleslaw, Braised with Butter, made into stuffed cabbage rolls, or a simple, healthy and delicious soup like this one, cabbage is super versatile.
There are several recipes for vegetable soups around, but this one is so fresh tasting, with the green cabbage and other vegetables in it. If you have ever heard of the Cabbage Soup Diet, this is a similar recipe (though I don't promote any diets).
I really like that this soup is inexpensive and easy to make in the electric pressure cooker.
Many people like to make vegetarian cabbage soup for weight loss because it's low calorie, flavorful, and is made with simple ingredients. This is also a low carb soup and is a healthy Instant Pot recipe.
This instant pot cabbage recipe is naturally dairy-free and gluten free (using gluten free broth).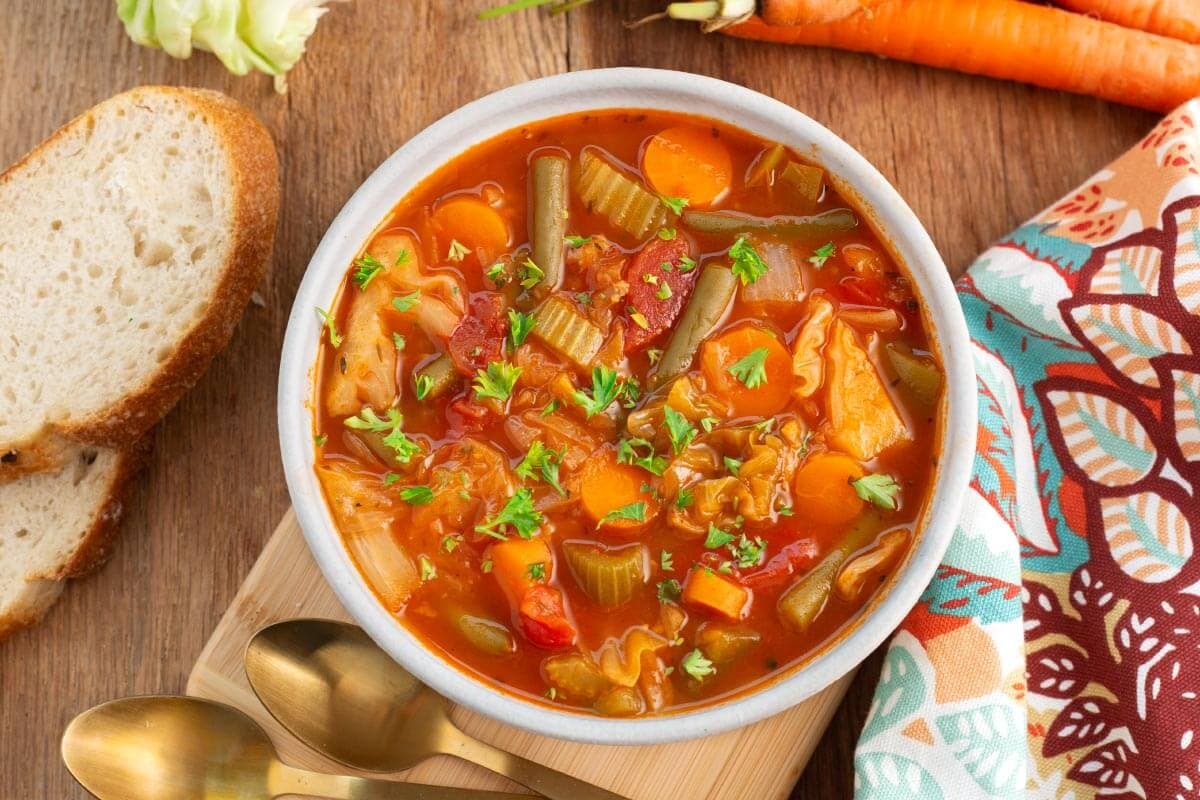 What is in Instant Pot Cabbage Soup Recipe?
Here's what you'll need to make this easy cabbage soup:
• Extra-virgin Olive Oil
• Yellow Onions
• Bay Leaves
• Celery, Green Bell Pepper, Carrots
• Garlic Cloves
• Small Head Cabbage - One small head of green cabbage for this recipe, about 1 pound.
• Smoked Paprika, Oregano or Italian Seasoning, Dried Thyme Leaves, Kosher Salt, Black Pepper
• Beef broth, or use Vegetable Broth or Chicken Broth
• Stewed Tomatoes or Diced Tomatoes - Fire roasted are a nice option.
• Tomato Sauce
• Parsley
• Green Beans
How to Make Pressure Cooker Cabbage Soup


1) Gather all of the ingredients together. Chop the vegetables and get everything ready.
2) Turn on the Sauté setting. When hot, add the oil, onion, and bay leaves. Cook, stirring occasionally, until the onion starts to soften.
3) Add the celery and green bell pepper.


4) Add the garlic and carrots. Cook, stirring frequently, for a couple of minutes.


5) Add the cabbage, smoked paprika, oregano, thyme, salt, pepper.


6) Stir well, then add the broth. Stir.


7) Pour the stewed tomatoes and tomato sauce over the top, but do not stir!
8) Close the lid and set the steam release knob to the Sealing position (if not self-sealing).
9) Press the Pressure Cook/Manual button or dial, then the +/- button or dial to select 5 minutes. High Pressure. The pot will take several minutes to come to pressure.
10) When the cook cycle has finished, turn off the pot and let it sit undisturbed for 10 minutes (10 minute natural release). Then turn the steam release knob to the Venting position to release the remaining pressure/steam.
11) When the pin in the lid drops back down, open the lid. Remove each bay leaf.
12) Add the parsley and the green beans. Stir.
13) Serve hot (Serving Size is 1.5 cups).
Variations for Cabbage Soup
Add some meat – Make it higher protein by adding beef, turkey sausage, chicken, or pork and use beef broth or chicken broth.
Use different ground meats – Ground Beef, ground turkey, ground pork, ground chicken, or Italian sausage with the casings removed. Or add extra firm tofu cut into cubes (added at the end, before serving).
Add beans – Another way to add protein, beans are a perfect addition to this healthy soup. Simply rinse and drain canned beans before adding to the pot. Try cannellini beans, chickpeas or kidney beans.
Try other veggies – You can add even more veggies to this easy instant pot soup recipe. This soup would taste delicious with red bell peppers, or corn, broccoli, kale, baby spinach, or cauliflower. If you add leafy greens, add them at the end, a few minutes before serving, and the greens will soften perfectly.
Include potatoes – If you want to have potatoes in your soup, cut them into large chunks and add to the pot.
Try adding grains – Adding brown rice, wild rice, quinoa, or even pasta can make this a heartier meal. Cook the grains first and add them after cooking the soup.
Use coleslaw mix – I typically use a whole head of cabbage when I make cabbage soup recipes, I just chop it myself. As a time-saving shortcut try using a coleslaw mix (the pieces of cabbage are much smaller).
Add a little lemon juice – Lemon juice brightens up the flavor and adds a some vitamin C. Add it after cooking, to taste.
Add some heat – Use a couple dashes of hot sauce or a bit of cayenne pepper or red pepper flakes to add more spice to this cabbage soup recipe.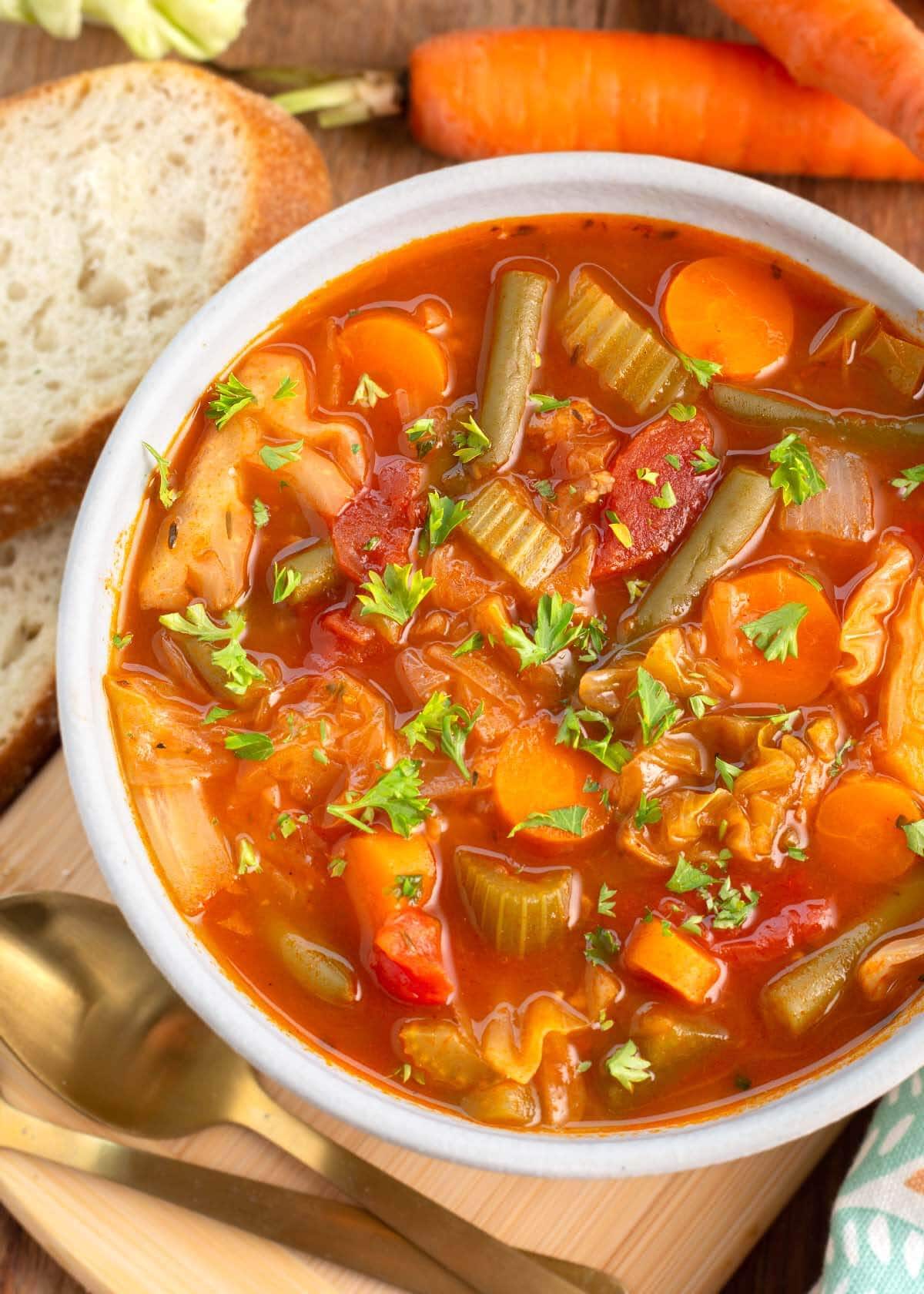 Tips for Making Cabbage Soup
To make the process of cooking the soup in te Instant Pot easier, prepare the vegetables ahead of time and gather all of the ingredients together before cooking.
For faster and easier prep, cut up all of the vegetables needed for a batch of the soup. Add them to a resealable freezer bag and freeze them. Then you can pull the bag out of the freezer and cook with the remaining ingredients when you want to make the recipe.
If you want the broth to be a little thicker, add 3-4 Tablespoons of tomato paste to the pot before pressure cooking (don't stir until soup is done cooking).
Another tip for easier prep, use bags of shredded cabbage and frozen vegetables that are already cut.
What to Serve With Cabbage Soup
Serve this easy soup recipe with some crusty bread for soaking up the tasty broth. Or pair it with a sandwich or salad for a full meal.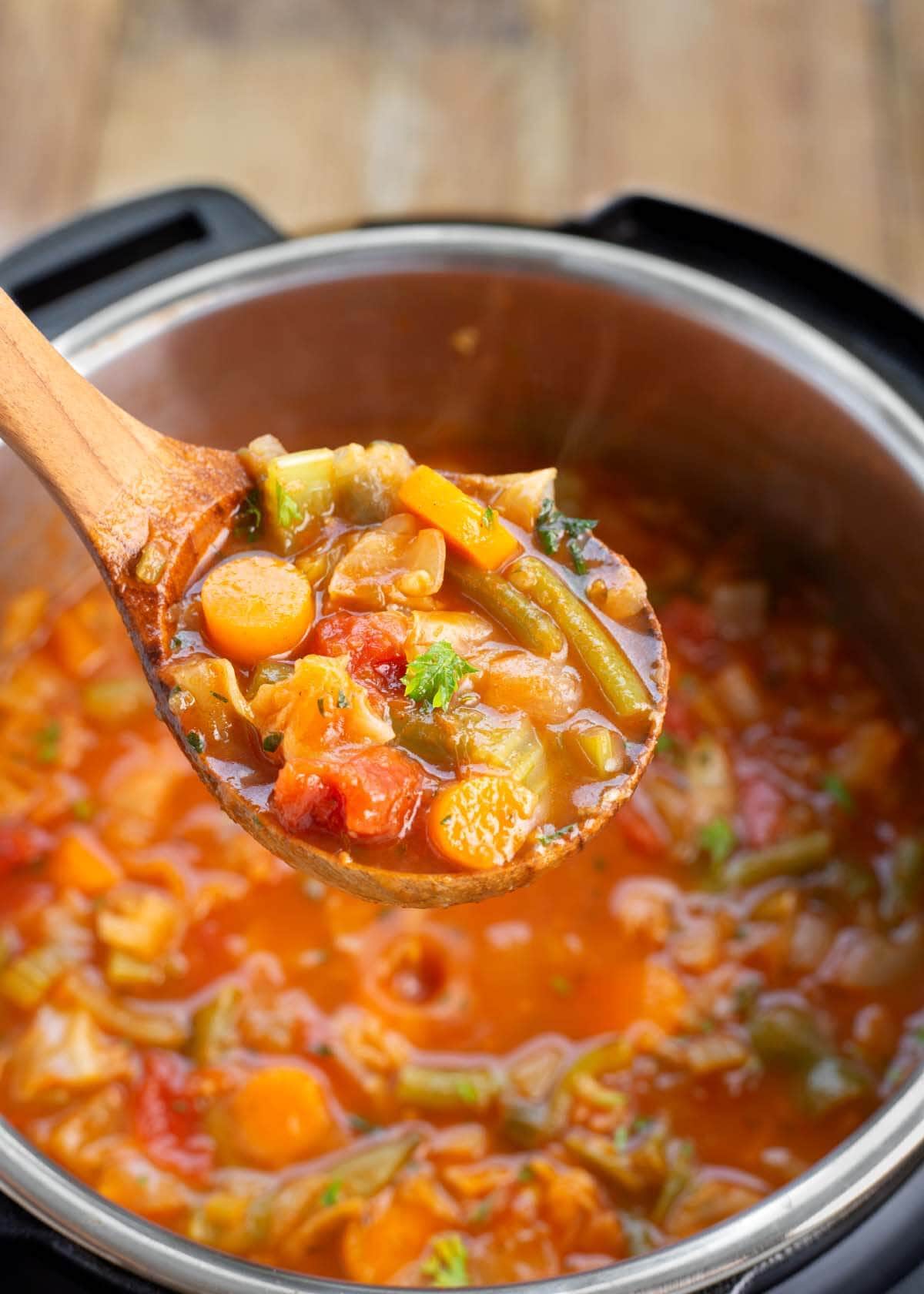 Storage and Freezing
This leftover cabbage soup will keep in the fridge for 4-5 days. Allow it to cool completely before transferring to an airtight container. This soup can be reheated in the microwave or on the stove top. You can freeze this soup for up to three months.


Instant Pot Chili
Instant Pot Creamy Tortellini Soup
Instant Pot Zuppa Toscana (Sausage Potato Soup)
Instant Pot Turkey Soup

If you make this yummy Instapot cabbage soup recipe, please let me know. Just leave a comment below with a star rating.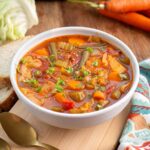 Instant Pot Cabbage Soup
Pressure Build and Release
Keyword:
vegetable soup recipe, vegetarian soup recipe
Ingredients
2

Tablespoons

Olive Oil

2

Yellow Onions,

chopped

2

Bay Leaves

3

ribs

Celery,

chopped

1

Green Bell Pepper,

chopped

4

cloves

Garlic,

minced or pressed

4

medium

Carrots,

cut in rounds

1

small

Head Cabbage,

chopped

2

teaspoons

Smoked Paprika

1

teaspoon

Dried Oregano

½

teaspoon

Dried Thyme Leaves,

or ¼ teaspoon ground

1 ½

teaspoons

Kosher Salt,

or 1 teaspoon Table Salt

½

teaspoon

Black Pepper

5

cups

Vegetable Broth,

or Chicken Broth

2

15-ounce cans

Stewed Tomatoes

1

14-ounce can

Tomato Sauce
Add After Cooking
3

Tablespoons

Chopped Parsley

1

can

Green Beans,

drained
Instructions
Gather all of the ingredients together. Chop the vegetables and get everything ready.

Turn on the Sauté setting. When hot, add the oil, onion, and bay leaves. Cook, stirring occasionally, until the onion starts to soften.

Add the celery, bell pepper, carrots, and garlic. Cook, stirring frequently, for a couple of minutes.

Add the cabbage, smoked paprika, oregano, thyme, salt, pepper, and broth. Stir.

Pour the stewed tomatoes and tomato sauce over the top, but Do Not Stir!

Close the lid and set the steam release knob to the Sealing position, if not self-sealing.

Press the Pressure Cook/Manual button or dial, then the +/- button or dial to select 5 minutes. High Pressure. The pot will take several minutes to come to pressure.

When the cook cycle has finished, turn off the pot and let it sit undisturbed for 10 minutes (10 minute natural release). Then turn the steam release knob to the Venting position to release the remaining steam/pressure.

If any broth starts to spew out with the steam, close the valve and then release the steam slowly.

When the pin in the lid drops back down, open the lid.

Add the parsley and green beans. Stir,
Recipe Notes
Serving Size is 1.5 cups