Easy Pickled Beets can be canned, or just kept in your refrigerator in a mason jar for a sweet and spicy snack. Pickled beets are also delicious in salads. Pickled Beets is one of my favorite snacks.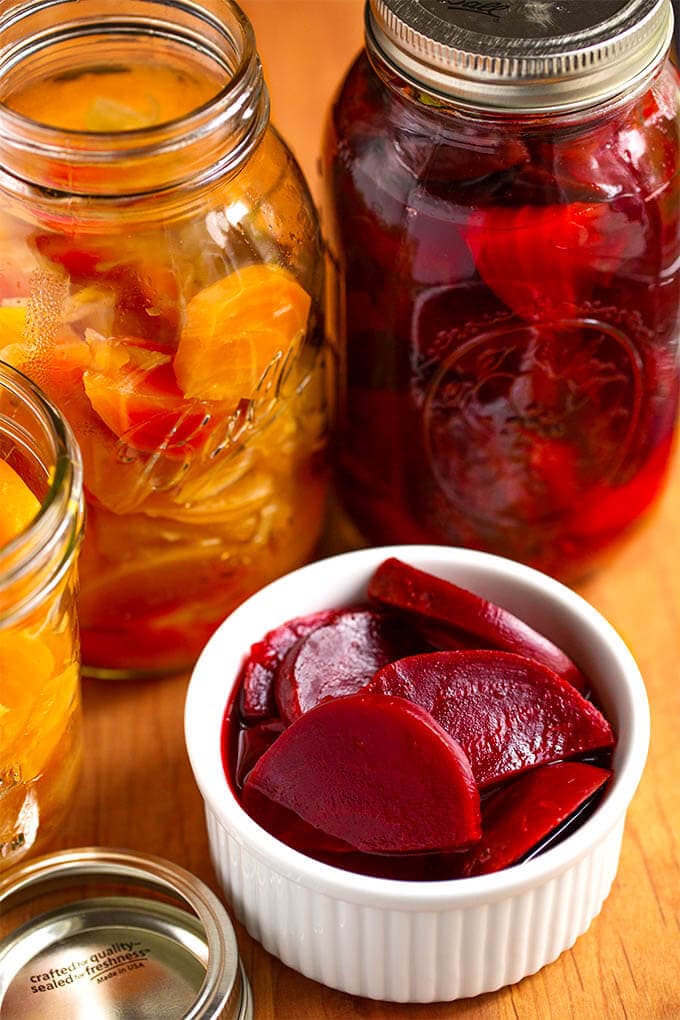 Easy Pickled Beets
The beets are so good this year. I have been cooking and eating them for two weeks straight! Not every meal, that would be a little obsessive, but at least once a day!
Let's see, I made Red Beet Hummus (so good!), Beet Salad with Goat Cheese (my favorite salad!), and today it was Easy Pickled Beets. It's been a beetiful experience! Okay, maybe not my best pun, but I gotta sneak one in when I can. 😀
You will need to cook your beets before you pickle them. You can boil them on the stove (reserve a couple cups of the beet water when you are done. You can use it in the pickling liquid). Or, if you own an electric pressure cooker, such as the Instant Pot, you can pressure cook the beets and they will be done faster! Here are the Instant Pot Beets instructions.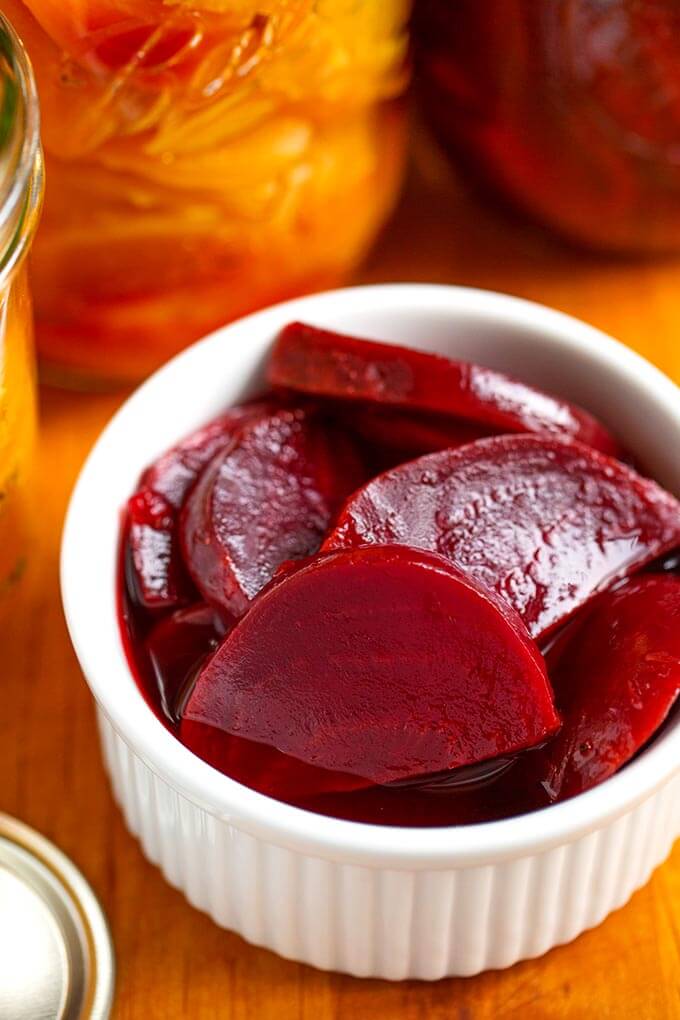 If you have any of the pickling liquid left in the jar after eating your pickled beets, make some Pickled Eggs! They are really good. You can also double the recipe for the pickling liquid and use half for pickled beets, and half for pickled eggs.
Just put some peeled boiled eggs in the pickling liquid. The ones pictured here have only been pickling for a few days. I would leave them in longer, maybe 2 weeks at least, for the best flavor absorption. The pickling liquid will eventually get to the yolk and the whole egg will be this pink color. Yummy!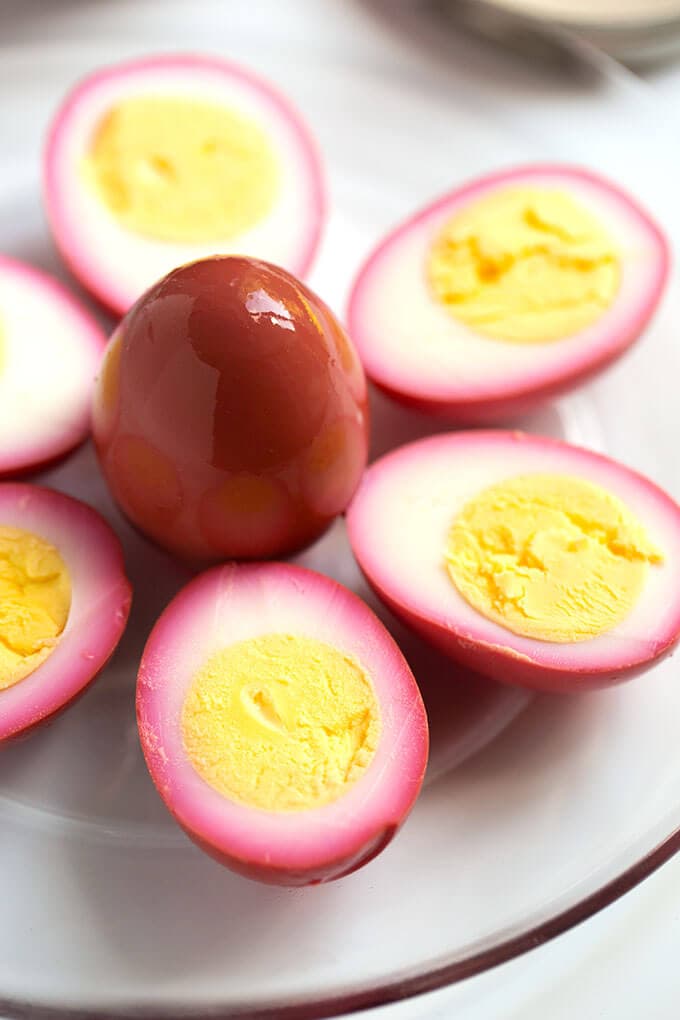 You Might Also Like
Easy Creamy Coleslaw
Instant Pot Hot Sauce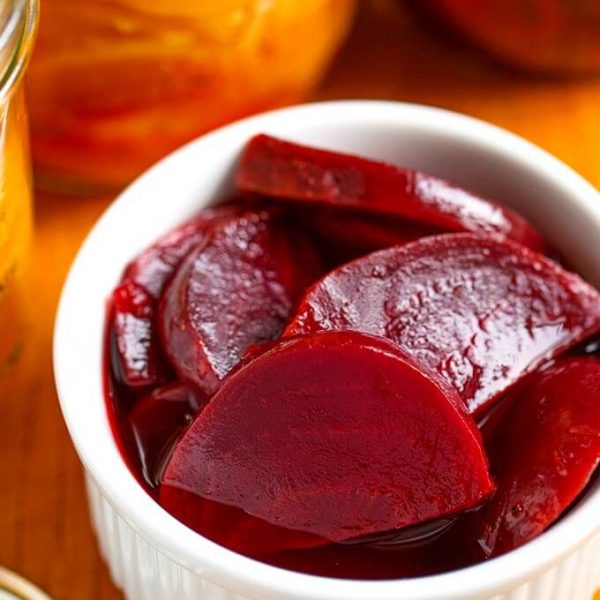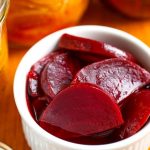 Easy Pickled Beets
It's easy to pickle your own beets! You don't have to can them, just keep them in the fridge! Of course, you can can these as well!
Course:
Appetizer, Side Dish, snacks, Vegetarian
Servings
:
4
pints (approx)
Ingredients
3-4

lbs

Small Beets

(if already cooked, slice ¼" thick)

1

Sweet Onion

(such as Walla Walla or Vidalia) sliced thinly

2

cups

Water*

(or use 1 cup of the water from cooking the beets, if you have it, and 1 cup of water)

2 ½

cups

Apple Cider Vinegar

1

tsp

Salt

(I prefer pickling salt, but use what you have)

2

Cinnamon Sticks

2 Tbsp

Pickling Spice

(put in a spice ball/tea ball, or make a cheesecloth bundle)

1 ¾

cups

Sugar
Instructions
Cook Beets (if not already cooked)
Stovetop: Wash and scrub beets. Leave about 2 inches of the stems on them. Cover with water and cook until fork tender. Depending on the size of your beets, this could take 30 minutes to an hour. *Reserve 1-2 cups of the beet water if you can.

Peel beets and slice ¼ inch thick. If using very small beets, 1"-2" in diameter, you can leave them whole, if you want.

Electric Pressure Cooker: See my instructions for Instant Pot Beets to cook beets using an electric pressure cooker.
Make the Pickling Liquid
Add all ingredients except for the beets and onions to a pot and bring to a low boil, stirring occasionally to be sure sugar dissolves.

Turn down heat, add onions, and cook on low for 5-10 minutes with the lid on, to reduce evaporation.

Add the cooked & sliced beets and simmer until heated through and onion is tender. Remove spice ball and cinnamon sticks.
If Not Canning
Fill jars with the beets/onion, then ladle some pickling liquid into the jar and just cover the beets.

Let cool and put the lids on the jars and keep in the refrigerator.
If You Are Canning
Pack the hot beets and onions into prepared hot jars, leaving ¼ inch headspace. Ladle hot pickling liquid over beets, leaving ¼ inch headspace. Remove air bubbles. Adjust two-piece caps. Process 30 minutes in a boiling-water canner.
Resources to Make This Recipe and More
We are a participant in the Amazon Services LLC Associates Program, an affiliate advertising program designed to provide a means for us to earn fees by linking to Amazon.com and affiliated sites.