Slow Cooker Ribs are delicious, and can be fall-off-the-bone tender, or have a little chew to them. This is a very easy slow cooker dinner to make. Slow Cooker BBQ Ribs have amazing flavor with a tasty spice rub and your favorite barbecue sauce. These crockpot ribs will quickly become a favorite meal!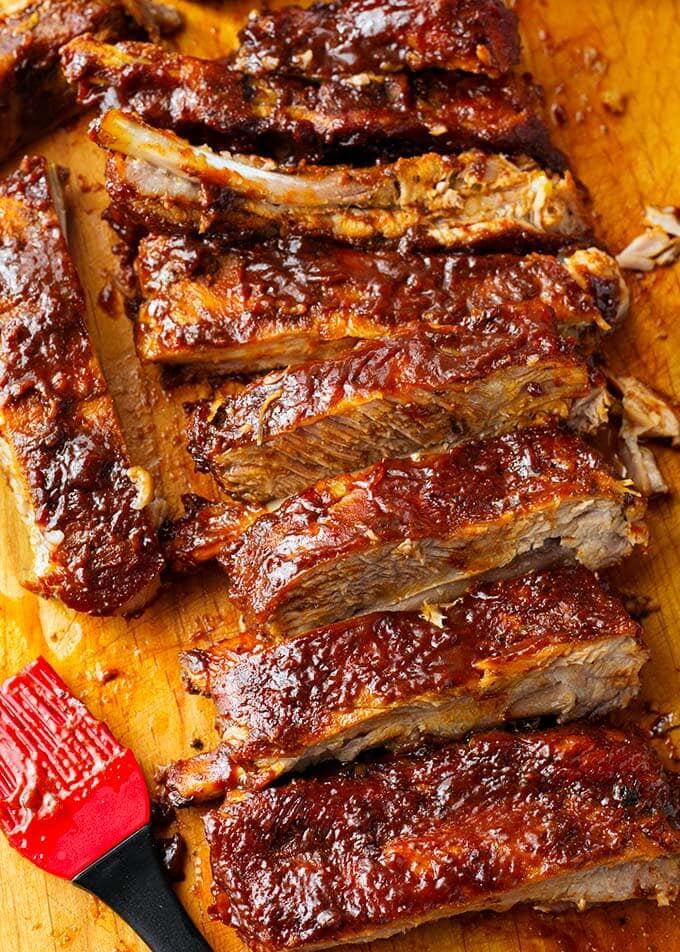 Crockpot BBQ Ribs are best with the right spice rub and a good BBQ sauce. That's where the flavor comes from.
Slow Cooker Baby Back Ribs
On a busy day you can throw a meat main dish into your slow cooker and let it do the heavy lifting while you work or run errands.
Crock Pot BBQ Pork Ribs taste amazing, cooked low and slow, and my family absolutely loves them.
What Size Crockpot Should Be Used For Ribs?
I use a 6 or 8 quart size cooker for my crockpot ribs. I cut each rack in half and they fit nicely. If you have a round slow cooker, you can cut the rack of ribs in thirds, or whatever will fit best in the crock. It won't affect the cook time.
For smaller slow cookers, just cut the rack into smaller pieces and fit them in.
Here's How to make the BEST Slow Cooker Ribs: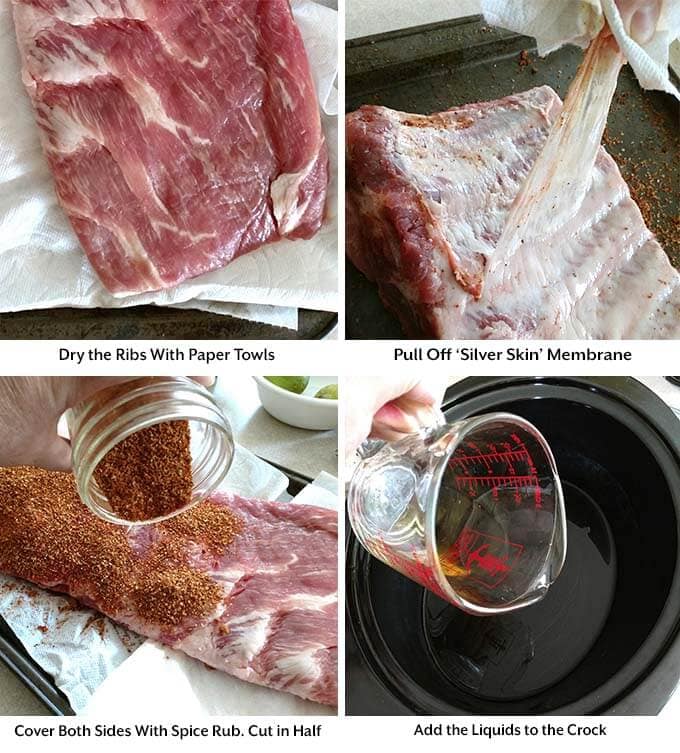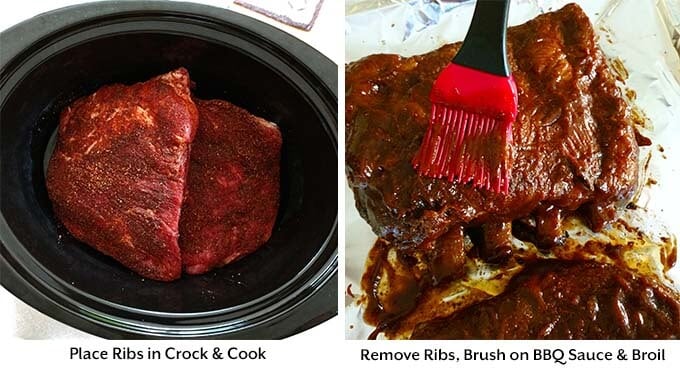 A Good Ribs Spice Rub is Essential for Flavor!
Here is my Ribs Spice Rub recipe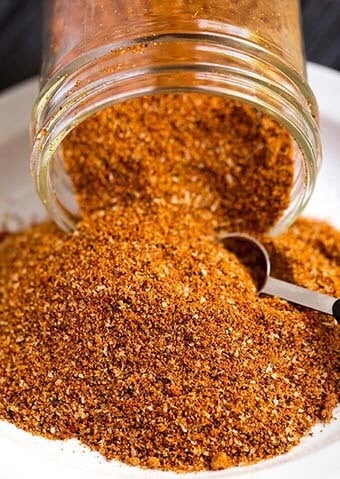 I like to make a double batch and keep it in a mason jar in the pantry. This rub works for pork chops, beef roast, burgers, pulled pork, and lots of other meats. It has just the right amount of salt, spice, and a bit of smoky flavor.


The Best Liquid to Cook Crockpot BBQ Ribs In
I use a combination of apple juice, apple cider vinegar, and liquid smoke.
The apple juice adds a hint of sweetness that works well with the pork (You can use plain water or even a can of root beer or cola if you want).
People have asked me if the apple cider vinegar makes the crockpot ribs taste sour. No, it doesn't. It just adds a subtle acidic note that is not strong tasting, and adds to the overall flavor, in a good way!
The liquid smoke adds a subtle smoky flavor that is very nice on the ribs.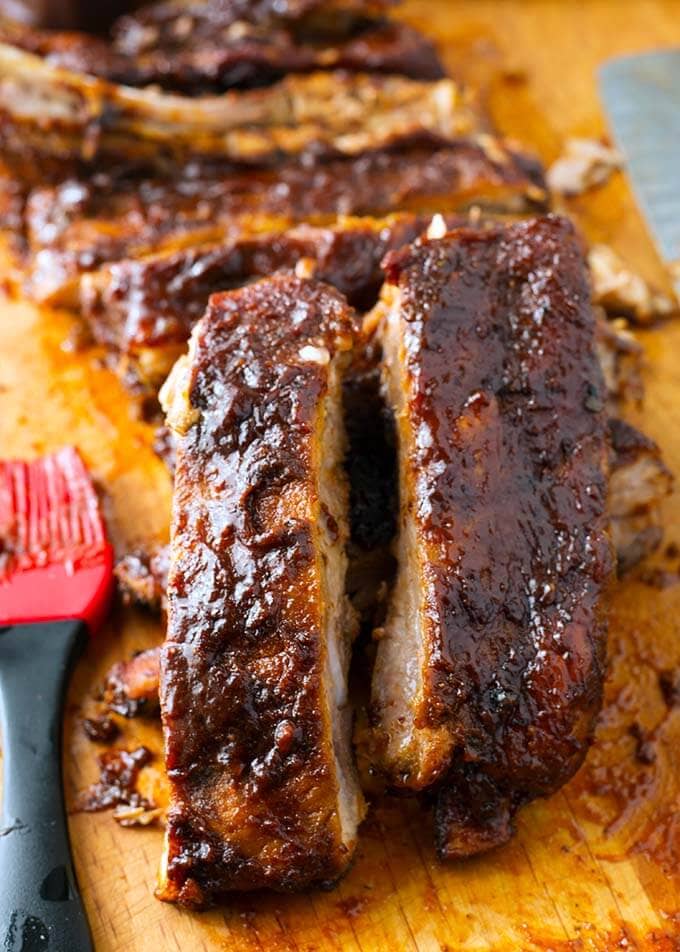 Slow Cooker BBQ Ribs are very tender after cooking and easy to slice into serving sizes.
The Final Step for Cooking Crockpot BBQ Ribs
For the last step, when you slather the ribs with bbq sauce, use a great tasting bbq sauce that will take the ribs over the top!

My favorite bbq sauce is one with a smoky flavor. Many people like Sweet Baby Rays bbq sauce, and we do use it on occasion.

Broiling the ribs for a few minutes after slow cooking will caramelize the sauce and make them even more delicious.


Slow Cooker Country Style Ribs
Slow Cooker Barbacoa Beef
Slow Cooker BBQ Pulled Pork
Crock Pot Mississippi Pot Roast
If you make this delicious Slow Cooker Pork Ribs recipe, please let me know. Just leave a comment with a star rating below. I'd love to know how you liked them!

Thank you for visiting! You can let me know what recipes you want me to post by leaving a comment below!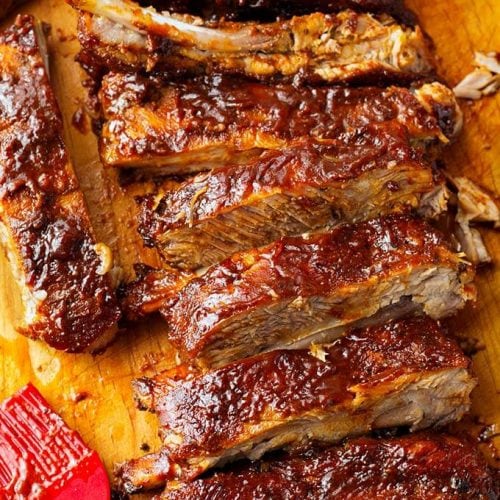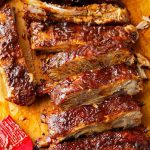 Slow Cooker Ribs
Slow Cooker Ribs are fall apart tender and very flavorful. These crock pot ribs are so easy to make and the family will love them!
Keyword:
crock pot ribs recipe
Ingredients
1

rack

Baby Back Ribs

(I get what's on sale)

3-4

Tablespoons

Spice Rub

½

cup

Apple Juice

⅓

cup

Apple Cider Vinegar (ACV)

1-2

teaspoons

Liquid Smoke

½ - 1

cup

Barbecue Sauce
Instructions
Pat the ribs dry with paper towels. Cut the rack in half or thirds, whatever will make them fit in the slow cooker you own.

Remove the "silver skin" membrane from the back of the rack if it is still attached. Grasping it with a paper towel helps you get a good grip on it.

Rub the spice rub on all sides of the ribs.

Pour the apple juice, ACV, and liquid smoke into the crock of the slow cooker.

Add the ribs to the slow cooker and put the lid on. Cook on High for 3-5 hours, or Low for 6-8 hours. You can turn them halfway through the cooking time, but it's not necessary.

Remove the ribs from the slow cooker and put them on a baking sheet. Slather them with the bbq sauce to taste.

At this point you can put them under the broiler for a few minutes to caramelize the bbq sauce. This step is optional.
Recipe Notes
*If you have a slow cooker that is smaller than 6-quarts, you can cut the rack of ribs down smaller to fit.
Cook Time
Ribs are all different, with varying amounts of fat and cartilage that needs to break down to become tender. That is why the cook time will vary. It also depends on how tender you like your ribs.